While Orange might be best known as a destination for visiting wineries, if you're visiting with a dog there's lots more on offer. The Orange region in NSW also has some terrific off-leash dog parks, beautiful dog-friendly gardens to visit, and cute historic villages. Find out what to do when visiting Orange with a dog…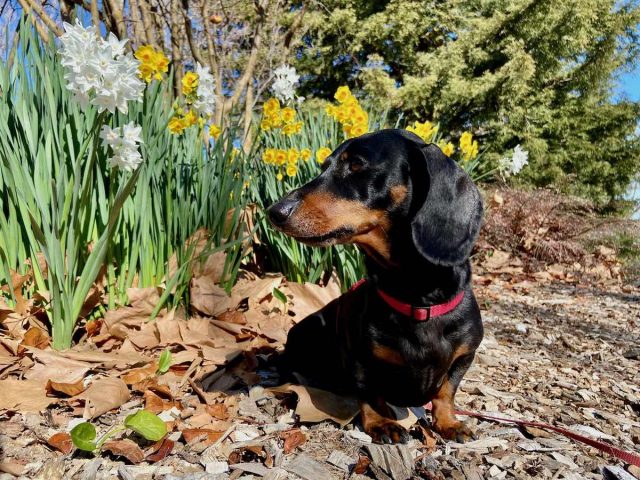 Dog-Friendly Sightseeing Around Orange
There's plenty to keep you busy on a visit to the Orange region with your dog, no matter your taste, including some great day or afternoon trips to nearby towns.
1. Visit a Local Winery
Orange is renown for its wines, with its high altitude producing many quality cool-climate drops. While some of the cellar doors are open seven days a week, many are just open on weekends. In either case, it's best to make a booking in advance in this region. At the same time, double-check that the cellar door you want to visit is dog-friendly.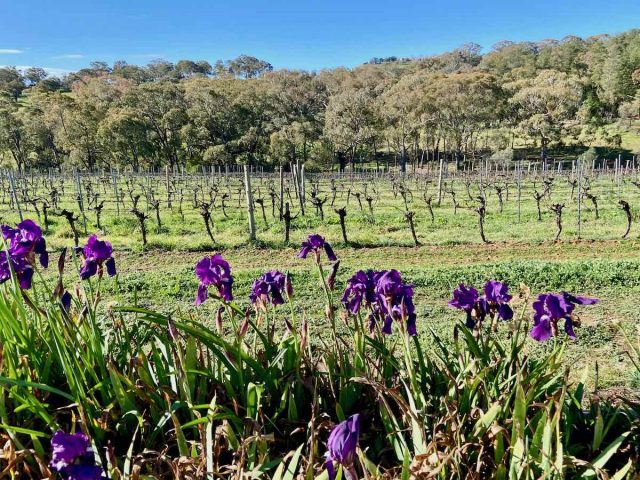 During our visit to Orange we dropped into the dog-friendly Cargo Road Wines, not far past Lake Canabolas. There's two resident kelpies, who love to receive a pat, plus your own dog welcome, as long as they're also friendly. The views from their deck are a beautiful accompaniment to trying their many wines, with my picks being the Gewürztraminer and Zinfandel. Bookings are essential.
Another dog-friendly option in Orange is Philip Shaw Wines, with a large garden area and plenty of outdoor as well as indoor seating, wine tastings are available seven days a week with advanced bookings. Choose between just a wine tasting or accompanying it with a plate of local cheese, prosciutto and accompaniments. You may even meet one of the resident wine dogs!
I also recommend heading to Patina Wines, one of my favourite wineries in Orange. Their cellar door has reopened following renovations since our visit, but only by appointment. Their riesling in particular is a stand-out. Book a wine tasting in their courtyard, surrounded by their beautiful grounds, or enjoy a picnic on their grounds.
If you'd prefer to take a winery tour in Orange, contact Country Food Trails. They offer private wine tours, that can be tailored to include your dog.
2. Or a Cidery
Wine isn't the only locally produced tipple available in Orange. You can also taste locally produced cider, including at Small Acres Cyder, located just west of Orange
Small Acres Cyder specialises in producing premium cider from true heritage cider apple varieties using traditional methods. Their cellar door is open on weekends, with the option to either taste or purchase takeaway, with bookings are essential. While dogs are not allowed inside the tasting room, there are shady spots to leave them outside, with a water bowl provided.
3. Stroll Around a Japanese Garden
One of the relatively unknown dog-friendly gems of the Orange region is the Cowra Japanese Garden. While the gardens aren't located in Orange, but 70 minutes drive south in the town of Cowra, it's an easy day or afternoon trip from Orange.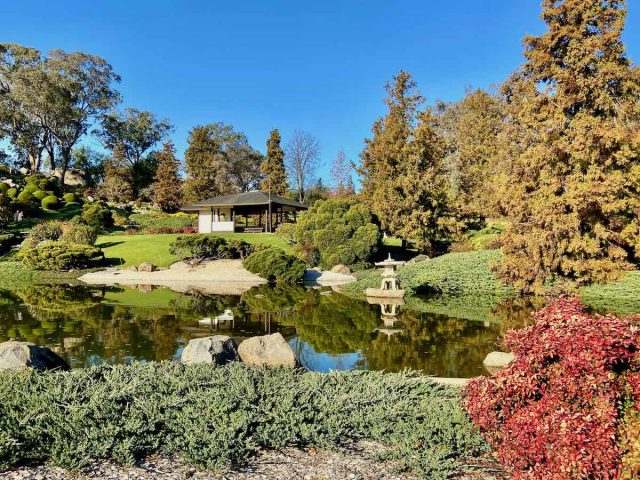 The largest Japanese gardens in the southern hemisphere, the gardens have been magnificently constructed, with a lake, water cascade and tea house pavilion. The gardens are at their most beautiful during the cherry blossom season (in late September and early October) and when the many deciduous trees turn red, orange and yellow during the Autumn. But it was still beautiful on the sunny winters day when we visited.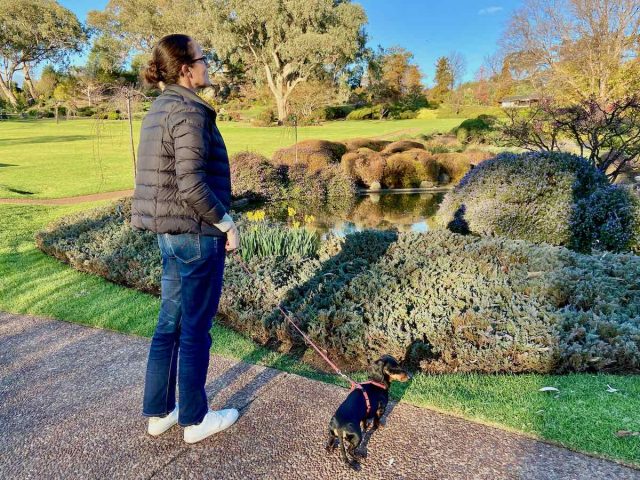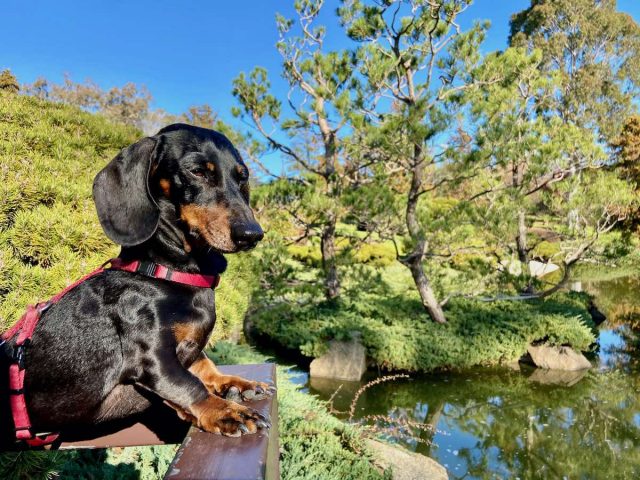 After a stroll around the garden, enjoy lunch or afternoon tea at the adjacent cafe, overlooking the gardens. Dogs are welcome in the outdoor area, with a gate providing direct access from the gardens. Also note that dogs enter the gardens through the gift shop, the same as everyone else. An entry fee applies, except for dogs.
4. Or the Orange Botanic Gardens
For a garden stroll closer to Orange, head to the Orange Botanic Gardens, on the northern edge of Orange. We love to find botanic gardens in Australia that welcome dogs, and this is one of the few in New South Wales!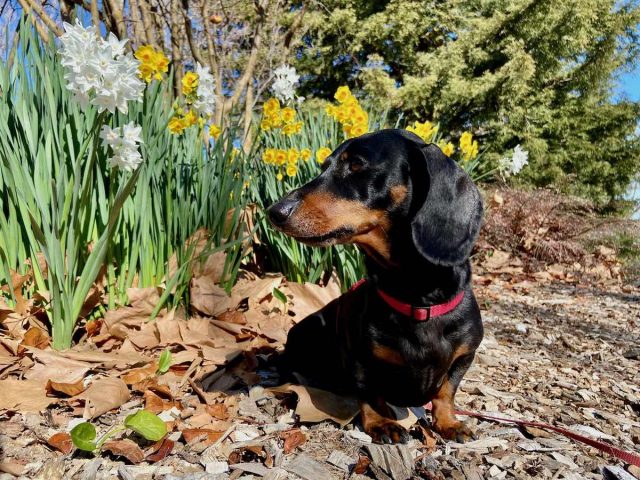 The Gardens were officially opened in 1988 for the Australian Bicentenary and feature a mixture of natives and exotic plants. We particularly enjoyed the small apple orchard and maple hill area. There's plenty of shaded areas around the billabong.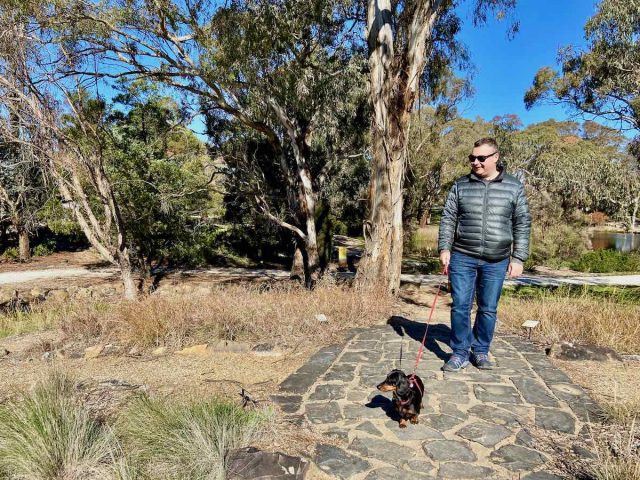 The Gardens are open daily from 7:30am to dusk, with free admission and a handy map at the entrance. A stroll around the entire site takes about an hour.
5. Visit Historic Millthorpe
One of the cutest historic villages near Orange is Millthorpe. Located just 20 minutes southeast of Orange, I'm surprised I hadn't heard more about this gorgeous spot.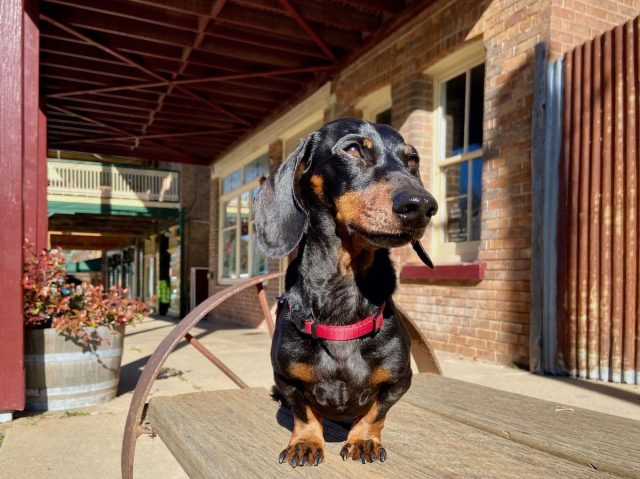 It's heyday coincided with the operation of a since closed flour mill, plus the building of its railway station, which still exists on the edge of town. These days its heritage buildings contain an enticing assortment of boutiques, cafes and cellar doors.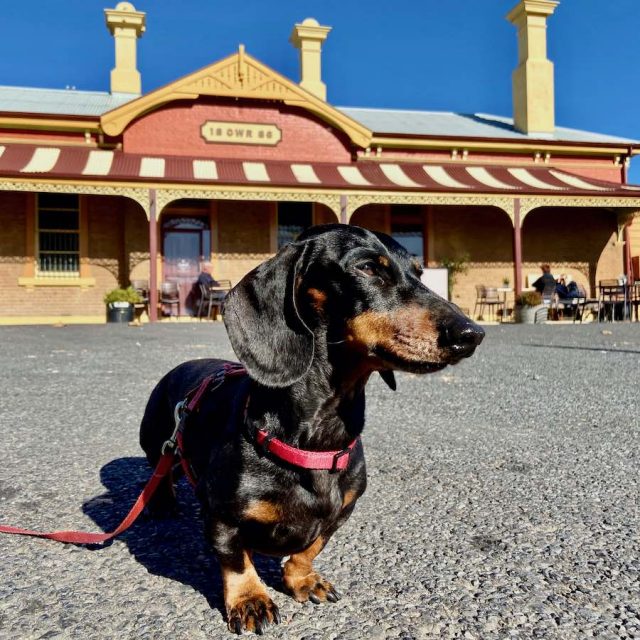 A great dog-friendly option is to head out on one of two village walks. Information is provided on the village website or check out the map outside the Millthorpe Corner Store.
6. Drive Around Mt Panorama
Orange lies just 45 minutes west of Bathurst, the oldest inland city in Australia. If you're driving to Orange from Sydney you'll pass close by its city centre, including some fine historic building.
But Bathurst is also well-known for another reason, the Mt Panorama Racing Circuit, on the southern edge of town. The circuit is home to the annual Bathurst 1000 car race. But for the majority of the year the racing circuit is just a regular road, and it's worthwhile turning off and doing a lap around the track. Just keep to the signposted 60km/hr!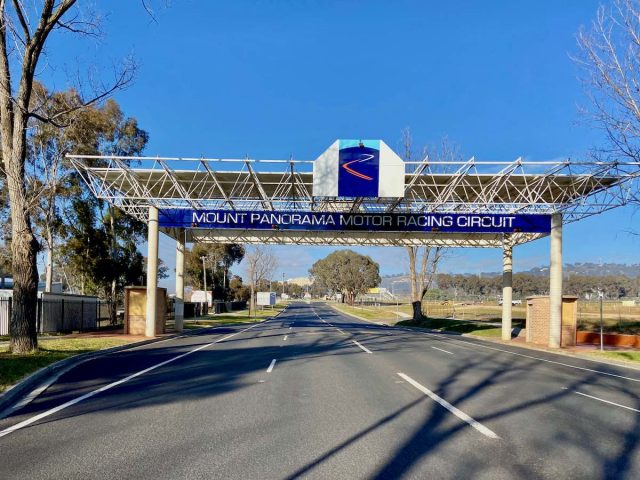 Dog-Friendly Parks and Walks in Orange
Orange City Council are quite generous when it comes to the needs of dogs, with ten off-leash dog exercise areas scattered around the city. The areas are located at Paul Park, Brendan Sturgeon Oval, Ridley Oval, Pilcher Park, Wirrabarra Walk, Bloomfield Park, Anzac Park, Machin Park, Riawena Oval (outside of cricket season) and the Showground. See these maps for the exact areas that allow dogs off-leash and the full rules.
Out of these parks, the favourite one that we visited was Bloomfield Park. A very large area located on the southern side of Orange, on Google search for "Gosling Creek Reserve Dog Park".
Basically all of the area east of Bargwanna Road is off-leash, but it is requested that dogs are kept on leash on the walking path and in bushland. (Dogs are not allowed in Gosling Creek Reserve proper, on the western side of the road.) While the area isn't enclosed, it's away from busy roads and there's lot to explore, including multiple creeks.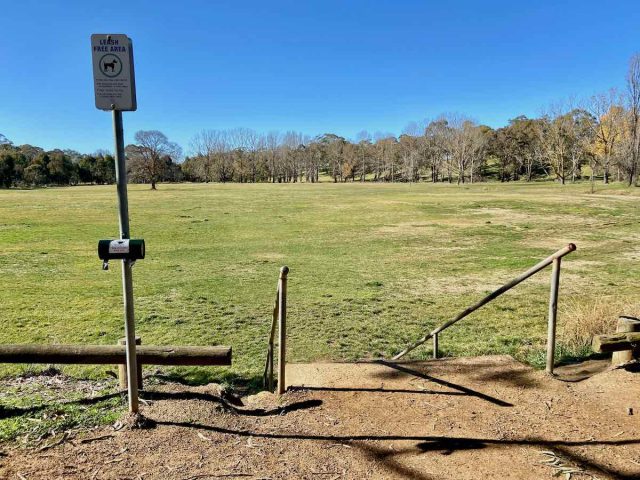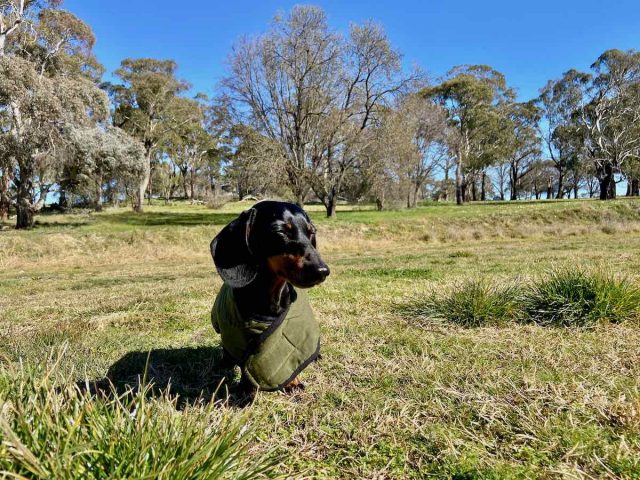 We had read reports that Anzac Park provides agility equipment, but this wasn't the case anymore when we visited, and it was quite a small, bare, enclosed patch of ground. On warm days I instead recommend Wirrabarra Walk, behind Orange Golf Course, for a shady walk. There's a combination of pine trees and deciduous trees to provide shade during summer on this walking path.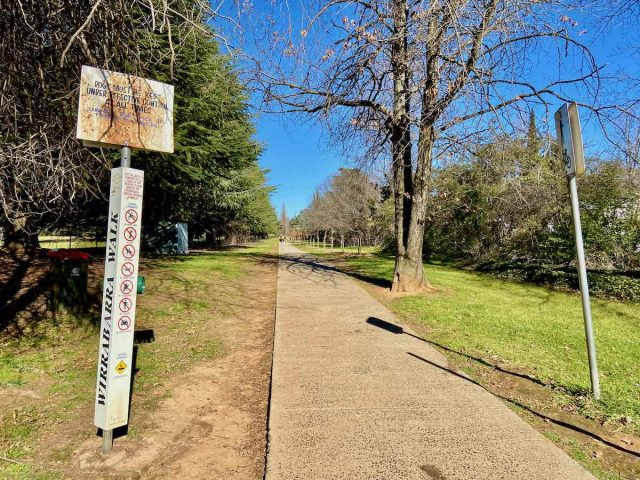 Dogs are also welcome at the other parks around Orange, as long as they remain on a leash. This includes the Lake Canabolas Reserve, a 10 minute drive west of the city. It's a great spot for a picnic and a popular swimming spot over the summer. (There's no clear rules about whether dogs are allowed to swim, but I'm sure some have a splash.) There's also a couple of walking paths starting at the reserve, but the one we went to check out had a no dogs sign.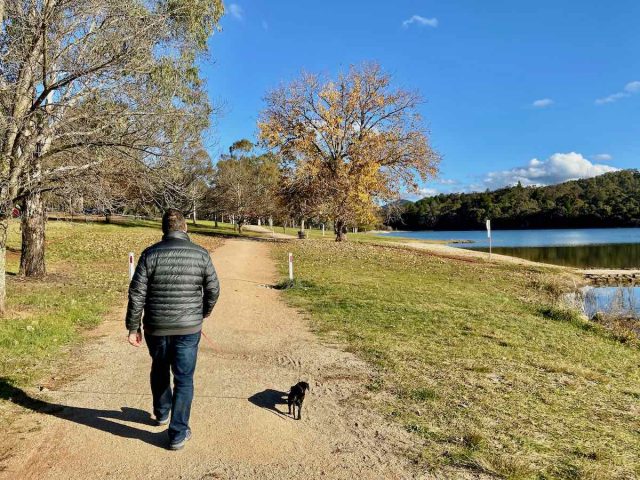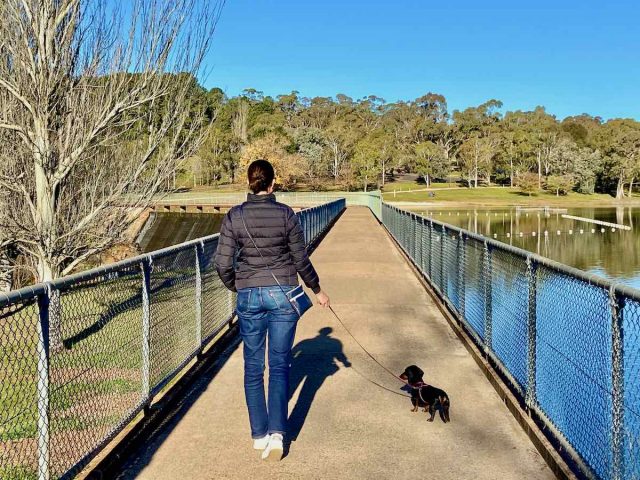 Don't get the lake reserve mixed up with Mount Canabolas State Recreation Area, surrounding the top of the highest peak near Orange. Unfortunately, no dogs are permitted in this reserve, including the popular lookout.
Dog-Friendly Dining in Orange
There's no shortage of dog-friendly cafes in Orange with outdoor seating, although most options are just open during the day.
On the main street of Orange is Scrumptious on Summer Cafe, open daily for breakfast, lunch or just a coffee. There's a handful of outdoor tables where dogs are welcome, and reportedly the staff are quite friendly towards dogs.
Alternatively, check out Nile Street Cafe, open for breakfast and lunch from Wednesday to Sunday. They have a lovely shaded courtyard and tempting daily specials. The Agrestic Grocer on the outskirts of Orange also has outdoor seating, as well as a shop with local products available.
Dog-Friendly Accommodation in Orange
Note: This post contains affiliate links, which means I may receive commission if you make a purchase using the links. See my full disclaimer.
Orange has a wide variety of accommodation options, ranging from cottages to camping grounds, many of which are dog-friendly.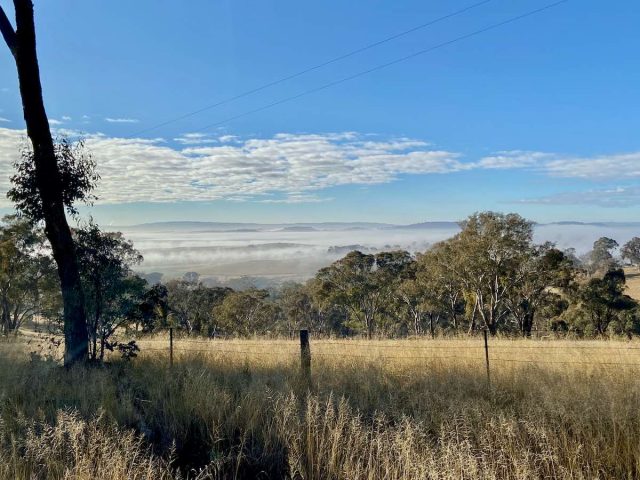 For a pet-friendly cottage close to the centre of Orange check out Ambrose on Byng. Sleeping up to 8, the cottage has four bedrooms and two bathrooms. Pets are welcome to stay for no extra charge, with previous four-legged guests loving the fenced front and back yards. Enquire directly for the full pet regulations.
Another popular pet-friendly option in Orange is Quest Orange. This apartment hotel contains fully self-contained apartments ranging in size from studios to three-bedroom apartments. Contact the property directly to find out full details and make a booking.
Alternatively, both caravan parks in Orange are pet-friendly, although only on camping sites, not in cabins. The Canabolas Caravan Park is located on the eastern side of town, while the Colour City Caravan Park is next to the showground. We stayed at the Canabolas Caravan Park, which has better reviews, but the Colour City Caravan Park is close to an off-leash dog area.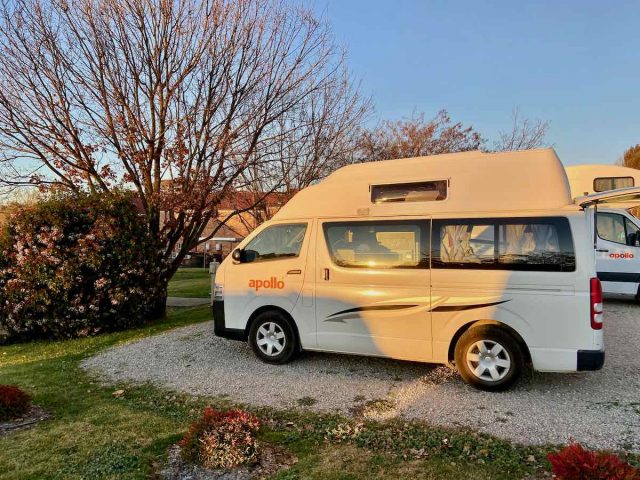 There's also some interesting pet-friendly places to stay close to Orange. For something different, check out Yurt So Good, about 25 minutes south near Millthorpe. This spectacular yurt in the countryside is luxuriously decorated, yet still affordable.
Enjoy the beautiful night skies while relaxing around the outdoor fire pit. Sleeping two, there's a small kitchenette plus a fireplace to stay warm on chilly winter nights. Pets are welcome, with an enclosed private yard, just bring their own bed and bowls.
Head Next To
Inspired? Pin this to your Pinterest board!