It's easy to understand the growing popularity of glamping in Australia. After all, you can enjoy the delights of nature, but also the comforts of modern life. But what about if you have a dog? Often many glamping tents have not allowed pets. Luckily though, I've dug up some of the growing number of pet-friendly glamping tents in Australia. Take your pick!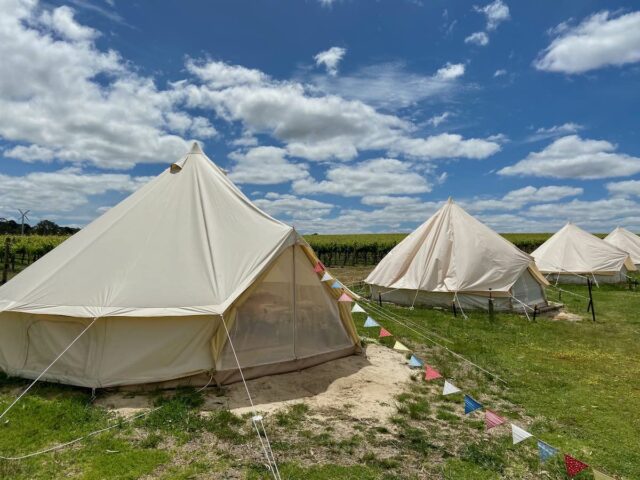 Note: This post contains affiliate links, which means I may receive commission if you make a purchase using the links. See my full disclaimer.
Dog-Friendly Glamping Tents in NSW
There's quite a few pet-friendly glamping tents in NSW, many close enough to Sydney to enjoy a fun weekend away with your dog.
South Coast Retreat, Greenwell Point
South Coast Retreat is located just north of Jervis Bay at Greenwell Point, about a 2 1/2 hour drive south of Sydney. Dogs are allowed year-round, in both their standard and deluxe cabins, plus in their African-style glamping tents.
Each of these dog-friendly glamping tents is beautifully kitted out. Inside you'll find a queen-size bed (and additional camp beds if required), a stylish ensuite bathroom and even a small kitchen. Plus out the front of each tent is a large deck, with either day beds or ecofurn chairs. Stay warm during the winter months with an electric blanket and electric heater.
Up to two dogs are permitted to join you in each glamping tent, including inside, but not on the furniture.
Mountain View Farm, Tilba Tilba
Mountain View Farm is just outside of the cute village of Central Tilba, a short drive south of Narooma on the South Coast of NSW and five hours south of Sydney. This farmstay property loves pets, and have welcomed everything from dogs and cats to horse and birds in the past.
Dogs are welcome to join you in their cottages and studio, plus in their two Tent Houses. Both safari tents come with a comfortable queen bed, plus your own fire pit and esky. You'll have access to the shared amenity building, plus brunch baskets can be ordered.
Note that the Tent Houses don't have a fenced yard, unlike the cottages and studio, so you'll need to keep your dog leashed. Make sure you also advise the property in advance that you'll have pets.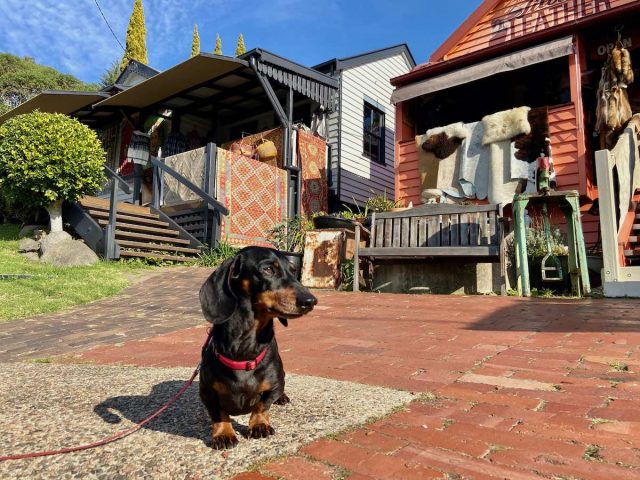 Turon Gates Mountain Getaway, Capertee
Instead of heading south down the coast, instead head inland to Turon Gates Mountain Getaway for a stay with your dog surrounded by beautiful bushland. This huge country property is located near Capertee. It's about a three hour drive from Sydney, with the final stretch along a dirt country road, generally fine for 2WD vehicles – it's a true getaway!
Note that only one of their luxury glamping tents allow pets, in addition to all their cottages and cabins plus their campsite – so get in quick to book it for weekend stays. Their glamping tents are truly luxurious, with their own bathroom and kitchen, air-conditioning (and heating for the chilly winters), and a spacious deck with a BBQ overlooking the river and bush.
Nomadic Belle, Lake Lyell
Camp next to Lake Lyell in one of the glamping tents run by Nomadic Belle. Just over the other side of the Blue Mountains, close to Lithgow, the campground is just 2 1/2 hours drive from the centre of Sydney, perfect for a weekend getaway.
There are two glamping tents set up – the large Jannali with a king bed, while Yiray is perfect for families, with two doubles and a single bed. Pets are permitted in both, which both come with their own fire pit, BBQ and esky. Note that showers and toilets are located in the amenity building shared with the rest of the campground.
Hillview Farmstay, Mount Adrah
Hillview Farmstay is a true country farm-stay, with animal feeding activities included with all stays, as well as a full country breakfast. Best of all, pets are allowed to join you, at this farm-stay located just off the Hume Highway south of Gundagai, roughly halfway between Sydney and Melbourne.
Pets are allowed in all accommodation options. Choose between the five cottage or their four glamping tents, including two traditional Safari Tents and two newer Dome Tents. Fully appointed, each tent includes a four posted queen-size bed, your own bathroom, reverse-cycle air-conditioning, an outdoor deck and more.
Note that pets should be advised at the time of booking, and need to be fully vaccinated. An additional fee of $30 per night applies, with an additional charge for excess cleaning (pets should be kept off the furniture and beds).
Rosewood Farmstay, Binda
For a truly remote getaway, make a booking for the Tent on the Hill at Rosewood Farmstay. Despite being only a three hour drive from Sydney, it's situated in a remote spot, about halfway between Goulburn and Cowra, perfect for escaping modern life.
The tent is luxuriously appointed. With a four-posted queen-sized bed (and a second bed in a nook), there's also an indoor kitchenette and bathroom. Or spend your time lazing on the sunset facing deck, with comfortable seating, a fire pit and even an outdoor bath. Dogs are welcome to join you for no additional fee.
Redwood & Jilliby Creek Glamping Tents, Lemon Tree
Just a 90 minute drive north of Sydney, located on a secluded property in the Dooralong Valley, are two pet-friendly glamping tents, the Redwood Glamping Tent and Jilliby Creek Glamping Tent.
Both glamping tents are solar-powered and contain a queen bed, wood-fired stove and fire pit outside. Facilities are shared by tents and cabin on the property, including bathrooms, a kitchenette and BBQ, plus outdoor sporting equipment. During the day, relax on the day bed on the deck or the hammock, and enjoy the welcome gift of wine and chocolates.
Note that pets should be kept leashed, plus be respectful of other guests, the local wildlife and the horses on the adjacent property.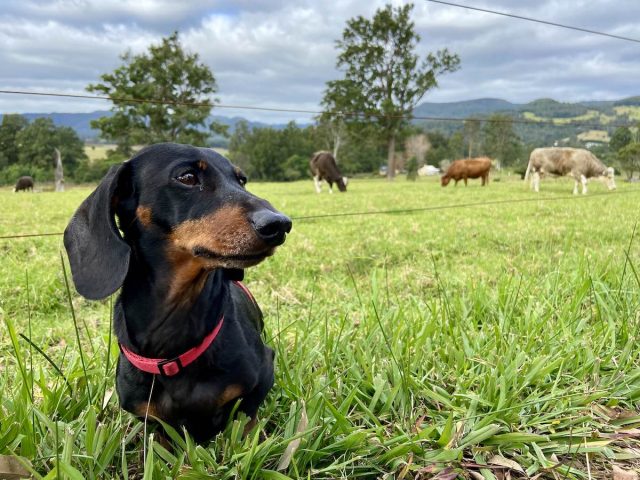 Ballina Beach Nature Resort, South Ballina
On the Far North Coast of NSW, Ballina Beach Nature Resort is a pet-friendly caravan park that welcomes pets year round. Pets are allowed in a wide range of accomodation, including some of their glamping tents, ideal for pet-friendly glamping in NSW.
Choose between the Couple's Retreat Luxury Tent (with a four-posted queen-size bed and single loft bed for two children) or the larger Family Adventure Glamping Tent (accommodating up to six). Both feature an indoor ensuite bathroom, internal kitchen and spacious deck. Note that pets are not permitted in the Luxury Lodges.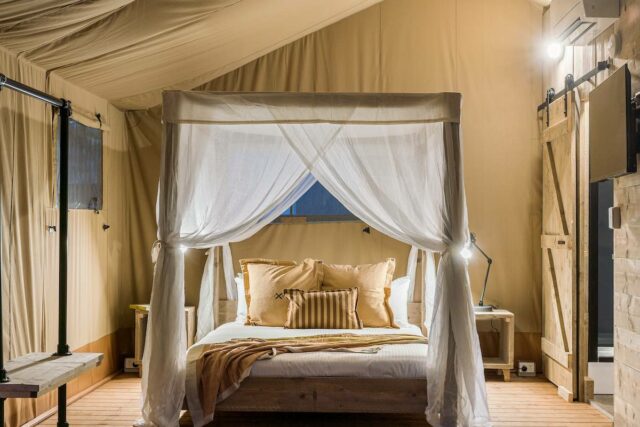 An additional fee of $15 per pet per night applies. During peak periods, there is the restriction of one pet per tent. Make sure you advise the property at the time of your booking that you have a pet.
Dog-Friendly Glamping Tents in Victoria
Take your pick from these pet-friendly glamping options in Victoria. Both are close enough to Melbourne for a weekend away glamping with dogs.
Euroa Glamping, Euroa
Head two hours north of Melbourne to Euroa in Central Victoria to stay in one of the dome glamping tents at Euroa Glamping. Each of the simple dome tents have their own deck with a BBQ, plus share bathrooms and a kitchen/common area. I recommend booking directly so you can choose a specific tent.
Pets are allowed to stay, on a case-by-case basis, so reach out and ask for permission in advance. An additional cleaning fee of $30 applies per stay and pets should be kept on a leash. There's walking tracks right onsite.
Park Lane Holiday Parks, Wonthaggi
Okay, these aren't exactly tents, but the glamping pods at Wonthaggi Park Lane Holiday Park are very cute, and not far removed from a glamping tent. It's just a two hour drive southeast of Melbourne to this caravan park in an historic mining town on the Bass Coast, not far from Phillip Island.
Each of the petite glamping pods is perfect for a couple (and a dog!), with a queen-size bed, ensuite, kitchenette and couch inside, plus two chairs on the porch at the front. You can also make use of the other facilities at the caravan park, including an indoor heated pool, camp kitchen and BBQ area.
Up to two well-behaved and house-trained dogs are permitted per cabin, although dogs that shed excessively are not allowed. The breed and size of dog should be declared at the time of booking. Note that pets are also welcome in the ensuite glamping pods at the Bendigo Park Lane Holiday Park, but not at their Yarra Valley park.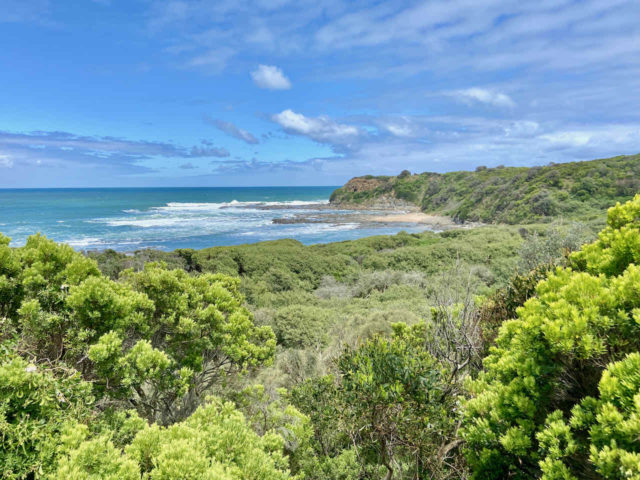 Dog-Friendly Glamping Tents in SA
The Coonawarra wine region in southeastern South Australia is home to a fabulous holiday spot with dog-friendly glamping tents.
Coonawarra Bush Holiday Park, Coonawarra
During my road trip to South Australia with my dog in 2019, I was delighted to find and stay at the glamping tents at Coonawarra Bush Holiday Park. This rustic park right next to a vineyard is about a 15 minute drive north of Penola, and offers multiple dog-friendly glamping options.
We stayed in an affordable Standard Glamping Tent, with a king-size bed, electric blanket, kettle and esky, but there are also the Stargazer Glampers, the Outback Glampers and the Moongazer Glampers, some with a private ensuite toilet adjacent to the tent. Each tent has outdoor seats and their own fire drum. Shared facilities onsite include a large camp kitchen and multiple bathrooms.
Pet dogs are welcome to join you in the tents, as long as they have their own bed. No additional fees apply. The park also has caravan and camping sites located around their dam, so expect to encounter other dogs onsite.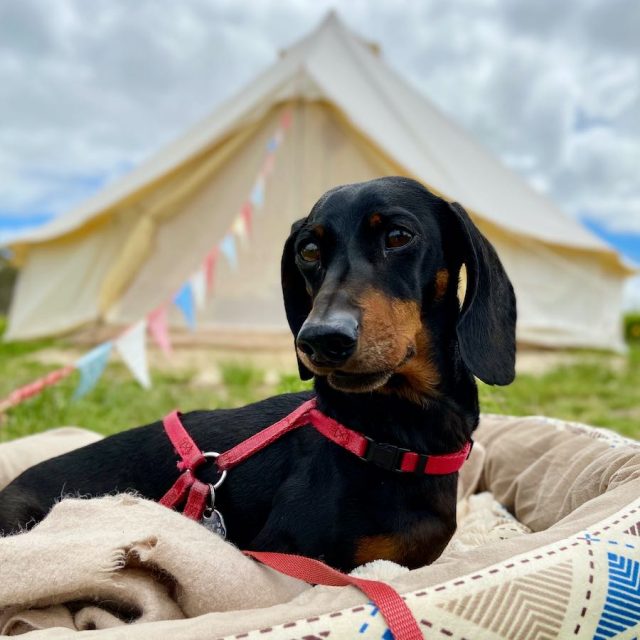 Dog-Friendly Glamping Tents in WA
To enjoy glamping with your pet in Western Australia, had to the southwest of the state where there are multiple pet-friendly glamping accommodation to choose from.
Yallingup Lodge Spa Retreat, Yallingup
The Margaret River is the perfect destination for a luxury weekend away from Perth. And just because you're travelling with your pet, doesn't mean you need to skip staying at the adults-only Yallingup Lodge Spa Retreat.
As well as offering a special Pet Suite, pets are also welcome to join you in their glamping tent. Set in a tranquil, private setting underneath pine trees, the glamping tent is beautiful styled with a queen-sized bed, plus features a rustic open kitchen and hot outdoor rainwater shower.
An a la carte breakfast option is offered daily. While you enjoy the day spa your pup can be booked in for their own grooming treat. Direct bookings are required.
Busselton Villas & Glamping Village, Busselton
To the north of the Margaret River region lies the city of Busselton, just a 2 1/2 hour drive south of Perth. On the calm shores of Geographe Bay, there's plenty of off-leash dog beaches, plus you can stay with your pup at the Busselton Villas & Glamping Village.
While pets are not allowed in the villas, they are permitted in the glamping tents. Both two-person and four-person glamping tents are available, all gorgeously styled with beds, indoor seating and a kitchenette. You'll also have access to a shared kitchen and bathroom facilities. It's only a few minutes walk to the beach.
Pets are allowed inside the tents, with beds, bowls and pet blankets provided. Up to two small-medium dogs or a single large dog permitted, with an additional charge of $20 per pet per night. Direct bookings are required if you have a pet.
Stargazers, Pemberton
If you're more interested in a stay surrounding by forest rather than close to the beach, make a booking at Stargazers, halfway between Pemberton and Nannup, about a 3 1/2 hour drive south of Perth.
In addition to six cottages, there are three luxury glamping suites, each located next to the lake with your own private jetty. Inside the large bell tent is a king-size bed and pot belly fireplace, plus each suite has its own rustic ensuite with heated rain shower, an outdoor bath, and camp kitchen with BBQ.
Make sure you request in advance for permission for your pet to join you. An additional fee of $50 applies per stay.
You May Also Like