As anyone knows who has driven the Hume Highway between Sydney and Melbourne, while it's a good quality divided highway the entire way, driving along the Hume makes for a long boring day (or two). Pity your poor pup then, if you're driving the Hume Highway with a dog.
To liven up your journey and make sure you take plenty of breaks on this road trip for your dog's sake, here's some ideas for interesting places you can stop along the Hume Highway with your dog, plus just some of the off-leash dog parks, dog-friendly dining and pet-friendly places to stay along the way.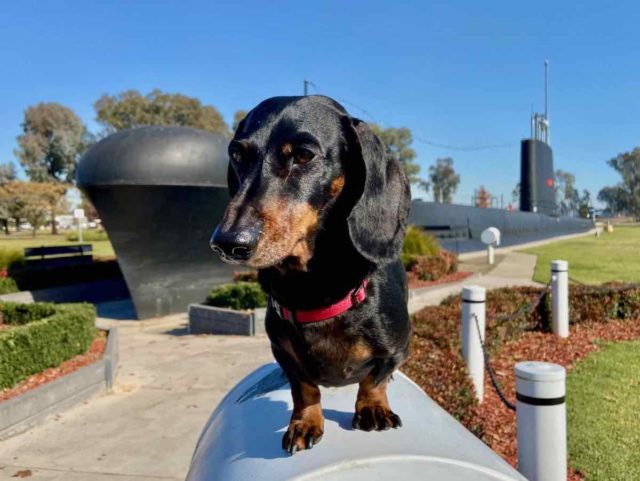 Interesting Dog-Friendly Stops Along the Hume
Break up your drive and stop at some of these tourist spots along the Hume Highway. All are just off the highway and of course dog-friendly. From north to south…
Big Merino, Goulburn
The Big Merino in Goulburn is one of the most iconic big things located around Australia. I can't remember driving past Goulburn as a child without stopping off at this big attraction along the way, although it's not quite so impressive when you visit as an adult.
It's possible to visit the interior of the merino statue from the adjacent souvenir shop, although of course dogs aren't allowed inside. Instead settle for a selfie out the front, plus perhaps pick up some pastries from the nearby bakery.
Dog on the Tucker Box, Gundagai
What's a drive along the Hume Highway with a dog, without stopping at Gundagai for a selfie with the famous Dog on the Tucker Box?
This famous dog statue is smaller than expected, but still a worthwhile stop. It's easier accessed while driving northbound. Adjacent to the carpark are a few other tourist spots to visit, including a cafe selling coffee and local goods, plus a local apple vendor.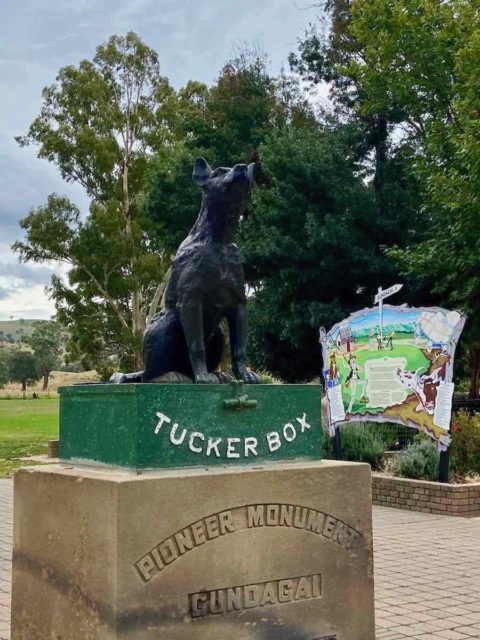 HMAS Otway Submarine, Holbrook
Now, what's a submarine doing in a park in country Australia, hundreds of kilometres away from the nearest coast? Find this out and more when you stop off in Holbrook and visit the HMAS Otway Submarine.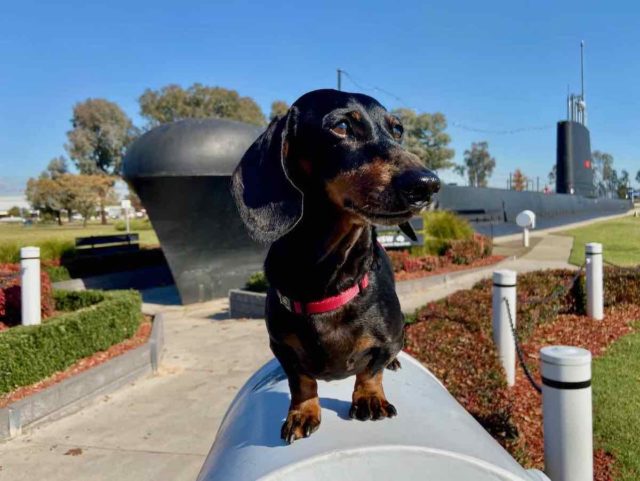 Certainly bigger than the Dog on the Tucker Box, leashed dogs are welcome in the park where the submarine is located, plus to walk along the top of it with you. There's also an adjacent museum, although dogs are not allowed inside the museum. Just behind this park is an off-leash dog park.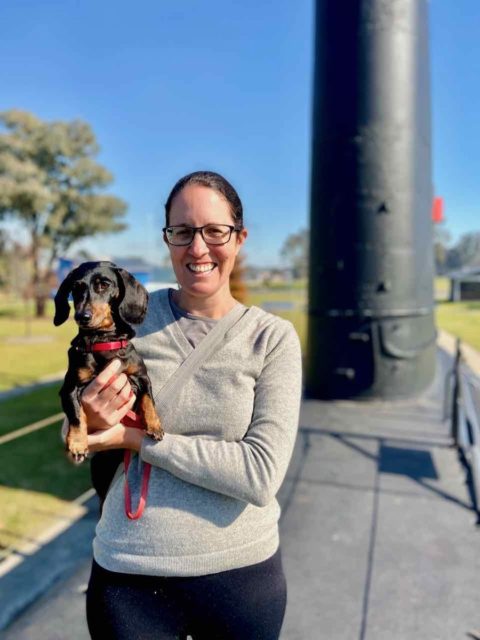 Ettamogah Pub, Table Top
Not far north of Albury is the original Ettamogah Pub, located in the village of Table Top. Pull off the highway and get a selfie with your pup in front of this whacky construction.
The Ettamogah Pub is also dog-friendly, so if you have time for a longer stop, perhaps enjoy a cold drink or a pub meal on the verandah. The pub is usually open daily for lunch.
Ned Kelly Walk & Big Ned, Glenrowan
Ned Kelly is one of the most famous characters in Australian history, and you can explore his history and sad demise with a stop in the town of Glenrowan. There are a number of museums devoted to Kelly along the main road, but I recommend instead following the Ned Kelly Walk with your dog on a leash.
The introductory sign and final stop on the self-guided walk are alongside Gladstone Street, south of the railway line. Cross over the train line for the six other stops on the walk, including Kelly's capture site. You can pick up a map from the Tourist Centre at 41 Gladstone St.
While in Glenrowan, don't also miss getting a selfie with your pub a few blocks south outside of Big Ned.
Off-Leash Dog Parks Along the Hume
While some of these tourist stops are good for breaking up the drive, your dog may also appreciate running around and burning some energy in an off-leash park. Consider stopping at these off-leash parks located along the Hume, including some fenced dog parks, from north to south.
Shale Hills Dog Park, West Hoxton
Okay, this off-leash dog park is still within the bounds of Sydney, but it's a fantastic spot to stop with your dog at the start or end of your long drive along the Hume. About 10 minutes off the M5 in West Hoxton, this large fenced park has agility equipment, gardens for sniffing and a separate area for small dogs.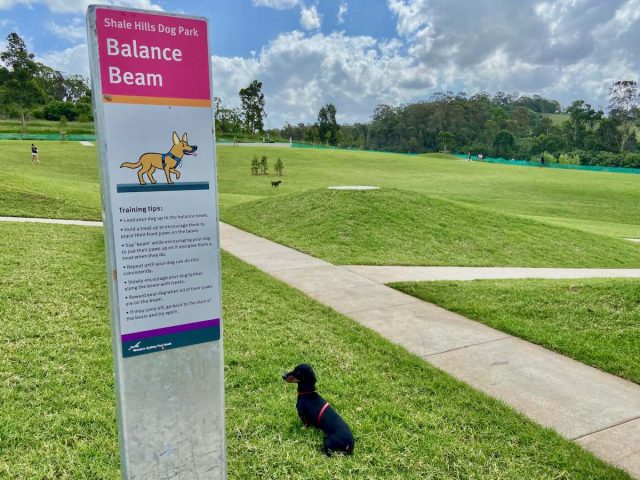 Victoria Park, Goulburn
Take a detour through the centre of Goulburn to visit the large and popular Victoria Park. The park has an off-leash dog park in one corner, adjacent to the intersection of Faithfull Street and Clifford Street.
Yass Dog Park
Three hours out of Sydney, it's a bit of a detour off the highway to visit Yass, but the town is home to the Yass Dog Park, as well as multiple cafes and bakeries.
This fenced dog park is located just off the main road, in between the Yass River and the swimming pool and opposite Yass Primary School. According to the council website, the park is divided into three separate zones: an Active Zone, a Quiet Zone and a Come and Try Zone.
Mobile Service Centre, Coolac
This isn't strictly a dog park, but the new Mobile Service Centre at Coolac along the Hume Highway (take the Coolac exit) offers more than the typical facilities. There's also a fenced, off-leash dog exercise area, perfect for ticking off multiple boxes at the one stop.
Heydon Park, Gundagai
After years without an off-leash dog park, Heydon Park has now been designated as an off-leash dog park in Gundagai. A basic unfenced park with poo bags and bins, the park is near the centre of town, on the opposite side of the highway from the Dog on the Tucker Box.
Holbrook Off-Leash Dog Park
As well as having the fascinating submarine to visit, don't also miss the adjacent off-leash dog park in Holbrook. The off-leash area is located behind the submarine and the museum, next to the skate park. Note that it is unfenced.
Belvoir Park Dog Park, Wodonga
This is one of the best and most convenient off-leash dog parks to stop at when driving along the Hume Highway with a dog. While there's multiple off-leash dog parks in the twin cities of Albury and Wodonga, Belvoir Park Dog Park is one of the closest to the highway.
This fenced dog park is literally next to the highway, and has an agility course, as well as water fountains and plenty of shade. Close to one of the carparks, there's also toilets for humans nearby, plus you can take your dog on a leashed walk around the lake.
Mitchell Avenue Reserve Dog Park, Wangaratta
It's a bit of a detour off the Hume to Wangaratta, but if you do stop in this city, your dog would appreciate a visit to the dog park in the Mitchell Avenue Reserve. Towards the southern end of the large reserve (search for "Off Leash Dog Park" on Google Maps), its large in size and securely fenced.
Euroa Dog Park
Two hours outside Melbourne, it's a short detour to pass through the town of Euroa. In 2021 the first official off-leash park opened in the town. The fully fenced dog park is adjacent to the Showground.
Dog-Friendly Dining Along the Hume
These are some of the top recommendations for stopping and enjoying a meal along the Hume. Alternatively, pack your own picnic or pick up something at the many bakeries along the way, and enjoy in one of the many rest areas.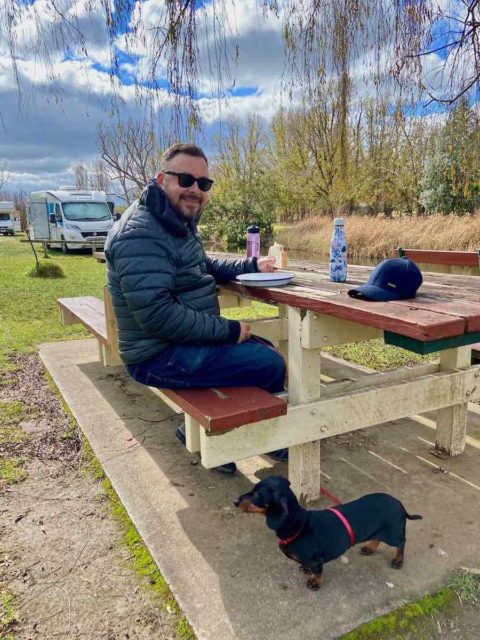 Barney's of Bookham
Not far after Yass and about 3 hours drive from Sydney, Barney's of Bookham is just off the edge of the Hume and an ideal stopping place. The simple cafe is open daily for breakfast and lunch, serving up light meals and burgers.
What makes it so dog-friendly, is the recent addition of fencing to their outdoor dining area. Perfect for keeping both kids and pets safe while enjoying lunch!
The Sir George, Jugiong
For something a bit fancier, keep driving a little further to Jugiong. This historic village has become a foodie stopping point along the Hume, thanks to the Sir George Hotel and it's well regarded restaurant. Dogs are welcome to join you at the outdoor dining tables underneath the Avenue of Snow Pears.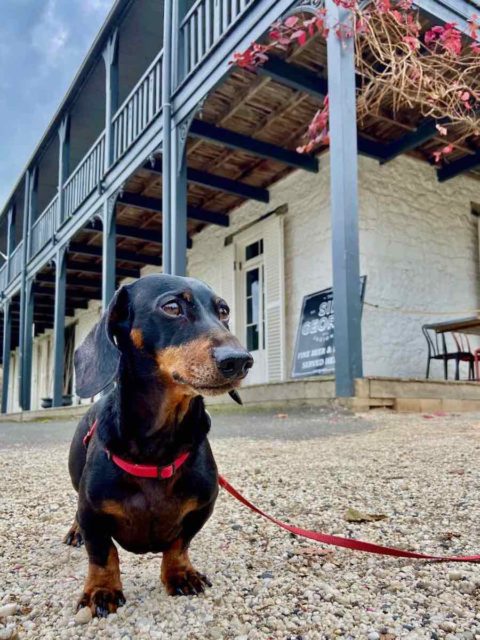 If you're pressed for time, instead pick up something at the cafe next door, the Long Track Pantry, with dogs welcome on the outdoor verandah. Unfortunately though, the park directly opposite doesn't allow dogs, with copious signs to remind you.
Beehive Hotel, Coolac
The Beehive Hotel is located in Coolac, just off the Hume Highway in between Jugiong and Gundagai. A very dog-friendly pub, dogs are allowed both outside and inside, just not in the dining room. There's also a resident bar dog. Grab a traditional pub meal – the parmy in particular is recommended.
Blind Freddy's Cafe, Wodonga
If you're not wanting something to eat on the Victorian side of the border, check out Blind Freddy's Cafe in Wodonga. Not far off the Hume (and close to the Belvoir Park Dog Park), this cafe is open daily for breakfast and lunch. There's dog bowls outside and dog treats available to buy inside on the counter – your pup will be delighted!
Pet-Friendly Accommodation Along the Hume
If you'd prefer to break up your journey along the Hume, consider spending the night at one of these pet-friendly hotels, all located roughly halfway between Sydney and Melbourne.
The Old Bookham Church, Bookham
Just over three hours south from Sydney, the Old Bookham Church is a fabulous spot to pull up for the night, especially if you are travelling in a large group. This former Catholic church can accommodate up to eight guests.
There's a full kitchen for you to prepare dinner in, or else order from the oven-ready dinner menu. It's directly opposite Barney's of Bookham (see above), if you're wanting to enjoy a hearty cooked breakfast. With a fully-fenced yard, dogs are welcome to join you, for an additional $10 per pet per night.
Bushmans Retreat Motor Inn, Gundagai
Four hours from Sydney, pull up for the night at the 3-star Bushmans Retreat Motor Inn in Gundagai. Just off the highway behind the Shell service station, while it doesn't look like much from the outside, it does offer comfortable pet-friendly rooms for the night.
Pets are allowed in selected Standard Queen and Standard Twin rooms. The latter sleeps up to three guests, with a second single bed, and all pet-friendly rooms are on the ground floor. A kitchenette is included in each room, plus a free continental breakfast is included. Additional charges may apply for pets, and bookings via phone are required.
Tarcutta Halfway Motor Inn
Not surprisingly, the Tarcutta Halfway Motor Inn is virtually halfway in between Sydney and Melbourne along the Hume Highway. Just a short distance off the highway, this 3 1/2 star rated motel has smartly decorated rooms and a licensed restaurant.
Two rooms have been designated as pet-friendly – Room 1 (Queen & Single) and Room 19 (Queen bed only). Double check this is still the case. For other rooms, pets are not allowed inside, but can sleep outside the room, as long as they stay quiet, or in the horse stables at the rear. There's also a dog run onsite.
Jolly Swagman Motor Inn, Holbrook
Forty minutes south of Tarcutta is the town of Holbrook. As well as being home to the HMAS Otway Submarine, the town is also home to the Jolly Swagman Motor Inn.
A number of the queen, twin and family rooms have been designated as pet-friendly, with pets allowed inside. An additional fee is charged if you are staying with pets – please phone the office directly to make a booking. Onsite is also a Chinese restaurant, with delivery to your room possible, plus a children's playground.
Quest Albury on Townsend
A little further down the Hume in the centre of Albury, Quest Albury on Townsend is one of the Quest Apartment Hotel locations around Australia that has pet-friendly rooms. Enquire directly about booking a pet-friendly room. Generally there is a small additional charge per night, plus a refundable deposit is held.
All rooms at Quest Albury on Townsend are fully self-contained. They range in size from studios through to three-bedroom apartments, perfect for comfortable family stays.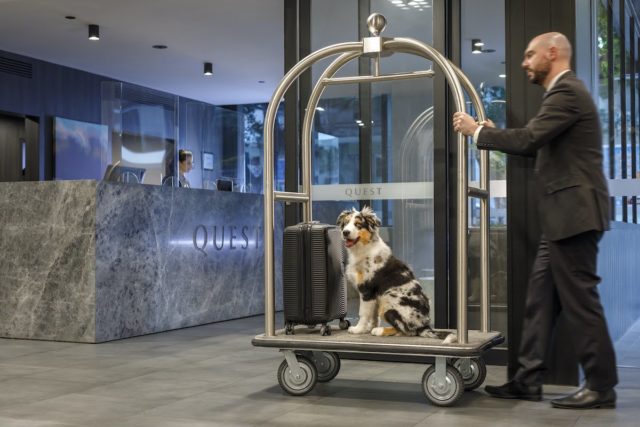 BIG4 Borderland Wodonga Holiday Park
While not a hotel, the BIG Borderland Wodonga Holiday Park has plenty of dog-friendly options for you and your pup. In addition to welcoming dog owners with vans and tents, they also have dog-friendly standard cabins (look for the paw print when booking online), with pets allowed inside. Alternatively, make use of the portable kennels so you can stay in any cabin. Best of all, there's a dog run at the rear of the park.
You May Also Like