Whether you're driving from Sydney to Queensland or to one of the many other popular holiday destinations along the NSW North Coast, you'll likely to be driving along the Pacific Highway. And while recent upgrades have reduced driving times, it's still a long 10 hour drive from Sydney to Brisbane (without holiday traffic!)
If your dog is in the car with you, you'll want to stop every couple of hours to stretch everyone's legs and have a break. I've put together recommendations for the most convenient off-leash dog parks and beaches along the way, as well as some other fun dog-friendly stops.
Plus, if you're wanting to break up the drive (highly recommended!), I've included some pet-friendly accommodation options around the halfway point.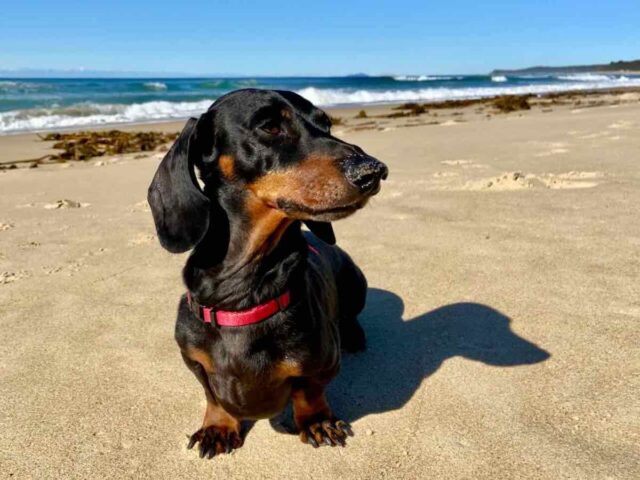 Off-Leash Dog Parks & Beaches Along the Pacific Highway
There's plenty of wonderful off-leash dog parks and beaches located along the coastline between Sydney and Brisbane. Make sure you stop at some of them to give your dog a chance to run around and burn off some energy after being cooped up in your car.
I've picked out these particular parks and beaches because they're conveniently close to the highway, meaning that you can just make a quick stop, without lengthening your drive too much.
Kariong Dog Park, near Gosford
Kariong Dog Park is located just off the Pacific Highway at Mount Penang Parklands. It's only an hour north of the centre of Sydney with regular traffic, but if traffic is heavy, you may already be ready for a break, and it's only a 5 minute detour at the Gosford turnoff.
The off-leash dog park is a large grassed paddock with a dam and lots of room for plenty of dogs. Just keep a close eye on your pup as the fencing is far from dog-proof.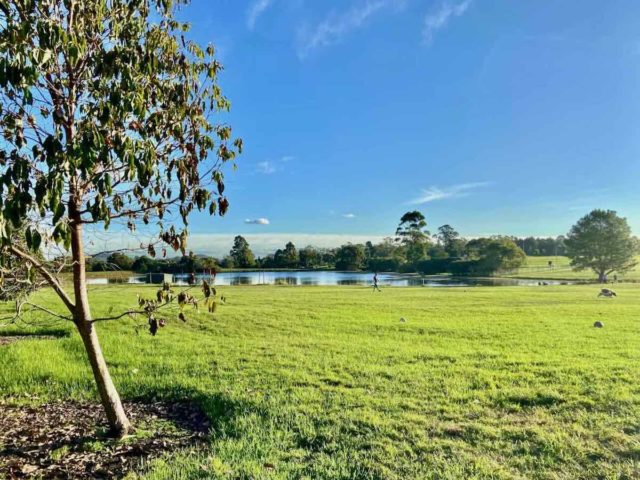 Speers Point Dog Exercise Area, Lake Macquarie
If you'd prefer to wait, another off-leash dog park heading north is the Speers Point Dog Exercise Area, on the western edge of Lake Macquarie. It's about 1hr 45 minutes north of Sydney, although a visit to this park will add about 20 minutes to your drive.
This park was only recently constructed, with secure fencing, seating and shade, and even some agility equipment. The only downside is there is not separate area for small dogs, so is best visited at quieter times of the day with a smaller timid dog.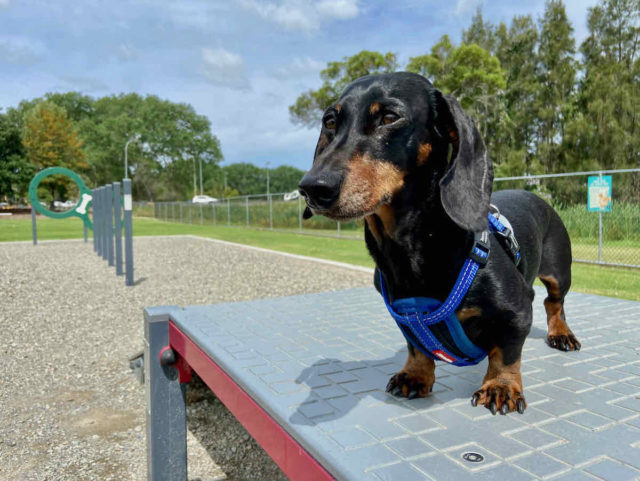 Boomerang Park, Raymond Terrace
On the other side of Newcastle, Raymond Terrace is also home to a number of off-leash dog exercise areas, just over 2 hours from Sydney and only a short detour from the highway. The best option is to head to Boomerang Park, where there are two options for your pup.
On the northern side of the park, adjacent to Kangaroo Street, is a large off-leash dog exercise area. Alternatively, a fenced dog park has also been recently constructed, adjacent to the skate park, just off Irrawang Street. There's even a water station, plus plenty of seating for humans.
Saxby Park, Taree
Heading further north, there's not many off-leash dog parks for quite a stretch, unless you're happy to detour off the Pacific Highway. Tuncurry, about a 15 minute drive off the highway, is home to the off-leash Nine Mile Beach and a fenced dog park at nearby Beach Street Reserve.
An alternative is to stay on the highway for a little longer until the Taree turn-off, about 90 minutes drive north of Raymond Terrace. Saxby Park has been designated as an off-leash dog area and is only a short detour off the Pacific Highway. Note though that the park is not fully fenced.
Multiple Parks & Beaches, Port Macquarie
It's about a 10 minute detour off the Pacific Highway to the town of Port Macquarie, a popular destination in its own right and a great spot to stop between Sydney and Brisbane, just under the halfway mark.
There's multiple off-leash dog parks and beaches in the region, that I have fully detailed in my Port Macquarie guide. Consider stopping at the following:
Stuart Park, on the western edge of Port Macquarie, has a fenced dog park, adjacent to Woods Street in the centre of the park. It includes agility equipment and a separate section for small dogs.
Nobbys Beach, an excellent off-leash dog beach just south of the centre of Port Macquarie. There's a carpark at the southern end of the beach.
Grants Beach (or North Haven Beach) in North Haven, south of Port Macquarie. Take the Laurieton turn-off. The off-leash section starts from the northern end of the surf club car park.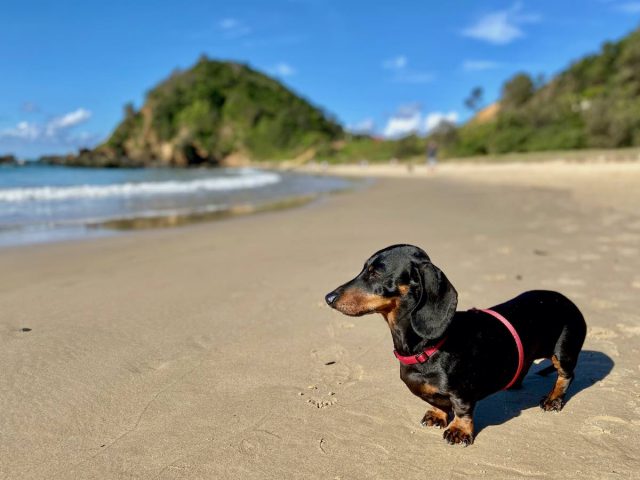 Kempsey Riverside Park, Kempsey
Not far north of Port Macquarie and closer to the highway is the service centre of Kempsey, about a 4 1/2 hour drive north of Sydney and just over 5 hours south of Brisbane. There are two off-leash dog areas in Kempsey, with my pick being the Kempsey Riverside Park.
True to its name, the park is right on the river, and has excellent picnic grounds. The unfenced off-leash dog area is to the right of the boat ramp, and it's possible for pups to have a paddle in the river as well.
There is also an fenced off-leash dog area at the Kempsey Service Centre in South Kempsey, but I've heard reports it's quite a landmine, despite bags and a bin being provided.
Thompsons Road Dog Park, Coffs Harbour
Heading an hour north to Coffs Harbour, the Thompsons Road Dog Park is less than 200m off the highway, just behind the car dealerships on the southern side of town.
It's a large fully enclosed park, with plenty of shade and benches to sit on, and even a creek where your dog can enjoy a freshwater swim. It's an easy spot to stop and allow your dog to stretch their legs, with easy street parking.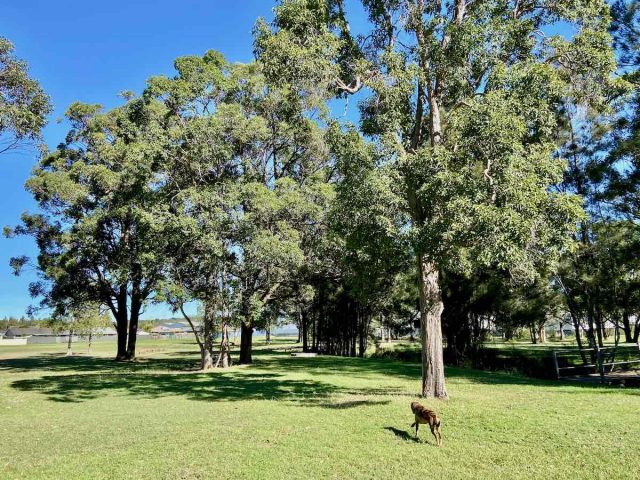 West Coffs Reserve District Park, Coffs Harbour
Alternatively, particularly if you have kids, instead consider visiting the recently constructed West Coffs Reserve District Park, a 5 minute detour of the highway to the western side of Coffs Harbour.
Along with plenty of playground equipment for human kids, including a flying fox, and excellent barbecue facilities, the park is home to two fully fenced off-leash dog areas. One is for all dogs, while the second area is restricted to smaller dogs under 10kg, but no puppies. There's also water bubblers.
Emerald Beach, Coffs Harbour
Coffs Harbour is also home to many beautiful beaches. My pick of the off-leash beaches is Emerald Beach, about a 20 minute drive north of the town centre and a short detour off the highway.
Dogs are permitted off-leash at the northern end of Emerald Beach, north of Fiddamans Creek. Walk through the reserve to the creek. Note that dogs are prohibited at the southern end of the beach plus the nearby Look at Me Headland, popular for its many kangaroos.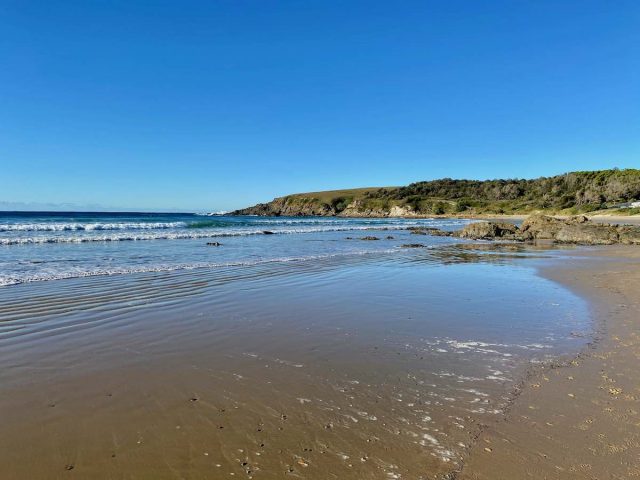 Brunswick Heads Beach, Brunswick Heads
Instead of detouring all the way into hustle and bustle of Byron Bay with your pups, an easier beach to detour to is Brunswick Heads Beach, about 20 minutes to the north and just over 30 minutes south of the Queensland border.
The off-leash section of Brunswick Heads Beach starts just south of the Surf Club and extends for 400m south to the boundary of Tyagarah Nature Reserve. Parking is also generally easy!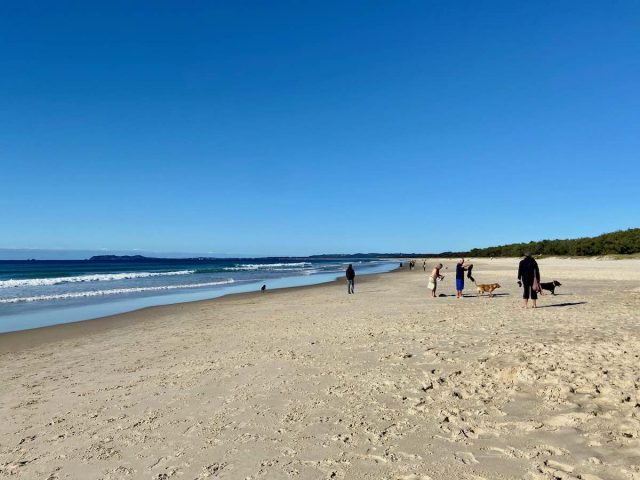 Palm Beach, Gold Coast
Crossing the border into Queensland, it's only a couple of minutes detour off the motorway to the Palm Beach Dog Off-Leash Beach, one of the best off-leash dog beaches on the Gold Coast.
Dogs are permitted off-leash around much of the Palm Beach Parklands, including the northern side of the Currumbin Creek entrance, looping around to the ocean-facing beach and lifeguard tower 13. Just note that dogs are prohibited on the southern side of Currumbin Creek. Check out the signs next to the carpark.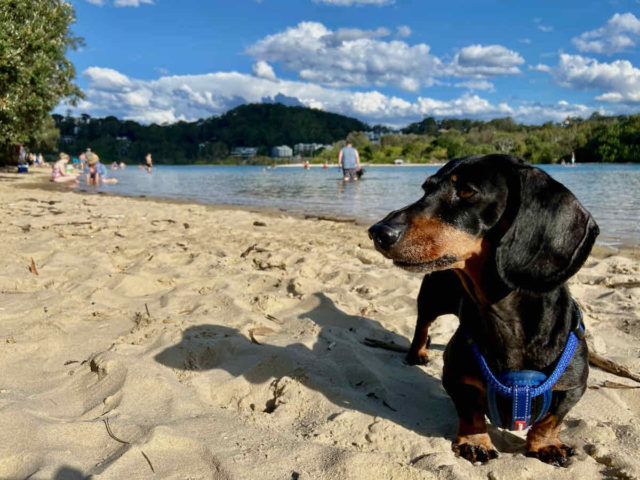 Saltwater Fenced Dog Park, Gold Coast
While the beaches at the northern end of the Gold Coast are a long detour off the Pacific Motorway, often through plenty of traffic, instead consider stopping at the excellent Saltwater Fenced Dog Park.
This large fully-fenced area at Hope Island is less than a 10 minute drive off the freeway, and a 45 minute drive from central Brisbane. It even has its own swimming lagoon, as well as agility equipment, picnic tables and water fountains. Dogs can also be walked on-leash on the path around the lake, although are not permitted in the western half of the park.
Interesting Dog-Friendly Stops Along the Pacific Highway
In addition to off-leash dog parks and beaches, there's plenty of other popular tourist spots just off the Pacific Highway that are dog-friendly, although make sure you keep your pup on a leash. Check out these options, from south to north…
Saddles Mt White, Mt White
Only about an hour after leaving Sydney, a unexpected place to stop for coffee can be found at Mt White. Just a couple of minutes off the freeway, Saddles Mt White is a bakery, nursery and excellent cafe.
Dogs are welcome to join you on the outside deck for dining. Otherwise I recommend grabbing takeaway coffees and some pastries – their sausage rolls are particularly renown. Although expensive, they're very large! There's a picnic area next to the dam, plus a short dam walk that my pup enjoyed.
Koala Sculptures, Port Macquarie
Well known for its population of local koalas and Koala Hospital (which naturally doesn't allow dogs to visit), Port Macquarie is also dotted with colourful sculptures of koalas.
There's over 70 koala sculptures in total, with each of the one-metre high koalas painted in a unique design by Australian artists. Check out the locations of the koalas on this website, then stop and get a selfie with one or two of them on your way. An easy option is the Pacific Highway Service Centre!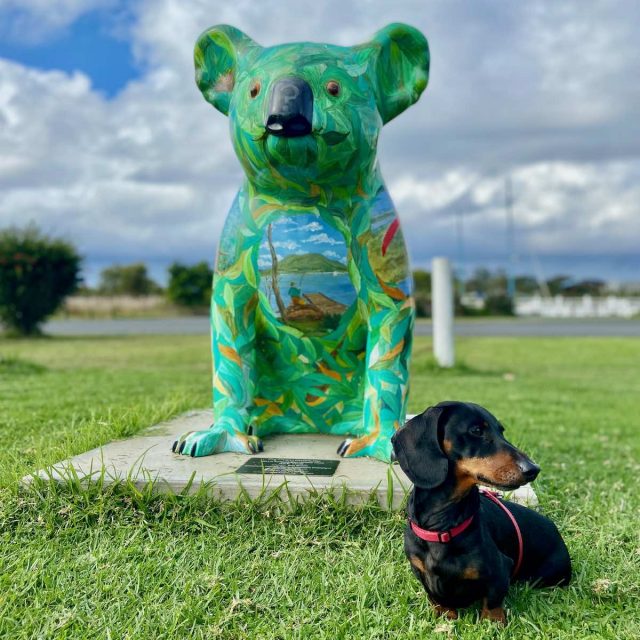 Abundance Cafe, near Port Macquarie
While driving along the Pacific Highway, it's easiest to stop at the service centres and fast-food outlets along the highway for a bite to eat. But while passing Port Macquarie, if you don't detour into town, instead consider stopping at the dog-friendly Abundance Cafe, less than 5 minutes west of the highway.
This tranquil spot is located adjacent to a garden centre, with a large outdoor dining area overlooking a small lake. Open from Wednesday to Sunday, there's a wide range of options for brunch and lunch, plus tempting Devonshire Teas.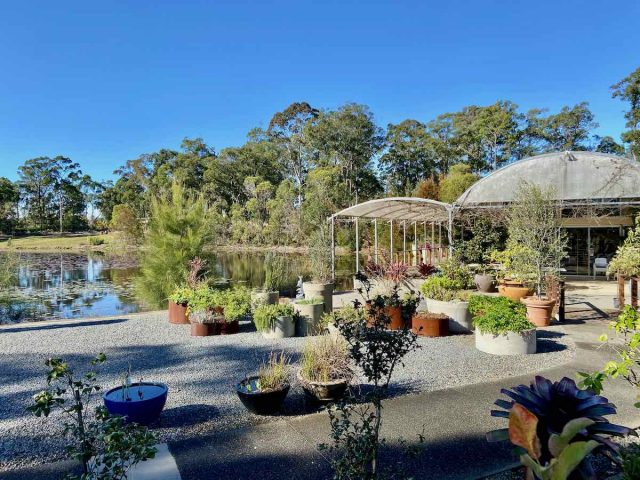 Urunga Boardwalk, Urunga
About halfway between Sydney and Brisbane, the sleepy coastal town of Urunga is worthwhile detouring through, particularly for the Urunga Boardwalk. This impressively long 1.2km boardwalk starts behind the caravan park and follows the mouth of the Bellinger River to the sea. There's also a side branch that heads off into the mangroves.
Leashed dogs are permitted along the entire length of the boardwalk, plus the beach at the far end of the boardwalk has been designated off-leash. Just make sure you take along poo bags, as there are limited bins and bags along the boardwalk.
Big Banana, Coffs Harbour
While driving on the Pacific Highway through Coffs Harbour, you'll of course spot the Big Banana, which has been greeting drivers along the highway since 1964. But why don't you stop at the Big Banana for a break?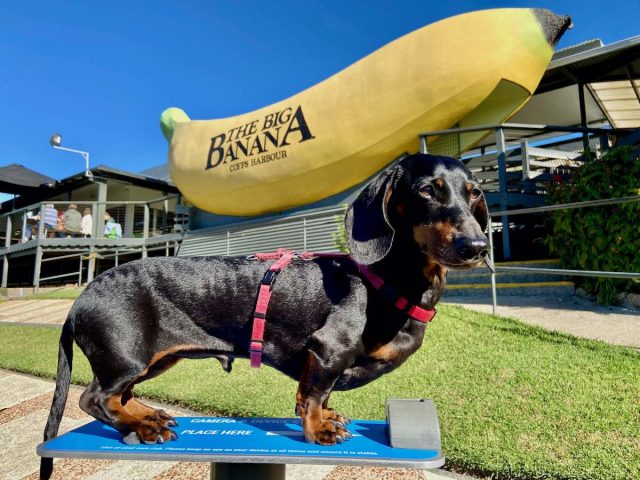 While the Big Banana is these days surrounded by an amusement park, that permits dogs on the ground but not on any of the attractions, instead just consider a selfie stop at the Big Banana itself. The adjacent cafe also has a pet-friendly outdoor seating area, with chocolate-coated frozen bananas a popular option.
Clog Barn, Coffs Harbour
While passing through Coffs Harbour, there's another dog-friendly attraction on the highway that's dog-friendly. The Clog Barn is just south of the Big Banana. This Dutch-themed barn dedicated to clogs features a miniature Dutch village with free entry, plus clog making demonstrations and a coffee house.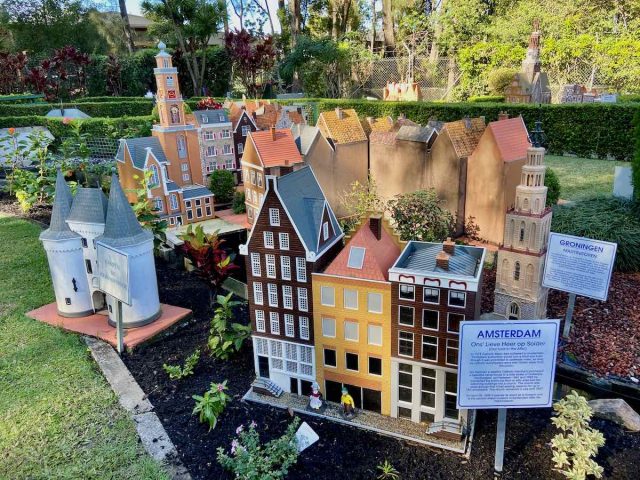 The Farm, near Byron Bay
The Farm is one of the most popular destinations in Byron Bay, despite being 10 minutes west of town, right next to the Pacific Motorway. Which also makes it a must-visit stop when driving past!
As well as being home to the Three Blue Ducks restaurant, with plenty of outdoor tables where dogs are welcome, it's also an actual farm. Stretch your legs on the 1km-long self-guided walk around the property, with leashed dogs welcome, and grab some treats from the Bread Social Bakery or Baylato if you don't stop for a meal.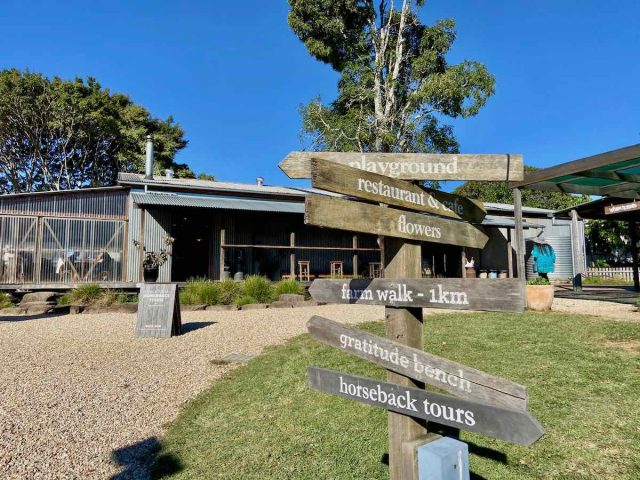 Pet-Friendly Accommodation Along the Pacific Highway
It's a long drive from Sydney to Southeast Queensland, especially in holiday traffic. If you'd prefer to stay somewhere around the halfway point (or earlier), check out these pet-friendly accommodation options…
Note: This post contains affiliate links, which means I may receive commission if you make a purchase using the links. See my full disclaimer.
Bay Hotel Motel, Lake Macquarie
The Bay Hotel Motel is located at Bonnells Bay, on the western shores of Lake Macquarie and not far off the Pacific Highway. It's a convenient option if you're looking for somewhere to stay just a couple of hours north of Sydney.
Contact the motel directly to make a booking to stay with your pet. A variety of rooms are available, including family and holiday units – check which ones are available for pet owners. Note that an additional fee of $25 is charged per pet, plus a room deposit.
Narimba Motel, Port Macquarie
One of the best pet-friendly motels in Port Macquarie, just a 10 minute drive off the Pacific Highway, is the Narimba Motel on the western side of town. The motel has multiple rooms that vary in size, each with fridge/freezer, microwave, crockery and cutlery.
Both dogs and cats are welcome, for a small pet fee, and a small secure off-leash yard is available. It's also not far from the off-leash dog exercise area at Stuart Park.
Delicate Campground, Crescent Head
If you've got your own campervan or caravan and are looking for somewhere picturesque to stay, consider camping at Delicate Campground. Right on the beach in the Goolwah Regional Park, rates are reasonable and online bookings are available (and essential during peak periods).
Continue past Port Macquarie and take the Crescent Head turn-off, then head south at the coast. Up until recently a few short sections of the final road were unsealed, but I believe it's now fully sealed.
Neds Bed Horse & Dog 'otel, near Kempsey
Neds Bed is a purpose built mini-motel complex a little north of Kempsey, welcoming those travelling with horses and a whole range of pets. It's located on a rural property just a few minutes off the Pacific Highway near the South West Rocks turn-off.
For a small extra charge per night, your dog is welcome to stay in your unit – just bring their bed. Each unit has its own fully-enclosed grassy yard off the verandah, plus there's a dam and plenty of space for pups to run around.
Reflections Holiday Parks Moonee Beach
One of the most popular pet-friendly caravan parks near Coffs Harbour is the Reflections Holiday Parks Moonee Beach. This park is just a few minutes off the highway north of Coffs Harbour, near the on-leash Moonee Beach.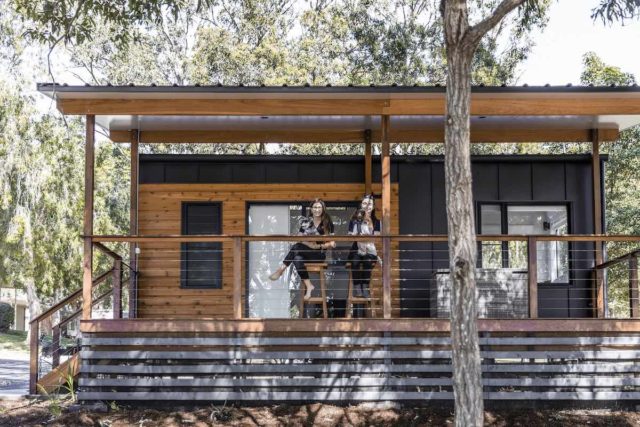 Dogs are allowed year round at the park, both on sites and in selected cabins – perfect for if you are travelling during school holidays. Just call directly to book (and ideally well in advance for school holidays!)
Woolgoolga Coast Motel, Woolgoolga
About a 25 minute drive north of Coffs Harbour is the small seaside town of Woolgoolga. Not far off the highway is the pet-friendly Woolgoolga Coast Motel, with six pet-friendly rooms, mainly with a queen bed and single bed.
The stand-out feature of the pet-friendly rooms is that each room has an individually fenced pet run just outside – perfect for a relaxing evening after a long day driving! Dogs are also allowed off-leash on the nearby Woolgoolga Back Beach, south of the headland, outside of the Little Tern breeding season.
Dog-Friendly Guides Along the Way
I've put together dog-friendly guides to a number of destinations along the Pacific Highway, ideal for if you want to stop along the way. Check out these guides from south to north, for more tips on what to do, off-leash dog parks and beaches, plus pet-friendly accommodation:
You May Also Like
About the Author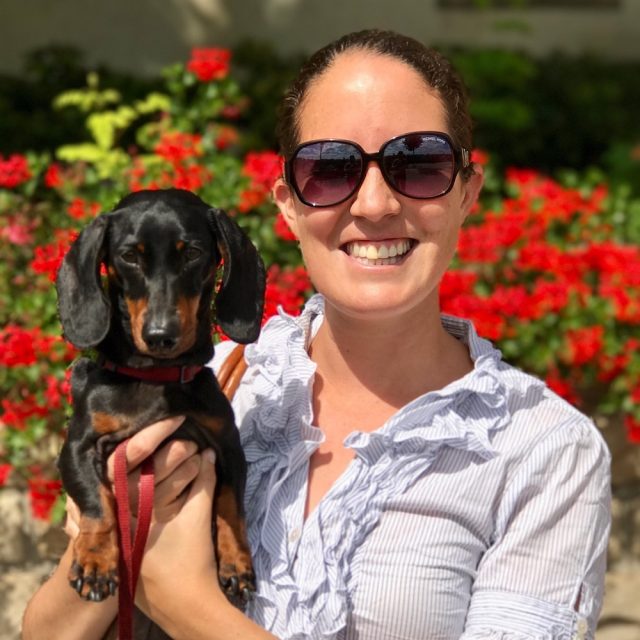 Shandos Cleaver is the founder of Travelnuity: Dog-Friendly Travel. She has travelled extensively with her Miniature Dachshund, Schnitzel, including to 33 countries across Europe, every state and territory of Australia except Tasmania, and 10 of the United States. She's passionate about providing inspiration and information to others wanting to travel with their dogs, whether close to home or internationally.