Mont-Saint-Michel is an iconic destination to visit in France, attracting over 3 million visitors. However, due to restrictions put in place to handle these crowds (you should see the carpark, it's huge!), it may not be the best destination to visit with your dog. If you're planning on stopping at this landmark on your road trip around Europe with your dog, take into consideration these restrictions and options.
Note: This post contains affiliate links, which means I may receive commission if you make a purchase using the links.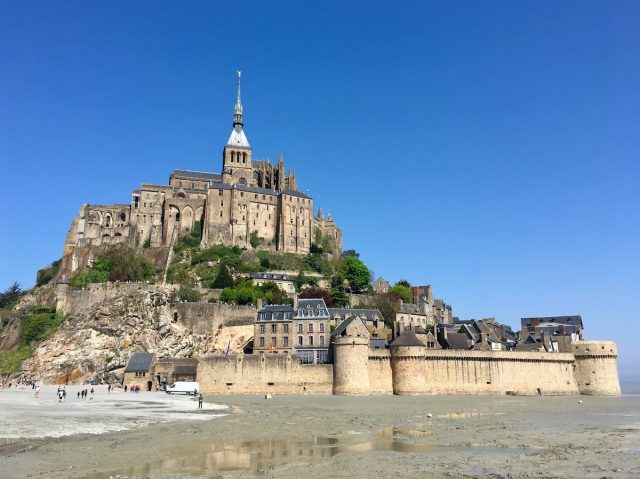 Taking the Shuttle Bus to the Island
The majority of visitors to Mont-Saint-Michel will park in the carpark, walk to the shuttle bus terminus, then take the shuttle bus the remaining 3km to the island. The buses are included in the expensive car park fee (€14.20 for 24 hours during the high season from April to September, €9.10 during the low season). The buses run nearly all day long, plus on demand at night.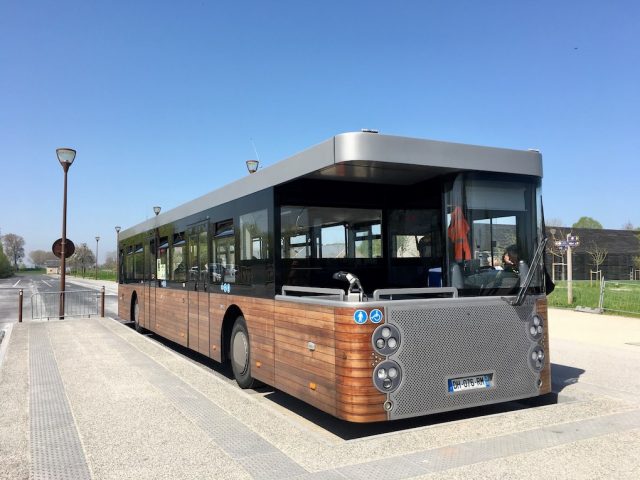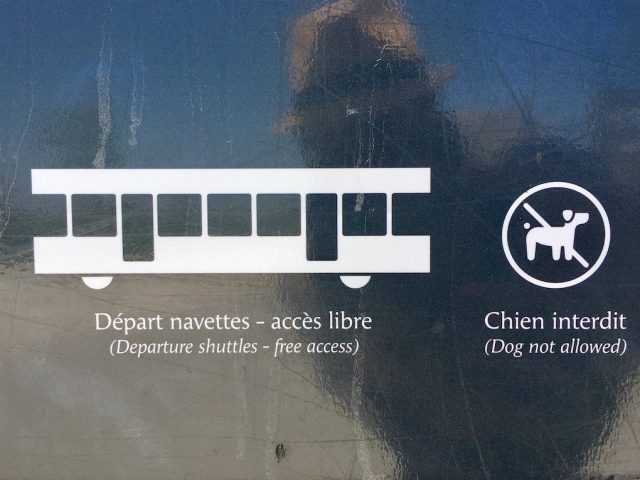 However, you'll notice prominent signs everywhere showing that dogs are prohibited on the buses. This isn't actually the entire truth. If you read the full details on the website or the small sign inside the buses, guide dogs and service dogs are of course still permitted, plus small dogs in a carrier or basket. So, if you have a small dog, you can still take the shuttle bus, as long as you have something to transport them in.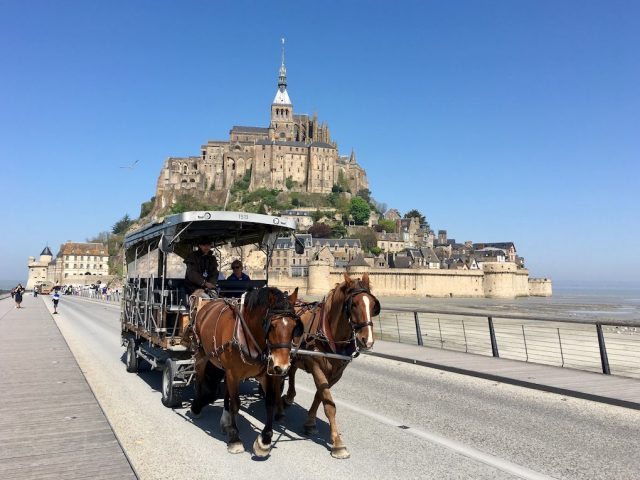 There's also the additional option of taking a horse-drawn carriage to the island, for an additional fee. The same rules for dogs also apply to these carriages.
Walking to the Island
The other alternative for when visiting Mont-Saint-Michel with a dog is to walk to the island. Looks are deceiving: the full path from the car parks is about 3km and takes about 45 minutes. Less than 1km at the end is on the actual bridge, the remainder is skirting the facilities on land and across the flat expanse of land next to the sea. At least the path is also flat. If you're heading to the island with a large dog, this is the only option available to you.
How Dog-Friendly is Mont-Saint-Michel?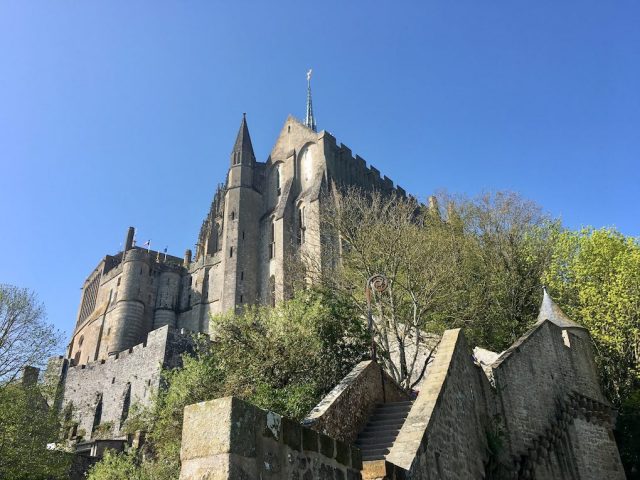 When deciding whether to visit Mont-Saint-Michel with your dog, the other consideration is what you're planning to do on the island. If you're planning to visit the abbey, whose grounds are a significant percentage of the island, naturally you can't take dogs inside (except for guide dogs).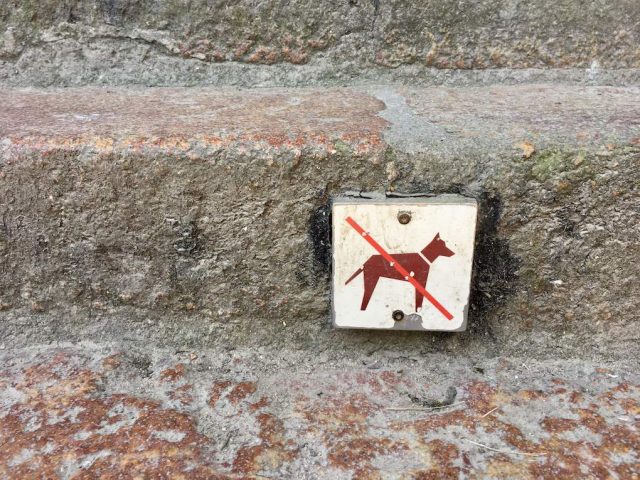 If you're determined to visit the abbey on Mont-Saint-Michel and have your dog with you, but are travelling with someone else, you could take turns to stay outside with your dog. I've often done this when visiting churches, but the abbey is quite large. A visit takes about 1 – 1.5hr, and costs €10 (with or without a tour included).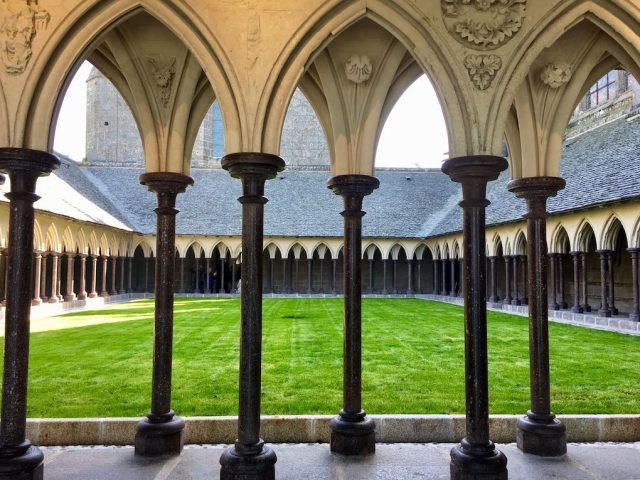 Other than the abbey, there's not that much to see on Mont-Saint-Michel. Naturally you'll want to take some photos from the end of the bridge, where the buses drop off passengers, plus it's worthwhile walking along the ramparts (look for steps heading up).
Other than that there's just a few narrow streets on the island, lined with a mixture of expensive restaurants, souvenir shops and a handful of hotels. I also noticed one other museum sign-posted, albeit it probably also doesn't allow dogs.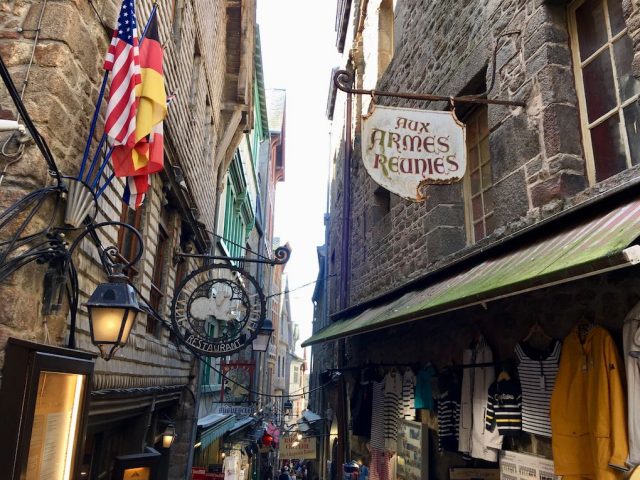 Another consideration is that there are a lot of steps on Mont-Saint-Michel, not surprisingly for such a steeply sloping island. This would be difficult if you visit with a dog that isn't allowed to climb stairs (like our dachshund).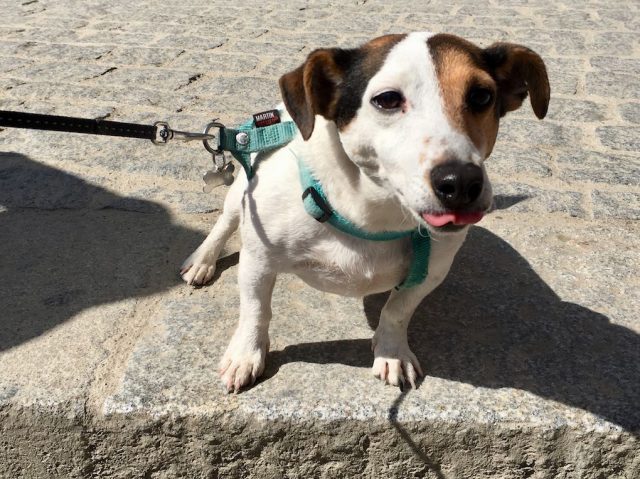 Using the Kennel at Mont-Saint-Michel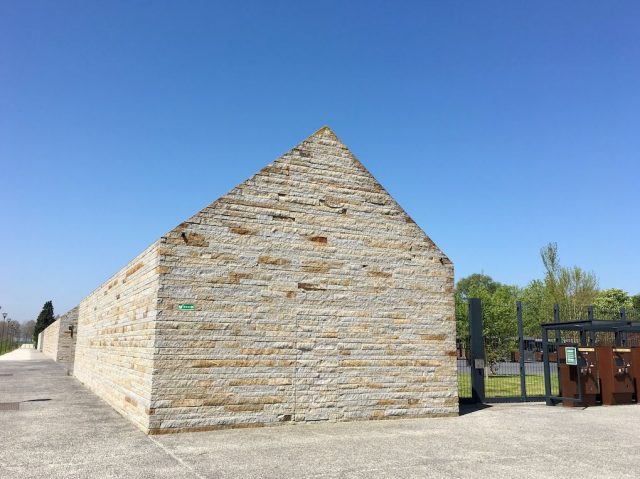 Luckily, if you're visiting Mont-Saint-Michel and decide not to take your dog to the island, there's an option available for you that doesn't involve considering leaving your dog in your car. Next to the information centre, there is a kennel for dogs.
As we wanted to spend most of our visit to Mont-Saint-Michel visiting the abbey, we decided to leave our dog, Schnitzel, at the kennel. He's also not usually a fan of walking long distances on pavement on a leash, so he wouldn't have enjoyed joining us in walking to the island. (Although to minimise the time we left him there, we took the shuttle bus both directions.)
The kennel at the Mont-Saint-Michel Information Centre is not that big, with only five enclosures for dogs. However each enclosure is large (about 1.5m by 1.5m), so if you have multiple dogs they can share the one enclosure. I'm not sure how often it gets full – maybe originally the intention was to have multiple dogs (belonging to different owners) per enclosure, but at the time of our visit the intention was that dogs from different owners would have their own enclosure. In any case, arrive early, particularly in the peak summer season.
The fee for checking your dog into the kennel is a reasonable €8.40 per dog per day. Dogs are only supplied with water, and it's concrete-floored, so bring your own dog's bedding and anything else you will require. To check your dog in, head to the counter in the information centre, where you'll fill in a form (bring your dog passport), before being taken over to the building to check in your dog and say your good-byes.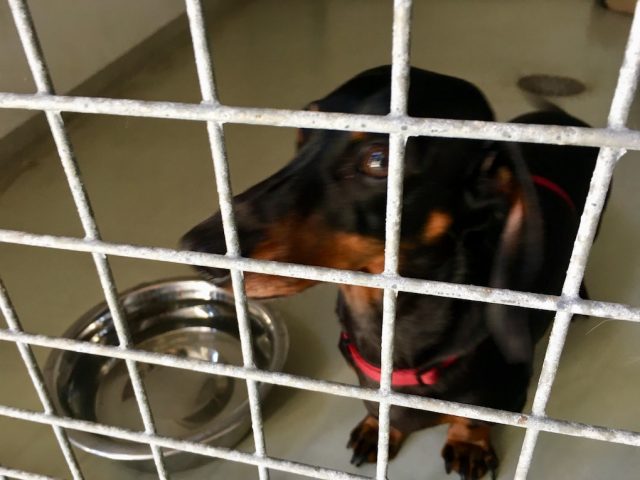 At least one of the dogs in the kennel on the day we used it (out of a total of three dogs), was barking a lot when we returned. We don't think it was our dog, although he was certainly happy to see us. If your dog isn't happy being around other barking dogs, this may not be the option for you.
Final Thoughts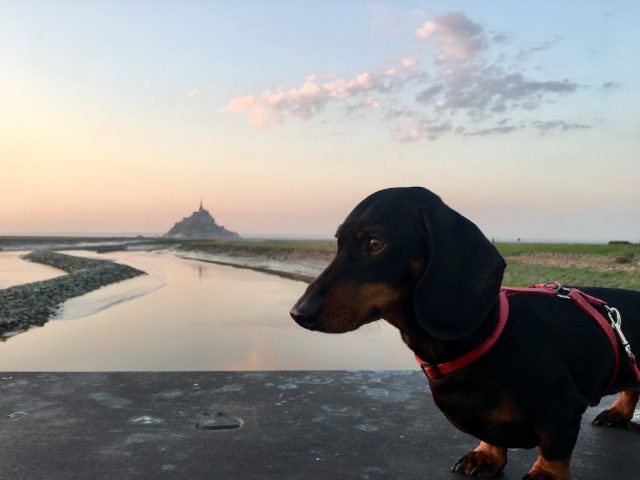 While we spotted multiple other dogs walking around the island with their owners, we ended up being happy with our choice to leave our dog at the kennel. We don't like to leave him alone, in an unfamiliar environment, but as we spent most of our time on Mont-Saint-Michel visiting the abbey, it made the most sense.
Looking for a Pet-Friendly Hotel Nearby?
Plenty of the hotels near Mont-Saint-Michel welcome pets. I recommend the following:
Mercure Mont Saint Michel: Located right where the shuttle buses to Mont Saint Michel depart from, you can't get a better location than the Mercure. Rooms are stylish and modern, and there is a restaurant and bar on site. Pets are welcome, although a charge may be applicable – confirm at the time of booking. Click here to check availability and prices.
Auberge de la Baie: Situated just a short walk away from the main car park, this Auberge is a more affordable option, but still highly recommended. Many guests comment on the amazing views and the great 1st-floor restaurant. Pets are welcome, for a small additional charge. Click here to check availability and prices.
Looking for more dog-friendly sightseeing ideas in France? Check out the full list in my French dog travel guide
Inspired? Pin this to your Pinterest board