With its dog-friendly attitude, it's no wonder that many people take their dogs to France. Luckily then it's fairly easy to take a dog to France, no matter where in the world you may be located.
Whether you're travelling to France with your dog from the UK, the USA or elsewhere in Europe, I cover the regulations that you need to know, plus the best transport options. So if you're wondering what the answer is to "can I take my dog to France", the answer is yes!
To find out further tips for your time in France, read my guide to travelling in France with a dog. Also note that France has restrictions on some breeds of dogs they regard as dangerous – check the full details in my guide.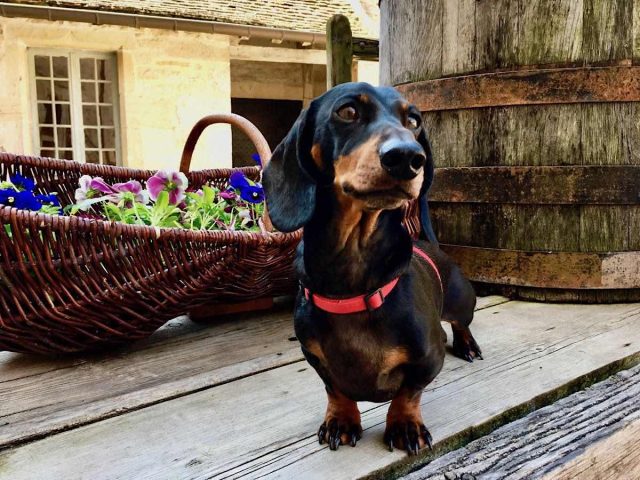 Taking a Dog to France from the UK
The rules to take a dog to France from the UK are fairly straightforward, although it may be a little harder to organise your transport, unless you are taking your own car.
Paperwork for Taking a Pet to France from the UK
Unless you have an EU or Northern Ireland-issued pet passport, you'll have to head to the vet to get an EU animal health certificate, within 10 days of your date of travel. Your pet will also require a microchip and a valid rabies vaccination, from at least 21 days before your date of travel.
Remember that when you return to the UK, you will need to have your dog wormed by a vet. This needs to be done between 5 days (120 hours) and 24 hours before returning to the UK, based on your arrival time in the UK.
If you travelled to France using an EU animal health certificate, if less than 4 months has passed since the certificate was issued, this can be recorded by an EU vet in the certificate, which remains valid for 4 months. Alternatively, this needs to be recorded in an EU pet passport.
Travelling to France with a Pet by Car
If you are travelling to France from England in your own car, there are two main options available that allow you to take your dog: either a cross channel ferry or the Eurotunnel.
Let the company know at the time of booking that you will be travelling with a pet. It's also best to choose the shorter ferries during summer, as dogs generally need to stay in your car when taking a dog to France by ferry.
If taking the Eurotunnel, it costs an extra £22 per pet, with most ferries also charging a similar price. For more information, check my full guide on travelling with a dog from the UK to Europe.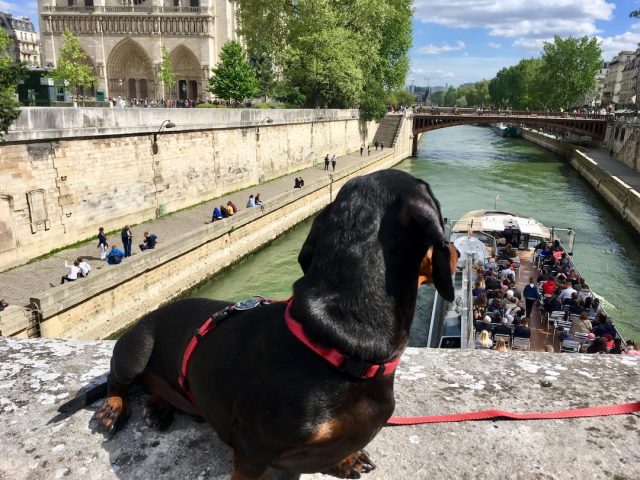 Travelling to France with a Pet without a Car
It's slightly trickier travelling with a dog to France from the UK, if you aren't taking your car across the channel. Dogs are unfortunately not allowed on the Eurostar to Paris. However, there is one ferry crossing from the UK to France that that allows foot passengers to transport dogs, from Newhaven to Dieppe.
The departure dock in Newhaven is accessible by train from London, while Dieppe is only a couple of hours on regional trains from Paris, after a short taxi ride to the train station. Read my review of taking the DFDS Seaways ferry from Dieppe to Newhaven with my dog.
There are two other alternatives. Firstly, while no airlines allow dogs to fly in the cabin or as check-in baggage into the UK, there are some airlines that allow this when leaving the UK. Air France aren't clear in their pet policy, so it might be worthwhile checking.
The other option is to use a taxi service, such as Folkestone Taxis (also known as Pet Travel Abroad) or Pet Moves. This involves taking a taxi between Folkestone Central station and either Calais Ville or Calais Fréthun station. Expect to be charged about £100 in addition to the Eurotunnel cost. Another new option is Le Pet Express, which offers shared minibus shuttles, but only on weekends so far.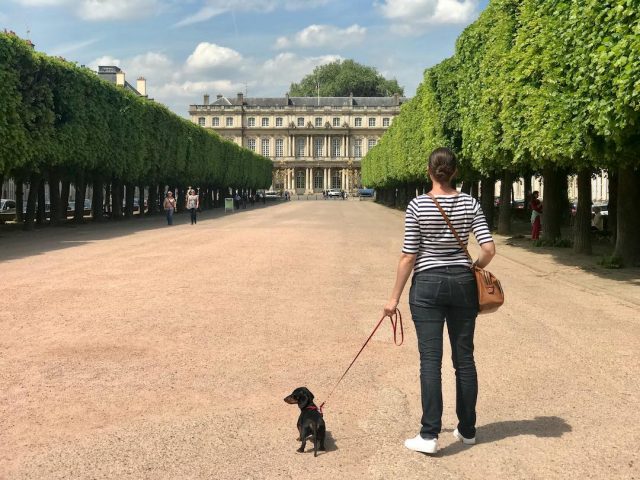 Taking a Dog to France from the USA
A popular destination for Americans heading to Europe with their dogs is Paris. No wonder, as in addition to the attractions of this beautiful city, it's one of the shortest flights from the East Coast of the USA, meaning that it's possible to fly with your dog in the cabin, as long as you choose the right airline. And from there you have the whole of the rest of France to explore with your dog.
Paperwork for Taking a Pet to France from the USA
The same rules apply for dogs heading to France as for dogs travelling to the rest of the EU. Before you make any other travel plans, make sure you have your dog microchipped and then vaccinated for rabies. The rabies vaccine needs to be done at least 21 days before you arrive in Europe.
You'll also need to have an EU health certificate completed within 10 days of your trip, then endorsed by a USDA APHIS Veterinary Services office. Some offices required appointments, while other offices operated a drop-in service or it's possible to have it done by express mail. For more information, check out my full post on vaccines and paperwork.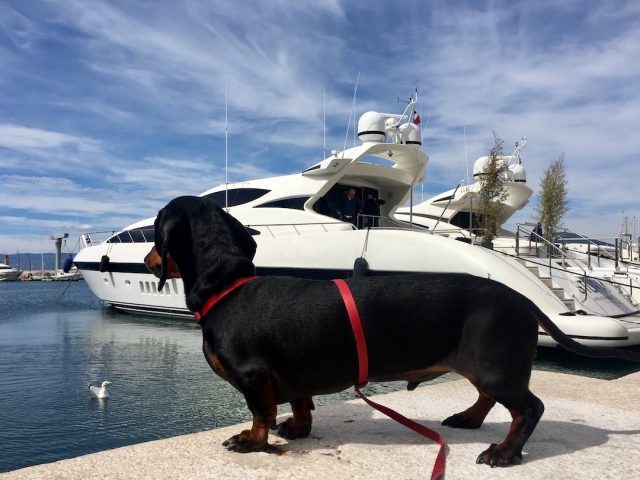 Fly to France with a Dog from the USA
So, what airlines allow dogs to fly in the cabin from the USA to France? These are some of the options available:
Air France: One of the top recommended airlines for flying with your dog. Dogs up to a maximum weight of 8kg, including carrier, are permitted, with a fee equivalent to €125 charged. It's possible to buy a travel container directly off Air France for delivery to the USA. Read their full pet policy.
Delta: While many American airlines don't allow pets in the cabin on Trans-Atlantic flights, such as American Airlines, Delta does permit pets in the cabin on this route. There is no maximum weight, just a maximum kennel size that depends on the flight (check at the time of booking). A charge of $200 applies and only up to 4 pets are allowed in the cabin. Read their full pet policy.
To find more options if you want to fly with your pet in the cabin, read my posts about the pet policies of all the European airlines. Alternatively, if you have a larger dog or are fine with your pet travelling in the hold, there is a longer list of airlines that permit dogs in the hold on Trans-Atlantic flights.
If flying with your pet in the hold, try and avoid the summer months (it can get hot in France!) or choose an overnight flight that departs late in the day then arrives early in the morning in France.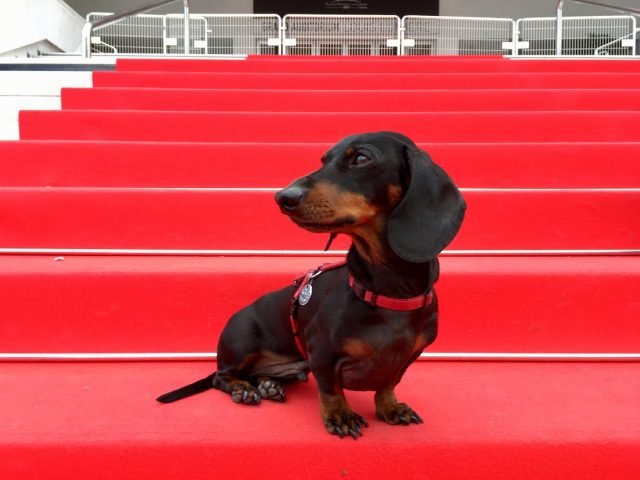 Taking a Dog to France from Elsewhere in the EU
It's very simple for dogs to travel to France from the rest of the EU. As for travelling anywhere in the EU, your dog requires a microchip, pet passport and a vaccination for rabies, that is only valid 21 days after the injection. However, usually this isn't checked when crossing the border into France from the rest of the EU.
As well as driving into France from the many surrounding countries, dogs are allowed on the trains from adjacent countries (Belgium, Luxembourg, Germany, Switzerland, Italy and Spain). See the notes in my French guide on the tickets required for dogs on long-distance trains in France, if the train is run by the French transport authority.
Many of the airlines flying into France allow small dogs to travel in the cabin, while larger dogs can be checked into the hold.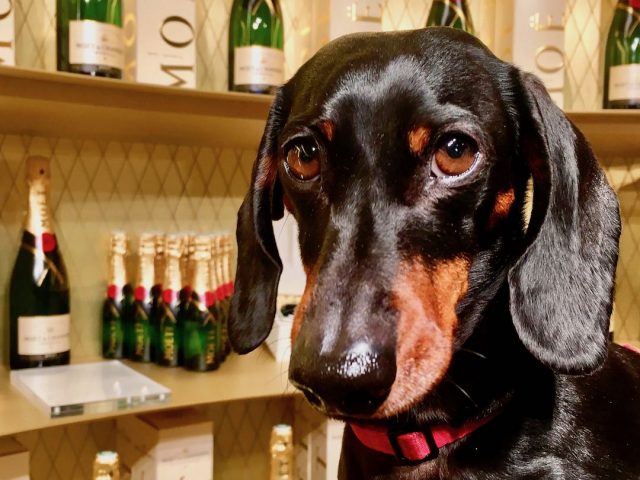 Getting a French Pet Passport
If you regularly travel to France or elsewhere in the EU with your pet, it is worthwhile considering getting an EU pet passport for your pet, such as a French pet passport.
This will make it easier for you to travel around the EU with your pet, as all your pet's vaccination and other information is stored in one place, plus you won't need to have a health certificate completed each time and endorsed by the government veterinarian.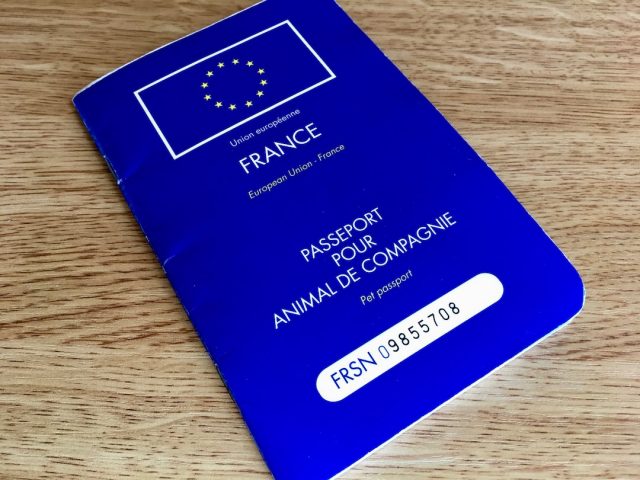 Unfortunately, since Brexit, it has become harder to get a pet passport in France, with many veterinarians, particularly in France, requiring you show proof of residency. Read more about getting an EU pet passport for your dog.
You May Also Like
Inspired? Pin this to your Pinterest board!