Prior to Brexit, it was easy to take your dog to France from the UK. Since then, it is no longer as simple, but it is still a straightforward process – you can still take your dog to France. Find out the requirements for taking a dog to France from the UK, plus the different transport options available, regardless of whether you want to take your own car.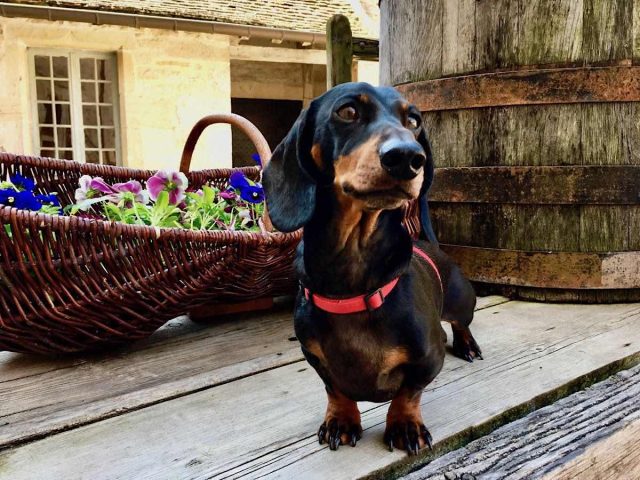 Paperwork to Take a Dog to France from the UK
Since Brexit, the main thing you need to take your dog to France is to get an EU animal health certificate from a vet. The certificate needs to be completed within 10 days of your entry to the EU.
To be issued this certificate, your pet will also require a microchip and a valid rabies vaccination, given at least 21 days before your date of travel.
Double check with your vet in advance that they can issue these certificates – only "official veterinarians" can issued them. I've heard reports that the fees are often quite high – double check in advance.
I've heard recommendations for Abbeywell Vets located in Folkestone, close to the Eurotunnel terminal and the Dover ferry port, thanks to their reasonable prices. You can request an EU animal health certificate online for collection when you arrive in Folkestone.
Note that this step isn't required if you have an EU or Northern Ireland-issued pet passport for your pet, with an up-to-date rabies vaccine given within the EU or Northern Ireland.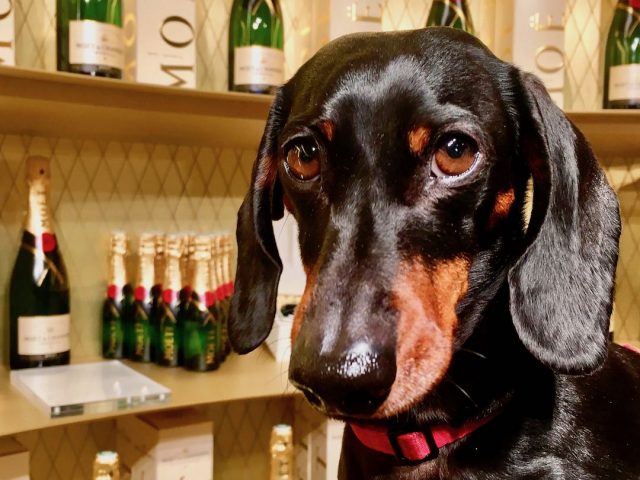 Travelling to France with a Dog by Car
If you are travelling to France from England in your own car, there are two main options available that allow you to take your dog: either the Eurotunnel or a ferry.
Taking the Eurotunnel with a Dog
Probably the easiest way to travel to France with a pet (and return to England) is on the Eurotunnel.
If taking the Eurotunnel, your dog stays in your car along with you, and the actual crossing only takes 35 minutes, although you may need to queue. There is an additional charge of £22 per pet.
At both Folkestone (UK) and Calais (France), prior to checking in, you will need to report to the Pet Reception Centre. At this point your pet's paperwork will be checked. Allow extra time for this step.
See further details on the Eurotunnel website.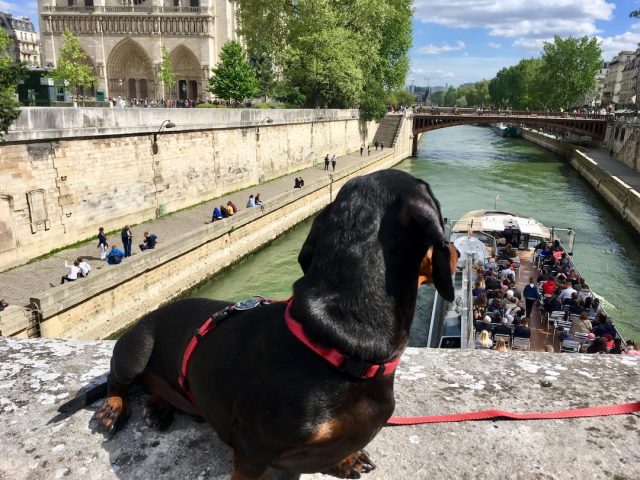 Taking Dogs to France on the Ferry
The other alternative if you have your own vehicle is to take a cross channel ferry. There's a wide variety of ferries available, departing from different ports in England and arriving in different ports in France.
The facilities onboard the ferries for pets vary. While some ferries require your pet to remain in your vehicle, other ferries have pet-friendly cabins and kennels. I compare the different options in my guide to taking dogs on the ferry to France.
If leaving your dog in your vehicle, it's best to choose the shorter ferries during summer. However, a new development in 2023 has been the introduction of pet lounges on the P&O ferries between Dover and Calais.
Instead of leaving your dog in your car, you can travel together in the lounge, with access to an outside exercise deck. A fee applies for access, with only dogs allowed.
If taking a ferry with your dog to France, let the company know at the time of booking that you will be travelling with a pet. Fees for pets vary between £15 to £29 per pet.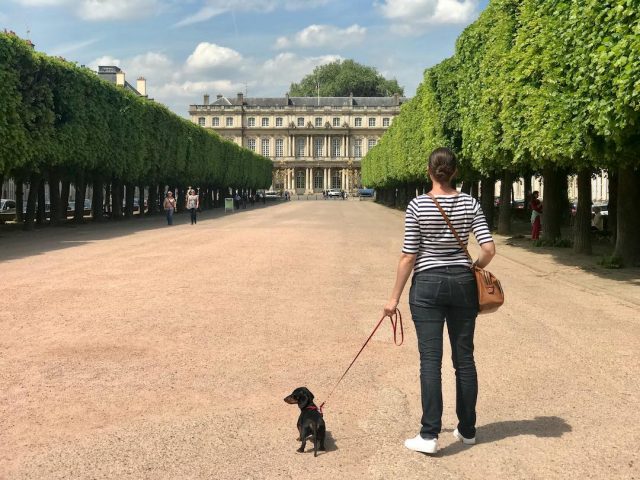 Travelling to France with a Dog without a Car
It's slightly trickier taking a dog to France from the UK, if you aren't taking your car across the channel.
Are Dogs Allowed on the Eurostar to London?
One of the easiest ways to travel from London to Paris, if you aren't taking along your own car, is by taking the Eurostar train. It's even quick enough for a day-trip.
However, while dogs are allowed on trains in both England and France, unfortunately, dogs are not allowed on the Eurostar between London and Paris. There are no signs that this will change in the future.
Flying to France with a Dog
When travelling to France, it's possible to fly to France from the UK with your small dog in the cabin.
There are some airlines that allow dogs to fly in the cabin when flying out of the UK. One option is Air France. While they don't clearly state whether this is allowed in their pet policy, I've heard reports from multiple people that this is possible.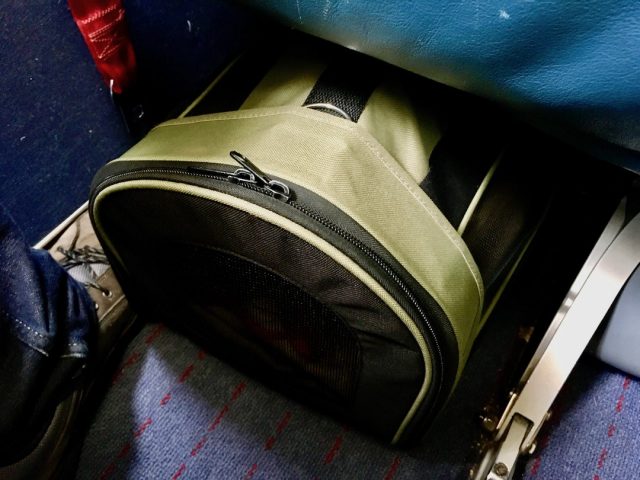 Unfortunately, though, no airlines allow dogs to fly in the cabin or as check-in baggage into the UK, so you'll need to make different plans for your return journey.
Taking the Ferry to France as a Foot Passenger
There are limited options to take a cross channel ferry to France with your dog, if you're travelling as a foot passenger, rather than with a vehicle. The majority of ferry crossings don't allow foot passengers to bring on board dogs, if they allow foot passengers at all.
There is only one option available to France – the DFDS Seaways ferry from Newhaven to Dieppe. You can combine the ferry trip with a train on either side. The dock in Newhaven is next to the train station, while the dock in Dieppe is just a short taxi ride from the train station, and a couple of hours from Paris on regional trains.
Read my review of taking the DFDS Seaways ferry from Dieppe to Newhaven with my dog. You can use this option to travel from London to Paris with a dog without a car, or vice versa.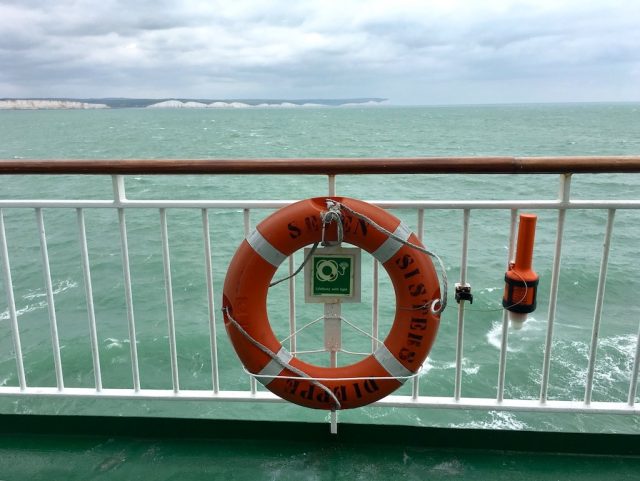 Taking a Shuttle or Taxi on the Eurotunnel
It's not possible for foot passengers to travel on the Eurotunnel, with or without pets. Instead, if you're wanting to use this quick option to travel from England to France and you don't have a car, you can instead make a booking with a pet-friendly shuttle or taxi.
One relatively new but increasingly popular option is Le Pet Express, which offers shared minibus shuttles on the Eurotunnel, between Ashford International rail station and Calais Frethun rail station. Check in advance what days and times they are operating and make a booking in advance – they often book out!
Alternatively, you can take a private taxi, such as Happy Saluki Pet Transport, Folkestone Taxis (also known as Pet Travel Abroad) or Pet Moves. These taxi can take you just between Folkestone Central station and either Calais Ville or Calais Fréthun station, or alternatively the entire journey from London to Paris.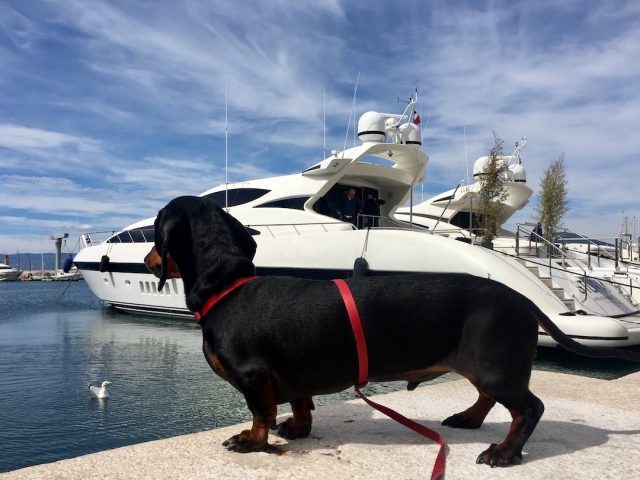 Travelling in France with a Dog
For tips on enjoying your time in France with your dog, including information on taking dogs on public transport in France and ideas for dog-friendly sightseeing, check out my guide to travelling in France with a dog.
Also keep in mind that France has restrictions on some breeds of dogs they regard as dangerous. Check the full details in my guide.
Returning to the UK with Your Dog
Before returning to the UK with your dog, you'll need to have your dog wormed by a vet. This needs to be done between 5 days (120 hours) and 24 hours before returning to the UK, based on your arrival time in the UK.
If you travelled to France using an EU animal health certificate and less than four months has elapsed since the certificate was issued, this certificate is valid for your return to the UK and the worming treatment can be recorded on it.
Alternatively, the worming treatment needs to be recorded in an EU pet passport, or on a new GB pet health certificate.
The same transport options apply when returning to the UK with your dog, except dogs are not allowed in the cabin on flights into the UK, unless they're a service dog.
Getting a French Pet Passport
If you regularly travel to France or elsewhere in the EU with your pet, it is worthwhile considering getting an EU pet passport for your pet, such as a French pet passport.
This will make it easier for you to travel around the EU with your pet, as all your pet's vaccination and other information is stored in one place, plus you won't need to have a health certificate completed each time and endorsed by the government veterinarian.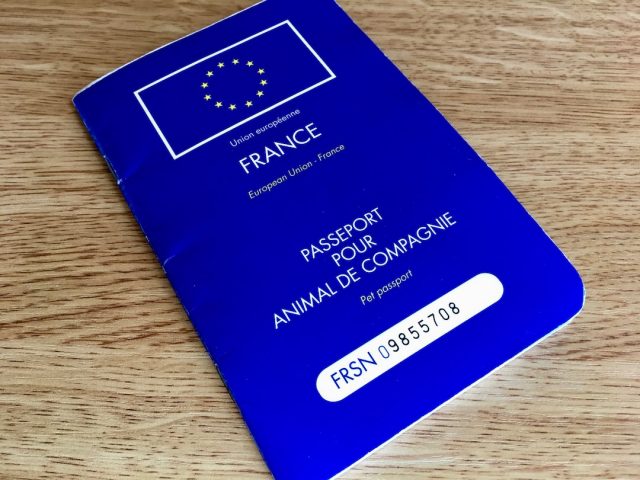 Unfortunately, since Brexit, it has become harder to get a pet passport in France, with many veterinarians, particularly in France, requiring you show proof of residency.
Read more about getting an EU pet passport for your dog.
You May Also Like
About the Author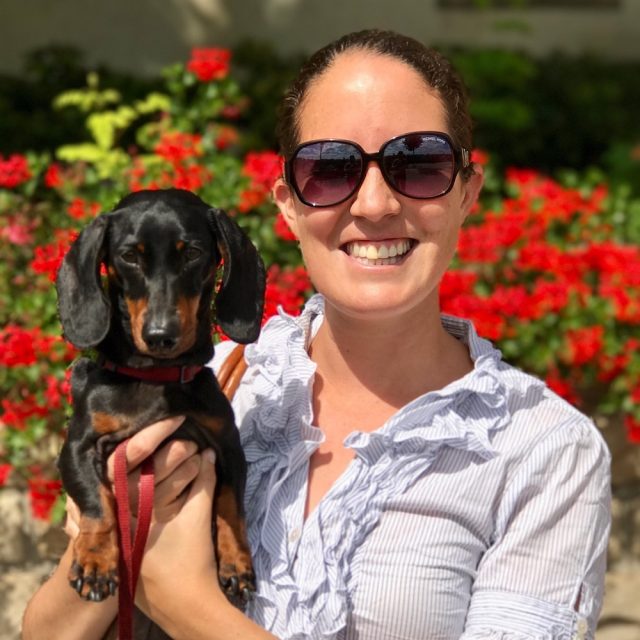 Shandos Cleaver is the founder of Travelnuity: Dog-Friendly Travel. She has travelled extensively with her Miniature Dachshund, Schnitzel, including to 33 countries across Europe, every state and territory of Australia except Tasmania, and 10 of the United States. She's passionate about providing inspiration and information to others wanting to travel with their dogs, whether close to home or internationally.