One of the most common questions I'm asked by people about to travel with their dogs, is what can you do if you want to visit an attraction that doesn't allow dogs? Even if you try to visit many dog-friendly attractions, the odds are that you'll still want to visit some non-dog-friendly attractions. This has happened to me many times while travelling, so here are my tips for what to do.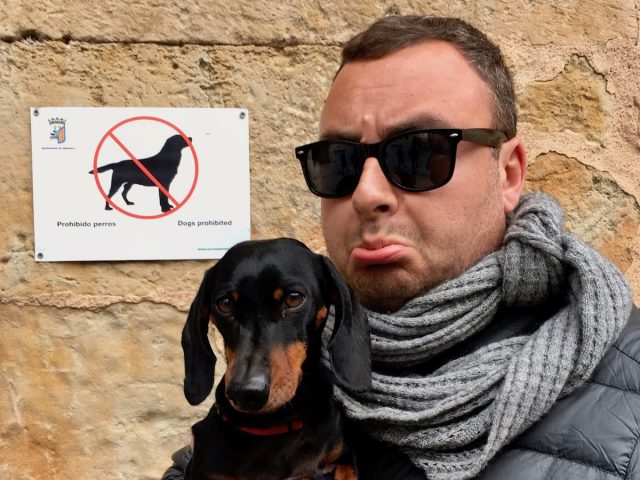 Try to Research Attractions Ahead of Time
Firstly, when you're making plans about what to visit on your trip, try and find out whether the attractions are dog-friendly.
On one hand, I've been delighted to discover that some places I wouldn't expect to allow dogs indeed allow dogs (such as many of these attractions in Italy). On the other hand, what's dog-friendly in one country may not be dog-friendly in other countries (especially parks in France).
It's great if you can find some clear information on the website. I've often found US and UK attractions to be great at providing information, including kennel options nearby. On other attraction sites, you may need to view the local language version (with less details provided in the English version) or search for comments online.
Sometimes, we've had no idea until we've turned up at the gate, such as when visiting archaeological sites in Greece.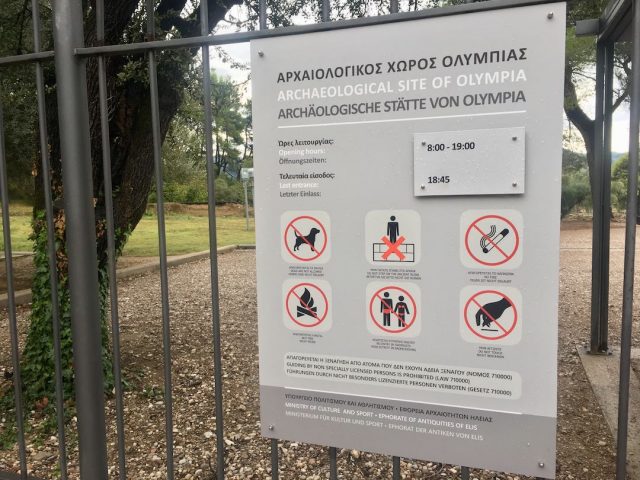 It's always great if you can find out whether something if dog-friendly ahead of time, so you can make suitable plans. However, also be ready to plan on the go, as sometimes information can be incorrect or rules may change.
If you're visiting a non-dog-friendly attraction, these are some of the options I've made use of.
Option 1: Alternate Visiting the Attraction
If you're visiting somewhere that only takes an hour or less to visit, and there are at least two of you, you may want to consider taking turns to visit, the other person staying outside with your dog.
My husband and I often did this when visiting cathedrals in Europe. While one of us headed inside, the other would take a walk around the nearby streets or sit in a nearby park.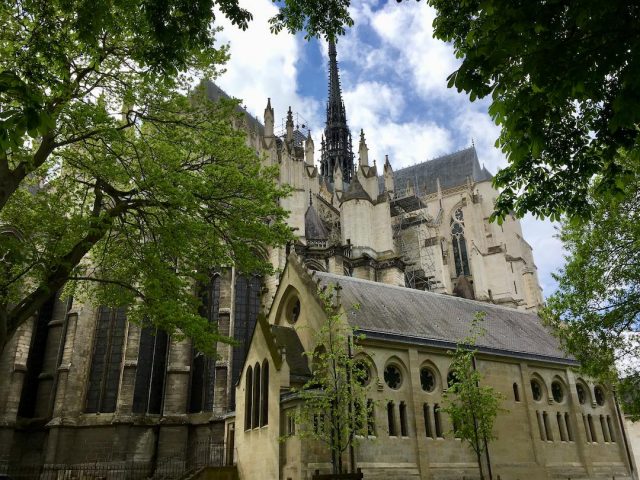 When visiting the Bauhaus Museum in Dessau, Germany, dogs weren't allowed inside but were luckily allowed in the cafe – just as well as it was nearly winter. We ended up taking turns having lunch and coffee, while the other took an audio guide around the museum.
At attractions a ticketed guided tour, make sure you get tickets to separate guided tours. For instance, at Monticello in Virginia, the staff are used to visitors arriving with a dog in tow, and giving you tickets to two different guided tours for the interior.
I also recently chatted online with a lady who was travelling through Europe with her dog and teenage children. They were now of the age where they often didn't want to visit "boring" tourist attractions, but could be trusted to look after their dog while the rest of the family headed inside.
Option 2: Leave Your Dog Behind for the Day
It's a bit difficult to alternate visiting an attraction that takes half a day or the whole day to visit. In these cases, I've then tried to find accommodation where I can leave my dog behind for the day. For instance, we did this when visiting both the Rijksmuseum and the Van Gogh Museum in Amsterdam in one day, or the Parthenon in Greece.
While some hotels don't allow you to leave your dog behind, other hotels are not fussed. At least if your dog is quiet and doesn't make a sound, plus you leave the Do Not Disturb (or Dog Inside) sign on the door, plus make arrangements with housekeeping. Check with the individual hotel or read their rules before making plans to do this.
Another option we've made use of is Airbnb apartments. If you're staying in an apartment building, many other occupants will also have pets and leave them home for the day while at work. If your dog is comfortable at being left behind and won't bark, this is a good option.
Ideally I try and first spend a day or two in the apartment (or hotel room) before leaving my dog alone in it, so they have time to settle and I know they will be relaxed.
Option 3: Find a Kennel or Dog Sitter
Another option for an extended visit to an attraction where you can't leave your dog behind is to find someone to look after them, either at a kennel or with an individual dog sitter.
Kennels are most common at attractions in the USA. For instance, we left Schnitzel behind at the Disneyland Kennel Club (the "happiest kennel on Earth"), ducking out during the day to give him a walk and dinner. (The kennels are temporarily closed, but will hopefully reopen.)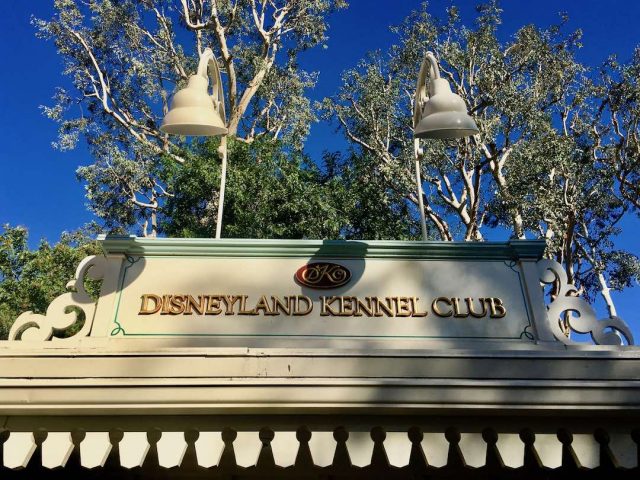 Most US national parks will list nearby kennel options. Kennels are also available at Mont-Saint-Michel in France (see my review). I also found some pens for dogs at a wildlife park in rural Poland.
On the other hand, when we stayed near Inverness in Scotland and took a day trip to the Orkney Islands (which is dog-friendly except for the extra coach transfer from Inverness), we were delighted to find one Airbnb that also offered dog-sitting, for a small fee.
There are also many websites listing dog sitters in different countries you can turn to, including Rover in the USA, Pawshake in the UK and Madpaws in Australia.
Option 4: Leave Your Dog in Your Car, With Caution
Before travelling with my dog overseas, I would never considered leaving my dog in my car. This was partially as we're from Sydney in Australia, which frequently has warm weather.
However, a few weeks into our travels with our dog in Europe, we were confronted with a dilemma. We were wanting to visit a monastery in Portugal, while driving between our accommodation. Our dog naturally wasn't allowed inside, but it was drizzling rain and 13C (55F), and I knew he would prefer staying inside the car, snug underneath his blanket in his bed…
So, we ended up leaving him in the car, and when we returned an hour later, he was completely fine. We've since done this other times in Europe, when the weather has been cooler (such as in Spring and Autumn), keeping a close eye on the temperature and ideally parking under shelter (indoor carparks are handy) or in the shade as well.
We've even done this in the USA, when visiting Carlsbad Caverns National Park. Both ourselves and some other dog owners took our dogs into the kennel facilities, but we were told by the staff member that as it was under 70F, they were okay with us leaving our dogs in our cars.
You know best whether your dog will be okay with this option, both temperature-wise and whether they're okay at staying alone in your care. Be careful, but sensible.
Option 5: Fly Solo for the Day
Okay, this option is another one that isn't available to solo (plus dog) travellers, where everyday you're travelling solo. But if you're travelling as a couple or larger group, consider sometimes splitting up for the day, especially when visiting non-dog-friendly attractions.
For instance, sometimes I want to visit an art gallery, but my husband isn't interested. So I instead head off dog-free, while my husband heads out with our dog, doing some dog-friendly explorations, or staying at our accommodation for the day. On the other hand, it's also been a handy excuse for me to get out of visiting military museums.
You May Also Like
About the Author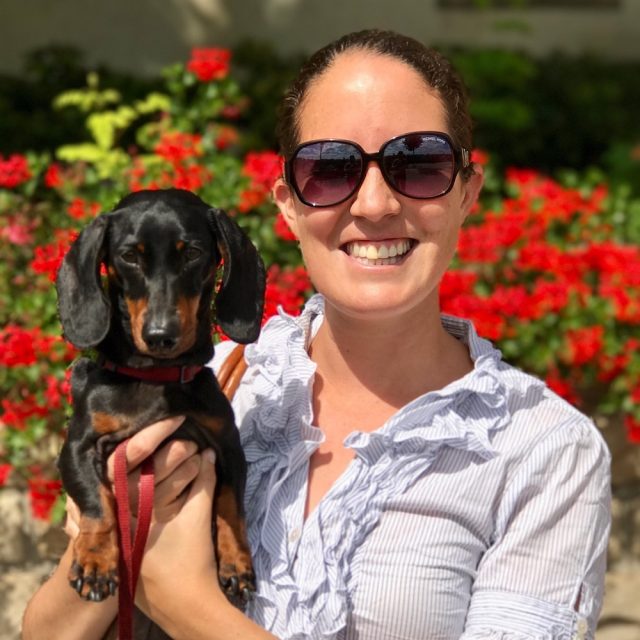 Shandos Cleaver is the founder of Travelnuity: Dog-Friendly Travel. She has travelled extensively with her Miniature Dachshund, Schnitzel, including to 33 countries across Europe, every state and territory of Australia except Tasmania, and 10 of the United States. She's passionate about providing inspiration and information to others wanting to travel with their dogs, whether close to home or internationally.
Inspired? Pin this to your Pinterest board!