Whether you visit Geelong as your first stop along the Great Ocean Road or on a quick getaway from Melbourne, the city of Geelong in Victoria has more to offer that you expect, including plenty of dog-friendly fun. Find out what to do in Geelong when visiting with a dog, plus ideas on pet-friendly places to stay in Geelong.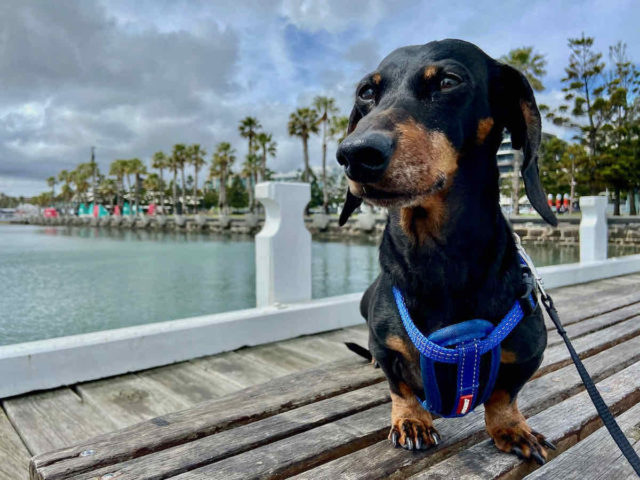 Dog-Friendly Sightseeing Around Geelong
When visiting Geelong with your dog, considering adding these dog-friendly walks, beaches and more to your itinerary.
1. Stroll Along the Waterfront
Geelong has a beautiful waterfront and naturally it's a popular spot for local dog owners to go for a stroll with their pups. So follow in their footsteps, and make a beeline for the Geelong Waterfront as well.
It's a 950m walk from the Carousel, the location of the the visitor information centre, to Eastern Beach. Dogs are allowed on the sand and in the water at Eastern Beach, although they need to be kept on a leash, the same as along the rest of the waterfront.
Perhaps make a detour along this stretch to the recently opened Wangim Walk. This 440m long Wave Attenuator partially encloses the yacht club, and is a chance for everyone including your dog to walk on water. It's particularly recommended at sunset.
Heading the opposite direction, it's a 1.8km walk from Cunningham Pier to Rippleside Park. Both Western Beach, that you'll pass along the way, and Rippleside Park, including its foreshore area, are off-leash before 10am and after 5pm.
Along the entire waterfront stretch, keep an eye out for the many decorated bollards, with over 100 installed in between Rippleside Park and Limeburners Point.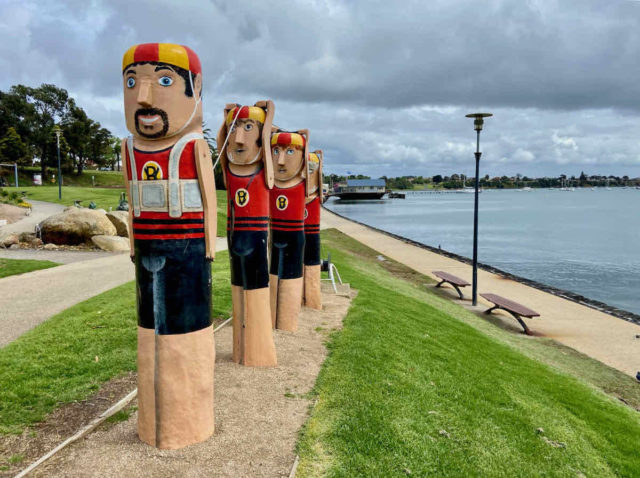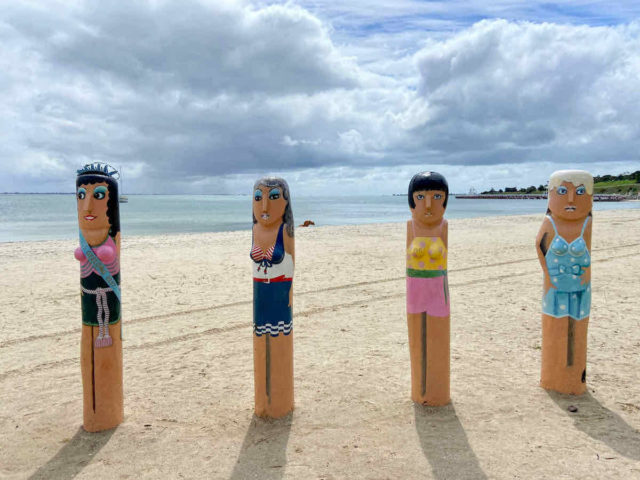 2. Visit the Botanic Gardens
Just metres away from the Geelong Waterfront and Eastern Beach is Eastern Park, which includes the Geelong Botanic Gardens. These beautiful gardens were established in 1851 and many of its trees and avenues are recognised for their heritage value. There's a number of fine fountains, plus an historic Sunken Glass House.
Not that everything about the gardens are old-fashioned. Upon entering the garden you'll pass through the 21st Century Garden, with its collection of cacti and boab trees.
Dogs on a leash are welcome to join you in the gardens, which are open daily. Mosquitos can be a problem, so use some insect repellant.
There's also a small tea house in the gardens, where dogs are welcome to join you at the outdoor tables. Note however that the tea house has been temporarily closed as of March 2023, while it is renovated, with a new operator being sought for when it re-opens.
3. Enjoy a Beer at Little Creatures
While its original brewery is across the country in Fremantle, Geelong is also home to a Little Creatures Brewery. Located in a former industrial complex, these days it's a village experience devoted to beer.
If you're visiting with a dog, head to the Little Creatures Canteen. When you round the corner you'll discover an alleyway of colourful tables, where your dog is welcome to join you, although they'll be limited to slurping water from the provided dog bowls. It's best to skip on rainy days, as it's not properly undercover.
Bookings are recommended, especially on weekends.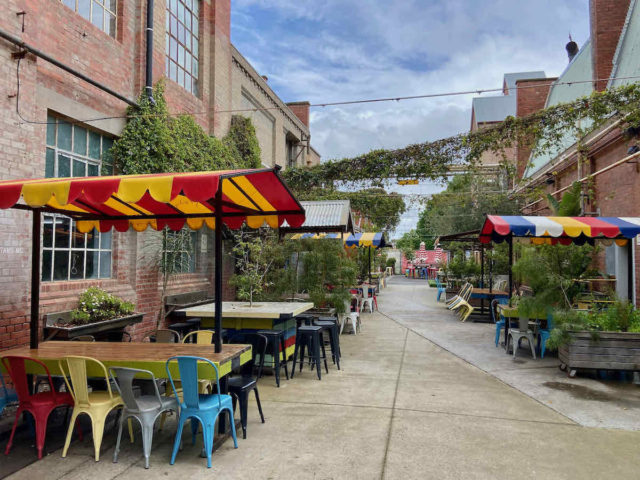 4. Head to the You Yangs
When driving on the freeway from Melbourne to Geelong its hard to not notice the You Yangs. Named for the local Aboriginal word for "big mountain in the middle of the plain", this granite outcrop is enclosed in the You Yangs Regional Park, where leashed dogs are allowed. It's a 25 minute drive north of Geelong.
There's a variety of walking trails within the park, as well as picnic areas. The most popular track is the Flinders Peak Walk. This 3.5km track has plenty of steps as you ascend to the park's highest peak, named after Matthew Flinders who ascended it in 1802. At the top and along the way are excellent views towards Melbourne, Geelong and the Bellarine Peninsula. Allow about an hour return.
If a steep climb isn't your thing, or your dog has short legs like my Dachshund, another interesting spot is Big Rock. It's just a 100m walk from the carpark onto the top of the rock. There's also a gentle 800m loop walk around the area.
5. Hit the Beach in Torquay
Unfortunately, being located well inside Port Phillip Bay means that Geelong doesn't have many beaches, nor the best water quality. While dogs are allowed on the sand at Eastern Beach on a leash, for an ocean-facing beach I recommend driving 25 minutes south to Torquay to head to Fishermans Beach.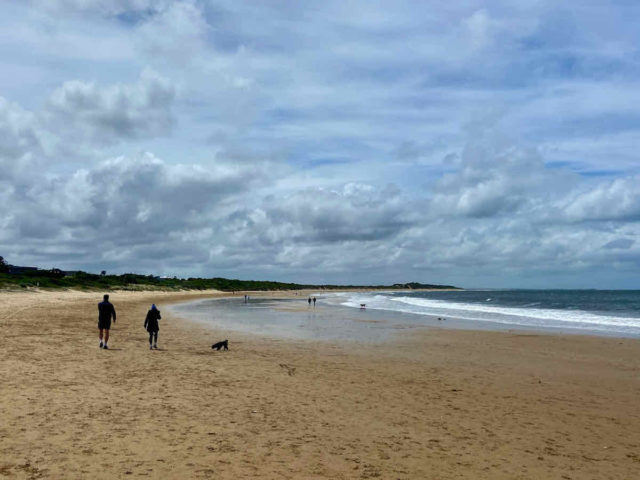 It's best to visit this off-leash beach with your pup during the cooler months of the year, rather than at the height of summer. During December, January and February, plus over Easter, dogs are only allowed off-leash on the beach before 9am and after 7pm. They're prohibited during most of the day. However, during the other months of the year, Fishermans Beach is off-leash all day long.
Before or after visiting Fishermans Beach, drop into The Salty Dog Cafe. Just off the sand, this cafe has literarily gone to the dogs – I think I counted more dog water bowls than tables! Dogs are welcome at the outdoor tables, but not the undercover section of the cafe.
Other dog-friendly beaches in the area include Whites Beach in Torquay (on the other side of Deep Creek), part of Thirteenth Beach at Barwon Heads, Ocean Grove Beach east of Hodgson Street, and Point Lonsdale Dog Beach at Narrow Beach, Queenscliff. (Check out the maps.)
6. Pick up Some Treats
If your dog has been a good boy or girl (I'm sure they have!) head to Pure Paws Dog Bakery in Geelong. Since I first visited them, they have moved to a cute new industrial location on the southern end of Pakington Street. Double check the opening hours once they return from a break in mid-March 2023.
With plenty of treats available, your dog will be treated to the best, with only human-grade meat and sustainably caught fish used. Schnitzel particularly loved the Doggy Donuts! Also available are puppiccinos, pupcakes and made-to-order birthday cakes.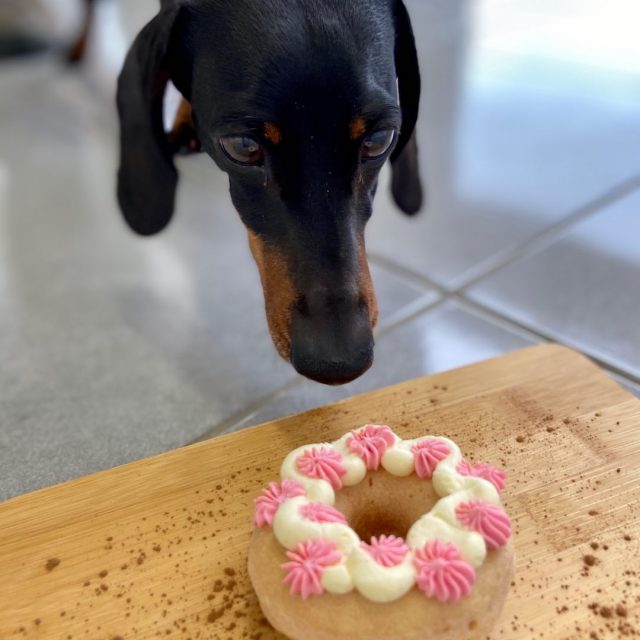 Dog-Friendly Parks in Geelong
There's plenty of off-leash dog parks in the Geelong region. For a complete list, refer to the map on the City of Greater Geelong website. Sporting grounds and ovals are also allowed to be used by off-leash dogs outside of regular sport and training sessions.
For a great fenced off-leash dog park, head to Stead Park in the northern suburb of Corio. There's two areas with high, secure fencing, along with water fountains, seating, shade and even some agility equipment.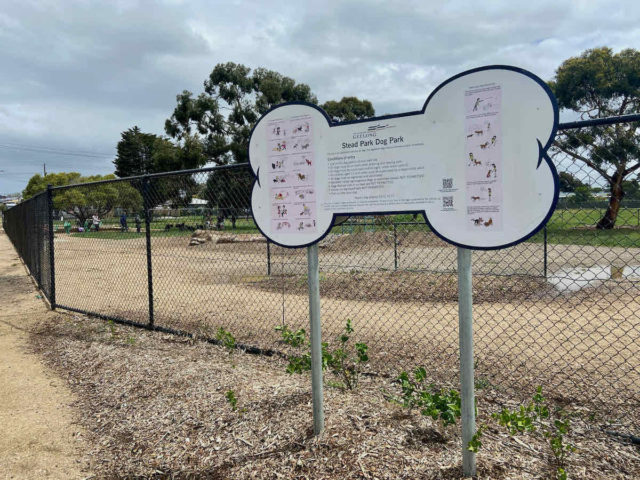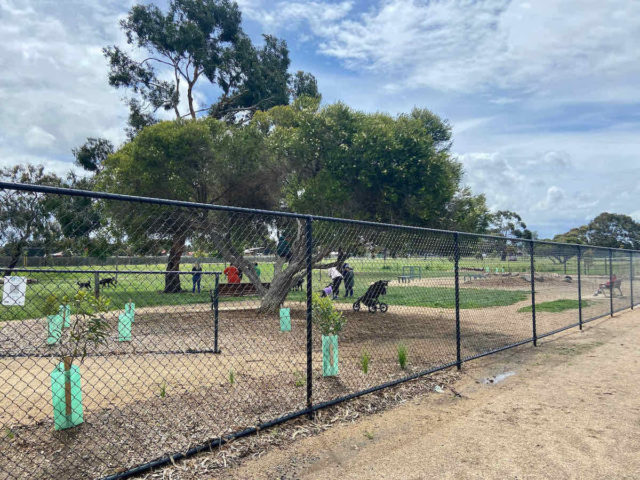 The three ovals at Eastern Park, just south of the Geelong Botanic Gardens, are also off-leash when organised sports and events are taking place. Alternatively, head to Western Beach, which is off-leash before 10am and after 5pm. The same off-leash hours apply at Rippleside Park, including the foreshore area.
Dog-Friendly Dining in Geelong
There's quite a few dog-friendly cafes along the waterfront in Geelong, perfect for brunch, lunch or just a coffee before or after a waterfront walk.
We visited Edge Geelong, just across the road from the Carousel. The menu includes lots of traditional favourites, plus coffee by St Ali. As well as some tables out the front, there's also plenty of tables along the side, including heating for the colder months. (Or anytime of year as I learnt during November!)
Another highly rated dog-friendly cafe is Sodi Cafe. Over in Geelong West on Pakington Street, this cafe is open daily for breakfast and lunch. Their food is meant to be amazing, plus they serve up puppycinos with lactose free milk and bacon dust.
Dog-Friendly Accommodation in Geelong
An excellent dog-friendly accommodation option in Geelong is R Hotel Geelong. These serviced apartments just a couple of blocks back from the waterfront have six dog-friendly one-bedroom and two-bedroom apartments, each with their own secure outdoor courtyard and balcony, plus direct access from the street (pets are not allowed in the hotel reception).
Up to two dogs are allowed per apartment and a flat $150 cleaning fee applies per stay, so are best suited for longer stays. Make sure you bring along your pet's own bed, blanket, towels and bowls.
If you're looking to camp or stay in your own caravan, unfortunately the three caravan parks closest to the centre of Geelong don't allow pets. The same prohibition applies to many of the other caravan parks on the Bellarine Peninsula. It's probably best to stay at the Geelong Showgrounds, which has both powered and unpowered sites available, with two dogs allowed per site.
Alternatively, we stayed a 25-minute drive outside of Geelong at the Maude Recreation Reserve and Bunjil Lookout. This delightful spot features clean toilets, BBQ facilities, playground and a fire pit. It's permitted to camp for up to 48 hours, with donations appreciated.
You May Also Like