Looking for the best dog-friendly beaches to visit in New South Wales? After road tripping up and down the coast with my pooch, Schnitzel, here's our selection of the best dog beaches in NSW.
Note that for the purpose of this list, we've restricted our definition of dog-friendly beaches to only those beaches on the coast that allow dogs off-leash 24-7 (or at least sunrise to sunset), with no pesky summer month restrictions, too.
All these beaches are easily accessible, with no 4WD access required, plus ideally there's free parking, poop bags and bins close by, perhaps even water bubblers for pups and humans. Enjoy your day out at the beach!
So, let's get started from Northern NSW to the Far South Coast, with the best dog-friendly beaches in NSW…
1. Brunswick Head Beach, Brunswick Head
There's no shortage of beautiful beaches in northern NSW, and one of my favourites is Brunswick Heads Beach. Sleepy Brunswick Heads is located about 20 minutes north of Byron Bay, and is a great spot to head to the beach with your pooch, joining the locals for a walk along the wide, sandy beach.
The off-leash section of Brunswick Heads Beach is well signposted. Its starts just south of the Surf Club and extends for 400m south to the boundary of Tyagarah Nature Reserve. Parking is easy and there was a dispenser with plastic-free, compostable poop bags next to the walkway leading to the beach when I visited.
2. Belongil Beach, Byron Bay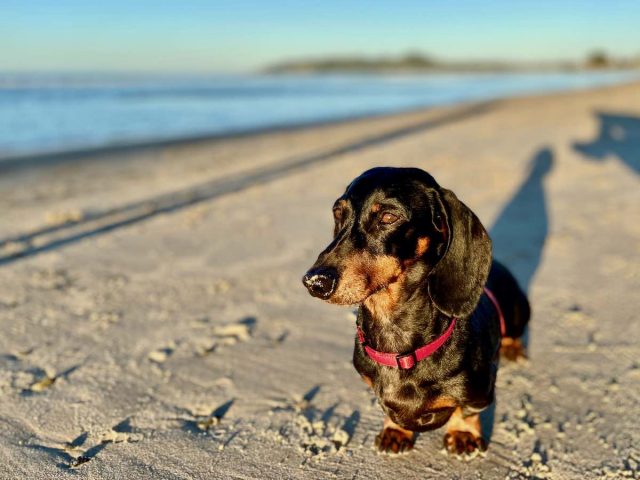 While the Main Beach in the tourist mecca of Byron Bay not surprisingly doesn't allow dogs, there are two off-leash dog beaches in Byron Bay to choose from. While Tallow Beach is quieter and larger, I prefer Belongil Beach for its calm, sheltered waters, not to mention it's a great spot for sunset walks.
Located just west of the Main Beach in Byron Bay, it's a popular spot with backpackers – make sure you avoid any picnics taking place on the beach! The off-leash section starts a little way west of the Main Beach car park and extends west to Manfred Street in Belongil. Nearby is the dog-friendly Treehouse on Belongil Cafe – perfect for lunch, dinner or just a drink.
For more dog-friendly ideas for Byron Bay, check out my Byron Bay guide
3. North Wall Beach, Coffs Harbour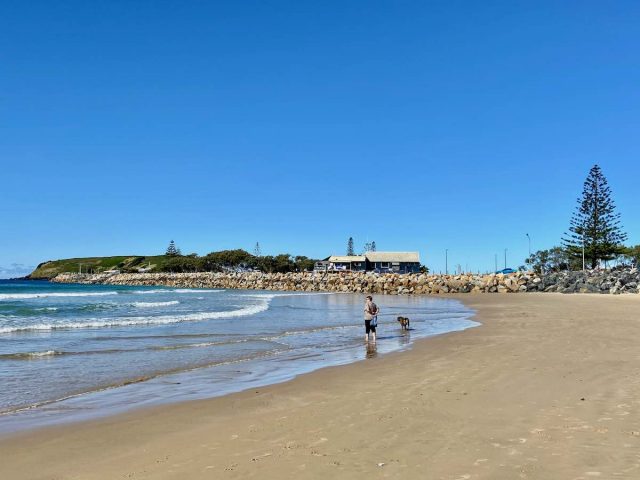 While not many centrally located beaches in the cities and towns up and down the NSW coastline permit dogs onto the sand, that's not the case in Coffs Harbour. One of the closest beaches to the town centre, North Wall Beach, is 24/7 off-leash.
The beach is located just north of the break wall, near the marina and historic jetty. There's plenty of parking right next to the beach, as well as a large grassy reserve (just keep dogs on a leash). On Google Maps, search for the beach marked "Park Beach South Dog Beach".
Check out my full guide to dog-friendly Coffs Harbour
4. Nobbys Beach, Port Macquarie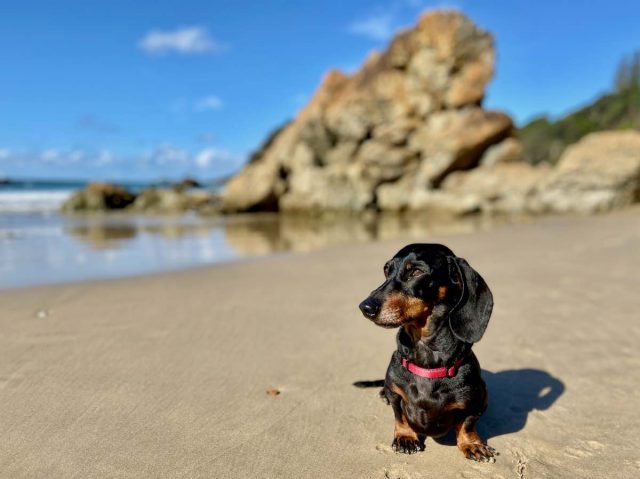 Nobbys Beach is the most popular off-leash dog beach close to the centre of Port Macquarie and its easy to understand why.
Just 4km south of the centre of town, it's easily accessible, with a carpark at the southern end of the beach and a short staircase down to the sand. Plus the surrounding cliffs keep dogs safe from the main road passing by. It's a wonderful dog beach in NSW.
Just long enough for a decent off-leash walk or play, the waters are partially sheltered, but can still be a little rough depending on the wind. Look out for the recently added stick and ball library!
Find more dog-friendly things to do in Port Macquarie
5. Nine Mile Beach, Tuncurry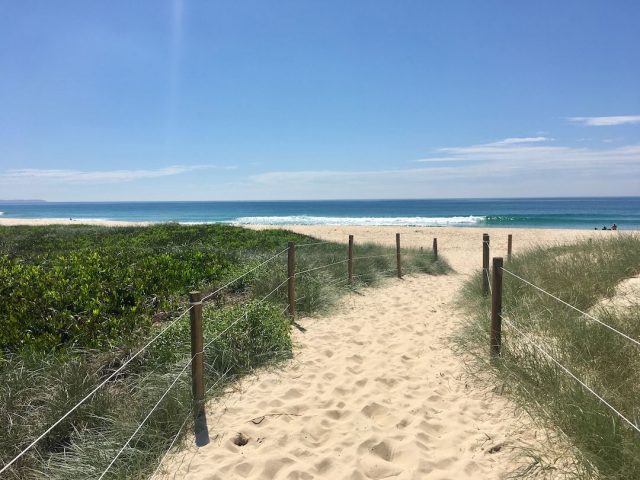 Nine Mile Beach is one of those beaches that stretches for miles, and luckily dogs are permitted off-leash all day long along nearly all of it. While the southernmost section of the beach, close to the town centre of Tuncurry, only permits on-leash dogs during limited hours, head north of the 4WD access road and the beach is off-leash from dawn to dusk.
Be aware that the beach is unpatrolled and can be rough, so is not ideal for swimming, at least unexperienced swimmers. Also keep your dog away from the path that 4WDs take along the beach. If you've got a 4WD drive and the relevant permit, it's the perfect for a dog-friendly beach driving adventure.
Check out my full guide to dog-friendly Forster-Tuncurry
6. Bagnalls Beach, Port Stephens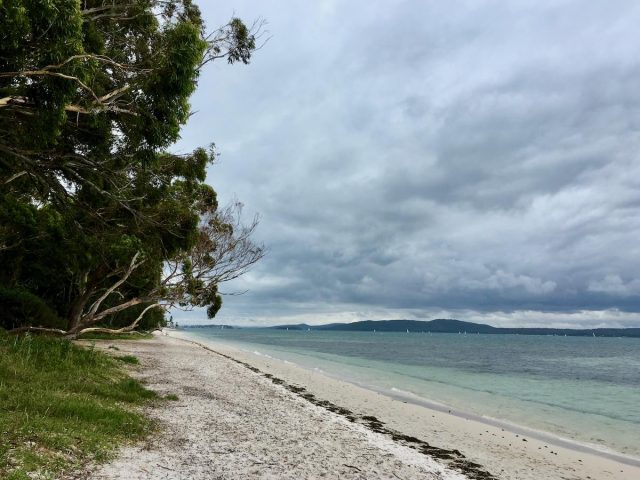 Just a few hours north of Sydney, Port Stephens is a popular summer destination for many Sydney-siders (and a more peaceful spot to escape to the rest of the year). While most of the local beaches don't permit dogs, luckily Bagnalls Beach is dog-friendly.
Located a short walk west of the town centre of Nelson Bay, in between Nelson Bay and Corlette, the beach fronts on to the placid waters of the port, rather than the ocean, so it's waters are always calm, perfect for more timid or smaller dogs. With beautiful white sand, the waters are stunningly clear.
Check out more ideas for a dog-friendly getaway to Port Stephens
7. Horseshoe Beach, Newcastle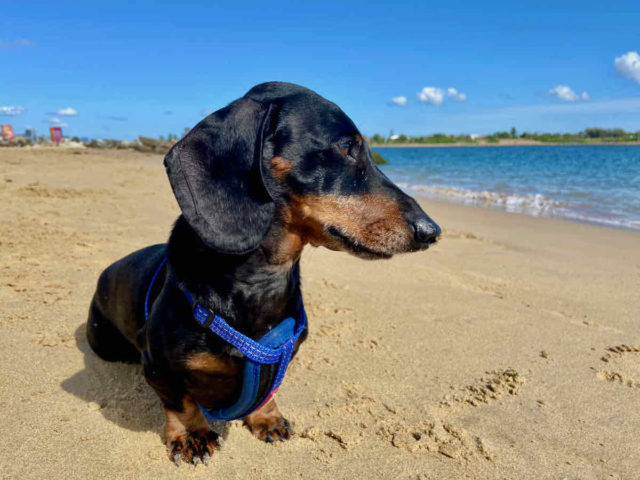 The majority of the beaches along the Newcastle coast strictly prohibit dogs, but you don't have to go far for a great dog-friendly alternative. Horseshoe Beach is just inside Nobbys Head, on the harbour side of the peninsula from Nobbys Beach.
While a fairly small beach, which can get quite busy due to its popularity, it's a relatively safe spot to visit with your dog. It backs onto a dune area, so there's no busy roads close by, plus the harbour waters are calm, great for dogs less confident in the water.
There's a convenient large carpark at the western end of the beach, plus you can also enjoy the nearby on-leash walk out to the lighthouse and breakwall at Nobbys Head, which is particularly popular towards sunset.
Check out more dog-friendly beaches in and around Newcastle
8. North Shelly Beach, Central Coast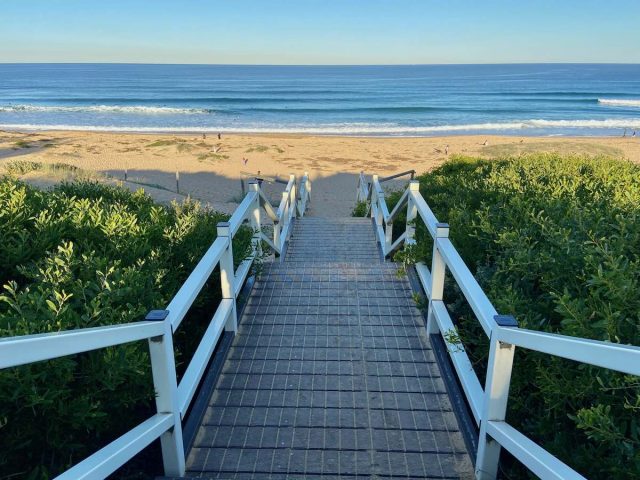 Along the Central Coast, there's no shortage of dog-friendly beaches, including ones facing the ocean as well as calmer beaches facing the many waterways and lakes. One of the most popular is the ocean-facing North Shelley Beach.
Located not far south of The Entrance, make sure you head to the correct beach by searching for "North Shelly Beach Dog Beach" on Google Maps. It's a beautiful large surf beach, with just as many surfers as locals with their pups when the swell is up.
The off-leash section of the beach extends from the access stairs marked by the pin, where there's plenty of free parking, south to the northern beach access walkway off Shelly Beach Road, adjacent to the golf course.
Check out more dog-friendly beaches on the Central Coast
9. Bayview Dog Beach, Northern Sydney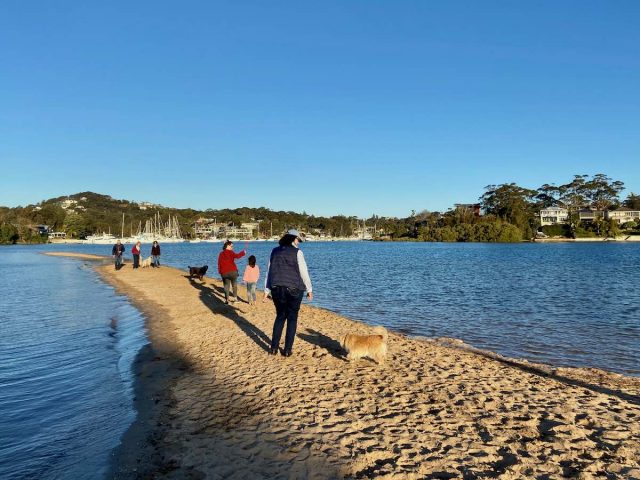 Along the Sydney coastline, there's not as many off-leash dog beach options, particularly when you exclude the beaches with time limited access for dogs. One of the most popular dog-friendly beaches along the Northern Beaches of Sydney, which is off-leash 24/7, is Bayview Dog Beach.
Located on the calm waters of Pittwater, one of the great things about this dog beach is the large grass area adjacent, making it a great location for off-leash fun even when the water is chilly. Try to nab one of the designated one-hour free parking spots next to the off-leash area, otherwise parking can be expensive.
10. Rose Bay Beach, Central Sydney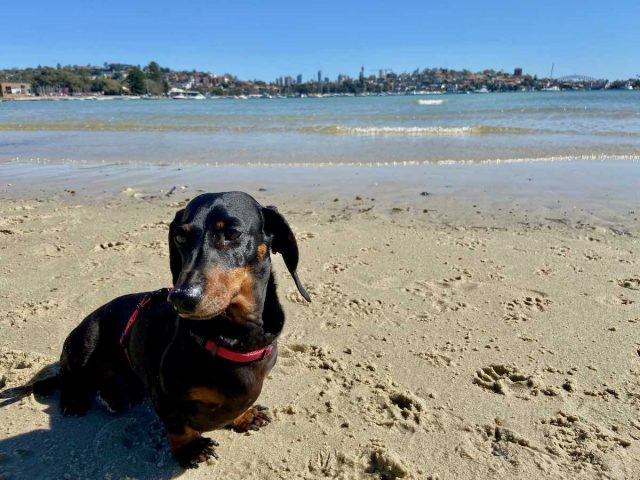 The best off-leash dog beach located close to the centre of Sydney is Rose Bay Beach, and luckily dogs are permitted off-leash 24/7 on the beach.
Situated on the the harbour, Rose Bay Beach is fairly calm, making it a great spot to also head out on a SUP with your pup. The off-leash section is located in between Percival Park and Dumaresq Reserve, with the best entry point from the end of Caledonian Road. Parking can be a little tricky. If you can't find a spare spot in the carpark close by on Dover Road, head up New South Head Road.
11. Silver Beach, Southern Sydney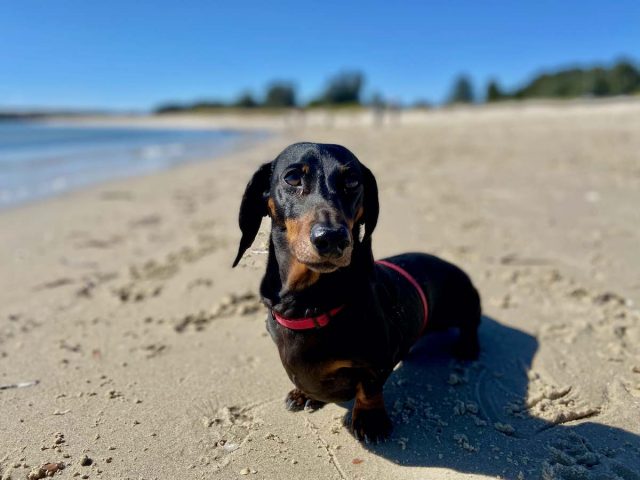 While the popular ocean-facing Greenhills Beach nearby only allows dogs in the morning and evening, dogs are permitted off-leash all day long at Silver Beach in Kurnell, also known as Kurnell Dog Beach.
Located at the southern side of Botany Bay, it's a 35-minute drive along the bay from the Airport, and feels worlds away from the hustle of Sydney. The water is relatively calm and shallow, great for less confident doggie swimmers. There's also a handy water fountain for both humans and dogs.
For more dog-friendly beaches nearby, check out my full guide to Sydney dog beaches
12. McCauley's Beach, Wollongong
If you're up for a day trip from Sydney, there's multiple beaches in the Wollongong area that permit dogs off-leash on the sand. One of the best options is McCauley's Beach, in between the suburbs of Thirroul and Bulli.
The best way to access it McCauley's Beach is from Corbett Avenue in Thirroul, at the northern end of the dog-friendly stretch. It's also possible to park at Sandon Point in Bulli and wander down – just avoid the rock platform where dogs are prohibited.
If the surf is too rough for your pup, there's a creek with a lagoon next to Corbett Avenue – a popular spot for dogs to swim, as long as it's flowing and not polluted.
For more dog-friendly beaches in Wollongong, check out my guide to Wollongong dog beaches
13. Werri Beach, Gerringong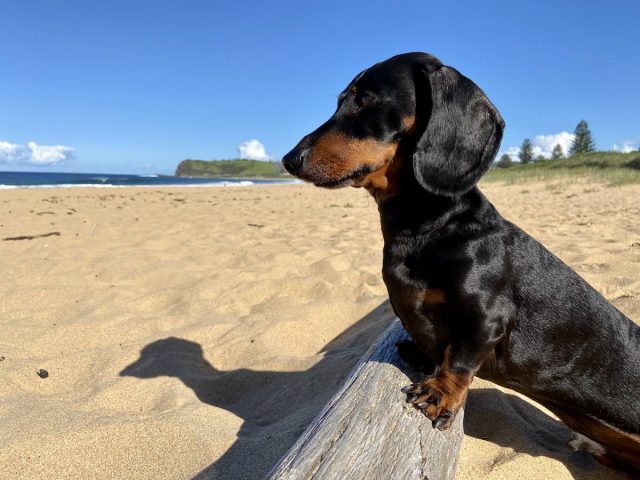 In the Kiama area there are three off-leash dog beaches, with my favourite being Werri Beach at Gerringong. It's potentially a touch calmer than the other two, with Bombo in particular prone to rough surf. Plus the caravan park across the road is dog-friendly.
The central section of the beach allows off-leash dogs, although dogs need to stay on a leash on the walkways through the dune area. Also note that dogs are only allow off-leash from sunrise to sunset. There's plenty of parking along the street behind the beach.
Find out more tips for visiting Kiama with your dog
14. Washerwomans Beach, Bendalong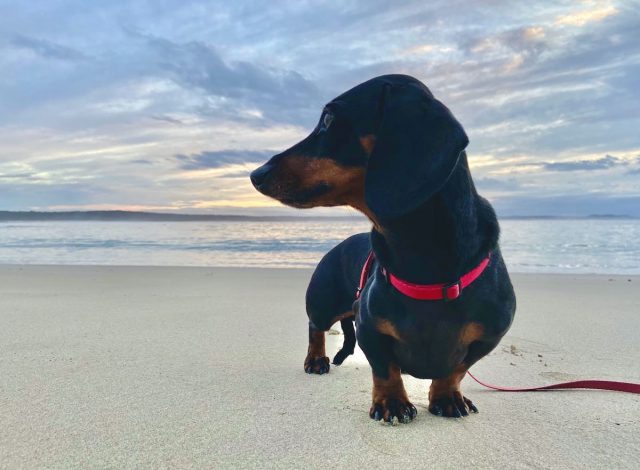 While the beautiful beaches around Jervis Bay only allow off-leash dogs during limited hours (so I haven't added any to this list), head a little further south to Bendalong for a beautiful beach that allows dogs off leash all day long.
Bendalong is located on the northern side of Lake Conjola, about a 30 minute drive north of the coastal town of Ulladulla. It's a little piece of paradise, although I'm sure it gets busy in summer! Dogs are allowed in the adjacent caravan park on powered sites during off-peak periods.
One of the best dog-friendly attractions of Bendalong is Washerwomans Beach. This calm, sheltered beach is a beautiful spot. Your dog will love to run on the sand or paddle in the water. Keep an eye out for kangaroos on the beach during quiet periods – I spotted some kangaroo prints during an early morning walk.
Read my full dog-friendly guide to the Ulladulla area
15. Durras Main Beach, Batemans Bay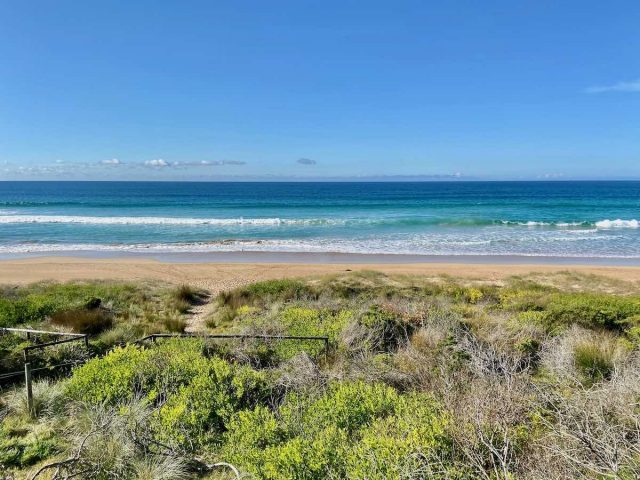 The Batemans Bay area is blessed with a huge number of dog-friendly beaches. There are no less than twelve 24-hour off-leash beaches along the 40km stretch from South Durras to the Moruya River, not to mention more timeshare beaches.
One of my favourite dog-friendly beaches close to Batemans Bay is Durras Main Beach, about 20 minutes drive north of Batemans Bay in South Durras. This long and wide beach with golden sand is a lovely stretch for off-leash frolics, although the surf can be rather rough. The dog-friendly section starts from south of the caravan park, north to the headland.
16. Wimbie Beach, Batemans Bay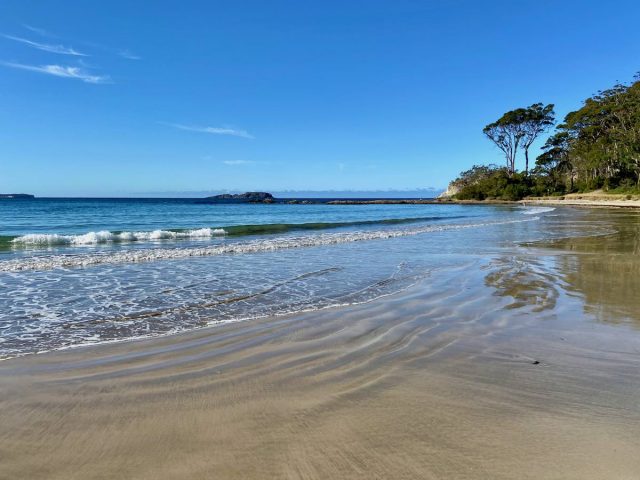 One of my favourite beaches in the Batemans Bay area, and one of the best dog beaches in NSW, is Wimbie Beach. This gorgeous beach is located 9km south of the centre of Batemans Bay, in a calm corner of the Bay.
As well as being very calm, perfect for even the smallest dogs, the beach is also well removed from the road, so you can feel safe about allowing your dog off leash. Dogs are also allowed off-leash on the adjacent reserve and headland.
Check out more dog-friendly beaches in the Batemans Bay area
17. Lions Park Beach, Pambula Beach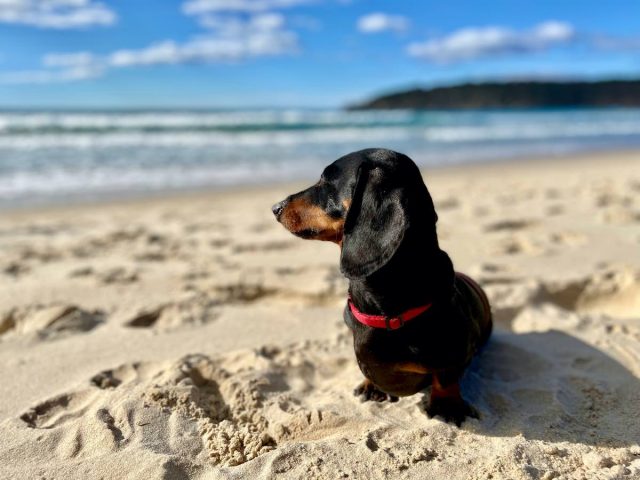 Heading further south down to the coast, there's plenty of dog-friendly beaches on offer, outside the many national parks that dot the coastline. The beachside hamlet of Pambula Beach is blessed with multiple beautiful beaches, including a beautiful sheltered beach at the mouth of the Pambula River, although dogs are only permitted on-leash.
However, head around the headland to Lions Park and the adjacent small beach there for some off-leash fun with your dog. There's a small carpark adjacent, along with a picnic area. It's a fairly safe spot to let your dog off leash, with no easy access except for the one walkway. Dogs are allowed off-leash to the north of the walkway.
17. Aslings Beach, Eden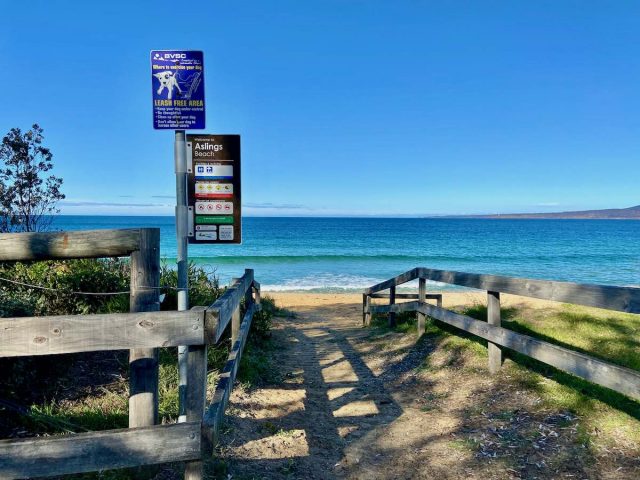 The town of Eden is just about as far south as your can head down the coast in NSW, and it's home to this gorgeous dog beach on its northern side, Aslings Beach.
It's a lovely long stretch of sand to walk with your dog or find your own spot to play. The off-leash section extends for nearly 1km north from the skate park to the far end of the adjacent caravan park, plus dogs are also allowed off-leash on the footpath in between the caravan park and the sand. Keep an eye out for dolphins just off shore!
Check out more ideas for dog-friendly things to do on the Far South Coast of NSW
You May Also Like
Inspired? Pin this to your Pinterest board!