If you want to go away camping or on a road trip with your dog in Queensland, of course there's plenty of dog-friendly caravan parks around the state. But if you're after somewhere more unique, consider one of these terrific dog-friendly campsites in Queensland to go camping with your dog. Most are far cheaper or even free, including some excellent options to camp next to the beach with your dog.
#1 Inskip Peninsula Recreation Area
The Inskip Peninsula is a long, sandy peninsula immediately south of K'gari (Fraser Island), about a three hour drive north of Brisbane. As well as the departure for one of the barges to the island that is off-limits to dogs, it's also home to a popular beachfront campground, with leashed dogs allowed to join you.
The Inskip Peninsula Recreation Area has facilities for both day visitors and campers. There are seven different campgrounds scattered around the peninsula, fronting onto either the ocean or the calm waters of Tin Can Bay. Fees are reasonable (currently $7 per person per night, or $28 per family). Only toilets are provided, with no showers, water or power available.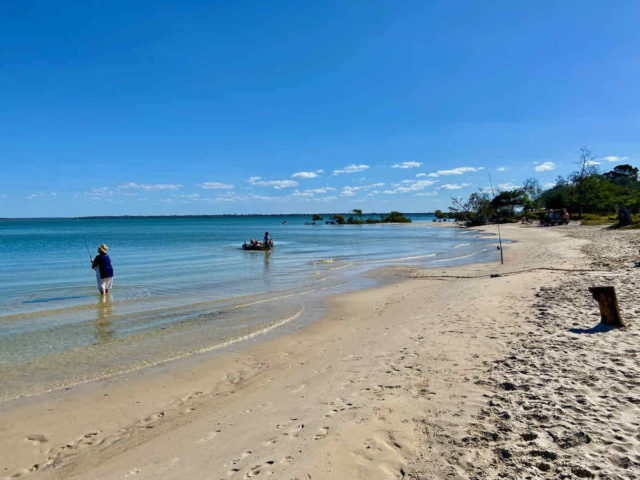 The majority of camp sites are recommended for access only by high-clearance 4WD drive, although the road to the Recreation Area is fully sealed. There are a limited number of sites that should be accessible by 2WD, depending on the weather. We also noticed some 2WD vehicles parking on the verge of the road, immediately outside their campsite.
Make sure you book a permit before setting up camp, with bookings well in advance necessary during peak periods.
#2 North Stradbroke Island
Closer to Brisbane but only accessible by ferry, North Stradbroke Island is a dog-friendly island that is another terrific destination for dog-friendly beach camping in Queensland. If visiting with your vehicle, catch the car ferry operated by Sealink from Cleveland, with the crossing taking 50 minutes and no charge for pets.
There's multiple foreshore camping areas on North Stradbroke Island, with dogs permitted in the camping areas at Flinders Beach and Main Beach. Note that both of these camping areas are only accessible by 4WD and have limited facilities. Additionally, there's a limit of two dogs per site, and they need to be kept on a leash.
While on North Stradbroke Island, some of the other dog-friendly activities to do include 4WD driving on the beach and fishing. There's an off-leash dog beach at Home Beach, located in between Rocky Point and Rocky Headland, opposite the Point Lookout Hotel. There's also an off-leash dog park at Barton Street Park. Or walk along the dog-friendly Gorge Walk.
It's essential to book in advance and print your tent tags prior to arriving. To access both Flinders Beach and Main Beach, a 4WD Permit is also required.
#3 Saunders Beach, near Townsville
If visiting the Townsville region with your dog, the local council has a great system allowing free camping for a limited number of nights at selected reserves just outside the city. While there is no charge, bookings are required via the council website.
One of the most popular free dog-friendly camping sites is Saunders Beach. We camped there for two nights on our road trip through Queensland with our dog. The RV camping site is right next to a picnic area with toilets and the beach, great for leashed walks with your dog. Just be warned that crocodiles are sometimes spotted in the area, plus the midges can be bad on still nights.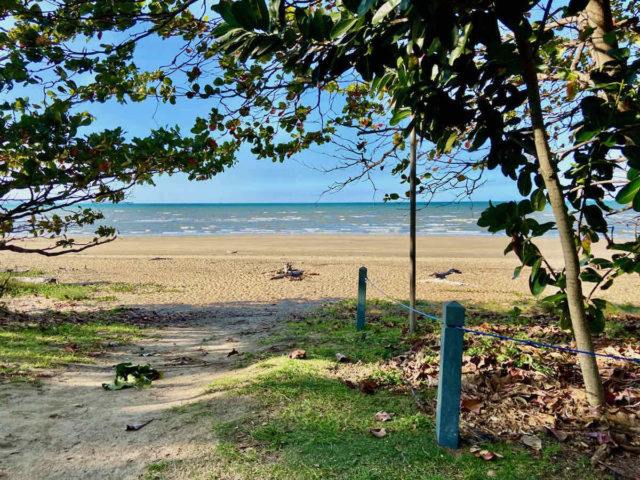 At this camping spot, only vehicle camping is permitted, such as in a campervan or RV. Further north at Balgal Beach, there is also the option for tent camping. Also note that dogs are not permitted at one of the campsites, at Lake Paluma.
#4 Fraser Coast RV Park, near Hervey Bay
The Fraser Coast RV Park is located close to the northern ferry terminal for K'gari (Fraser Island), not far out of Hervey Bay. Surrounded by beautiful bushland, including an adjacent reserve, there's plenty of room for all kinds of camping, not just in RVs.
Choose between multiple campsites, with most allowing dogs. We stayed at the Dogs Corner area, which was conveniently close to the excellent camp kitchen and the charming amenities block, topped with a rustic water tank!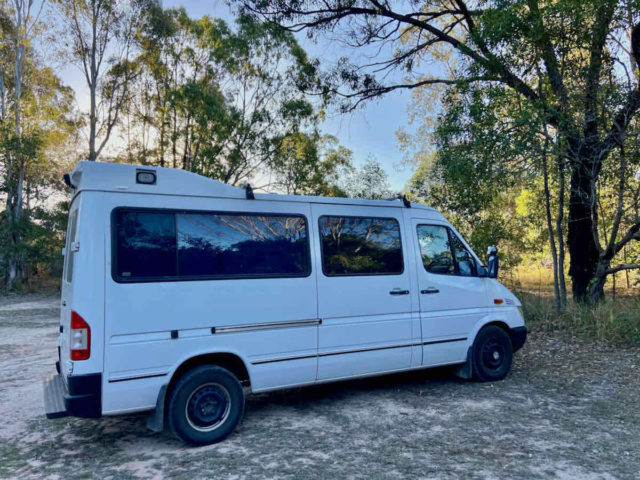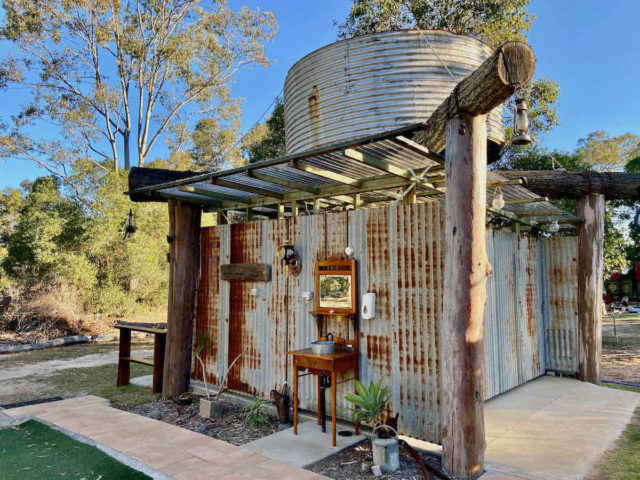 The park owners offer pet-minding for $50 per day, perfect for if you're heading over to K'gari (Fraser Island) for the day from the nearby ferry terminal. Just enquire in advance, as it does get booked out. Also be warned that you'll likely need to protect yourself from midges come nightfall.
#5 Greenpatch Reserve, near Cairns
About 25 minutes south of the city of Cairns is the cane milling town of Gordonvale, also home to the free Greenpatch Reserve campground.
It's possible to camp for free at this well-maintained reserve for up to three nights, making it a great base to visit nearby Cairns on a Queensland road trip, although donations are welcome . During the dry season it can be very busy, so be prepared to arrive early to grab a spot.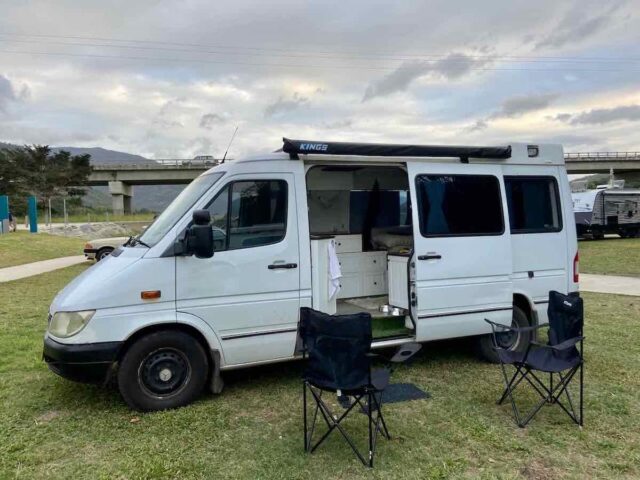 Caravans should camp on the concrete pads on the upper level, while it's best for campervans to park on the lower level, where tents are also permitted. Toilets, picnic facilities and a dump point are provided, as well as hot showers for a small fee. Note that naturally no power is available.
As saltwater crocodiles are a risk in the adjacent river, it's best to keep your dog out of the waters. Dogs should also be kept leashed at all times. Higher vehicles need to use the turn-off south of the bridge, due to a 2.2m height limit on the access from the north.
#6 Macrossan Park Camping Area, near Charters Towers
A popular dog-friendly campsite near the inland city of Charters Towers is the Macrossan Park Camping Area. This campground is just 20 minutes out of town, next to the Burdekin River.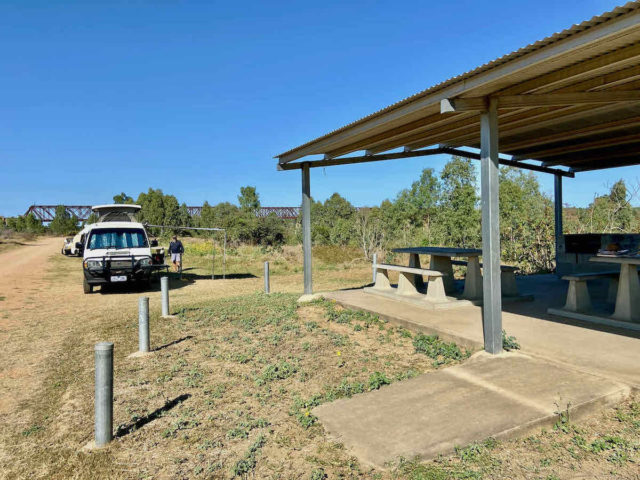 It's free to stay at this basic campground provided by the local council, with stays of up to one week during every four week period permitted. Or just stay overnight on a road trip with your dog.
Toilets, cold showers and sheltered picnic tables are provided, along with fire pits – the only place where fires are allowed. Some recent visitors have noted the presence of some longer term residents, who also tend to let your dogs off leash. Dogs are meant to stay on leash.
#7 Mystic Sands Golf & Country Club, north of Townsville
The Mystics Sands Golf & Country Club is about a 50 minute drive north of Townsville, near Balgal Beach. It's also home to a very popular RV campground.
No advance bookings are possible, but the staff will attempt to find at least an unpowered site for everyone who arrives – although the earlier you arrive the close you are to the clubhouse and amenities! Unpowered sites are a mere $5 per adult per night, while the few powered sites cost $10 per adult per night.
I've heard a report that tents are allowed, but this campground is really designed just for RVs and caravans. As well as toilets and hot showers if you don't have your own, you'll also have access to the swimming pool, plus the golf course and lawns bowls for a fee.
Don't miss enjoying a meal or at least a beer overlooking the dam next to the clubhouse, with your dog at your side.
#8 Home Hill Comfort Stop, south of Townsville
About a 75 minute south of Townsville, the Home Hill Comfort Stop is a great spot to spend the night in an RV on a road trip. This RV rest area is in the highway town of Home Hill, just south of Ayr.
Campervans, motorhomes and caravans are permitted to pull up for up to 48 hours in the designated parking spots along Railway Avenue in the centre of town. Note that tents are definitely not permitted.
Free toilets, showers, eating areas, electric BBQs and sinks are provided, plus there's a dump spot nearby. All that the local community asks is that you buy your supplies locally and explore the area.
#9 Pine Rivers Showground, Brisbane
If visiting Brisbane while travelling in a caravan or campervan with a dog, there's not many dog-friendly options available. A convenient spot to stay just 30 minutes outside of the city centre is the Pine Rivers Showground in northern Brisbane.
Like most showgrounds, tents are not allowed – just caravans, motorhomes, campervans and camper trailers. The showground is also closed to camping during the annual show. Since we stayed, bookings are now required and arrivals on Sunday are not possible. There is a very generous 28 day limit, except for camper trailers, restricted to a still generous seven days.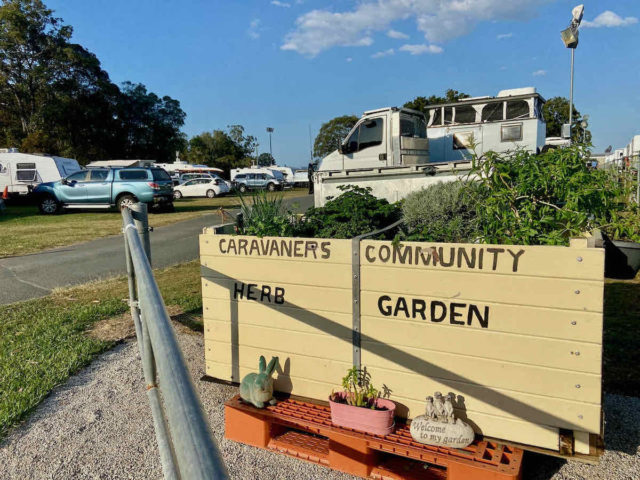 We appreciate the excellent facilities, including a good camp kitchen and plenty of showers and toilets, plus the reasonable prices, particularly as we stayed here during the school holidays.
#10 Foxbar Falls, Granite Belt
While visiting the town of Stanthorpe in the Granite Belt wine region, we stayed at the caravan park in town, to be close to its attractions and facilities. However, if you're looking for another great spot for camping with dogs near Stanthorpe, a popular option is Foxbar Falls.
About a 15 minute drive northwest out of town in the countryside, each site at this pet-friendly campground has its own fire pit. The site fees also include the use of kayaks and the laundry.
Two dogs are permitted at most campsites, although Rock View campsites are pet-free and it's best to call and discuss the best option if you have a large dog. Dogs are also permitted on the walks and in the dam, but need to stay leashed.
You May Also Like