While the majority of caravan parks allow dogs to stay with you these days, including most caravan parks in Queensland, at nearly all caravan parks there's a long list of restrictions for dogs, but no dog-friendly amenities provided.
However, there are a few caravan parks that are extra dog-friendly, whether they have an off-leash exercise area, washing machines for dog bedding or pet-sitting on site. I recommend you stay at one of these extra dog-friendly caravan parks on your next Queensland holiday with your pup.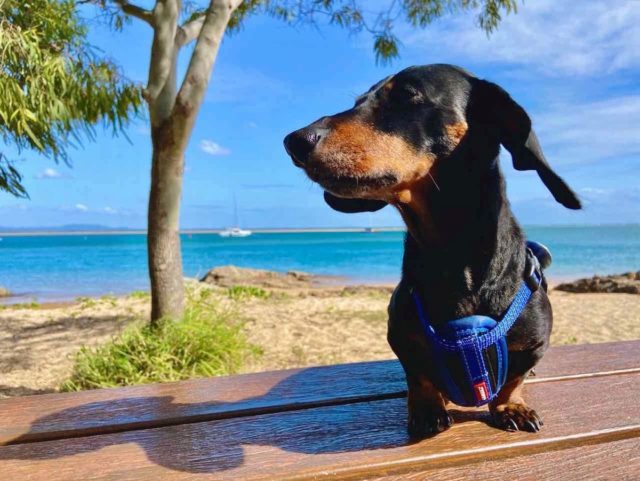 #1 The Summit 1770, Agnes Water
One of the most dog-friendly places to stay in Queensland is The Summit 1770, a place developed specifically for dogs and their owners just outside of Agnes Water. As well as three dog-friendly cottages near the summit, more recently a caravan park has been developed closer to the entrance.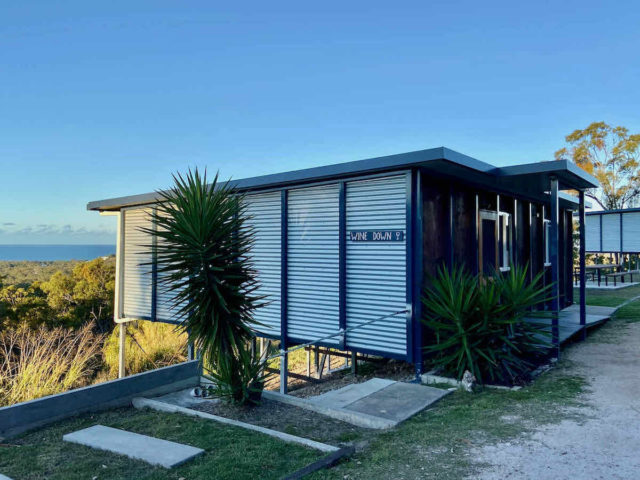 There's a mixture of powered and unpowered sites, along with a great camp kitchen and amenities block. But it's the facilities for dogs that really stand out.
Just opposite the main amenities block is a huge off-leash dog park, complete with a dam. There's also another smaller dog run up next to the sunset viewing spot. Additionally, since my stay in 2021, dog pens have added to three of the powered sites. Get in quick to nab one of the sites with their own 3m by 3m private dog pen.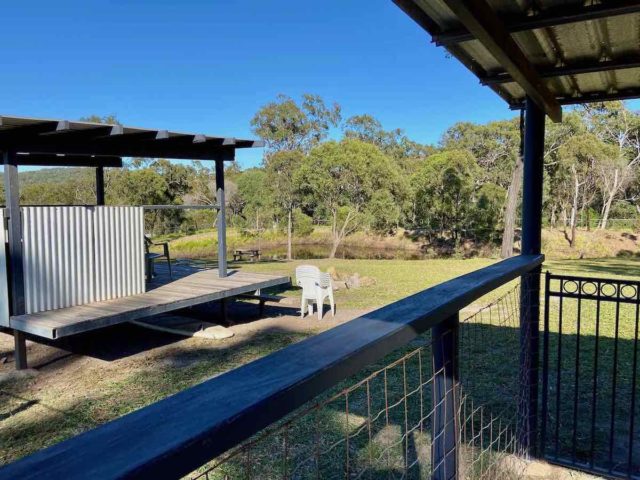 Try and time your visit for one of the regular dog training workshops, held by the owner Chris. Alternatively, enquire about stand-up paddleboarding with your dog at 1770. The most recent addition is doggy daycare – enquire directly for full details.
#2 BIG4 Gold Coast Holiday Park, Helensvale
The BIG4 Gold Coast Holiday Park has so much to offer all the family, from a mammoth water park to a licensed restaurant, but it's also a fabulously dog-friendly destination, by far the most dog-friendly caravan park on the Gold Coast or even close to Brisbane.
For starters, as well as allowing dogs on a selection of sites, including ensuite sites, there's also a range of dog-friendly cabins, ranging in size from studios to two-bedrooms terraces sleeping up to six. Two well-behaved dogs are allowed to join you inside, for no additional fee, with advance bookings essential.
For all dogs staying at the park, there's a huge fenced off-leash dog park, complete with agility equipment. Dogs are allowed to sit with you at the poolside cafe, but if you do head out, make a booking with the onsite dog kennels. There's also a DIY dog wash for pampering after visits to the off-leash dog beaches of the Gold Coast.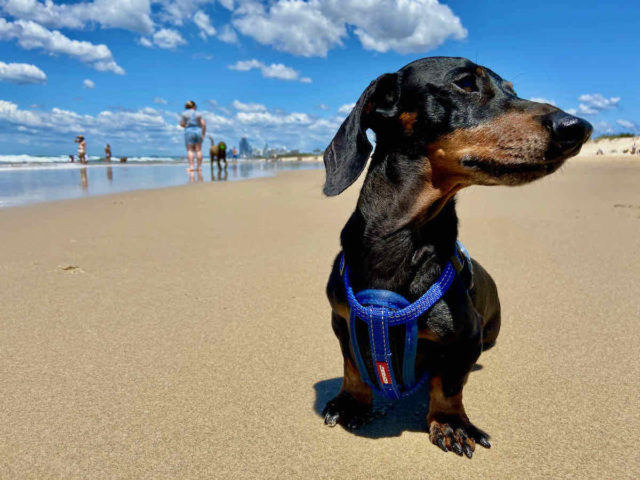 #3 Poona Palms Holiday Park, Poona
If you'd prefer to head north from Brisbane, make a beeline for the Poona Palms Holiday Park. Located in the small village of Poona on the western shores of the Great Sandy Strait, it's a three hour drive from the centre of Brisbane.
A quiet and relaxing spot, it's a great destination for fishing and crabbing (a boat ramp is onsite), or just enjoying the sunshine. Pets are welcome to join you year round on the powered sites, at the discretion of the mangers, or enquire about their pet-friendly cabins.
At the centre of a park is an excellent off-leash dog park, along with agility equipment, for energetic dogs to have some supervised fun. Adjacent outside the amenities building is a K9000 dog wash, just the thing for after sandy adventures.
#4 Mt Larcom Tourist Park, Mt Larcom
Whether you're driving north in Queensland or want somewhere pet-friendly to stay near Gladstone, the Mt Larcom Tourist Park is an excellent dog-friendly place to stay just off the highway.
Pets are permitted on all sites in the park, both the numbered powered sites and the large unpowered campsite area. Pets are also allowed to join you in cabins, as long as they are declared at the time of booking. There is a maximum of two pets per cabin, and puppies and kittens under 6 months need to remain crated, plus all pets kept off the beds.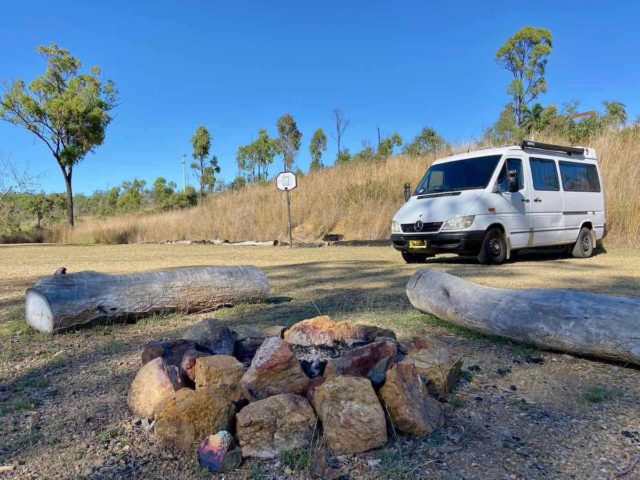 There are two designated off-leash areas in the park. The first one is up towards the sunrise viewpoint, a must to visit with its "Big Picture Frame" in time for the sunrise. There's also a second area on the other side, the lower tier. Note that both are unfenced and dogs need to remain under your voice command.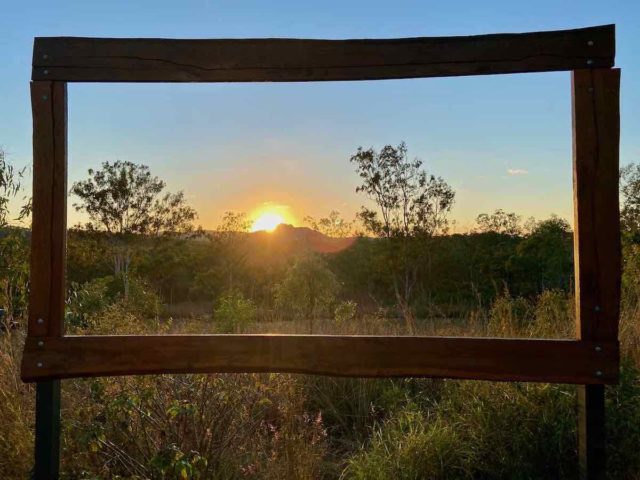 Upon arrival at the park you'll be provided with a copy of their "Pets in our Park" brochure, listing local pet-friendly places to dine and enjoy a drink, plus details of the nearest vet and pet-sitting. Poo bags are also provided at every bin point and pet towels can be requested from the office.
#5 BIG4 Ingenia Holidays Cairns Coconut Resort, Cairns
Fortunately for dog owners, an increasing number of caravan parks around Cairns are becoming pet-friendly. At the BIG4 Ingenia Holidays Cairns Coconut Resort, pets are allowed on both powered and ensuite sites, although not in any of the cabins.
This award-winning "premier" park has just about everything you could imagine for kids, from waterslides to an adventure playground to mini golf. But furkids haven't been overlooked, with their own off-leash agility park. Luckily, it's in a quiet corner on the far side of the park.
#6 Mycow Bakers Creek Caravan Park, Mackay
Only around half of the caravan parks within Mackay allow pets, with one of the pet-friendly parks being the Mycow Bakers Creek Caravan Park, on the southern side of the city. With pets allowed on the grassy powered and unpowered sites, it's a great spot for just an overnight stop or a longer stay.
This small park has a terrific camp kitchen, plus there's some relaxing spots to sit alongside the river. However, the recent addition to the park that makes it extra dog-friendly is a fenced dog exercise area, at the far end of the park from the river.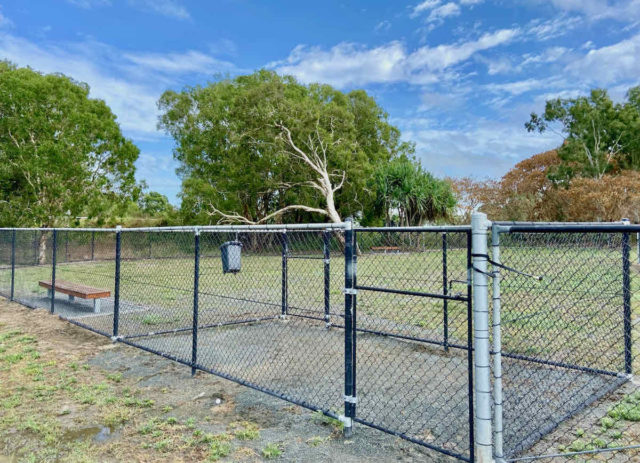 #7 Walkamin Caravan Park, Walkamin
The Walkamin Caravan Park is a friendly caravan park located midway between Mareeba and Atherton. It's a handy base for exploring the Atherton Tablelands, although only caravans and campervans are allowed – camping in tents is not permitted. At its centre is a huge camp kitchen with a fire place, a popular gathering spot for the grey nomads come happy hour.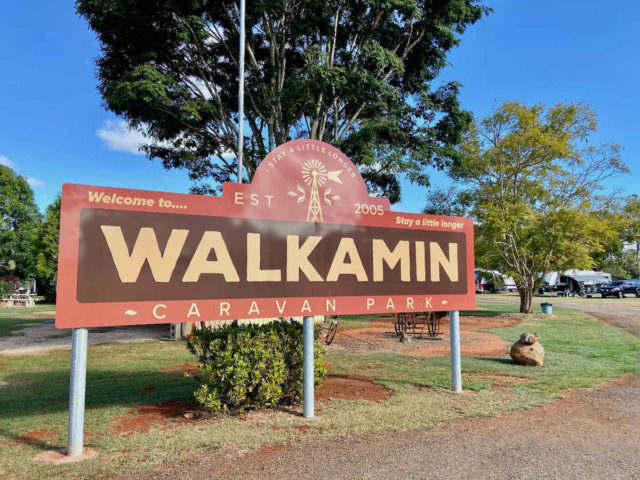 One of the problems with travelling longer term is where to wash your dog's bedding (or towels or jackets…) with caravan parks not surprisingly forbidding dog items to be washed in park washing parks. Kindly, this park has provided a dedicated washing machine just for washing dog bedding.
#8 NRMA Woodgate Beach Holiday Park, Woodgate Beach
One of the most dog-friendly spots close to Bundaberg is Woodgate Beach, thanks to its long expanse of beach, which is off-leash at either end. Luckily then the local NRMA Woodgate Beach Holiday Park is also welcoming to pets.
Up to two pets are permitted on both regular and slab powered sites, whether dogs, cats or birds. Bookings need to be made directly with the park. Upon check-in with your dog, you'll be provided with a doggy welcome pack, complete with a dog-friendly map, dog biscuits and the all important poo bags.
Onsite is the Serenity Cove Cafe, serving up breakfast, lunch and early dinners seven days per week, plus the option of take-away fish and chips. Dogs are welcome to join you at selected tables near the front of the cafe, with dog bowls provided.
#9 Fraser Coast RV Park, River Heads
If you're interested in visiting Fraser Island while travelling with your dog, a convenient spot to stay is the Fraser Coast RV Park. As well as being located not far from the River Heads ferry terminal, the park also offers pet-minding onsite. Advance bookings are required, as the service is regularly booked out.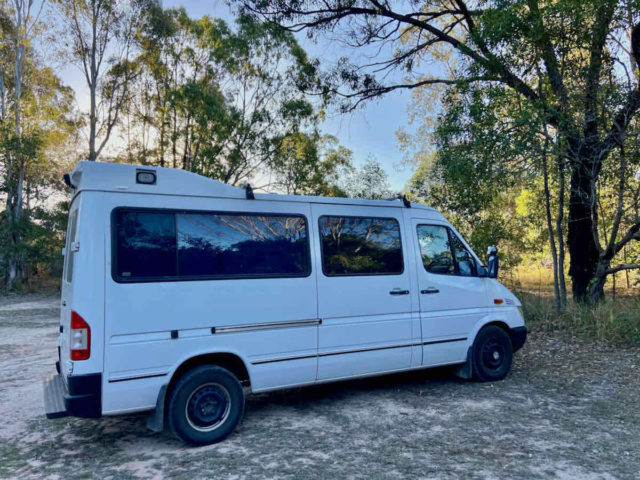 Back on site, dogs are welcome in multiple areas of the campground, as well as inside Bertha the Aussie Van. We stayed at the Dogs Corner area, which was conveniently close to the excellent camp kitchen and the quirky amenities block. The nature reserve with its on-leash walking trails was also nearby.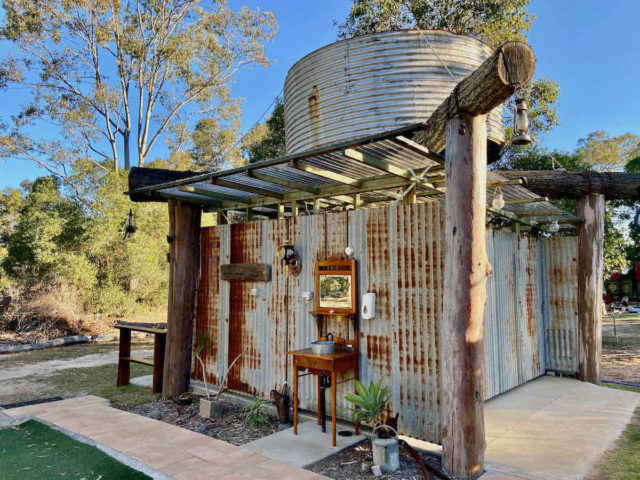 Note that midges are common in the area, so ideally cover up and keep your pup inside during the evening.
#10 Killarney View Cabins & Caravan Park
Killarney View Cabins & Caravan Park is a peaceful and quiet holiday park in southern Queensland, close to the mountains and waterfalls of the Main Range (including some dog-friendly falls). As well as welcoming dogs on their various camping sites, dogs are also allowed in their new dog-friendly cabin.
This bright and modern cabin has a full kitchen, ensuite and sleeps up to three, with a queen bed and sofa bed. Best of all, there's an enclosed yard for your pup. Make sure you notify the park when you book that you'll be bringing a dog and bring along sofa covers and blankets for your pup, with an additional cleaning charge applying.
The caravan park also has its own homemade dog wash, with hot and cold water.
Have you stayed at an extra dog-friendly caravan park in Queensland? Let me know by posting a comment, so that I can add it to this list!
You May Also Like