Country NSW is a great part of Australia to explore with your dog, with plenty of dog-friendly caravan parks (usually minus summer time blackouts) and lots of great dog-friendly things to do, including some surprising options. Check out these ideas of things to do in inland NSW with your dog on your next visit.
#1 Visit Old Dubbo Gaol
One of the most surprising dog-friendly attractions in country NSW is Old Dubbo Gaol, in the inland city of Dubbo. While the other main attraction in town, Taronga Western Plains Zoo, requires organising a pet sitter, you're able to visit this 19th-century gaol with your pet, as long as they're friendly and leashed (or in a carrier).
Open daily, there's a mix of permanent displays and talks (with costumed talks on weekends and during school holidays). I haven't visited this attraction since I was just a little kid (and it left me terrified…), but it's top of my list for when I next return to Dubbo, with my dog by my side to keep me safe!
#2 Explore the History of Parkes
The Old Dubbo Gaol isn't the only museum in dog-friendly country NSW that allows dogs inside. Just down the road in Parkes, make sure you stop in at the Henry Parkes Centre. As well as the local information centre, the centre also houses multiple dog-friendly museums.
The Henry Parkes Museum is named after the namesake of the town, the so-called "Father of Federation". The museum depicts the life of early settlers in Parkes, including an extensive collection of historical photographs. It also contains an antique machinery exhibit, with tractors, railway carriages, a wooden schoolhouse and even a blacksmith shop.
Alternatively, visit the King's Castle Elvis Exhibit and the Parkes Motor Museum, which are accessed with a separate joint ticket. The former contains personal artefacts of Elvis, who is also celebrated annually in the Parkes Elvis Festival. While the latter contains over 20 impressive cars and 10 motorcycles, including some rare models.
With the Henry Parkes Museum, well-behaved dogs on a leash are allowed inside. With the King's Castle Elvis Exhibit and the Parkes Motor Museum, only dogs that are carried or are in a dog stroller are allowed to join you inside.
While visiting Parkes with your dog, don't also miss checking out the public art trail, plus getting a selfie with the Dish – dogs are allowed in the outdoor areas around it.
#3 Visit Quirky Silverton
If visiting western NSW and Broken Hill with your dog, make sure you take a day trip to nearby Silverton. Just a 30 minute drive northwest of Broken Hill, this quirky former mining town is nowadays home mainly to artists. Plus it's been the star of countless films thanks to its stunning landscapes.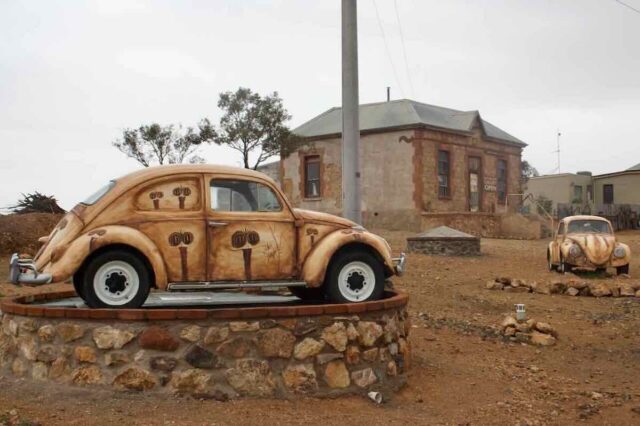 Top of the attractions in town is the Mad Max Museum, a homage to the film that was shot on location here. Currently open from Tuesday to Sunday, past visitors have reported being able to visit with their dogs. Some of the art galleries around town might also allow dogs to visit with you – just check before entering.
Don't also miss dining or just enjoying a drink at the iconic Silverton Hotel. There's outdoor tables along the front verandah. It's also just worthwhile wandering around town and capturing some great photos with your pup, with plenty of great spots for selfies.
#4 Visit a Vineyard or Two
Inland NSW is home to multiple wine growing regions. Two of the most prominent are Mudgee and Orange in the Central West region. Both wine growing regions are home to plenty of cellar doors open to the public, including many that allow dogs to join you, whether inside or just outside.
In Mudgee, one of the top dog-friendly cellar doors is Lowe Wine. Renown for their organic wines, most of their tastings take place outdoors on the terrace, or inside their rustic barn. You'll likely also spot their resident wine dog, Louie.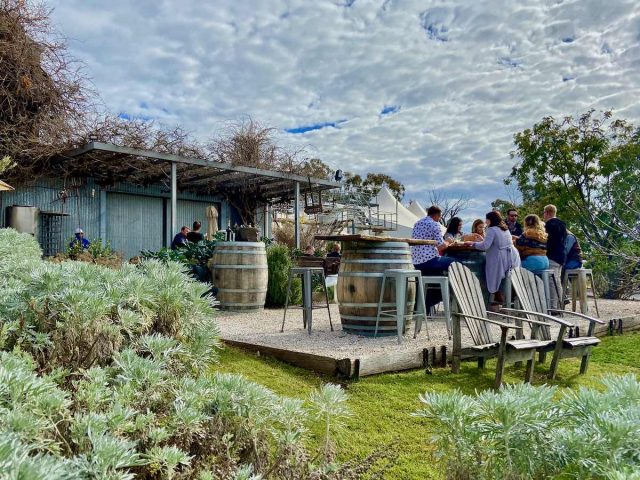 Your own dog is welcome to visit, as long as they are friendly with other dogs and kept on a leash. Bookings are essential, especially on weekends, although it's also possible to visit their beautiful grounds for a wander and to purchase supplies if you miss out on a tasting slot.
#5 Clamber on Top of a Submarine
Now, a submarine isn't exactly something that you'd expect to find in country NSW. However, that's what there is in Holbrook, a town in southern NSW, just off the Hume Highway.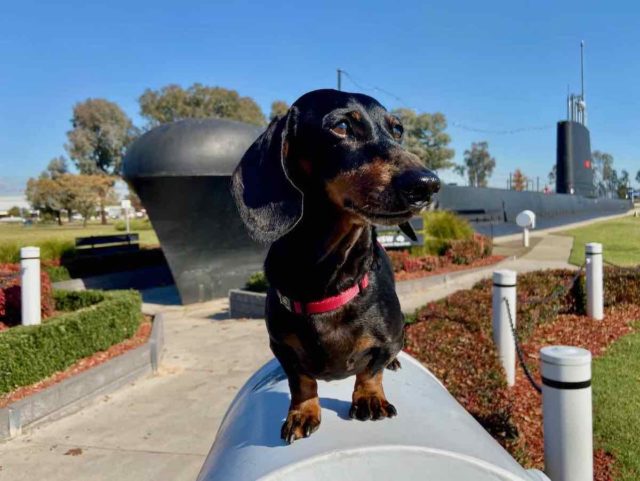 The town was renamed after a British submariner, Norman Douglas Holbrook, so when HMAS Otway was decommissioned in the 1990s, the town decided to tender for its remains. They eventually purchased the upper casing, fin and stern, that are now visible in a park in the centre of town.
While the adjacent museum isn't dog-friendly, it's possible for anyone to clamber up on top of the submarine, including your pup. Just behind the submarine park there is also a convenient off-leash dog park.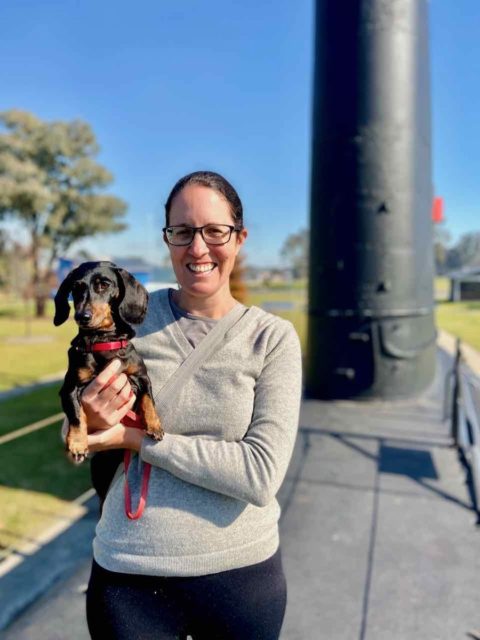 #6 Visit the Dog on the Tucker Box
What would be a drive along the Hume Highway without a stop at the Dog on the Tucker Box in Gundagai? This iconic roadside attraction was first erected nearly 100 years ago, in 1926. And while smaller than expected, it's still a must-visit stop, especially if you have a dog.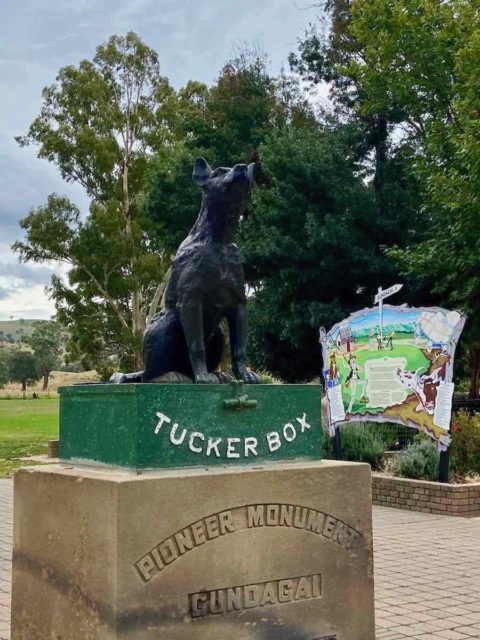 It's easiest to visit the Dog on the Tucker Box when driving northbound, although it's still possible if you're driving southbound. There's a large carpark next to it, with a few other attractions located next to the monument. When we visited there was a cafe selling coffee and locally made goods, plus an apple vendor.
#7 Explore Historic Hill End
One of the most picturesque historic ghost towns in country NSW is Hill End. Once a thriving gold-mining town that was home to over 8000 residents, these days the historic site is looked after by the National Parks National Parks and Wildlife Service. While dogs are not allowed in national parks in NSW, they are allowed at Hill End, except for in the heritage centre.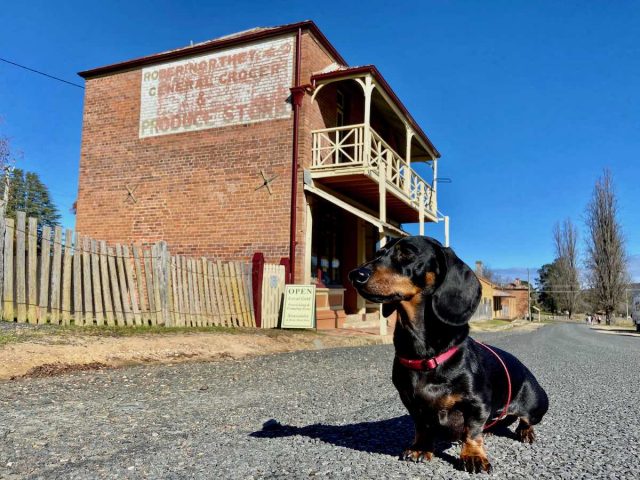 Just over an hour west of Mudgee, it's a great spot to visit on a day trip. Or perhaps stay overnight at either of the local campgrounds, both of which are pet-friendly.
Only a fraction of the hundreds of buildings that once lined the streets in Hill End are still standing. At you walk along the streets, historic photographs show what the streets once looked like. The atmospheric location has also been immortalised by many Australian artists.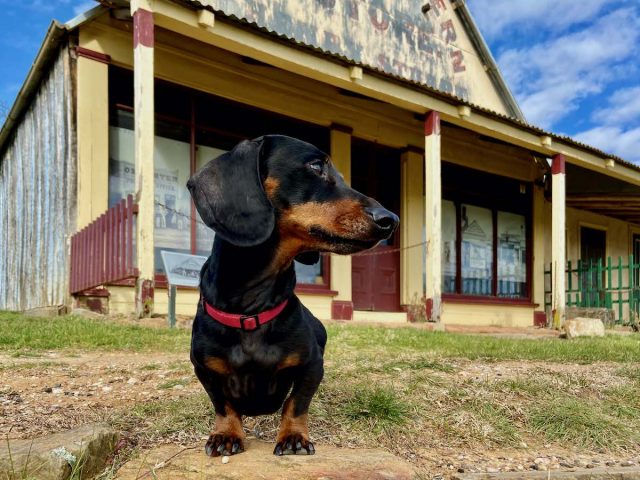 In addition to wandering along the former streets with your pup, don't also miss following the walking track to Bald Hill Mine, with no rules against dogs on the track. I recommend stopping at Golden Gully to see the erosion resulting from the mining activities, although keep your dog on a short leash due to the unstable ground. You can also try fossicking at Tambaroora.
While in Hill End, drop by the Royal Hotel or the General Store, both still operating. At the General Store Cafe dogs are welcome in the outdoor seating area, with our dog offered a treat.
#8 Take an Opal Tour at White Cliffs
While Coober Pedy in South Australia is the most famous opal mining town in Australia, NSW is home to White Cliffs, the oldest commercial opal field in Australia and also well worth visiting. It's about a 3 hour drive from Broken Hill or 7 hours west of Dubbo.
I'm still yet to visit White Cliffs, with or without my dog, but I've heard reports from other visitors that it's a great dog-friendly destination. In particular, dogs are welcome to join you on the Red Earth Opal Mine Tours.
This 2-hour tour takes you underground to a working opal mine with historic diggings, and you'll even have the chance to dig for opals yourself. Tours depart daily during the season, which runs from April to November.
Afterwards, enjoy a beer at the local pub, with dogs on a lead welcome in the beer garden. Just skip visiting this part of the state during the very hot summers!
You May Also Like