Western Australia isn't home to that many fenced dog parks, however there are a growing number being set up around the state, both in Perth and in regional Western Australia. Whether you live in WA or are road-tripping around the state, check out these locations if you're looking for fenced dog parks in WA.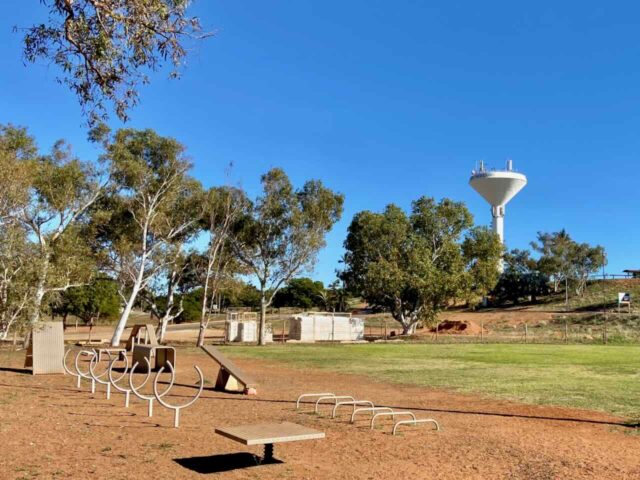 Fenced Dog Parks in Perth
The largest number of fenced dog parks in Western Australia can be found in Perth. Check out these options…
#1 Ozone Dog Agility Park, East Perth
One of the closest fenced dog parks to the centre of Perth is the Ozone Dog Agility Park, located just southeast of the Perth CBD in the Ozone Reserve. There's even convenient free parking next to the reserve.
While small in size, this agility park is fully fenced, well-maintained and also has a handy dog obstacle course. It's a great spot for smaller dogs to be let off-leash for some fun.
#2 Jack Marks Reserve, Highgate
Another great fenced dog park not far from the centre of Perth can be found at the Jack Marks Reserve in Highgate. This park is fully fenced, although it's not the highest so be careful if your pup is found of jumping fences.
This fully fenced area is well-maintained, with plenty of shady trees, park benches and water fountains. There's also a fenced children's playground, which is strictly out-of-bounds for dogs.
#3 Slate Cafe, Bennet Springs
While not an actual park, the extra pet-friendly Slate Cafe in eastern Perth is a great spot to head with your pup for some off-leash fun (and coffee for yourself).
As well as a large grassed outdoor area where dogs are welcome to join you, the cafe is also home to a fenced dog playground – perfect for lots of playtime with other pups. Additionally, every Sunday two breed-specific play dates are held – check their website for the latest listings.
Fenced Dog Parks in Regional WA
While regional Western Australia is home to countless off-leash dog beaches and exercise areas, there's not many fenced dog parks. If you prefer to allow your dog off-leash in a fenced park when travelling, hit up these few fenced dogs parks in regional WA…
#1 Brookfield Reserve, Margaret River
When I visited the Margaret River area with my dog in 2021, there weren't any enclosed off-leash dog exercise areas in the region. However, there is now a proposal for one to be added.
Although I don't think the development is yet complete, there are plans to fence the dog exercise area at Brookfield Reserve in the town of Margaret River. This reserve is located to the northeast of the intersection of Leschenaultia Avenue and Brookfield Avenue, with the dog exercise area on the eastern side of the reserve.
Check out the Your Say website for the latest updates.
#2 Laing Park, Denmark
The idyllic town of Denmark on the southern coastline of WA is delightfully dog-friendly, and also home to a fenced dog park.
Laing Park is located just south of town, along the Ocean Beach Road. There are two separately fenced areas, for both small and large dogs. For more details, see the map provided by the local council.
#3 Southern Cross Dog Park, Southern Cross
The small town of Southern Cross, mid-way between Kalgoorlie and Perth, isn't the kind of place that you'd expect to have a fenced dog park, but there's a great one in town, at the northern end of Sirius Street, near the sporting complex.
Take care with smaller dogs – the fence isn't right to the ground so escapes are possible. But the park also has a water tap, agility equipment and a convenient picnic table and benches in the shade – BYO picnic.
#4 Olive Street Reserve, Tarcoola Beach
The city of Geraldton to the north of Perth is home to a great new fenced dog park. The recently constructed fenced dog park is located at the Olive Street Reserve in Tarcoola Beach, just south of the city centre. On Google Maps, search for the "Leonard T. Green Dog Park".
This large grassed area, over 1000 square metres, has two separate fenced spaces, as well as drinking stations and waste bag dispensers. It's a great spot to let your dog enjoy a run without heading to the beach.
Geraldton is also home to a second, older fenced dog park at Wooree Park, which is used by the local kennel club for dog obedience and agility training.
#5 Dingo Park, Newman
Despite it's name, Dingo park in Newman is designed for local and visiting dogs, not dingos. The dog park is part of the larger Boomerang Park, next to the intersection of Mindarra Drive and Newman Drive.
The park is fully fenced and well-maintained, with lovely green grass at least part of the year and plenty of agility equipment. There's a large carpark in between Dingo Park and the rest of Boomerang Park, plus a children's playground nearby.
#6 MacGregor Street Reserve, Port Hedland
Heading further north, I only stumbled across the fenced dog park in Port Hedland as it was adjacent to the water tap we used to fill up our van. The dog park is located in the MacGregor Street Reserve, directly opposite the Civic Centre, just west of Crawford St.
The fully fenced dog exercise area is double gated and provides water taps and bins. It was previously used by the local K9 club and still features agility equipment. See the photo at the top of the page.
You May Also Like