While a large number of caravan parks in NSW allow pets to stay with you, especially outside of peak times, there are some caravan parks in NSW that are truly dog-friendly, and worthwhile hunting out if you are travelling with your dog in NSW.
These caravan parks truly treat your dog as a guest of the park. Some parks have fenced off-leash dog parks for your dog to exercise onsite, while others have pet-friendly cabins, dog washes, washing machines for your dog's bedding or even pet-sitting. Next time you are holiday with your dog, stay at one of these extra dog-friendly caravan parks in NSW.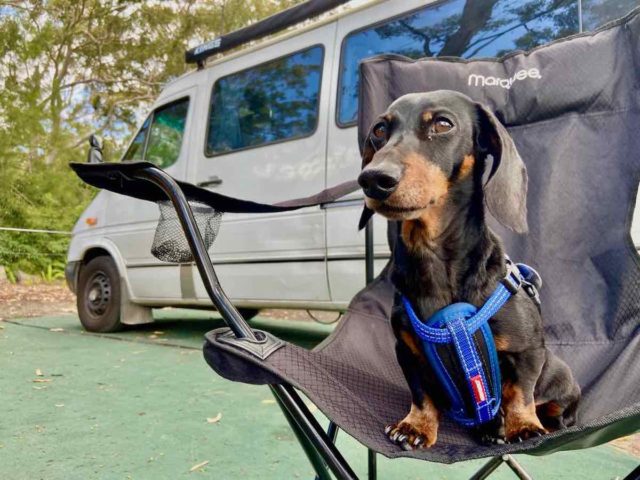 #1 Discovery Parks – Forster
I've had the pleasure of staying at Discovery Parks – Forster, one of the most dog-friendly caravan parks in NSW. Dogs are allowed to stay at the park year round, both on selected sites as well as in selected cabins, including the Deluxe Riverfront cabins. The pet-friendly cabins are clearly listed on the website.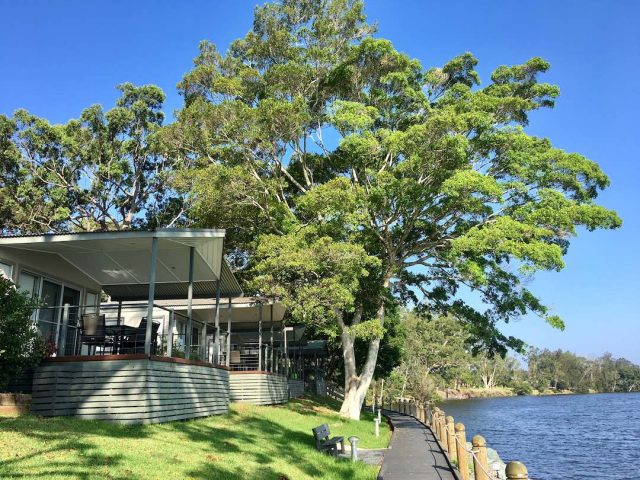 There's a shady fenced dog park with seating onsite, which I believe has been extended with an area just for small dogs since my stay. Every Sunday at 8am there is a Discovery Barks Walk, another great way to socialise your dog, followed by drinks and nibbles. And if your dog is rather sandy after a day at the local off-leash beaches, make use of the self-service dog wash and blow dry.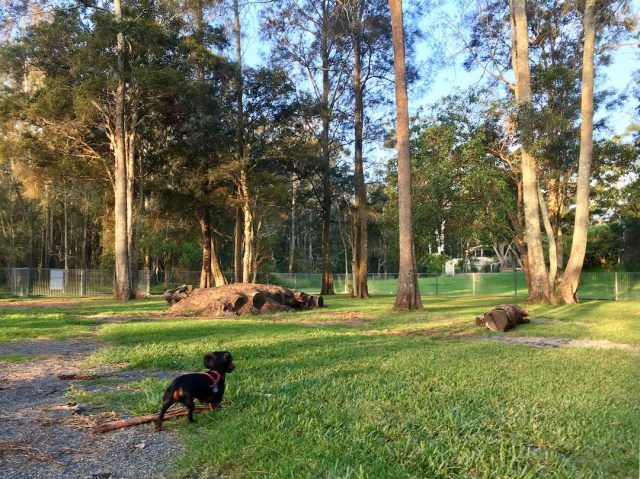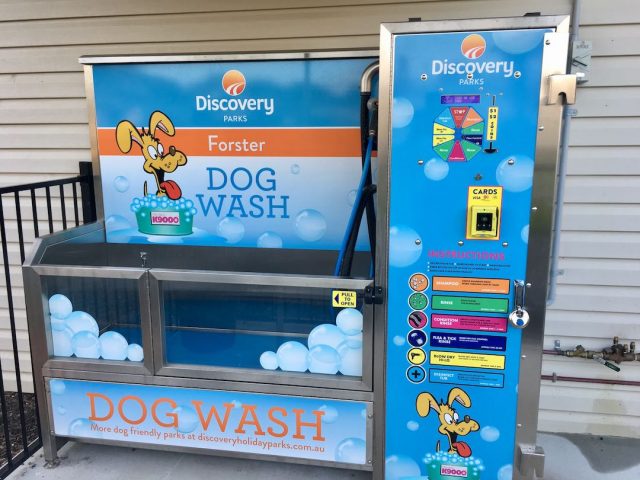 Note that usually only one dog per booking is permitted, with possible management approval for a second dog. Dogs must be registered, microchipped and vaccinated.
#2 Riverwood Downs, Barrington Tops
For a country stay with your dog in NSW, look no further than Riverwood Downs. Located in the Barrington Tops region, 2 1/2 hours drive north of Sydney, while pets are not allowed in the nearby national park, they are warmly welcomed at this destination.
As well as on the Riverside and Parkland camp sites, dogs are also allowed in a number of accommodation options, including the Pet-Friendly Family Cabins, Spa Cabins, selected Boutique rooms and the Bunkhouse. And there's no peak season restrictions.
Riverwood Downs has a huge 750 acres for you to explore, play and swim with your pup, ranging from manicured lawns to walking trails and a mountain river. In selected areas they're allowed off-leash, as long as they're under your control.
Afterwards, relax at the onsite Barrington Bar and Grill, with verandah tables available to guests with dogs, plus their own dog menu.
#3 Reflections Holiday Parks Lennox Head
If you're looking for dog-friendly caravan parks throughout NSW, check out the range of dog-friendly parks from Reflections Holiday Parks. Currently 30 out of their 37 parks located around the state are dog-friendly, although not all the parks are dog-friendly year round, with some having seasonal restrictions.
One of the most dog-friendly Reflections Holiday Parks is their Lennox Head park. Dogs are permitted at this park year round, on all sites plus in selected deluxe and economy cabins. Book directly with the park if you are bringing along a dog.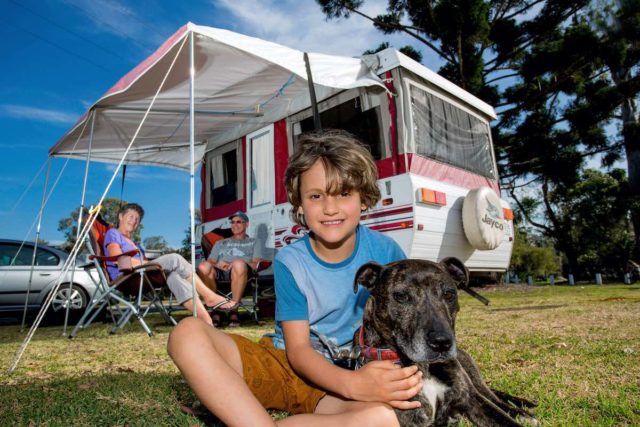 What makes Reflections Holiday Parks Lennox Head extra dog-friendly is their recently opened fenced dog park. It's a great spot for all park guests to gather and allow their dogs to burn some energy, with more agility equipment to be introduced in coming months.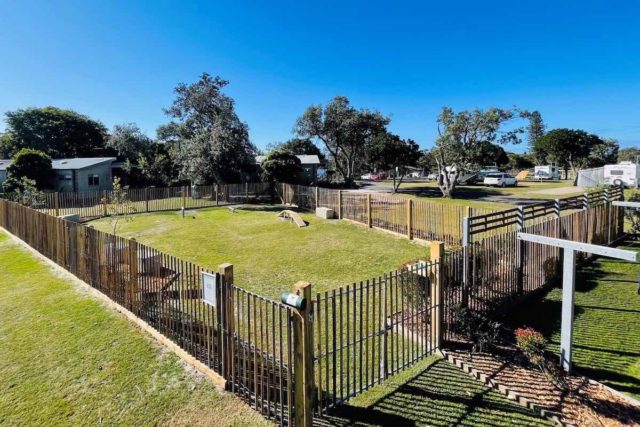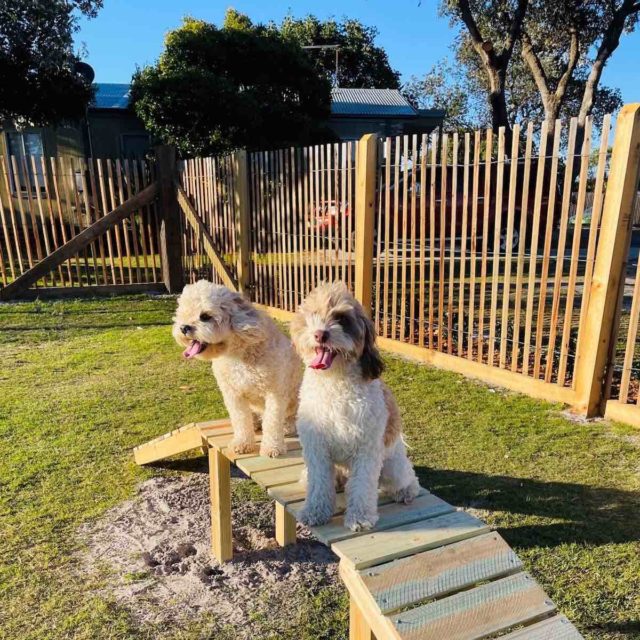 Don't also miss heading to the nearby off-leash dog beach. Seven Mile Beach is off-leash north of the surf club – use the access path just past the club, keeping your dog leashed on the path until you get to the off-leash area. Lennox Head is just 20 minute south of Byron Bay, but a more peaceful alternative.
#4 Reflections Holiday Parks Evans Head
Another Reflections Holidays Parks with great facilities for dogs is Reflections Holiday Parks Evans Head. While the park is not dog-friendly year round (dogs are not permitted during selected peak periods such as over Christmas, Australia Day, Easter and the Spring school holidays), it is one of the few caravan park in Australia with fenced pens for dogs.
Book one of these dog-friendly powered sites in the Riverside precinct and you'll have your own private pen for your pup at the shady rear of your site, ideal for relaxing times. The park also has two dog washes, perfect for rinsing off the sand at the end of busy beach days.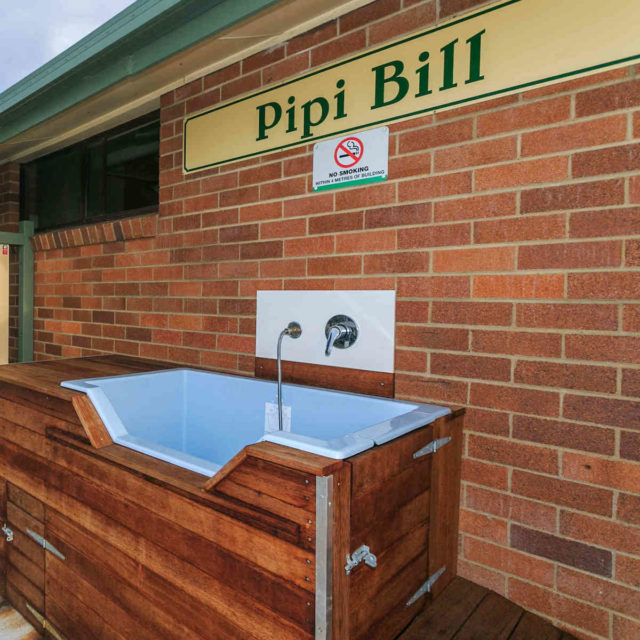 Most of the sites are pet-friendly in the Riverside precinct of this large park, as well as selected sites in the Beachside precinct. While pet dogs are not allowed on the nearby patrolled beach, head a couple of kilometres north to the off-leash Airforce Beach. This quiet beachside spot is located halfway between Ballina and Yamba.
Some other Reflections Holiday Parks that are favourites with dog owners include:
#5 BIG4 Saltwater Yamba
Another great dog-friendly caravan park on the Far North Coast of NSW that welcomes pets year round, including school holidays, is the BIG4 Saltwater Yamba.
In addition to powered and unpowered campsites, there are now ten cabins that are welcome pets inside, including all three Banksia cabins, plus four of the deluxe Figtree Cabins and three of the smaller Casuarina Studio Cabins. Both the Banksia and Casuarina cabins feature a fully enclosed deck.
Onsite is a fully fenced off-leash dog park, complete with ramps and tunnels, and even a shelter for supervising humans. There's also a K9000 dog wash, essential after days at the local off-leash beaches.
Most dog breeds are accepted in the park, with a limit of one dog per cabin, but more than one dog generally accepted on sites. There is a small additional charge of $12 per night for pets to stay in cabins, or $5 per night on sites.
#6 Double D Caravan Park, Peak Hill
The Double D Caravan Park in Peak Hill comes highly praised by previous guests. Located about 30 minutes north of Parkes, it's also about halfway between Melbourne and Brisbane on the inland route between the two cities, so is a popular stopover location.
As well as an excellent camp kitchen and a quiet location, there's a long list of dog-friendly amenities. There's an off-leash dog area and dog wash onsite, plus a fenced pet-friendly BBQ area. If you'd like to see the local sights, doggy day care can be provided. Plus one of the motel units is pet-friendly, in case you aren't towing a caravan.
#7 Capital Country Caravan Park, Sutton
The Capital Country Caravan Park is conveniently close to Canberra, but located back in NSW just before you cross the border into NSW, so makes it onto this list.
This park is particularly popular with dog owners for it dog freedom sites. There are four powered sites that have been fully fenced, enabling you to park your van inside the enclosure and not worry about keeping your dog leashed while onsite. Make sure you book in advance and specify the size of your van, with each of the sites of varying size.
The park also has two dog-friendly bungalows, that can accommodate up to four guests. The park is close to multiple dog-friendly wineries plus the many dog-friendly sights of Canberra.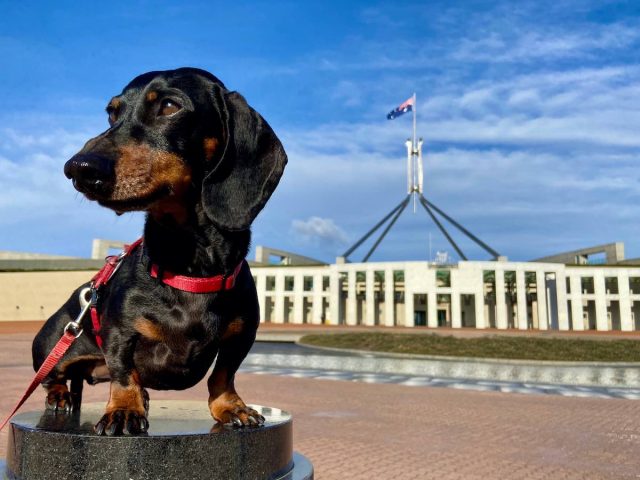 #8 Discovery Parks – Mildura, Buronga Riverside
Located on the NSW side of the Murray River across from the inland city of Mildura, Discovery Parks – Buronga Riverside is pet-friendly year round. Dogs are permitted on all campsites, including the riverfront sides and ensuite powered sites, plus in selected cabins. Book directly with the park to find out about the pet-friendly options available.
On the edge of the park is a fenced dog park for off-leash fun. Previous guests have also reported that this a dog wash onsite, a washing machine for pet bedding, plus poles outside the amenities block to tie up your dog while you duck inside.
#9 NRMA Dubbo Holiday Park
Dubbo is a popular destination in country NSW, and you're welcome to bring along your pet if you're staying at the NRMA Dubbo Holiday Park. In addition to the wide variety of pet-friendly sites, from unpowered to drive through to ensuite sites, there are also four pet-friendly cabins.
Choose between a two-bedroom cabin sleeping up to six or two studio cabins, sleeping either four or five guests. Each of the pet-friendly cabins has a small fenced yard and a small kennel. Note that there is a limit of one pet per cabin and an additional fee applies, plus you'll need to book directly with the park.
Also onsite for all dogs to enjoy is a fenced off-leash dog park, near the jumping pillow. Recommendations can be made for local doggy daycare if you're heading to the zoo for the day, otherwise consider visiting the dog-friendly Old Dubbo Gaol.
#10 Tathra Beachside
If you're heading to the Far South Coast of NSW for a beachside holiday with your dog, look no further than the pet-friendly Tathra Beachside. Pets are welcome on powered and ensuite sites nearly all year long (except between 26th December and 10th December), plus in designated pet-friendly cottages and villas all year long.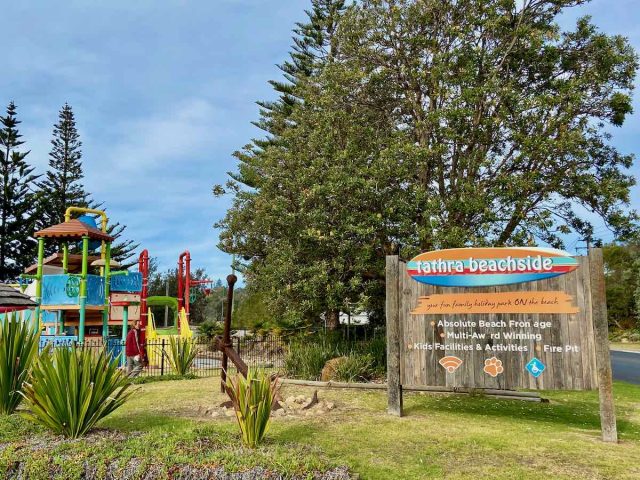 There are four two-bedroom pet-friendly cottage, sleeping up to five, or two larger pet-friendly villas, sleeping up to six with two pairs of bunks. The pet-friendly cottages feature a fenced yard and deck with kennel, while the villas have an enclosed verandah. Both allow pets inside, but not in the carpeted bedrooms.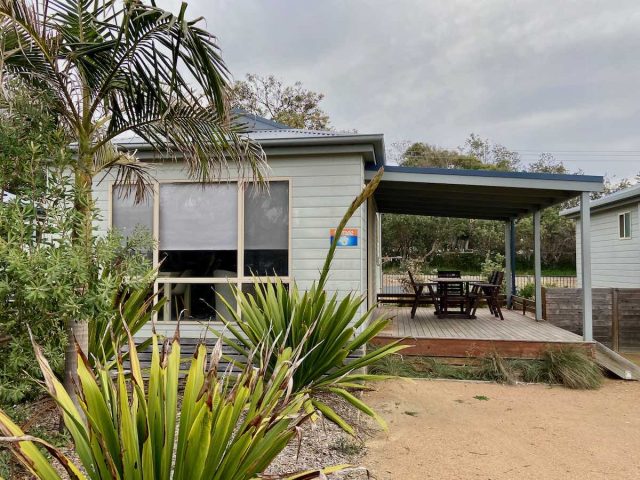 Upon arrival at the park all pets will be greeted with a welcome treat, plus pet supplies can be purchased at the reception. The park is close to the off-leash stretch of Tathra Beach, which starts at the northern boundary of the park. There's also a convenient warm dog wash located in the laundry.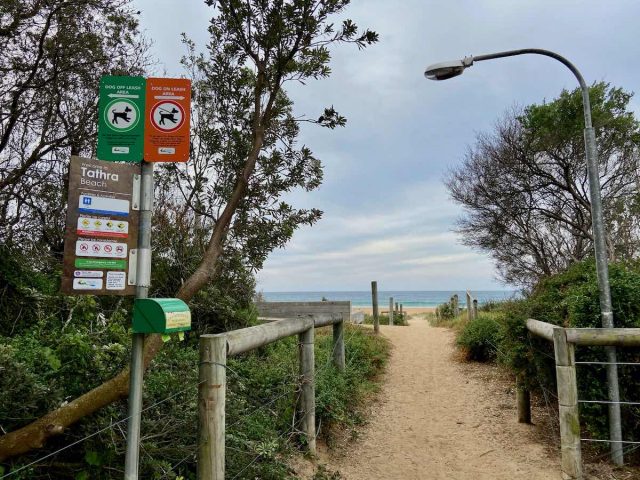 Have you stayed at an extra dog-friendly caravan park in NSW? Let me know by posting a comment, so that I can add it to this list!
You May Also Like