Just because you want to go on holiday with your dog, shouldn't have to mean that you have to forsake staying somewhere stylish. If you're looking for hotels along the NSW coast that are both stylish and pet-friendly, check out these options, stretching from the Far North Coast down to the South Coast.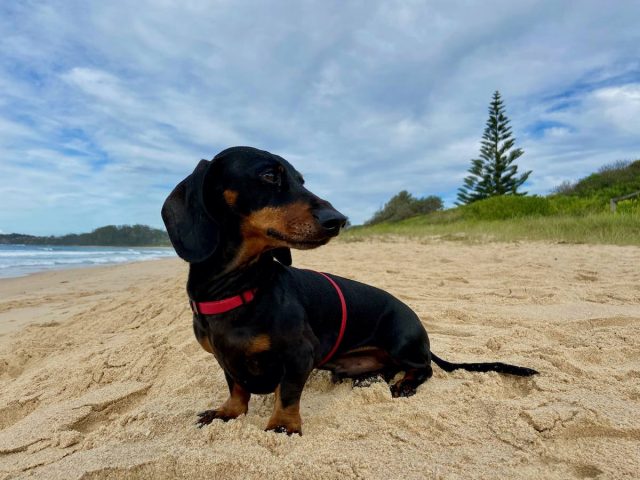 1. The Blue Water Motel, Kingscliff
The recently opened Blue Water Motel in Kingscliff, just south of the Queensland border, harkens back to the retro nostalgia of old-school motels, but with all the facilities expected of a modern hotel.
A small boutique establishment offering a range of queen rooms, queen suites and family suites, some with terraces, each comes with air-conditioning, unlimited wi-fi, smart TVs and Malin + Goetz toiletries. Onsite is a saltwater swimming pool, shared kitchen and bike hire.
Dogs are welcome at the Blue Water Motel, for the small additional fee of $30 per stay. It's possible to add your dog to your online reservation, or alternatively email or phone the motel directly.
2. The Chalet Motel, Brunswick Heads
Another retro-styled motel on the Far North Coast of NSW that opened a few years ago is The Chalet Motel. Located in Brunswick Heads, while it's just 20 minutes drive north of hip Byron Bay, this town is far more relaxed.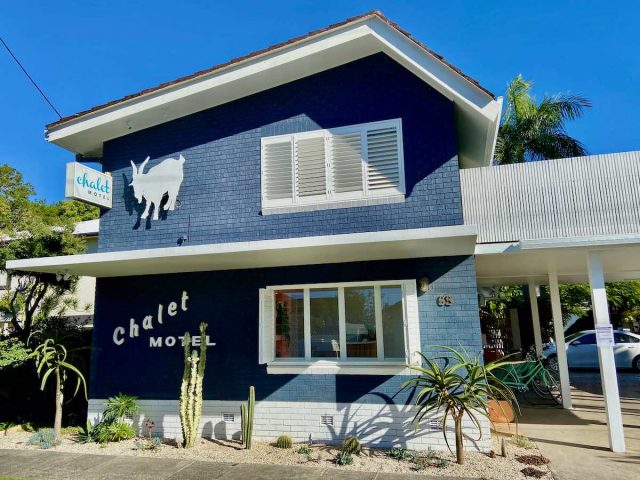 The Chalet is a classic 60s-style motel, albeit freshly renovated, with beautiful stylings, luxe toiletries and smart TVs. There are twelve rooms varying in size from double to queen to family. Alongside the saltwater swimming pool is a cabana with BBQ area.
Dogs are welcome with prior approval in certain rooms, for an additional fee of $30 per stay. Leave a comment with your reservation or contact the property directly if you wish to bring a pet. Best of all, the motel is just a short walk from the wonderful off-leash dog beach in Brunswick Heads.
3. Bannisters Port Stephens, Soliders Point
During the summer months Port Stephens buzzes with holiday makers, thanks to being located less than a 3 hour drive from the centre of Sydney. There's a wide range of accommodation options from holiday homes to caravan parks, but one of the most stylish is Bannisters Port Stephens.
A former old-school motel at Soldiers Point, just a short drive from Nelson Bay, the property was completely revamped by Bannisters a few years ago. Stylishly decorated in subdued tones, the hotel features an infinity pool, Rick Stein seafood restaurant and terrace bar, making it easy to never leave the grounds.
Dogs are welcome in their ground floor Ocean Deck and Luxury Suite rooms, which directly open onto the resort's garden. For more information, check out their dog-friendly information.
4. QT Newcastle
Recently opened in June 2022, QT Newcastle is a bold and luxurious addition to the range of accommodation in Newcastle. A thoroughly modern hotel, the QT brand melds together an eclectic mix of art and design, and their Newcastle hotel is no different.
Choose between rooms ranging from QT Queens through to QT Corner Suite Kings. My pick would be the QT Balcony Kings, with a balcony offering delightful views of the nearby harbour and beyond.
Just like other QT hotels in Australia, up to one 20kg dog is permitted per room. Book a Pup Yeah! package, which includes a designer dog bed and your dog's own mini-bar (full of treats!), with an additional fee of $150 per stay. Your pup can also order off their own in-room dining menu, plus enquire about whether dog walking and grooming is offered.
5. QT Bondi, Bondi Beach
The new Newcastle location isn't the only beachside QT hotel in Australia. A few years ago QT Bondi opened directly opposite this most famous and hip of Sydney beaches.
While QT Bondi offers the typically luxurious QT style, at this property the vibe has been softened down to a more relaxed ambience. Rather than typical hotel rooms, there's a range of studios and apartments, including kitchenettes and washing machines, perfect for a longer beachside sojourn.
For dogs staying with you at QT Bondi, they can enjoy the specially designed vet-approved vegan menu for pups, thanks to a partnership with Eden Bondi. Up to one 20kg pup is permitted per room, by booking a Pup Yeah! package.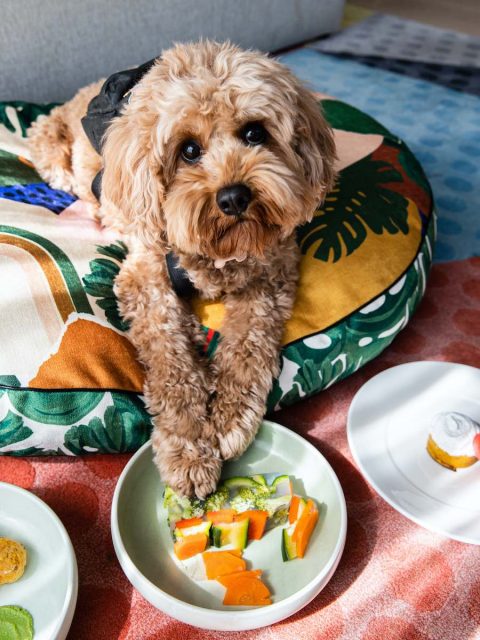 Included in the package is a designer bed and their own mini-bar full of Woof Gateaux treats. Note that an additional cleaning fee of $150 applies per stay, plus dogs aren't allowed to be left alone.
6. Bannisters Mollymook
Recently, Bannisters Mollymook joined their Port Stephens outpost in welcoming four-legged guests, with pets welcome at both Bannisters by the Sea and Bannisters Pavilion. Just a short stroll from the on-leash stretch of Mollymook Beach, it's the perfect location for a chic laidback escape.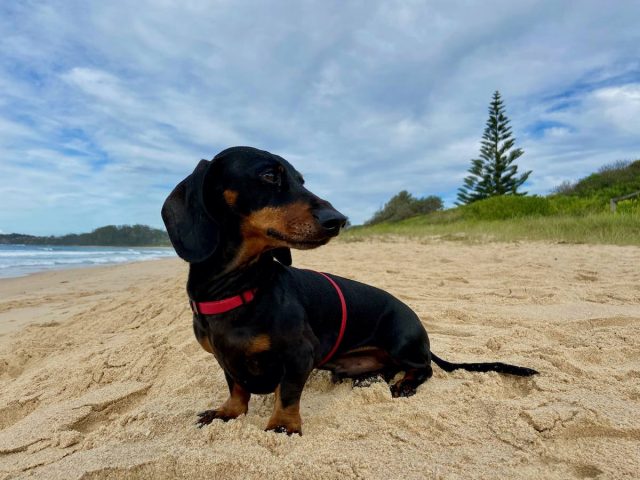 At Bannisters Pavilion there are two pet-friendly classic rooms available to book. Alternatively, splurge on a spacious pet-friendly terrace suite at Bannisters by the Sea, complete with a double spa bath and private garden.
Pets up to 25kg are welcome – speak directly to the property to find out their fully pet policy. Note that pets are not permitted at the Rick Stein restaurant. However, pet sitting can be arranged and I've heard that there are two pet-friendly tables at The Rooftop at Bannisters Pavilion reserved for hotel guests.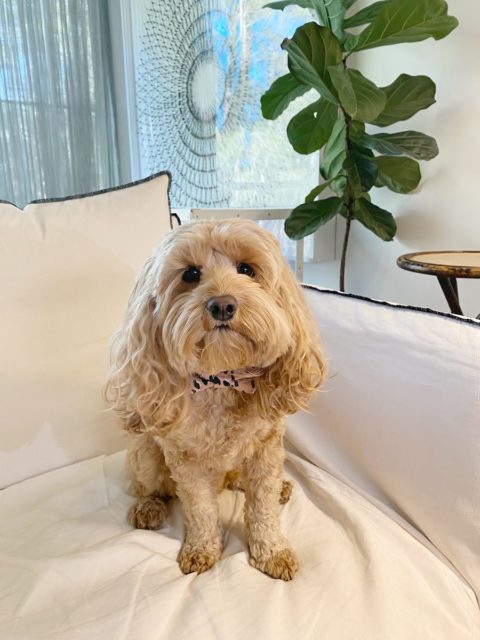 7. Abode Malua Bay, Batemans Bay
Further down the South Coast is the coastal town of Batemans Bay. Only a two hour drive from the inland city of Canberra, it's no wonder then that it's a favourite holiday spot for Canberrans, or that the pet-friendly Abode hotel chain choose to open a beachside outpost there.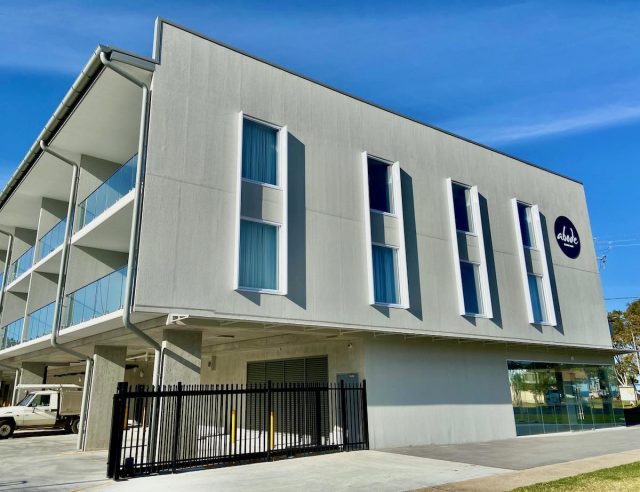 Abode Malua Bay is located right next to Malua Bay Beach, a 15 minutes drive south of the town centre. Dogs are allowed off-leash on the beach before 9am and after 5pm during the summer months, plus all-day long between May and October.
The stylish modern rooms at Abode Malua Bay are all self-contained, with their own kitchenette. Up to two pets are permitted per room. When booking, make sure you note that you will be staying with a pet. There is an additional charge of $50 per pet, per night.
You May Also Like