When I travelled to the Republic of Ireland with my dog in 2017, I found it to be one of the less dog-friendly countries in Europe. This was followed up by my survey on the percentage of dog-friendly hotels in different cities across Europe, that ranked Dublin in last place.
However, Ireland is an amazing country with very welcoming people. And with the changes to rules regarding dogs in restaurants and cafes since my visit, you definitely should consider visiting this country with your pup.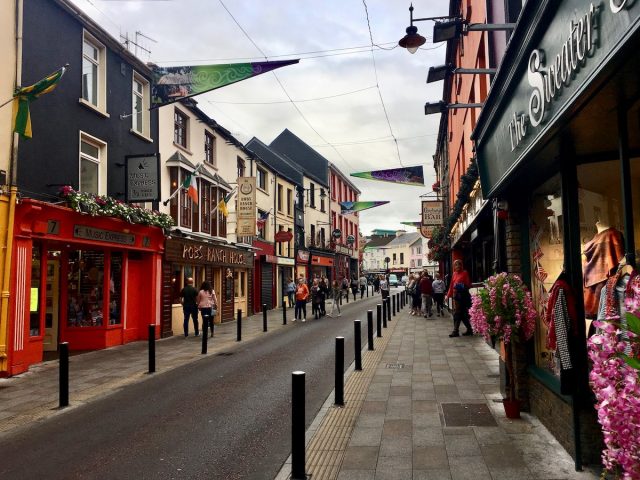 Travelling to Ireland with a Dog
Ireland is one of the countries in Europe that requires your dog to have a worming treatment done before arrival. This echinococcosis worming treatment needs to be done by a vet between 24 hours and 5 days of crossing the border, and is then recorded in your dog's pet passport.
Note that this doesn't apply to dogs travelling into Ireland from Northern Ireland, as well as Finland, Malta and Norway.
Otherwise, the standard rules apply for dogs travelling to Ireland as for other EU countries, whether travelling from another EU country or from outside of Europe.
Following the end of the Brexit transition, pets travelling to Ireland from Great Britain now require a microchip, rabies vaccine, worming treatment and pet health certificate or EU pet passport (not including UK-issued pet passports from prior to 1 January 2021).
However, there is no change to the rules for pets travelling across the border from Northern Ireland, which is still classified as part of the EU for pet travel purposes. Technically a microchip, rabies vaccines and pet passport is required, but pet passports are unlikely to checked when driving across the border.
If flying to Ireland from outside of the EU and a handful of other European countries, you will also need to notify the authorities in advance of your dog's arrival, with compliance checks performed on arrival, with a fee applying.
For more details on the logistics of travelling to Ireland, whether by road, ferry or flying (including how to notify the authorities), check out my complete guide on travelling to the Republic of Ireland with a dog, plus my specific guide on flying to and from Ireland with a dog.
Dining Out in Ireland with a Dog
Unfortunately, when I visited the Republic of Ireland in July 2017, there was still a law in place preventing dogs from dining inside cafes and restaurants. It was doubly unfortunate, as it rains a lot in Ireland (meaning outdoor dining isn't often an option), plus there were a lot of buskers (and my dog is alarmed by the clapping that naturally follows).
However, in December 2017 there was a law change, and these days it's up to the owners of cafes and restaurants whether they allow dogs inside. And the situation is only likely to improve, when compared to the number of dog-friendly cafes and pubs in the United Kingdom.
While I can't make any recommendations, there's plenty of tips for around the country in this guide. Also check out this page for some of the best dog-friendly indoor dining restaurants.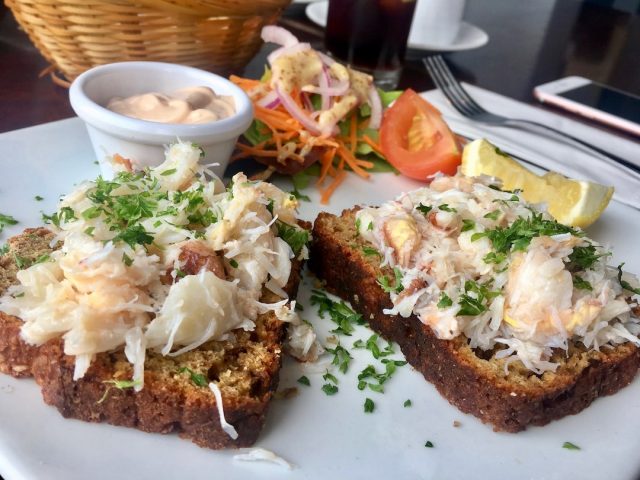 Taking a Dog on Public Transport in Ireland
While in Ireland, we drove around in a hire car, so weren't subject to the rules for public transport. If you're visiting Ireland, I recommend doing the same, at least if you have a larger dog. Generally public transport in Ireland isn't that dog friendly, with only small dogs sometimes being allowed on board.
The most generous rules are with Irish Rail, which operates a mixture of inter-city services, commuter services and the DART (Dublin Area Rapid Transit) coastal train. Small dogs can travel free of charge if they travel on your lap, either in a container or simply on a leash. However, if someone objects, you'll need to move to another part of the train.
For larger dogs, other than guide dogs and assistance dogs, they can only travel in the guards vans where available, basically on the inter-city Dublin to Cork and Dublin to Belfast services. They must be muzzled, labelled and a fee is charged.
Bus Éireann is the long-distance bus service operator in Ireland, plus operates local services in cities outside of Dublin. Despite the dog in its logo, but not surprisingly given that most long distances buses on continental Europe don't allow dogs, pets dogs are also forbidden on these buses.
If you're in Dublin, you might have better luck. The buses in Dublin are operated by by Dublin Bus. I've heard reports that dogs are permitted at the discretion of the driver, with permission most likely to be granted to small dogs in a carrier bag. However, there's no clear policy anywhere on their website at the moment.
Luas, the light-rail operator in Dublin, is a little clearer but more excluding in its rules. Only dogs in an appropriate enclosed pet carrier are allowed, although it's still at the discretion of staff.
Dog-Friendly Accommodation in Ireland
Ireland's not the easiest place to find dog-friendly accommodation. In my recent research, Dublin came in last along with Lisbon for having the lowest percentage of hotels and inns that allow dogs, a pitiful 4%. However, it's still possible to find dog-friendly accommodation, you just don't have as many options as many other countries.
In particular, I would recommend seeking out countryside B&Bs, or turning to Airbnbs. And make sure you book accommodation in advance, rather than relying on finding something at the last minute.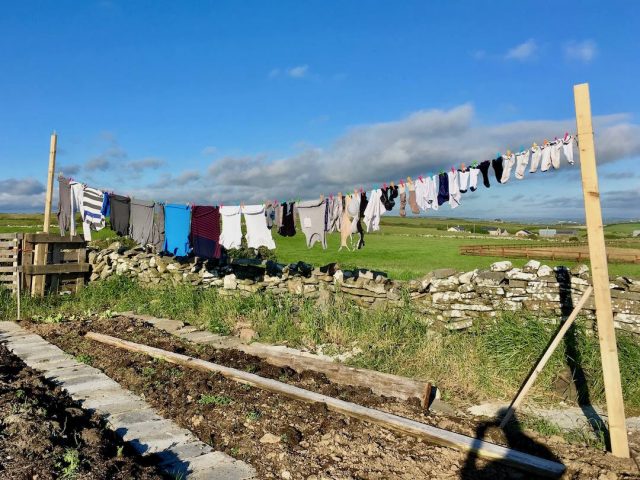 Dog-Friendly Sightseeing in Ireland
When travelling in Ireland with your dog, I highly recommend including these dog-friendly activities in your itinerary. They're also some of the most scenic attractions for humans, too!
1. Visit the Cliffs of Moher
Don't miss visiting the Cliffs of Moher while in Ireland. Located about 90 minutes south of Galway, these magnificent sea cliffs stretch for 14km and offer up superb views, both across the sea and of the rest of the cliffs.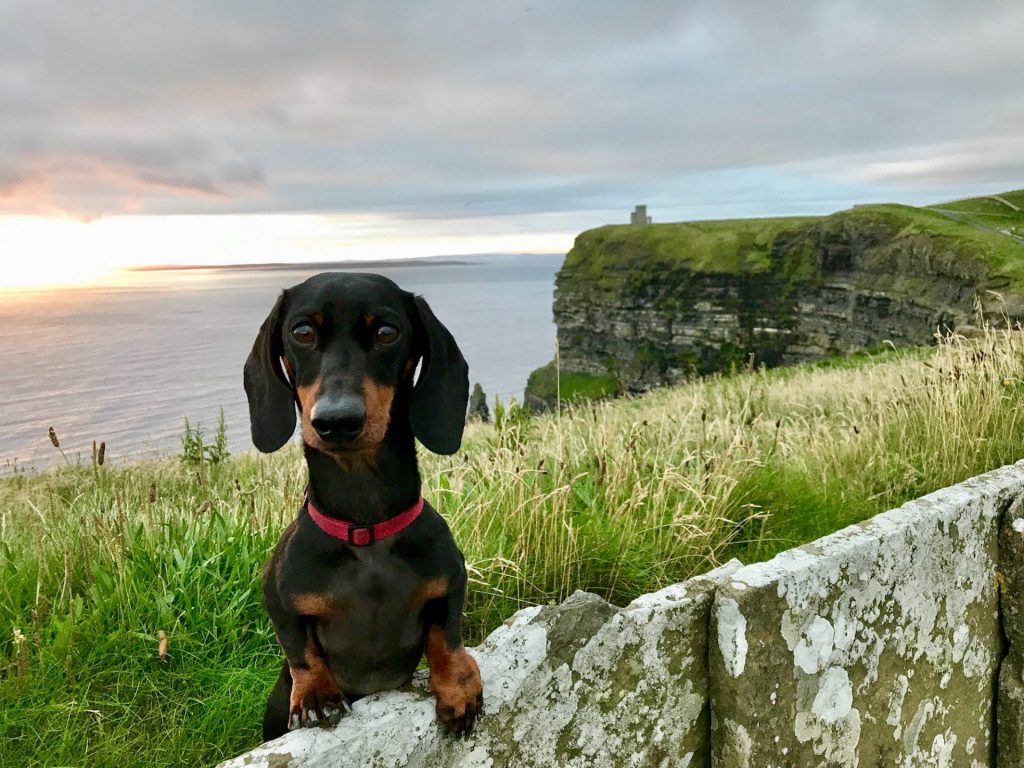 At the main viewing points, there's an entry fee charged, covering both entry to the visitors centre and parking. Depending on the time of day, it varies between €7 and €10 per adult.
Dogs are permitted in the main viewing point area, as long as they remain on a leash (a must in any case with the steep drops), although of course they aren't allowed inside the visitors centre.
We actually visited later in the evening, without paying a fee (because the visitors centre had closed). We were staying nearby and wanted to catch the sun set, which occurs quite late in the summertime.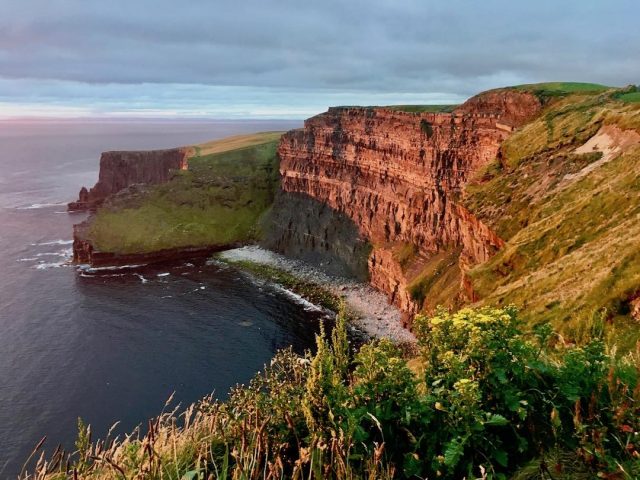 Unfortunately, dogs are no longer allowed along the Cliffs Coastal Walk, which crosses private farmland with livestock.
2. Take a Boat Trip to the Aran Islands
One of the most quintessential places in Ireland are the Aran Islands, located not far from the Cliffs of Moher. I would have loved to stay overnight on the islands, one of main places where Gaelic is still commonly spoken. (In summer many Irish teenagers attend summer camp on the islands to practice their Gaelic.)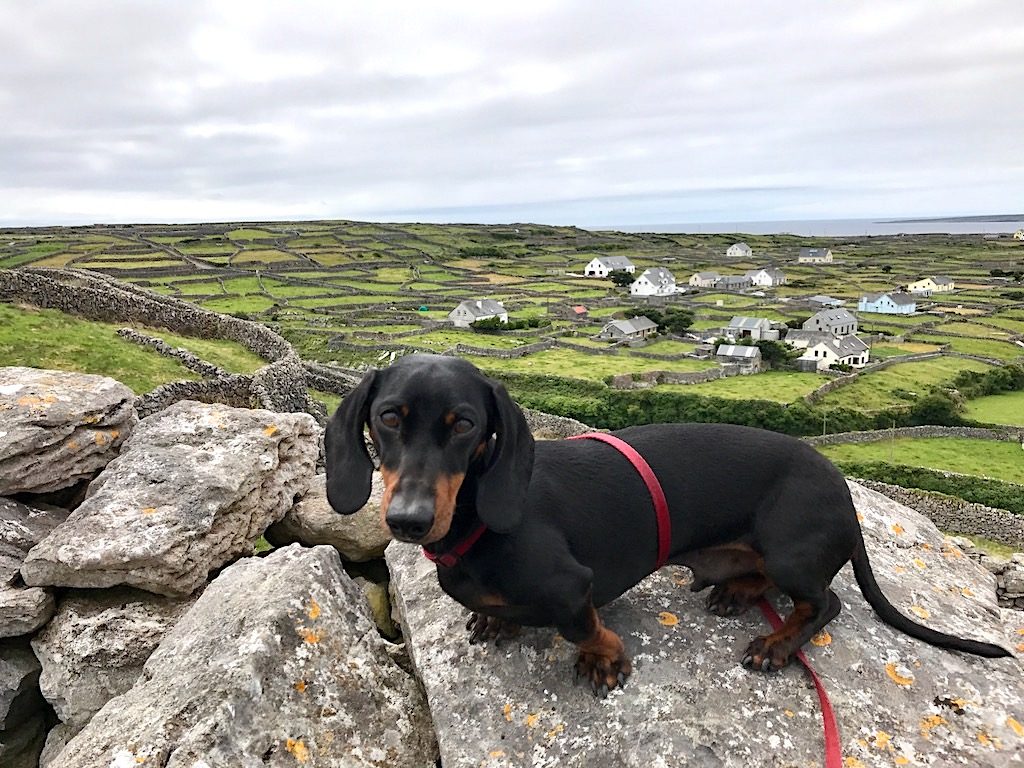 Instead we took a day trip out to the islands, with dogs allowed on the multiple ferries that service the islands.
The main year-round ferries run from Rossaveel to the west of Galway, but during summer there's also multiple ferries that run from Doolin, to the south of Galway. It's possible to stay overnight out on the islands, or else do a day trip. We elected to do the latter to Inisherr, combined with a cruise past the towering Cliffs.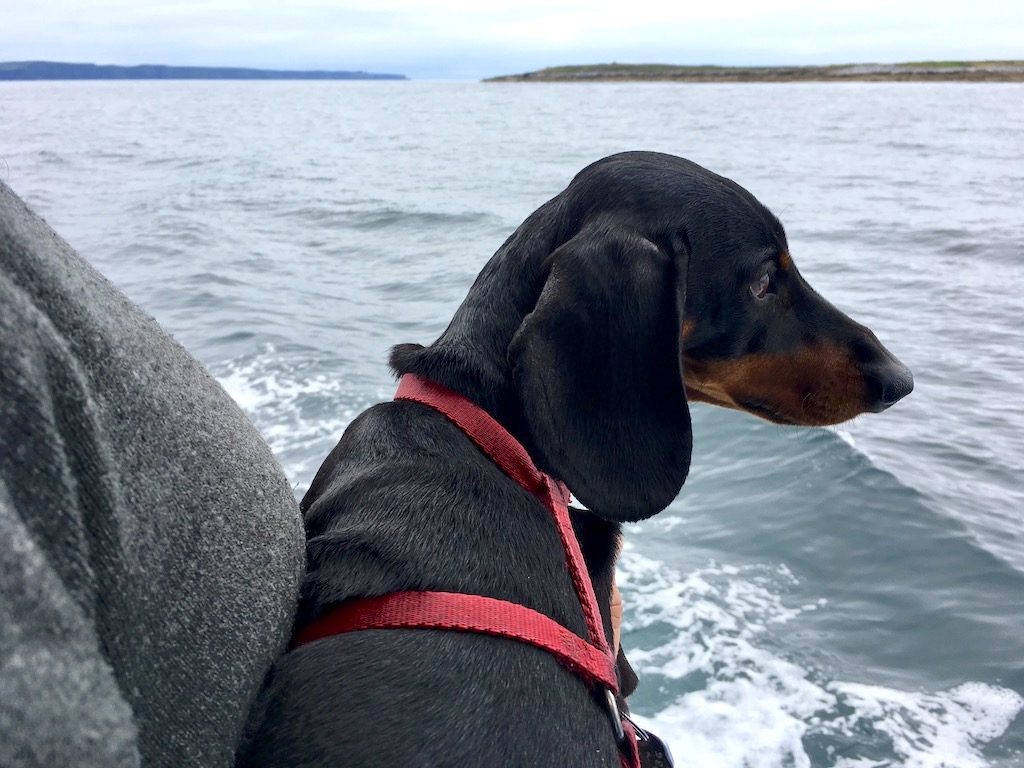 On Inisherr, our Schnitzel got plenty of friendly attention. Many visitors hire bicycles to easily get around the 2km by 3km island, but being accompanied by a dog, we just elected to walk to the scenic spots closer to town.
All of the pubs and cafes had outdoor seating, which worked well with the fine weather during our visit, although if it was raining it might be a bit tricky.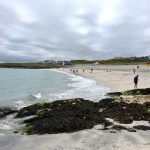 As there's multiple companies that cruise to the Aran Islands, check in advance that the company that you're booking with has dog-friendly boats. Additionally, if you're wanting to stay overnight, there's limited dog-friendly options, so book that first.
3. Explore the Connemara
Another great day trip from the Galway region is out to the Connemara. A district in western Ireland, it includes the 7000 acres of the Connemara National Park, a vast wild expanse of mountains and bogs, heathlands and lakes.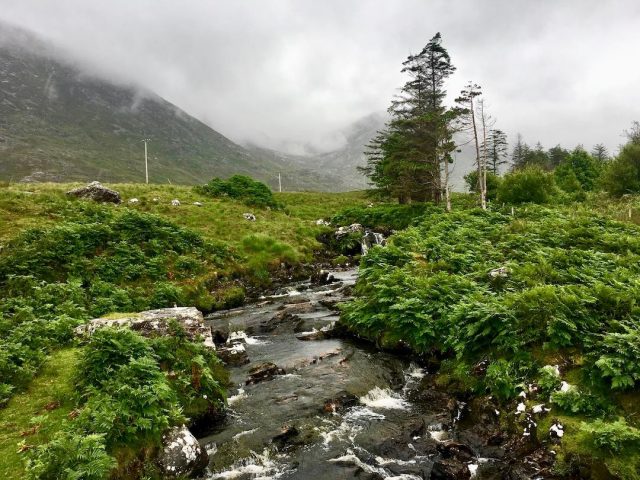 I recommend hiking 1.5km-long Sruffaunboy Nature Trail, which starts from the visitors centre. The hiking trail is a mixture of gravel paths and raised boardwalks (across the boggy sections), and I can attest it is do-able while carrying an umbrella.
Entry is free to the national park and dogs are allowed, except in the visitors centre, as long as they are kept on leash. The historic town of Clifden is also a great spot to stop for lunch.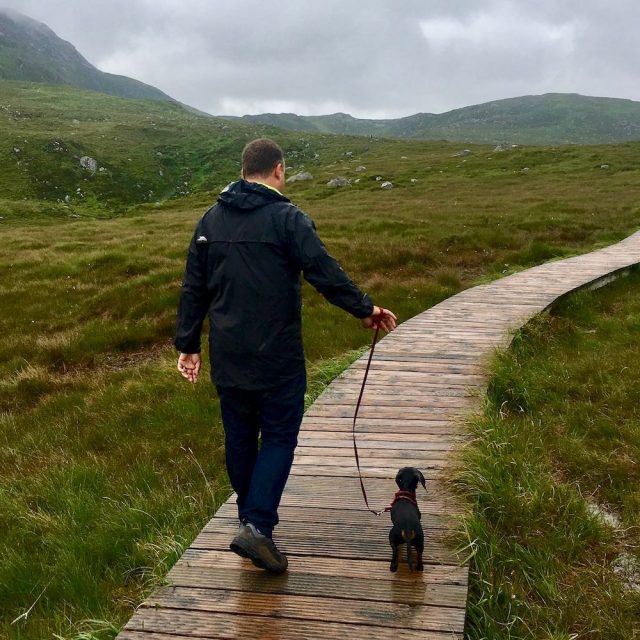 4. Stand at the Edge of Slieve League
The Cliffs of Moher don't hold a monopoly on sea cliffs in Ireland. Further north in Country Donegal is the mountain of Slieve League and its cliffs falling away to the sea.
Some visitors claim that this is more impressive than the more visited Cliffs of Moher, with the cliffs up to three times as high. Just keep an eye on the weather or plan to stay awhile, as when the frequent fog rolls in there's not much to see!
While there is no entry fee, in the last couple of years, visitor restrictions have been introduced. During the peak months of July and August, you will no longer be able to drive to the closest carpark. Instead, you will need to park at the Ranger Station, with a parking fee of €5 for two-hours or €15 all-day, with a 1.5km walk to the cliffs.
Alternatively, you can park for free at the new Visitors Centre, which is located further away. There are regular shuttle buses running to the cliffs, with a charge of €6 per adult, but no indication of whether dogs are allowed, so I recommend trying to park at the Rangers Station carpark.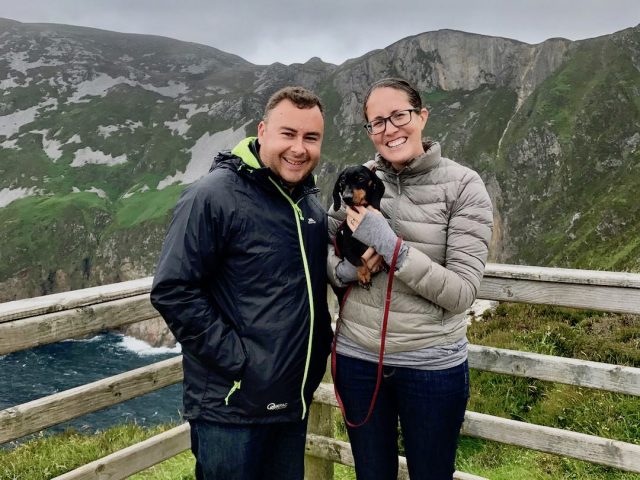 5. Spend a Day Driving the Ring of Kerry
Ireland is full of scenic drives, but my favourite from our road trip around Ireland was driving the 125 mile long Ring of Kerry. Stay in Killarney either side of your drive and spend a day driving the loop, or else stay along the way to explore more in-depth.
My favourite stopping points included taking in the view from Molls Gap, stopping in the cute town of Kenmare, clambering over the ruined Ballycarberry Castle in Castlequin, and exploring the Gap of Dunloe.
There's even some great beaches to enjoy a walk on with your pup, although keep your dog leashed unless there's clear signs that dogs are allowed off leash.
You May Also Like
Inspired? Pin this to your Pinterest board!