While the Northern Territory isn't home to that many fenced dog parks (or dog parks in general), there are still some excellent examples. Whether you're visiting the Top End or heading to Alice Springs, these are some of the great fenced dog parks in the Northern Territory.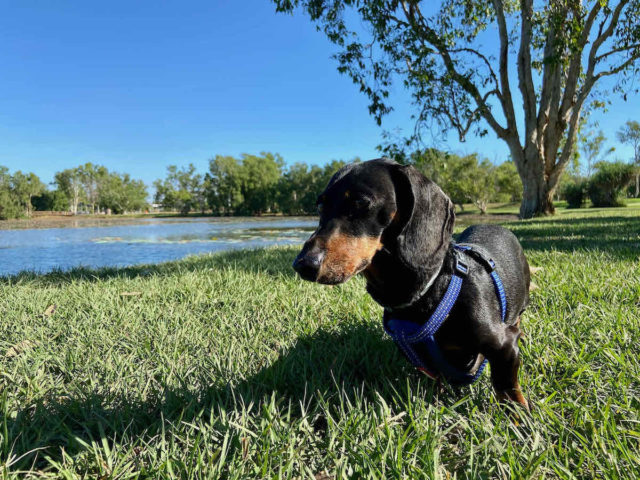 #1 Marlow Lagoon Dog Park, Palmerston
One of the best fenced dog parks in the Northern Territory, in fact anywhere in Australia, is the Marlow Lagoon Dog Park. If you're visiting Darwin and the Top End with your dog, it's a must to visit this wonderful park.
The dog park is located in the Palmerston City area, to the south of Darwin proper, on the northern side of Marlow Lagoon. When driving in to Marlow Lagoon, turn right and head down to the BMX track, with plenty of parking next to the dog park.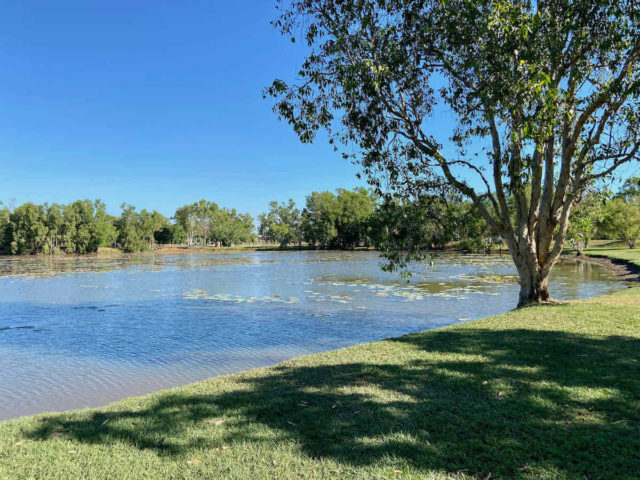 There are multiple fenced areas at this dog park, mainly secured by double-gated entrances. As well as a huge, fully fenced area alongside the lagoon, there's also three smaller fenced areas, great for smaller, more timid dogs. Throughout all areas there's a scattering of agility equipment, as well as plenty of shade and water. There's even a BBQ and picnic table in the main area!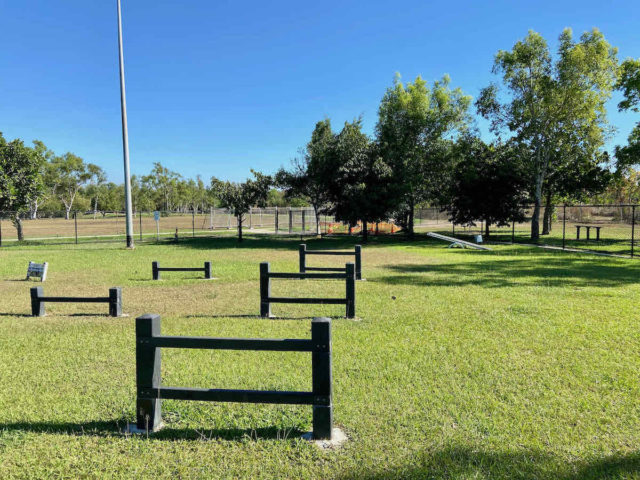 Note that there's a possibility that an estuarine crocodile may be lurking in the main lagoon. When I visited in 2021, there was a sign warning of the possibility, but locals said to disregard it. Considering I've since heard reports of crocodiles around Palmerston, I recommend being hesitant about letting your dog swim in the lagoon. In any case, check the latest signs and speak to other dog owners at the park.
Palmerston City is also home to a second fenced dog park. The Maurice Terrace Dog Park is located in Bakewell, but is much smaller in size. Note that the Temple Terrace Dog Park in Gray is unfenced.
#2 Muirhead Dog Park, Darwin
If you're looking for a fenced dog park in Darwin, without driving south to Palmerston, there are two fenced dog parks within Darwin, including the Muirhead Dog Park.
The Muirhead Dog Park is located along Mahoney Street in Muirhead, on the northeastern edge of Darwin. There are two separately fenced areas, both double-gated, with the larger area great for running around and the smaller area containing agility equipment.
Recent visitors to the park have commented that there is plenty of seating, including an undercover area, along with lots of recently planted trees and a water fountains for dogs. The park is busiest around 5pm.
Alternatively, a second fenced dog park has also been established in Darwin, the Lakeside Dog Park in Alawa. This fully fenced dog park next to the Lakeside Drive Community Garden was only completed in December 2020. It also has two separate areas, along with water troughs and bag dispensers.
#3 Katherine Dog Park, Katherine
Heading further south, the town of Katherine is home to a fabulous dog park. It's located on Lockheed Road, close to the Auster Street intersection.
The fully fenced park was quite grassy when we visited, despite it being late in the dry season, although of course there was also an inevitable muddy spot. There was a tunnel for the dogs, along with shady seats and a water fountain.
The best thing about this park is that there was a selection of dog toys and balls in some milk crates on the fence, at least at the time of our visit. (Along with a request for them to be left for all to enjoy!) Don't miss visiting this dog park when visiting Katherine with dogs, or if just driving through town.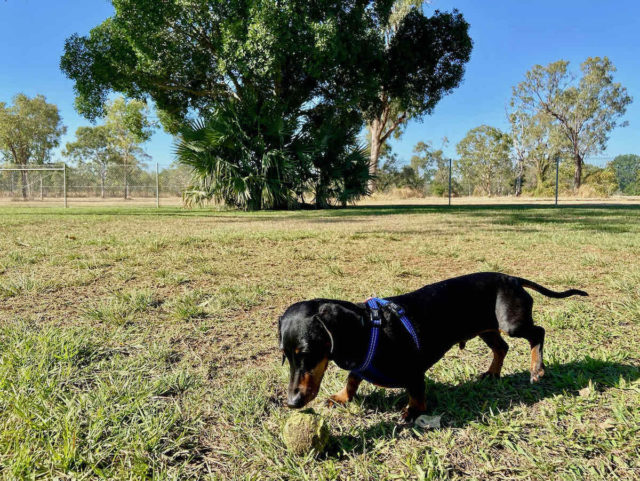 #4 Rotaract Park, Alice Springs
The town of Alice Springs in the Red Centre of Australia is home to a large number of off-leash dog exercise areas, with at least 27 parks listed on the council website when you apply the leash free park filter. However, the majority of these parks are of course unfenced.
If you're looking for a fenced dog park in Alice Springs, there's at least one (or perhaps only one?) option, Rotaract Park in Braitling, on the northern side of Alice Springs.
The fully fenced dog park has two separate areas, signposted as being for small and large (over 11kg) dogs. Don't expect that much grass, but there are doggy bag dispensers, shaded seating and perhaps a water fountain (if it's working).
You May Also Like