There's countless reasons why you should consider visiting Poland, from the many historical sites to the vibrant cities to the diverse natural beauty. Not to mention it's a very affordable destination within Europe.
And while in some ways it is not as dog-friendly as other countries in Western Europe (mainly when it comes to dining out), it's still an easy destination to visit with a dog. Based on my two trips to Poland with my dog, here's my tips for if you're travelling in Poland with a dog.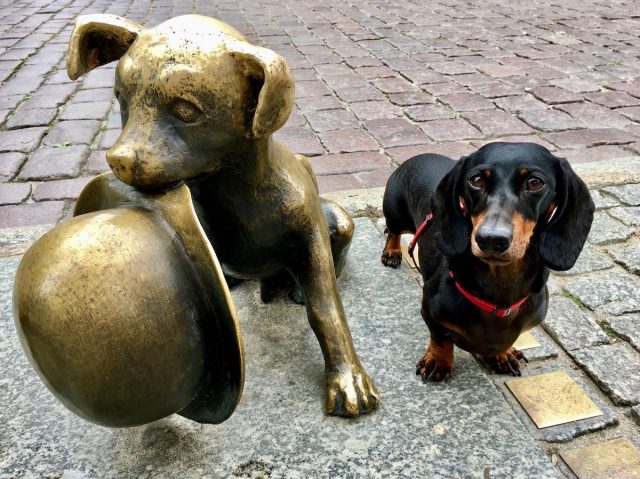 Travelling to Poland with a Dog
The standard EU rules apply to travelling to Poland with your dog, whether from another EU country or outside of Europe. Essentially, your dog will require a microchip, valid rabies vaccine and EU pet passport or EU health certificate.
If you are travelling to Poland with your dog from Russia or Belarus, the rules are similar to those for travelling from outside of Europe. An animal health certificate or "Annex IV" is required if you don't have a pet passport from the EU or a related country. A rabies titre test is not required.
However, if you are travelling to Poland from the Ukraine with your dog, your dog will additionally require a rabies titre test. This needs to be done three months in advance, or before leaving the EU with your dog, if you are initially from an EU country.
You are also required to enter Poland at a valid "Travellers' points of entry", where your dog's paperwork can be checked. There is a long list of possible entry points to Poland, download the list here.
Dining Out in Poland with a Dog
The least dog-friendly area I found when travelling in Poland with our dog was dining out. While just across the border in Germany its commonplace for restaurants to allow dogs inside, in Poland that's not the case. This was a bit challenging on our first visit to Poland during late October, just after the weather turned cold and dining outside was no longer appetising.
There are still some restaurants that allow dogs to dine inside with you in Poland, it just takes some effort to find them. For instance, we discovered a few restaurants in Wroclaw that let our dog inside. Keep an eye out for dog-friendly stickers or ask at the door (and be prepared for a no).
When we next returned to Poland with our dog in the summer time it was easier, as we just stuck to dining outside. Not that sitting at an outdoor terrace is a guarantee that dogs are allowed in Poland: I noticed a few no dog signs at outdoor dining areas in the small city of Torun. But generally dogs are allowed.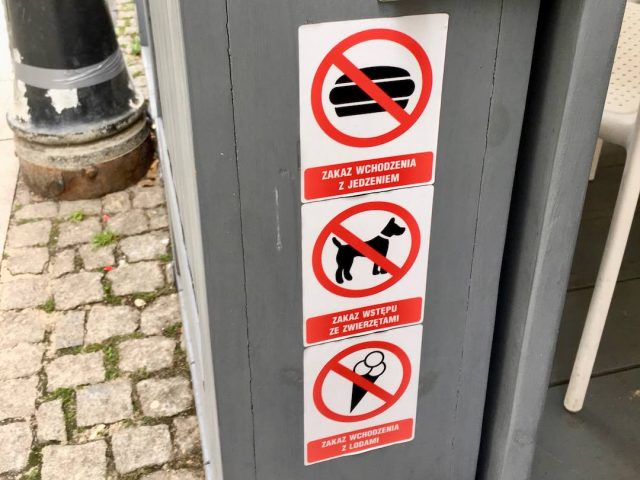 If visiting Krakow, I recommend heading to the food truck parks in Kazimierz during the warmer months for some delicious and affordable dining. Don't also miss trying a zapiekanka, the famous open-faced sandwiches, in Kazimierz's Plac Nowy.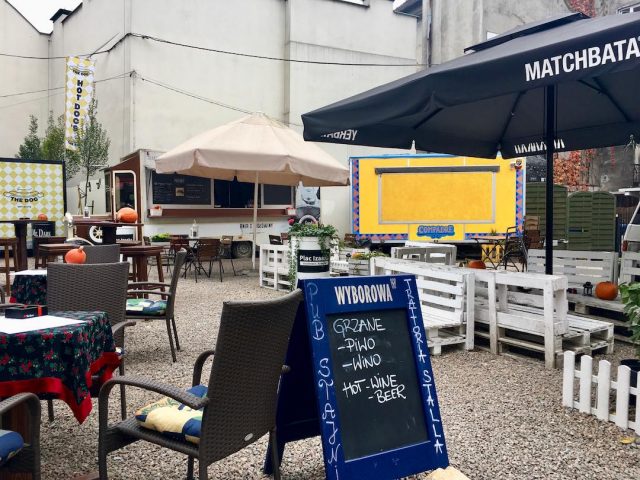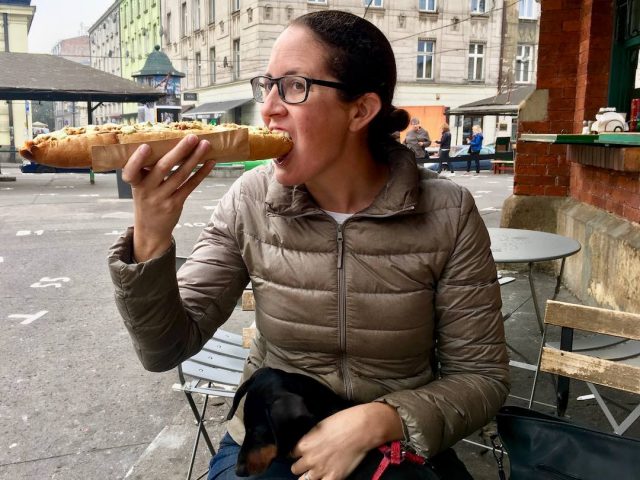 Taking a Dog on Public Transport in Poland
It's a lot easier to take public transport in Poland with your dog than find somewhere indoors to eat. I didn't come across any places that forbade dogs on public transport, not even larger dogs, although each city has its own rules.
For starters, dogs travel for free on public transport in Warsaw. The local rules state that dogs should be on a leash and muzzled, unless they are small and travelling in a suitable basket or cage.
The same applies for pets on buses and trams in Wroclaw. I also came across mentions no ticket is required for pets in Krakow, but couldn't find official confirmation online.
The rules on long distance trains are similar to in other European countries. There are multiple operators, but you'll most likely come across PKP InterCity, who run all the express trains, plus PolRegio, who run both the faster InterRegio and the slower Regio trains.
On PKP Intercity trains, small dogs in an appropriate carrier can travel for free. There is a note that they shouldn't cause a nuisance to other passengers, such as due to smell or noise.
Larger dogs not in a container require a dog travel ticket, which costs PLN 15.20. If you forget to buy the ticket, you can buy it on the train from a conductor, for a surcharge of PLN 10. They are also required to be muzzled and leashed, plus require valid rabies vaccination certificate (e.g. EU Pet Passport).
There is also the somewhat harsh rule that if other passengers complain about the presence of an animal in a compartment, you may be asked by the conductor to change seats.
On PolRegion trains, the rules are similar. Small pets in a carrier travel for free, while there is a set price of PLN 4.5 for larger dogs.
Dog-Friendly Accommodation in Poland
It's relatively easy to find dog-friendly accommodation in Poland, in particular in the cities. When I compared how many pet-friendly hotels there were in various European cities on Booking.com, Krakow came in 7th position, with 62% of hotels allowing pets.
As well as staying in a dog-friendly hotel, another option is to rent an apartment. Especially in Krakow, I found many affordable rentals on Airbnb listed by professional holiday apartment companies. There are well stocked with amenities, and we even found one with free secure parking.
Outside of the main cities, I found that Booking.com offered far more pet-friendly accommodation choices that the other hotel websites, which had slim pickings. In particular many small guesthouses are listed on the site. Often pets are on request only, so message the owner to get permission for your dog before the free cancellation period expires.
Dog-Friendly Sightseeing in Poland
While visiting Poland, some of the most popular sites that we visited didn't allow dogs, so we had to leave our dog behind. However, consider adding some of these dog-friendly options to your itinerary.
1. Visit the Restored Old Town of Warsaw
The Old Town of Warsaw was almost completely destroyed during World War II, but has since been lovingly restored, so that it seems like the real thing. In fact the restoration has been so impressive that the Old Town is listed as a UNESCO World-Heritage site.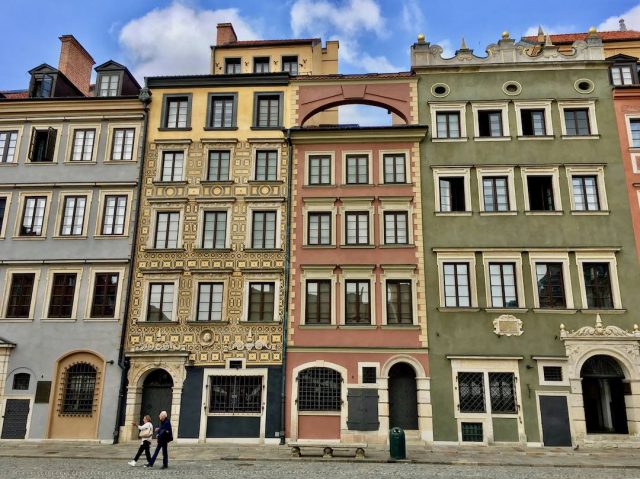 It's a wonderful area to stroll around with your dog. I recommend enjoying a leisurely lunch at one of the outdoor dining areas that fill many of the squares, perhaps enjoying some home-made pierogi.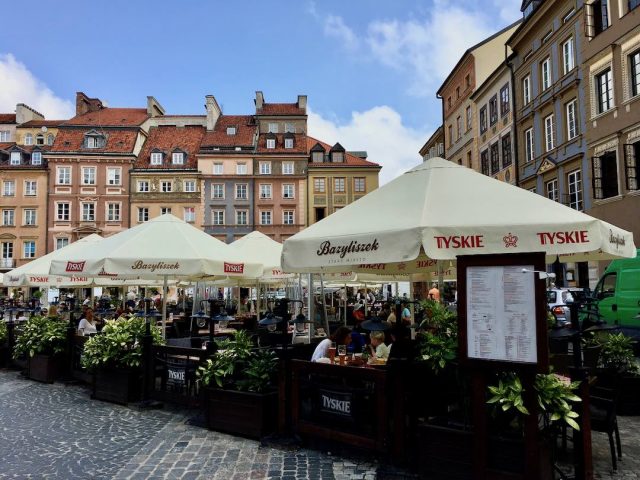 2. Stroll Around Krakow
In contrast, Krakow virtually escaped destruction during World War II, so has many more historical monuments intact. However, were were greatly disappointed to discover that dogs are forbidden in the Wawel Royal Castle complex, even just to walk through the grounds.
Instead, it's best to concentrate on exploring the Old Town Market Square and the surrounding cobble-stone streets.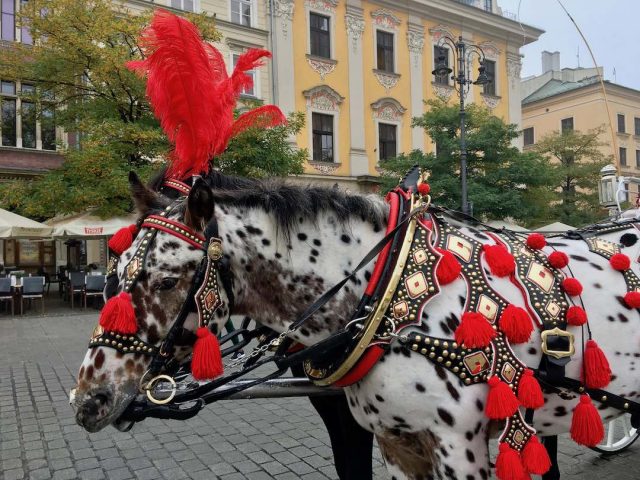 Afterwards, cut around the hill and check out the fire-breathing Wawel Dragon at the foot of the hill, reading about its story.
3. Visit Malbork Castle
Malbork Castle, located in the north of Poland, is the largest castle in world measured by land area. It was originally built in the 13th-century by the Teutonic Knights, a German Catholic religious order of crusaders.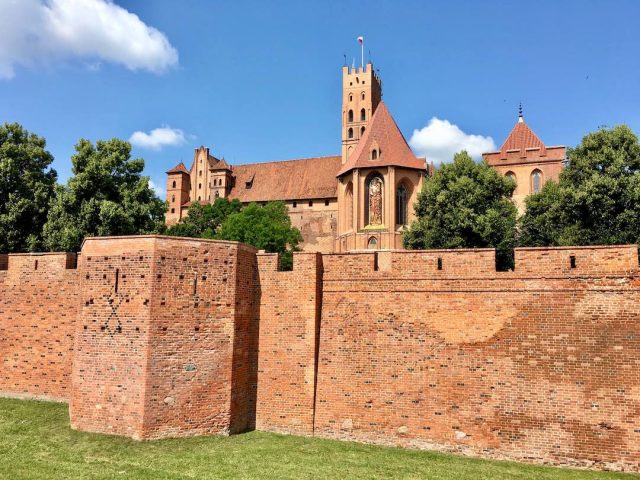 Dogs are not allowed to enter the ticketed, inner-most sections of the castle (which take a good few hours to visit if you listen to the audioguide along the way). But dogs are permitted in the outermost, un-ticketed courtyard, which is still impressive.
Additionally, I recently saw online that the castle now has kennels available between April and September. They are free for ticket holders, as long as you can show your pet's vaccination records. Double check if these are currently operating.
When we visited in late July the annual Siege of Malbork Festival was underway, with lots to see and experience.
4. Spot the Bronze Statues of Wroclaw
Poland offers up some great street art to explore, from the huge murals of Gdansk to the artworks in Krakow's Kazimierz district. But my favourite were the many small bronze dwarf statues in Wroclaw.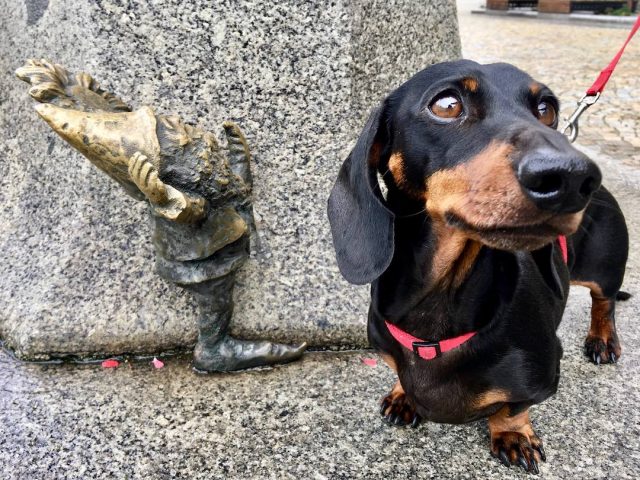 These cheeky dwarves have been popping up around the city since 2005, and now number in their hundreds. Buy a map at the tourist information centre, or just see how many you spot as you wander the street.
5. Relax in the Countryside
Poland is a surprisingly large country, something I only truly realised once we started driving around it. And while much of the country is flat farmland, there are many beautiful natural places to explore.
There's the beaches of the north, the remnants of Bialowieza Forest in the east, and the Tatra Mountains in the south. (Unfortunately, we didn't get to the Tatra Mountains, but I've heard reports that dogs aren't allowed in most of the national park, even on a leash, so stick to walking tracks outside.)
I highly recommend visiting in the autumn, when the trees are filled with colour. Alternatively, Poland can make for an affordable and relaxing summer destination.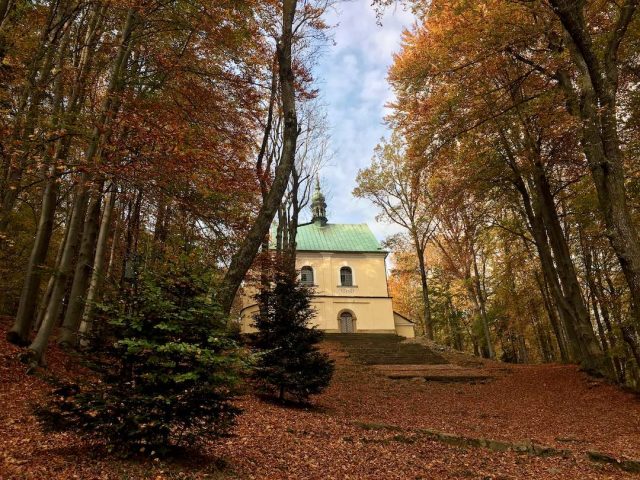 You May Also Like
Inspired? Pin this to your Pinterest board!