South Australia is home to some great dog parks, whether you're visiting Adelaide, away for the weekend or road tripping to the outback areas of the state. Check out these options throughout the state for somewhere your dog can safety enjoy an off-leash run and play.
Fenced Dog Parks in Adelaide
There's plenty of places to let your dog off-leash around Adelaide, including much of the Adelaide Park Lands and the local beaches during selected hours. But if you are looking for the safety of a fenced area, check out these options.
#1 Pityarilla Dog Park, Adelaide
The Adelaide Park Lands is home to two fenced dog parks. We actually only accidentally came across Pityarilla Dog Park when we were visiting the on-leash Himeji Garden across the road.
Located on the south side of the city next to Osmond Road, this dog park has two separate enclosed spaces for small and all size dogs, both surrounded by high fences.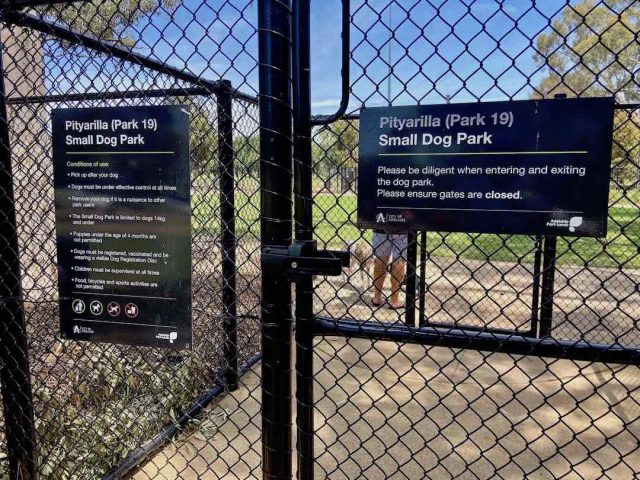 Both parks were nicely grassed at the time of our visit. Other features include double gates, water bubblers, a shelter and, of course, bags and bins.
#2 North Adelaide Dog Park, North Adelaide
On the other side of Adelaide is the larger North Adelaide Dog Park, in Bragg Park. The park is just south of Robe Terrace, with the easiest parking along Medindie Road or Lefevre Road.
Like Pityarilla Dog Park, there are two separate areas, with a second area for smaller dog under 14kg. Both areas are surrounded by secure high fences, with double gates, plus water fountains. In the main area are some obstacles for dogs. The lights also stay on until 10pm at night, great for evenings after daylight savings ends.
#3 Semapaw Park, Semaphore Park
With such a cute name, it's no surprise that Semapaw Park is a fabulous off-leash dog park, located in Semaphore Park not far from the beach.
This fairly new park has two separate areas. In addition to the main area for active dogs over six months old, there's also a separate Sniff Space. This area has been designed as an off-lead adventure trail for shyer and older dogs to enjoy a relaxing but enriching stroll. Note that this is not an area for playing!
In the main area, there's also obstacles for challenge dogs, plus seating and shelter. The lights are also on late at night for evening visits.
Note that the City of Charles Sturt council also operates a Dog Scentsory Garden at Woodville West.
Fenced Dog Parks in Regional South Australia
If you're heading outside of Adelaide, there's a number of fenced dog parks dotted around regional South Australia. Check out these options…
#1 "Barka Park" Dog Park, Mount Barker
Just east of Adelaide and not far from the popular dog-friendly day trip destination of Hahndorf, in Mount Barker head to the "Barka Park" Dog Park.
The first dog park in Mount Barker, turn off Zanker Drive to park in the adjacent carpark, with pedestrian access also possible from Bluestone Drive.
There's two areas for large and small dogs, along with plenty of seating, shade and drinking fountains. There's also agility equipment in the larger area for large dogs and paths for walks, although visitors note that one part is quite stony and barren.
#2 Nuriootpa Dog Park, Nuriootpa
The majority of parks in the Barossa Valley are dog-friendly, although check the signs for whether dogs are allowed off leash. In addition, there are two dedicated dog parks in the local council area, with the one in Nuriootpa closer to the heart of the valley.
Nuriootpa Dog Park is located on Penice Road, and is lovingly looked after by a local Facebook group, including replenishing the toy library. The park is fenced, with dog bag dispensers and bins. There is a single area for all size dogs.
#3 Tailem Bend Dog Park, Tailem Bend
If you're driving along the Princes Highway between the Victorian border and Adelaide, a great spot to stop just off the highway is the Tailem Bend Dog Park, along Railway Terrace next to the Rotunda.
This dog park is fairly small and has just a single area, but has been upgraded in recent years. There's plenty of shade and seating, including a covered seat, plus some agility equipment. Don't miss the cute dog statues that will intrigue your own dogs!
#4 Renmark Dog Park, Renmark
The Riverland town of Renmark is home to a great fenced off-leash dog park. The park is located on the corner of Paringa and Seventeenth Streets, just a few blocks from the centre of town and the Murray River.
There are two areas at the park: a smaller area for small dogs and puppies, while all dogs are welcome in the larger area. Both areas are fully fenced with short fences and well-maintained, plus there's benches, drinking water and even some pipes for fun.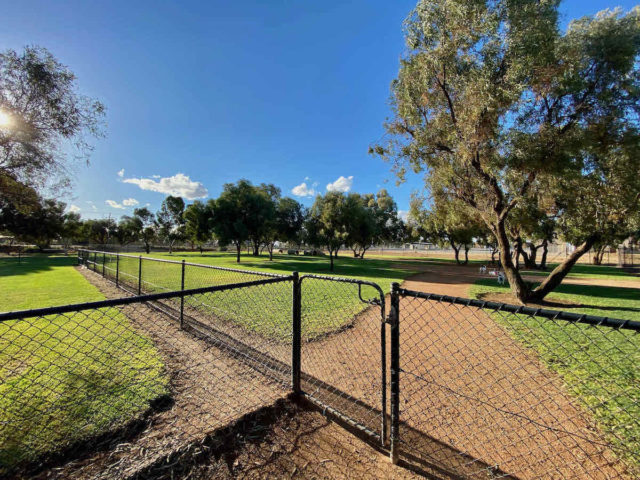 #5 Colin Jennings Apex Park Dog Park, Berri
Not far from Renmark, the nearby town of Berri is also home to an fenced dog park. The dog park is located at the Colin Jennings Apex Park, on the Old Sturt Highway on the edge of town.
It's a fairly large area with well-maintained grass, a drinking water bowl, and some pipes for adventurous dogs to explore. Since our visit in 2021 when the below picture was taken, the park has been upgraded with new fencing, plus a separate area for small dogs has been constructed.
#6 Hastings Cunningham Reserve Dog Park, Mt Gambier
If visiting the dog-friendly town of Mt Gambier, the best dog park to head to with your pups is located in Hastings Cunningham Reserve on Shepherdson Road, next to the pump track.
The fenced dog park has two separate areas, with one recommended for small dogs, while the other is recommended for large dogs. There's plenty of seating and shade, plus obstacles for your pup to enjoy. Just note that park is at times used by the Blue Lake Obedience Dog Club.
#7 Hawker Dog Park, Hawker
One of the few fenced dog parks in Outback South Australia is located in Hawker, perfect if you're using the town as a base to visit the Flinders Ranges or just passing through. The park is located next to the War Memorial on the road heading to Wilpena Pound, opposite the only caravan park in town.
There are two fully-fenced areas – take your pick, with no indication of size restrictions. Plus there's a shelter, water dispenser, poop bags and bins – just don't expect much grass in this part of the state!
You May Also Like