For a different kind of holiday, have you ever considered hiring a houseboat? Houseboats are available for hire in many places round Australia, and quite often there's dog-friendly houseboats available. So, for a fun holiday on the water with you pup, check out these options. And don't miss my tips on dog etiquette on houseboats.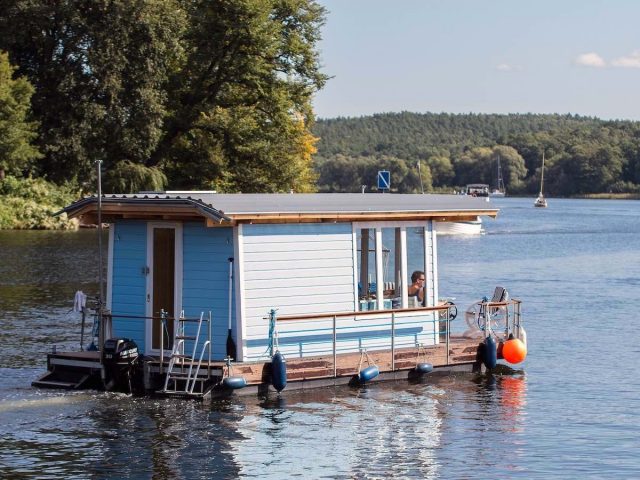 Dog-Friendly Houseboats on the Murray River, South Australia
By far the greatest number of pet-friendly houseboats available for hire in Australia are located along the Murray River in South Australia. The mighty Murray slowly flows for 650km through southeast South Australia, perfect for a houseboat holiday.
Murraylands Houseboats
A great dog-friendly houseboat hire company close to Adelaide is White Houseboats, located in Mannum, about an 80 minute drive east of Adelaide. With five large, luxury houseboats to choose from, each of their houseboats is pet-friendly. Just bring your pet's bed and bowls.
Another two dog-friendly houseboat hire companies in the Murraylands region are Griffens Marina in Blanchetown and Foxtale Houseboats in Morgan. Both are located just under 2 hours northeast of Adelaide.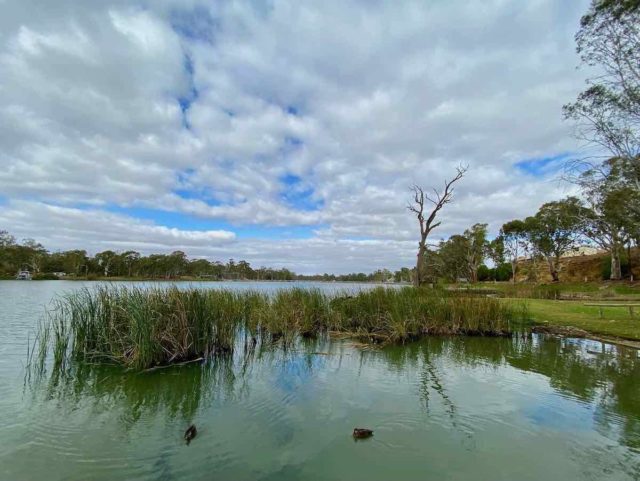 Two of the four houseboats hired out by Griffens Marina welcome dogs onboard: the 4-berth Scallywag and Scamp. Bring along everything you need for your dog, including a bed and some old towels to dry off your pup.
Dogs are not allowed on furniture or in the bedrooms; it's preferred they stay out on the deck area to minimise dog hair throughout the boat. All areas of the boat should be free of dog hair when you return it.
Foxtale Houseboats advertises itself as the pet-friendly fleet, with pets allowed on two of their three boats, the Foxtale 3 and Murray Entertainer. Both 12-berth boats have five bedrooms, perfect for larger families or groups of friends. Pets should stay off the furniture, with a reasonable cleaning fee charged if excess pet hair or stains are left on the carpet.
Riverlands Houseboats
If you head further afield to Renmark and Paringa in the Riverlands region, 3hr northeast of Adelaide, there's plenty more dog-friendly Murray River houseboats to choose from.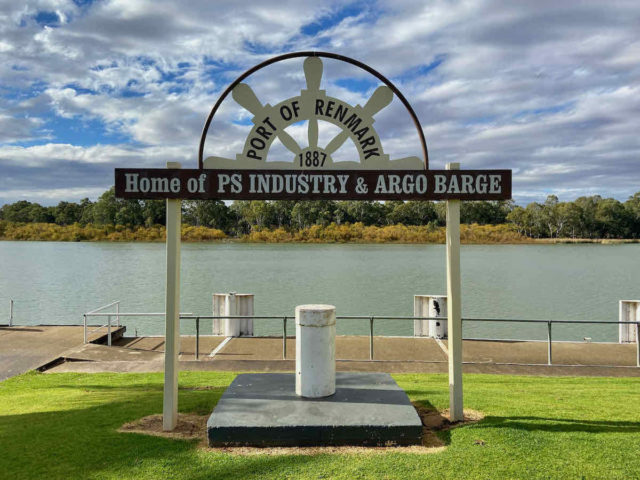 One houseboat company with plenty of options is Riverfun Houseboats. Pets are permitted on five of their houseboats by prior arrangement, just not Drift and Islander. Their pet-friendly houseboats range in size from the 4-berth Aqua Squirt up to the 10-12 berth Sensational.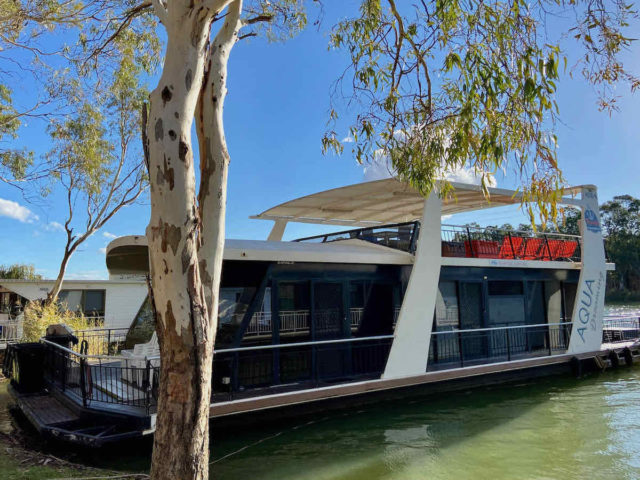 At Wilkadene Above Renmark Houseboats, both of their boats are pet-friendly, although pets may only allowed on the outside decks (double check if this has changed). The Elly-Mae has six berths, while the Amazon Star accommodates up to eight. Enquire in advance for permission to bring your pup along.
More houseboat hire companies located in Renmark/Paringa that may allow dogs on board include:
Liba Liba Houseboats: At the manager's discretion, only outside
Renmark Houseboats (formerly Warriuka): At the manager's discretion, small dogs only
River Murray Houseboats: At the manager's discretion
Magnum Houseboats: At the manager's discretion
Keep in mind that much of the Murray River is bordered by national park here, the Murray River National Park. Luckily, dogs are allowed on a leash in the Paringa Paddock, Lyrup Flats and Kingston-on-Mur­ray sections. Note though that dogs are not allowed in other sections, including Katara­p­ko (except the old rodeo ground), Gurra Gurra or on Bulyong Island.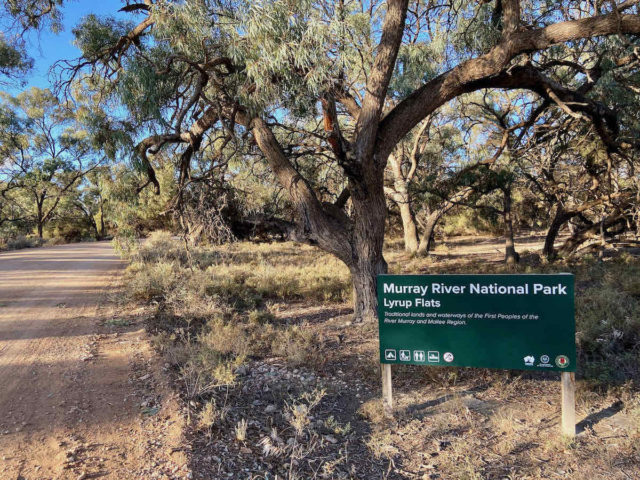 Another Cute Option…
While not a standard houseboat, I also had to share with you another dog-friendly boat hire option in South Australia.
River Wren at Murray Bridge, just 1hr east of Adelaide, has a fleet of six petite riverboats for hire. With beds for four passengers, these cute boats are ideal for couples or small families. Pet dogs are allowed on each boat, including inside. Based on prior reviews, it's best to reduce the reduce the number of people on the boat if you're bringing along a dog, especially a larger breed, otherwise it can get quite crowded.
Dog-Friendly Houseboats on the Murray River, Victoria
Further upstream, the Murray River forms the border of New South Wales and Victoria, before it crosses the border into South Australia. So, is it possible to hire a dog-friendly houseboat along this stretch of the Murray River? Luckily, there's two dog-friendly houseboat hire options on the southern Victorian bank of the river.
Mildura Houseboats is not surprisingly located in the Victorian town of Mildura. Their award-winning houseboats are stunning! Some even include spas onboard.
For a list of their pet-friendly houseboats, check out this page. Currently they offer seven dog-friendly houseboats, ranging from six berths up to 12 berths, some with onboard spas. Make sure you arrange to bring your dog onboard in advance. Only two pets are permitted, with a $50 fee per pet. Pets are to be kept off furniture and an additional fee may apply for extra cleaning or damage.
A second houseboat company that permits dogs onboard is All Seasons Houseboats, also located in Mildura. Pets are currently allowed aboard four of their houseboats. Only a single pet is permitted, with an additional fee of $30 per night, and no pets are allowed on beds or furniture.
Did you know that the border between NSW and Victoria lies along the southern bank of the river, meaning that the Murray River itself is within NSW?
Dog-Friendly Houseboats in NSW
Across New South Wales, there's a range of river and lake destinations that offer houseboats for hire. So where can you hire a dog-friendly houseboat in NSW?
One of the most popular houseboating spots is the Hawkesbury River, on the northern edge of Sydney. However, thanks to being surrounded by national parks, which in some cases include the waterways, none of the local houseboat companies permit pets on board. The only exception is for guide dogs, in special circumstances. The same rules apply at Myall Lakes.
However, I have managed to located two companies hiring dog-friendly houseboats in NSW. Firstly, consider heading to Forster on the crystal-clear waters of Wallis Lake, 3.5 hours north of Sydney.
Forster Houseboat Hire is pet-friendly under certain circumstances. With two sizes of houseboats for hire, sleeping up to six or ten people, request approval in advance to bring your pup along, plus enquire about any extra fees that may be applicable.
Heading further north to the Queensland border, Berger Houseboat Holidays in Tweed Heads has one pet-friendly houseboat. Due to regular requests, they permit pet dogs aboard the Wanderer, one of their six-berth houseboats with hard floors and a walk-around deck.
It is recommended that only pets up to 15kg are brought on board, due to room restrictions and ease of boarding the tender. A $50 pet fee applies, with an additional fee charged if extra cleaning is required.
Additionally, depending on the breed, they have recently announced that pets may be allowed on two additional, larger houseboats, for a $100 pet fee. Call directly to find out more details and make a booking, letting them know you have a pet.
Dog-Friendly Houseboats in QLD
It'd be great if I could share with you a dog-friendly houseboat option in Queensland, as there's plenty of demand for people to take their pets on houseboats. However, I haven't been able to uncover any dog-friendly houseboat hire companies. I've read reports online that this is due to health concerns by the authorities. It's best to head south, whether just across the border to Tweed Heads or further south.
Dog Etiquette on Houseboats
So, you've booked a dog-friendly houseboat for a holiday and packed everything you need, including your dog's bedding, bowls, leash and some old towels. But what about looking after the essential "business" of your dog?
While houseboats obviously have toilets onboard for humans (even multiple ensuite bathrooms on larger boats), for four-legged guests you'll need to resort to different options. The easiest solution is if your dog has been trained to use puppy pee pads. Just pack enough for your holiday and put them out for your dog to use, ideally in a sheltered corner of the outdoor deck.
However, if your dog refuses to go on anything except grass, you'll have to go ashore to look after their needs. Most houseboats will come with a tender for trips ashore. Specially take your dog ashore in it first thing in the morning and last thing at night, or moor up on the bank. During the day, go ashore for outings, taking your dog along. Ask the hire company for their recommendations.
Onboard the boat, follow the rules stipulated by your houseboat company. While some companies permit dogs inside their houseboats, others only permit dogs on the outside deck. Clean up any hair that your dog sheds, before returning the boat, as well as any "accidents".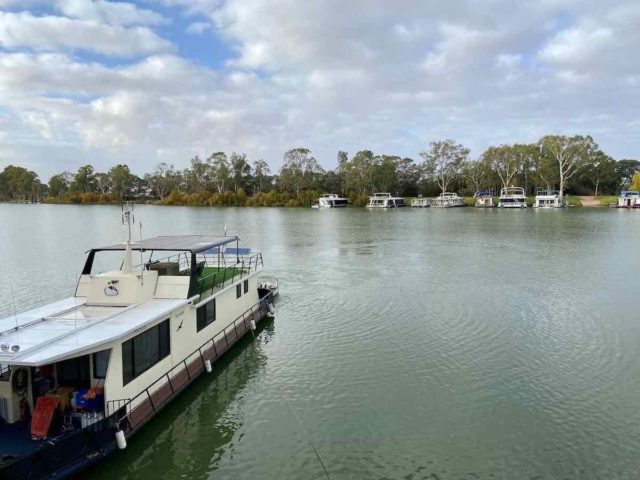 Be aware that sound travels further on the water, so if your dog barks at night they might disturb other houseboats or even nearby land owners. It's best to tie up your dog at night, if they're sleeping outside, in case they spot something interesting in the water.
When you head ashore, keep your dog on a lead unless you're in an off-leash area. In the Murray Region, be aware of the plentiful livestock and native wildlife, plus keep an eye out for snakes in the warmer months.
You May Also Like
Inspired? Pin this to your Pinterest board!