One of the best road trips to complete in Australia is along the Western Australia coastline from Perth to Broome. There are so many awesome experience that you can't miss out on doing along the way, that this trip is best done by road, despite the long distances between some destinations.
The total distance is over 2000km, and ever longer depending on how many detours you make. Allow plenty of time – at least 2 weeks! Here are my recommendations for the top must-do experiences on a Perth to Broome road trip.
Note however, I first put together this list before I started travelling with my dog, so many of these attractions are not dog-friendly. I have provided notes on where dogs are and aren't allowed along the way, plus tips for pet-sitting.
1. Visit a Community of Benedictine Monks
Not far north from Perth, is one of the oddest sights on this road trip. New Norcia is a living community of Benedictine Monks. I had no idea there were any monks living in Australia. In fact, New Norcia is unique as the only monastic town in Australia.
First established in 1847 by Spanish Benedictine Monks, and having been an Aboriginal mission for part of that period, the community has a fascinating history plus beautiful Spanish style buildings. It's certainly worthwhile taking part in one of the guided tours that run daily at 11:00am and 1:30pm.
Note: While dogs are allowed at the campground in New Norcia, they are not allowed on the guided tours
2. Take in the Pinnacles
Head back out to the coast (or directly there from Perth, it's about 200km either route), to view the mysterious limestone formations known as the Pinnacles. Originally mistaken by Dutch sailors for a ruined city, the formations rise up to 3m high from the dessert sand just inland from the coast.
They're best visited around sunset (to avoid the heat of the day and for the best photograph opportunities). Choose between driving around the 4km loop or taking the walking paths. Allow at least 1 hour for your visit.
Note: Dogs are not allowed to visit the Pinnacles, which are in a national park. There is the option to leave them in a kennel (bring your own lock) at the rangers station in Cervantes
3. Gaze through Nature's Window at Kalbarri
About 400km north of the Pinnacles is the delightful township of Kalbarri. The town is situated on the mighty Murchison River, which for its first 80km runs through a beautiful gorge, contained within Kalbarri National Park.
A visit to Kalbarri National Park is a must dog, with its magnificent walking tracks and lookouts to take in. One of these is Nature's Window, a natural archway that frames a beautiful view. Plus don't miss the recently opened Kalbarri Skywalk, with its two 100m-high lookouts projecting 25m and 17m beyond the rim of the gorge.
It's about a 30 minute drive outside of the town to the attractions in the national park. An entrance fee applies at the turn-off.
Note: Dogs are not allowed into Kalbarri National Park. It's best to organise a pet sitter in Kalbarri.
4. Visit a True Shell Beach
Head 300km north to the southern end of Shark Bay, a marine park and UNESCO World Heritage Site. In the bay the water is even saltier than usual in the sea, as it is cut off by the peninsula. This has led to a certain species of cockle shell to thrive and the creation of a "Shell Beach".
This 110km long stretch of beach is entirely made up of shells, up to 7m to 10m deep! It's one of only a couple of beaches like it worldwide. (Most so-called "shell" beaches are mixed with sand.) The shells are blindingly white and beautiful to see.
Also, don't miss out on visiting the Hamelin Pools nearby. There stromatolites are found growing in the shallow, salty water, modern examples of the earliest form of life that existed on land. There is a boardwalk above the stromatolites, but this is currently in need of repairs following a recent cyclone.
Note: While dogs are allowed at the Shell Beach car park, leave them behind while walking on the sands. Dogs are also not allowed at Hamelin Pools
5. Feed the Dolphins at Monkey Mia
Before heading further north, it's a must to detour out further out onto the peninsula that borders Shark Bay. Continue on to the small town of Denham, then to the end of the road at the tourist resort of Monkey Mia.
It's a must to visit Monkey Mia to meet the dolphins fed here each morning, including the chance to be one of the lucky few selected to hand feed one of the dolphins a fish. I've loved dolphins for all of my life and it was amazing to be selected to get up close with them on my first visit!
Monkey Mia is also a great spot to get out on the waters of Shark Bay, whether in your own kayak or on a catamaran cruise.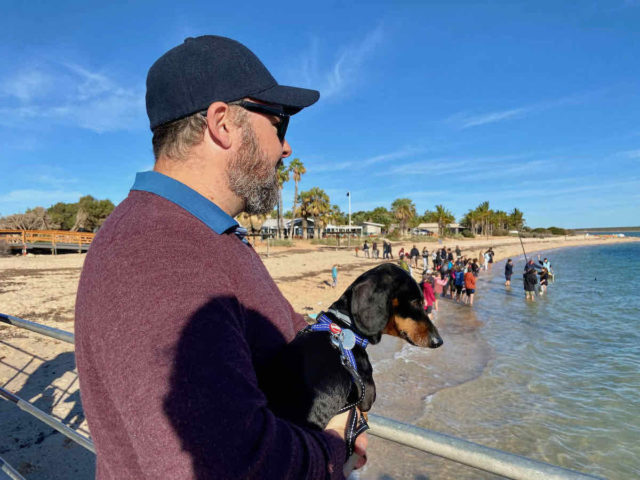 Note: Monkey Mia is quite dog-friendly, with dogs allowed to view the dolphin feeding from the jetty plus allowed on the catamaran cruises
6. Feast on the Local Produce at Carnarvon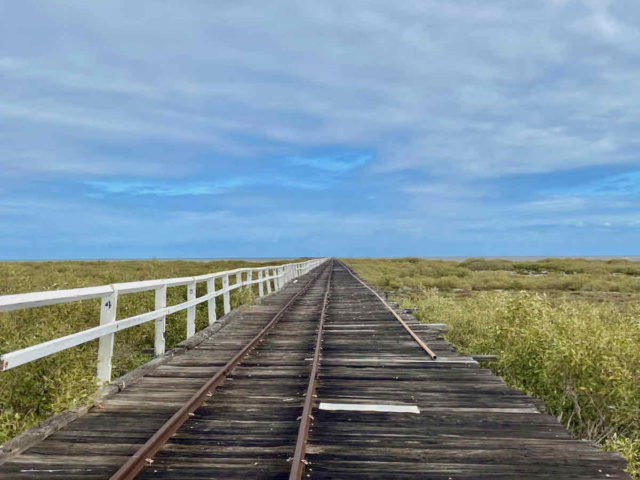 Loop back around Shark Bay and continue north to Carnarvon, the largest town in the region. It's about a 350km trip from Monkey Mia including the loop.
The town of Carnarvon is best known as a fruit growing area, plus for its historic One Mile Jetty. Built in 1897, you could previous walk along or take a tram to the end of it, but it has been closed since it was recently damaged by a cyclone.
Make sure you head to the local seafood shop, at which you can buy delicious blue swimmer crabs, usually caught in Shark Bay to the south. Buy a kilo, then boil them up and eat with some white bread for one of the tastiest meals you'll ever have!
If crabs are not available, instead drive along the "Fruit Loop" through the plantations, stopping at road-side stalls and farm shops along the way, or visit the fabulous farmers market held in town every Saturday morning.
7. Swim with Whale Sharks or Manta Rays at Ningaloo Reef
About half-way between Perth and Broome is the spectacular Ningaloo Reef, another UNESCO World Heritage Site. And each year between approximately April and late July, it's whale shark season at Ningaloo Reef. This means that you get the chance to swim up close with these giants of the sea!
It's not the only place in the world that you can do it, but the use of spotter planes means you have fairly good odds of doing it, plus it's done in an ecologically sound manner. Just make sure you've saved your dollars first for the whale shark trips.
If one big creature isn't enough, you can also snorkel and dive with manta rays. This is also an option if you visit outside of whale shark season. Another recent addition is the chance to swim with humpback whales, a regular visitor to the area.
The largest town in the region is Exmouth, located about 370km north of Carnarvon, and the main departure point for whale shark trips. Another jumping off point for the reef is Coral Bay, including for the year round manta ray trips, a small village about 150km south of Exmouth.
Note: While dogs are of course not allowed on whale sharking trips, they are allowed at many places at Exmouth and Coral Bay. Check out my dog-friendly guide for more tips, including pet sitting
8. Drift Snorkel at Turquoise Bay
Whilst visiting Ningaloo Reef, it's a must to drive from Exmouth to the Cape Range National Park. Inside Cape Range there's a variety of walks that you can do, plus camping sites (that are highly prized). There's also some great snorkelling spots where you can snorkel Ningaloo Reef, thanks to it coming so close to shore.
My top pick is Turquoise Bay (60km from Exmouth), where if you're game, you can do a "drift snorkel". Let the current take you along the shore, while you view the beautiful coral gardens and colourful fish life, then swim back to shore and walk along the sand to your starting point.
Note: Dogs are not allowed into Cape Range National Park, instead leave them with a pet sitter in Exmouth
9. Explore the Gorges of Karijini National Park
About a day's drive from Exmouth (650km away) and well inland is located the spectacular Karijini National Park. This ancient landscape has multiple gorges cutting through it, that you can gaze into, walk through or canyon through if you're up to an adventure! There's also some great swimming holes, with my pick being Fern Pool at Dales Gorge.
At Karijini, choose between camping old-school style or glamping it up, and spend a few days exploring the area. Just don't forget your camera, there's some magnificent photo opportunities. Plus make sure you have a spare tire (the rocks on the road in this iron ore country can be quite sharp).
Note: Dogs are not allowed in Karijini National Park. Instead contact the council kennels at Tom Price.
And On To Broome…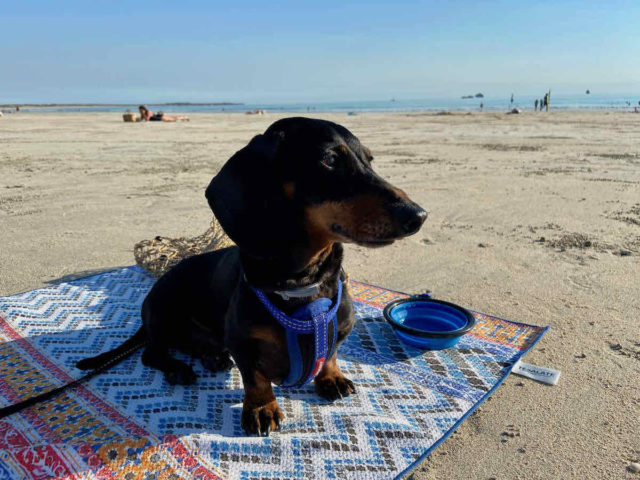 From Karijini, head north and return to the coast at the industrial town of Port Hedland. Then continue along the coast to your final destination of Broome.
It's about a 850km drive from Karijini to Broome, but the roads are long and straight and there isn't much to do along this section, so it's possible to do it in a long day. Alternatively, break up the drive at one of the free rest areas along the way, an easy dog-friendly option.
And once you arrive in Broome? Spend some time chilling out in this beautiful town, including relaxing at the famous Cable Beach!
About the Author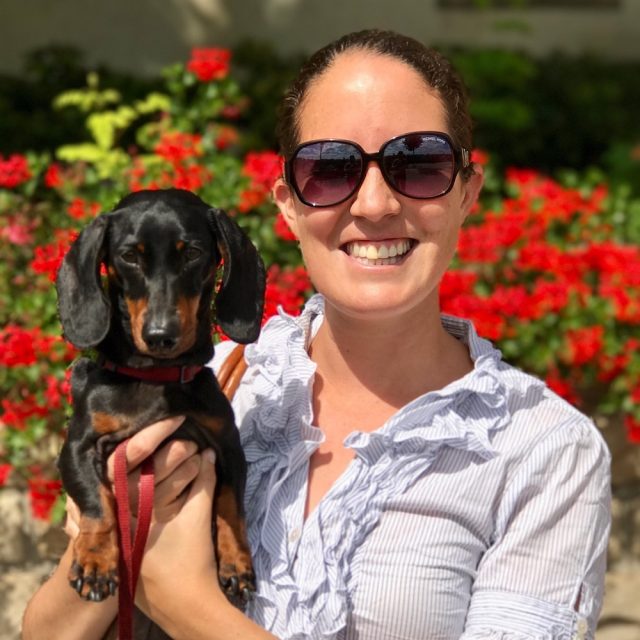 Shandos Cleaver is the founder of Travelnuity: Dog-Friendly Travel. She has travelled extensively with her Miniature Dachshund, Schnitzel, including to 33 countries across Europe, every state and territory of Australia except Tasmania, and 10 of the United States. She's passionate about providing inspiration and information to others wanting to travel with their dogs, whether close to home or internationally.
You May Also Like