If you're heading to France with your pup, luckily France has a wide range of dog-friendly accommodation to choose from. Whether you're looking for somewhere to stay in Paris or the other cities to base yourself and explore all of their attractions, or somewhere to stay in the countryside for a relaxing stay, there's plenty of options.
Here are some of my recommendations for dog-friendly accommodation in France…
As always, double check that the property still permits pets, before making a booking, as this can change. Also check if there are any restrictions on the size of pets permitted, and the charge per night.
Note: This post contains affiliate links, which means I may receive commission if you make a purchase using the links.
Pet-Friendly Hotels in Paris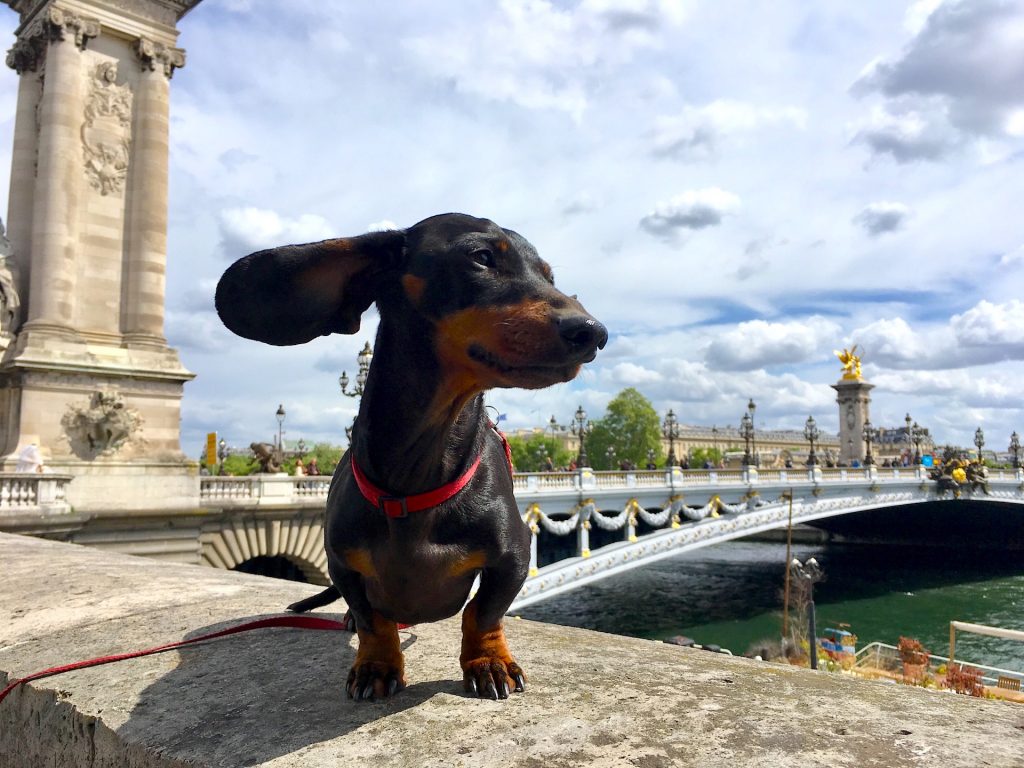 I'll be up front about Paris: it has some of the most expensive accommodation prices across Europe. While there are plenty of hotels, if you're looking to stay within the city proper (within one of the 20 arrondissements) hotels are usually quite pricey. The other concern, particularly if you're sharing your room with your dog, is that the rooms are quite small, often with not much space around the bed. Oh la la!
Not to be deterred, I've rounded up a selection of hotels in Paris, ranging from luxury to affordable, all of which welcome dogs. (Just check with them individually for additional charges and any size restrictions, which are common in Paris. And unfortunately some places that are pet-friendly stop being pet-friendly…)
Luxury: Hotel Plaza Elysées
If you're looking to stay in style in Paris, you can't go past the district around the Champs Elysées. If you stay at the Hotel Plaza Elysées, you'll be located only 200m from this famous boulevard and the Arc de Triomphe. Perfect for hitting up all the luxury boutiques, where your dog will probably be fussed over just as much as yourself.
Rooms at this 4-star hotel are spacious and elegantly decorated in the style of a Parisian apartment. At this hotel, dogs are allowed on request, and charges will likely apply. However, your dog will be permitted in the breakfast lounge and bar areas, as is common in Paris.
Check out the latest rates and availability
Near Moulin Rouge: Mercure Paris Pigalle Sacre Coeur
Now I must admit that dogs are probably not permitted to visit the Moulin Rouge with you. Although a photo opportunity during the day is not to be missed, plus there is also the beautiful Sacre Coeur and its wonderful views nearby. This four-star Mercure Hotel is located close to both of these attractions, in a great central location for exploring Paris.
Rooms at this hotel are reasonably priced, with stylish and modern touches, although a little on the small side. Room service is available, if you're exhausted from exploring Paris all day long. Pets are allowed, although a charge will likely apply.
Check out the latest rates and availability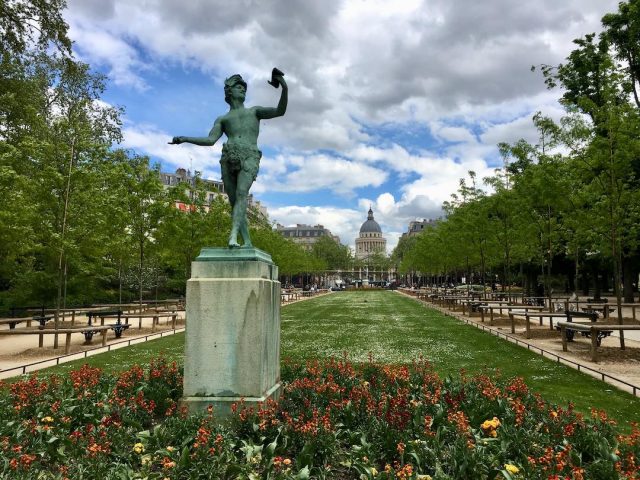 Hip: Motel One Paris-Porte Dorée
I love the interiors of this hotel, although it doesn't look like much from the outside. The bar and lounge area in particular looks gorgeous, and the hotel has been highly rated by previous guests. It's right on the edge of Paris proper, although just metres from the Porte Dorée metro station, so it's easy to get anywhere in Paris.
The room rates are amongst the best you'll find in Paris, with rooms that are stylishly decorated and average in size. Make sure you request a pet-friendly room, plus a small additional charge per pet per night applies.
Check out the latest rates and availability
Affordable: Campanile Paris 19 – La Villette
I stayed multiple time in Campanile hotels across France, and despite being a budget chain, was impressed with their cleanliness and service. Once you've stayed in one, you know basically what most other locations are like.
This hotel is again located close to the edge of Paris, although close to the Corentin Cariou metro station, for easy transport around the city. Like all Campanile hotels, a small charge will apply for staying with a dog.
Check out the latest rates and availability
Near Orly Airport: All Suites Appart Hotel Choisy Le Roi
Now if you're really want to save on the cost of a hotel, stay well outside the city centre of Paris at a hotel like this one. It's actually a practical location, if you're flying in or out of Orly Airport, and want somewhere to stay near by, like we did. It's just a short Uber drive from the Airport, plus near a train station that will take you directly into the centre of Paris.
The rooms here are large and apartment-style. That means a decent kitchenette for you to cook in, plus self-service laundry facilities downstairs. There was also a great burrito shop next door when we stayed in 2018, if you don't feel like cooking. Pets are allowed for a small additional charge per night, in selected rooms. It's best to request a pet-friendly room in advance.
Check out the latest rates and availability
Pet-Friendly Hotels in Lyon
The third largest city in France, Lyon dates back to Roman times. A World Heritage Site, when you visit Lyon make sure you explore its history, from the Roman amphitheatre to the passages in the old town. However, most people visit Lyon for one reason: food! Lyon is by far the culinary capital of France, and a long lazy lunch is the best part of the day.
Hotels in Lyon are more affordable than in Paris, with plenty of pet-friendly options available, including the following…
Luxury: Mercure Lyon Château Perrache
This four-star hotel is located in a listed Art Nouveau building, not that you would guess from the understated modern character of its guest rooms. Not far from the centre of Lyon, it's just a 650m walk from the historic old town, plus close to a metro station.
On the dates that I looked at, some of the rooms had been significantly discounted, offering great value for a four-star hotel. Pets are allowed on request, charges may apply.
Check out the latest rates and availability
Hip: Hôtel Taggât
This hotel with brightly decorated, modern rooms is located back across the Rhône from the centre of Lyon, but it's still close to the city centre. Dogs are welcome to join you, likely for an additional fee.
I will however caution you against booking the Attic Double Rooms (or the Economy Single Rooms), which are cheap but very small. For a stay with your dog I recommend selecting the Comfort Twin Rooms, which are not much more expensive, but quite a bit larger.
Check out the latest rates and availability
Apartment-Style: Lagrange Aparthotel Lyon Lumière
If you don't need to stay in the centre of Lyon, I recommend considering this apartment-style hotel further out from the city (although still near a metro and a few stops from the city centre). Some of the room prices are great value. Plus each of the rooms includes its own kitchenette, with a stovetop, fridge, microwave and coffee machine.
There is also a spa onsite, with a sauna, hammam and hot tub, although there is an extra charge for using this. Pet dogs are welcome to join you for a small charge of €7 per night.
Check out the latest rates and availability
Pet-Friendly Hotels in Nice
If you're wanting to stay somewhere along the Cote D'Azur with your pup, Nice makes for a nice base! As it's an actual city, there's a wider variety of accommodation options, many of which permit pets. When I compared the percentage of dog-friendly hotels in cities across Europe, Nice came up way in front of Paris.
Nice is also quite close to Monaco, perfect for a day-trip along with your dog, but without the Monaco price tag. Just be warned: the only official dog-beach in Nice is Plage Lanterne, at the far end of the Promenade des Anglais from the city.
Luxury: Hôtel Le Royal Promenade des Anglais
I love that this hotel is right on the Promenade des Anglais, which runs along the beachfront in Nice. While dogs aren't allowed on the main stretch of beach during the summer, the promenade is the perfect spot for a walk, and I have a feeling the rules are more relaxed in winter…
The hotel is situated in a historic building, with a pretty courtyard area out the front. I recommend spending more for the sea view rooms, for the perfect view each morning and night. One pet under 8kg is permitted per room, if requested in advance, for an additional charge of €14 per night. Unfortunately, pets are not permitted in the restaurant.
Check out the latest rates and availability
Hip: The Jay Hotel by HappyCulture
This hotel is slightly back from the promenade, but still very close. It's also not far from the gorgeous flower market in Nice. The rooms are gorgeously decorated with a rich colour palette that harkens back to the Roaring 20s. They're also quite spacious (particularly the apartments) and handily include a kitchenette (for an additional charge).
I've stayed before at another HappyCulture hotel and was delighted with their friendly service, including towards my dog. At this hotel, only small dogs (up to 10kg) are permitted to stay, for an additional charge of €15 per animal per night.
Check out the latest rates and availability
Affordable: Odalys City Nice Le Palais Rossini
It's tough to find affordable options in Nice, even when visiting outside of the main summer period. However, I have uncovered this apartment-style hotel located in an old hotel building.
It's set further back from the water front, but the affordable room rates make up for it. Each room also includes a kitchenette nook (with no extra charge). The French balconies are also a nice touch, making the rooms airy and bright. A small additional charge of €10 per pet per night applies.
Check out the latest rates and availability
Pet-Friendly Gîtes in the Countryside
One of my fondest memories of my time in France, and something I strongly recommend to anyone visiting France, particularly with a dog, is to stay in the countryside at a gîte.
If you're not familiar with the term, as I wasn't, a gîte is basically a rural holiday rental, most commonly (but not always) in a renovated traditional country cottage or barn conversion, either in a rural village or in the beautiful French countryside. It's a great way to have a relaxing holiday with your pup, usually with some wonderful chateaus nearby to visit or vineyards to explore…
Loire Valley: A Petit or Grand Gîte in the Country
The Loire Valley was one of the highlights of my time in France, including our visit to the pet-friendly Chenonceau palace. Another highlight was the lovely gîte where we stayed in the countryside, especially the friendly welcome and other touches from the owner Laurette.
We stayed in the petit gîte, a self-contained apartment including kitchenette which is perfect for two. There's also a grand gîte which can accommodate five to eight people.
Well-behaved dogs can also stay, if organised in advance. Just be warned there are no fences, so it might be best to keep your dog on a leash, especially when the chickens wander past.
Click here to view more details and to book
The Creuse: A B&B and Gîte in a Typical Hamlet
Chez Beaumont is located in the small hamlet of Beaumont, in the department of The Creuse, about halfway between Paris and the Spanish border. Enjoy a taste of French life, deep in the countryside, hosted by Clare and Peter Tilley.
As well as two guest rooms in the main house, each of which has a double and single bed, there's also an adjacent gîte. Located in a former boulangerie and lovingly renovated, it has three bedrooms for up to eight guests.
Well-behaved dogs are accepted (enquire in advance), although note that there are also two dogs, a cat and free-roaming chickens on the property. Also enquire about the art courses on offer.
Click here to view more details and to book
You May Also Like
Inspired? Pin this to your Pinterest board