While I wouldn't list Norway as one of the most dog-friendly countries in Europe, it's still a wonderful destination to visit with your dog. And with its spectacular scenery, especially during the short summer months, it can make for a great summer road trip with your pup. Read on to find out what it's like to travel in Norway with a dog.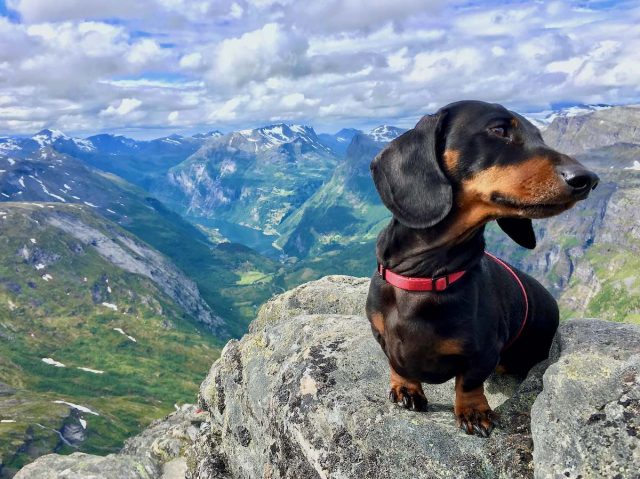 Travelling to Norway with a Dog
Norway is one of the countries in Europe that requires your dog to have a worming treatment done before arrival. This echinococcosis worming treatment needs to be done by a vet between 24 hours and 5 days of crossing the border, and recorded in your dog's pet passport.
The one exception is if you are directly travelling from Finland, Ireland, Malta or Northern Ireland, which also require the same treatment.
In practice, depending on how you arrive in Norway, particularly if you drive across the border, this isn't always checked. This wasn't checked when we crossed the border, but it was in the remote north. However, always follow the rules and complete this step to keep echinococcosis out of Norway.
Dog-Friendly Accommodation in Norway
During our two weeks road tripping through Norway, our intention was to sleep most of the time in our tent. However, with some rainy weather and a touch of sleet one day above the Arctic Circle, we also resorted to some nights in cabins, generally fairly basic ones.
We experienced no issues with our dog joining us inside the various cabins in which we stayed, although I think one place we checked at in Alta didn't allow dogs in their cabins. We were however generally using our own sleeping bags, without requesting bedding, which was often an additional service (with extra cost).
If you're staying in hotels, my study into the number of dog-friendly hotels in various European cities ranked Oslo about mid-way for percentage of dog-friendly hotels, at 43%, albeit with a fairly low number of hotels.
Dining Out in Norway with a Dog
After visiting nearly every country in Europe with our dog, I can confirm that Norway is the most expensive for dining out. Due to this, we only dined out a couple of times in Norway, unless you include service station hot dogs.
Our burgers and beers at a touristy restaurant in Flam were a rare splurge, although we also once came across a reasonably priced little restaurant next to some cabins we stayed at in the north of the country.
For this reason, I can't really comment on how dog-friendly dining out is in Norway. My expectation is that most restaurants will not allow dogs inside, similar to Sweden. Although we did eat at a trendy food market type establishment in Oslo, called Mathallen, where our dog was fine to join us at the outdoor tables.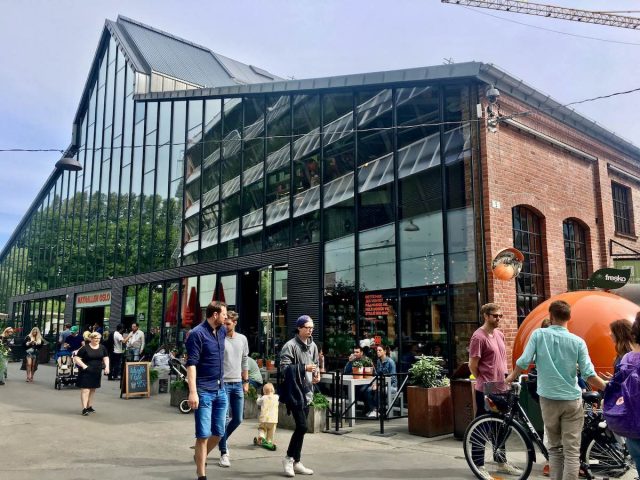 Most of the time we made our own meals from supermarket supplies, enjoying many roadside picnics or simple meals at campgrounds and cabins. Even groceries are more expensive than elsewhere in Europe. However, the locally produced smoked salmon and fish burgers are reasonably priced in comparison, and shouldn't be missed.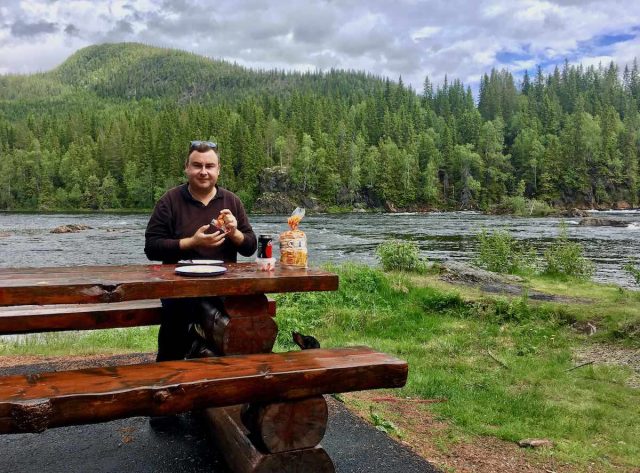 Taking a Dog on Public Transport in Norway
As we were road tripping with our own vehicle we never made use of public transport in Norway. However, if you do need to use public transport it's fairly dog-friendly.
Dogs on Local Transport in Oslo
In Oslo and surrounds, public transport is operated by Ruter. Dogs ride for free, with just a few simple rules, such as dogs need to be on a leash and not sit directly on seats, instead sitting on the floor or your lap.
Dogs on Long-Distance Trains in Norway
When it comes to the long-distance trains, dogs are allowed on board in specially designated areas, with a limited number of pets per train. This means multiple pets may be sitting in close proximity, similar to the situation we found ourselves in on a Swedish train.
Pet dogs are not allowed in the Plus or sleeping compartments, as well as family-friendly or animal-free zones. Small dogs with a shoulder height under 40cm travel for free, while larger dogs require a half-price ticket. Also note dogs may not be allowed on rail-replacement buses.
Dogs on Norway in a Nutshell Tours
If you're not driving your own vehicle in Norway, one of the popular ways to see the country is on the Norway in a Nutshell self-guided tours, that include train, cruise and bus transport. Dogs are allowed on multiple tours, including the Sognefjord in a Nutshell tour, which includes a train to Flam, the express boat on Sognefjord to Bergen, then a return train.
You need to inform the company when you are making a booking, due to the specially designated areas dogs must travel in on the train. Additionally, an additional fee applies for dogs on the express boat.
Dogs on Vehicle Ferries in Norway
I should also comment on the situation with vehicle ferries in Norway, which you'll likely make use of while on a road trip. There were no issues with our dog travelling on any of the ferries we took.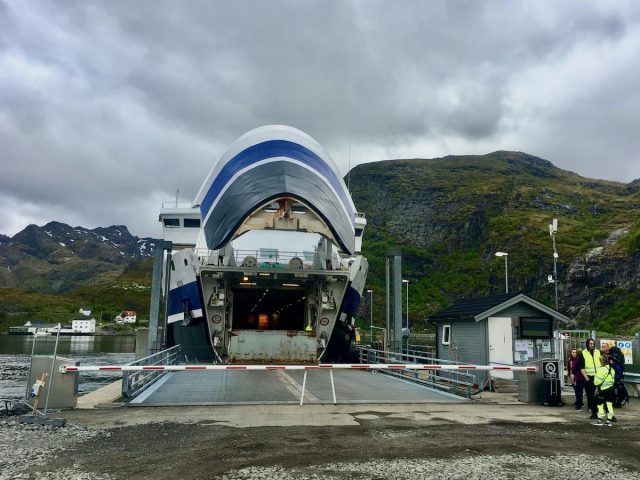 On the ferries that we took, we found that most people travelling in cars or campervans tended to leave their pets in their car, at least on shorter ferry trips and during the cooler weather we experienced.
Torghatten-Nord, one of the operators, stipulates that pets are allowed in designated areas. Some vessels have a separate room with cages where they can stay, while on other vessels pets can either remain outside on the deck or inside if kept in a carrier at all times, without disturbing any other passengers. Double check on the ferry.
Generally no fee applies for dogs on vehicular ferries, but a fee might apply on sightseeing boats.
Dog-Friendly Sightseeing in Norway
There are no shortage of things to do in Norway with your dog, from embarking on an epic road trip to going for a hike to enjoying historic towns. These are my top picks on dog-friendly things to do in Norway.
1. Go on a Road Trip Through Norway
Top of my list of what to do in Norway with your dog is to go on a road trip. During our summer trip to Norway, we spent two weeks driving from the far north to the far south of the country, after having firstly driven north of the Arctic Circle in Sweden.
From the wild north including the beautiful Lofoten Islands to the many majestic fjords down south, alongside glaciers and windswept snowy plateaus, it was a magical journey.
While you don't need to do as long a road trip (there's plenty of beautiful scenery just in the south of the country), this is still hands-down the best way to experience the country's spectacular scenery.
I recommend trying to follow some of the national scenic routes around Norway, to ensure you see the most stunning parts of the country, rather than just following the quicker routes recommended by Google Maps. We used a tourist map that came as an insert in a listing of camping grounds and cabins, or check out the guide online.
In general though, allow plenty of time for your road trip. Many roads in Norway are windy and narrow (with plenty of tunnels along the way, including the longest road tunnel in Europe). Most highways except a few in the south are signposted at 80km/h. Plus you need time for all those scenic stops!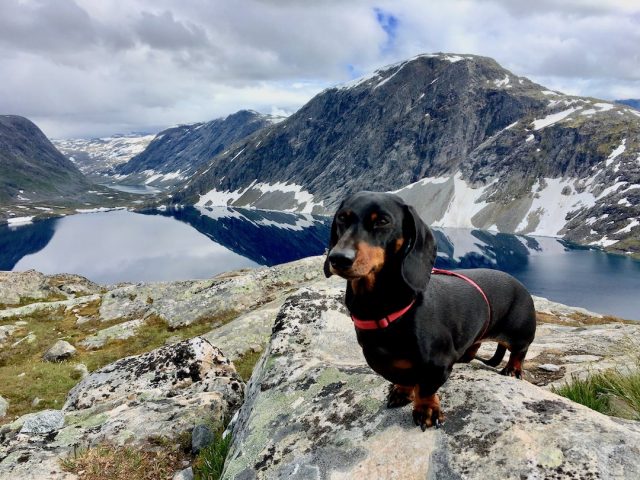 If you're not taking your own vehicle (such as one of the many campervans we saw while in Norway), be aware that the rules for dogs in hire vehicles can be stricter in Scandinavia, so double check with the hire company you are going through.
2. Visit the Lofoten Islands
If you have enough time to drive to the north of Norway, or instead take a domestic flight, I highly recommend going to the Lofoten Islands. When we were driving south through Norway, we noticed the islands were marked as a scenic route, and detoured from the mainland, allowing an extra day or more for our journey.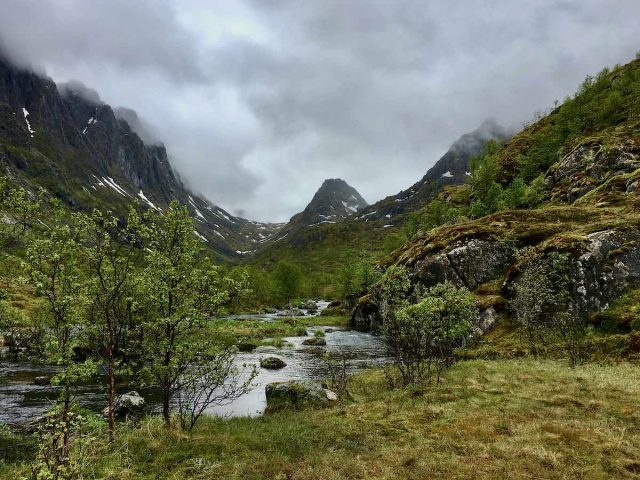 To get to the Lofoten Islands from the north is quite easy, with each of the islands connected by a series of bridges. However, to continue your journey heading south, rather than backtracking through the islands, it's possible to save time and instead take a ferry across from Moskenes to Bodø. The ferry only takes 3 hours, compared to the 11 hours journey via road.
3. Go for a Hike
When road tripping through Norway, it's a must to stop frequently at the many lookout points, to enjoy the vistas and take some photos. Many stopping places also offer short walks, a great time to stretch your own legs and exercise your dog.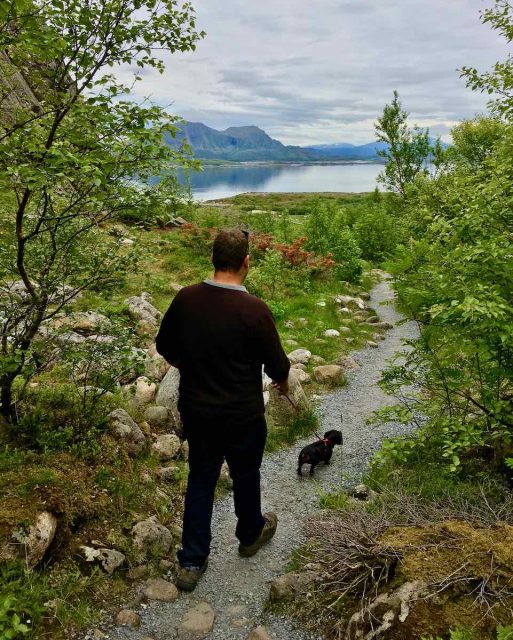 I recommend also looking completing some longer hikes in Norway. One of the most famous is Trolltunga. But at 28km long, it's beyond the capability of many humans and dogs, us included, although dogs are allowed if you've got the stamina.
We stuck to some shorter hikes, including one to a local summit near Alta, home to a World Heritage listed Struve Geodetic Arc marker. We also walked a short but beautiful hike to Torghatten, the hole in the mountain near Brønnøysund. The easy hike only took about 20 minutes each way and was a fun evening excursion during the long summer evenings.
Note that dogs should generally be kept on a leash in Norway. There is a rule that dogs need to be kept on a leash from 1st April to 20th August each year, to protect livestock and local wildlife, plus individual areas may have additional rules.
4. Cruise on the Fjords
How can you visit Norway and not go for a cruise on one of its many fjords? If you're road-tripping around the country like we were, there are many vehicular ferries on the fjords that combine getting you to your next destination and a cruise at the same time, although of course there's also cruise ships that are passenger only.
If you're not driving around Norway, one of the most popular ways to take a fjord cruise is with the Norway in a Nutshell self-guided tours, which combine train, cruise and bus transport. Dogs are allowed on the Sognefjord in a Nutshell tour, which includes a train to Flam, the express boat on Sognefjord to Bergen, then a return train.
Sognefjord is the largest fjord in Norway and one of the most spectacular. You'll need to mention your dog when booking, as dogs must travel in a specific area on the train. An additional fee also applies to dogs on the express boat.
5. Drive to Dalsnibba and the Geiranger Skywalk
Speaking of fjords, the most impressive view that I saw anywhere in Norway was of the Geirangerfjord from Dalsnibba and the Geiranger Skywalk. When driving to Geirangerfjord, I highly recommend turning off and driving up to Dalsnibba, although there is a hefty vehicle charge for the private road.
The road quickly climbs up through a series of hairpin bends to Dalsnibba, giving the skywalk an elevation of 1500m, far above the fjord below. There were no restrictions on our dog joining us at the skywalk. Note that the road is generally only open from May to October.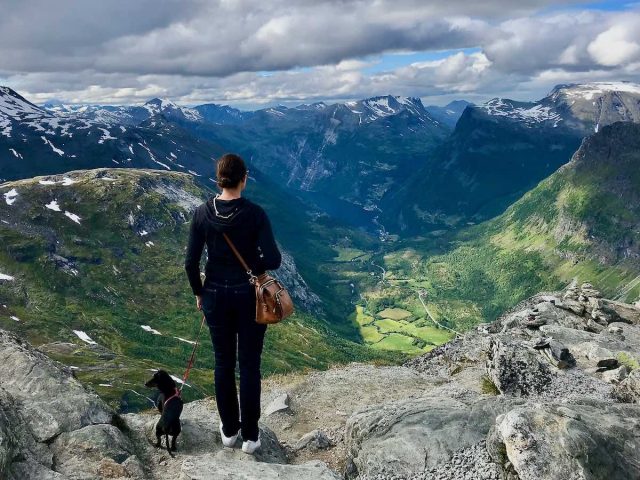 6. Drive the Snow Road
Further south in the country near Flam, when you're driving west towards Flam from either Oslo or after crossing the Sognefjord on the ferry, the quickest route to take is the Lærdal Tunnel.
This tunnel at 24.51km long is the longest road tunnel in the world, but isn't the most interesting drive, especially with multiple speed cameras. For a more scenic option, instead head up over the mountains on the Aurlandsfjellet scenic route, or the "Snow Road".
Closed in winter time (from November to June), during the summer this road is still often lined with snow, although the actual road seems to be regularly cleared, meaning vehicles without snow chains can drive along it. It's a fun route for those of us like myself who don't often experience snow.
At the other end of the road, up above Aurlandsfjord, stop at the beautiful Stegastein view point, with the final section of the road up to this open year round. Naturally, your dog can join you on this route.
7. Experience the Midnight Sun
If you head to the north of Norway around Midsummer, you'll be sure to experience the midnight sun. Well, you're sure to experience the sensation of the sun not setting overnight, but the sun could well be behind clouds, as we experienced on many of our nights (and days) in Norway.
I was concerned about the impact that this could have on my dog, particular if we were camping in a tent. Would he be confused and not want to sleep? I need not have worried, with him sleeping just as well each night. Different dogs could well handle the situation differently.
The advantage of the long hours of daylight, regardless of where you are in Norway in the summer months, is that you can get out and about more during the evening. However, take note that office hours at camping grounds still might end quite early, so don't leave it too late to pull over for the night.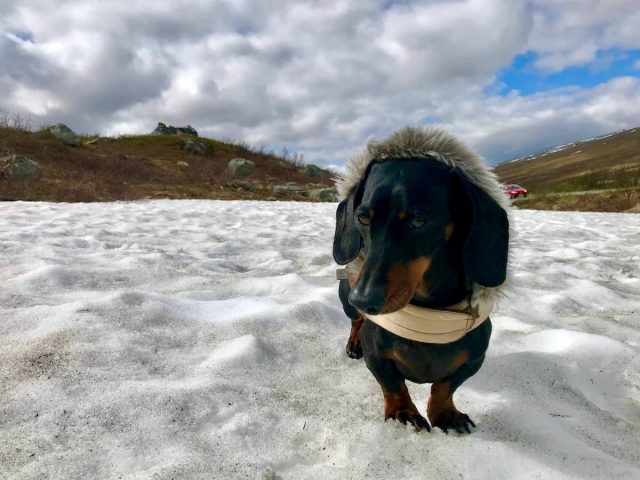 8. Stroll the Waterfront in Bergen
The historic city of Bergen on the southwestern coast of Norway is a fascinating place to visit. The historic district of Bryggen on the waterfront was once the centre of the Hanseatic League's trading empire. These days it is home to colourful wooden houses and is UNESCO World Heritage listed.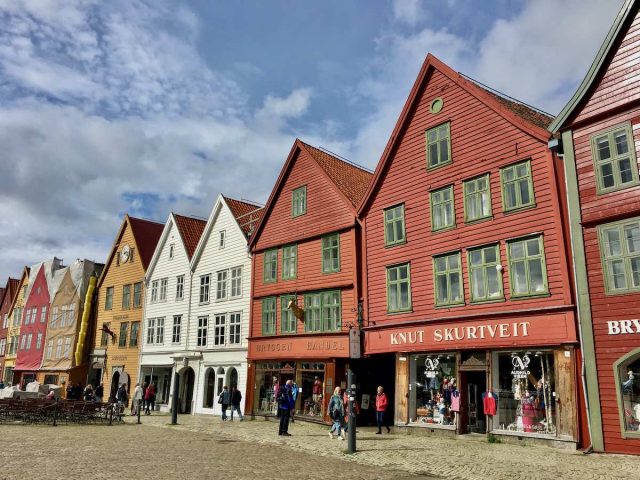 Bryggen is perfect for going for a stroll with your pup, enjoying the historic buildings and walking through the alleyways. Dogs are not allowed inside the museum (instead take turns visiting). But we did enjoy coffees outside of a cafe together as well as wander through the waterfront market, selling a variety of seafood options, including controversial whale meat.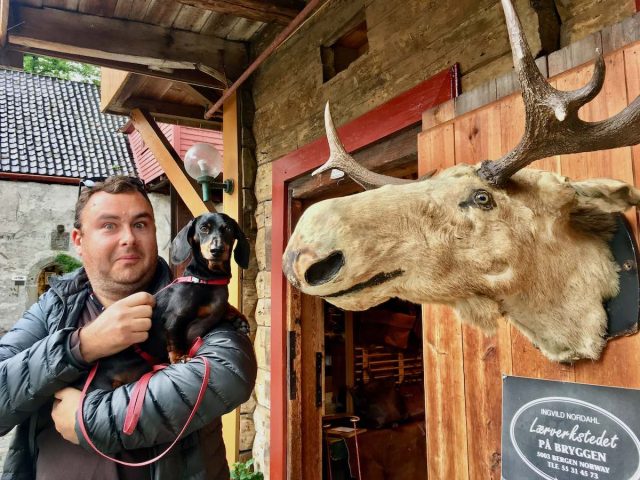 9. Visit Historic Røros
Another historic town to visit in Norway that offers the chance to experience the country's history is Røros. This historic mining town is located deep in the interior of Norway, near the Swedish border and 2 1/2 hours drive southwest of Trondheim. It's best to visit in summer, with the snows lying long and thick during the winter.
The location of a no longer active copper mine, the town is full of original wooden houses mainly from the 17th and 18th-centuries. Many of the house retain their dark pitch-log facades, giving the entire town a medieval appearance. It's also possible to walk around the remains of the copper mine workings and slag heaps.
10. Check out the Sculptures at Vigelandsparken
One of the most popular sightseeing spots in Oslo is Vigelandsparken, a large park featuring the striking sculptures of the Norwegian sculptor, Gustav Vigeland. Entry to the park is free (making it very popular with tour groups) and dogs are allowed inside, as long as they remain on a leash in most of the park.
Start at the gates on the southeastern side, walking to the western side of the park, allowing an hour or two. In the northwestern corner of the park is a dog park (known locally as a "hundejordet"), a great opportunity to allow your dog to run about off-leash and socialise with other dogs.
11. See Prehistoric Rock Art in Alta
For some older examples of art in Norway, head north to Alta for the largest concentration of hunter-gatherer rock art in Northern Europe. This rock art consist predominantly of rock carvings, as well as some paintings, made between 7000 and 2000 years ago.
One of the main rock art sites is located adjacent to the Alta Museum. While dogs are not allowed inside the museum, which has an introductory exhibit plus other exhibits, I was delighted to discover that dogs can join you on the walk around the site, staying on a leash of course. Double check this is still the case.
Naturally, the art is only visible during the summer months. (During winter it is thoroughly covered with snow.) Many of the carvings have been painted over in red or white pigment to make them more visible.
Head Next To
Inspired? Pin this to your Pinterest board!