When travelling with your dog, there's some restrictions on what you can do. For instance, most museums and art galleries are out, unless there's somewhere you can leave your dog during the day (whether the house you're staying in or with a dog sitter).
It's also good to keep in mind what your dog will enjoy. Some will be happy to laze at your feet all afternoon, while others prefer to be active. But the longer I spend travelling, the more activities I find that are fun things to do when travelling with a dog.
Here are some ideas for your next holiday with your dog…
1. Walk Around a Historic City or Town
As I've recently been travelling around Europe with my dog, I've visited no shortage of historic cities and old towns. Often these have been at the top of my list of things to see, as my husband and I are trying to visit every UNESCO site in the world, with many historic towns included on the list.
Some of my recent favourites have included Brugge in Belgium, the Swiss capital of Berne and the always popular Venice.
Exploring an old town is a great activity to do with your dog. As you're spending most of your time just viewing buildings from the outside, issues of dogs not being allowed don't usually come up. If you're wanting to check out the interior of a church or other building, if there's at least two of you, it's possible to take turns to go inside.
Along the way, try and include a park or two to visit with your pup, especially if there's an off-leash park.
Tip: If you're looking for itineraries for self-guided walks, check out the website Walkli. Just search for the city that you're visiting, browse through the walks, then send the walk to yourself via email. You'll receive an email with the points of interest along the way listed and a small map.
2. Go for a Hike
Despite being just a small dog, Schnitzel is a big fan of going hiking with us, especially if he can go off-leash. I've previously shared the story of how he hiked to the top of Mt Snowdon with us. Plus we've also gone on long hikes with him in the Pyrenees, Andorra and the Lake District of England.
Even if you're not an outdoorsy person or your dog doesn't like to go for long walks, there's usually plenty of shorter alternative walks. Plus, many cities have walks on their doorstep.
One of the best examples is the climb to the top of Arthur's Seat in Edinburgh. It's accessible from just behind Holyrood Park, takes just a couple of hours, and is the perfect accompanient to exploring the historic streets of this city.
In Sydney, head to Bondi Beach to complete the famous Bondi to Coogee walk along the beautiful coastline. There's also plenty of great hikes in the USA that allow dogs.
3. Visit an Outdoor Museum
While most museums understandably don't allow dogs inside, I've also come across some museums that are mainly outdoor and do allow dogs.
One example of this is St Fagan's National Museum of History in Cardiff, Wales. Instead of being coped up inside of stuffy exhibit rooms, a visit to this museum consists of a wander around the parkland setting to visit the historic buildings and cottages reconstructed onsite.
Dogs are fine to join you at St Fagan's, as long as you don't take them inside the buildings.
I've also come across a handful of castles that allow dogs inside, although usually only the ones that are in ruins.
4. Go For a Walk in the Park
This may sound like a funny suggestion of something fun to do on holidays, as you probably do it everyday at home. But going for a walk in the park can be a completely different experience in some of the excellent parks located around the world, such as Central Park in New York, Parque de Maria Luisa in Seville or Greenwich Park in London.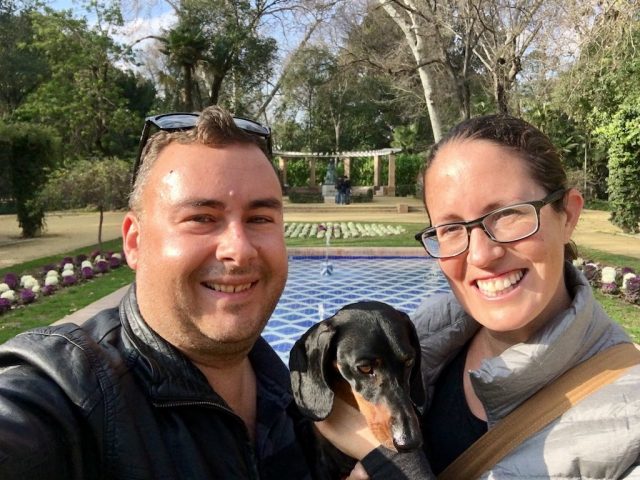 Along the way, check out the historic monuments and statues, explore beautiful gardens or just take in the wealth of natural beauty. Many historic villas open to the public also allow dogs inside their parklands, such as Studley Royal Park in Northern England.
Tip: Just double check the rules, as there are some famous parks (such as many in Paris, plus many botanic gardens) that don't allow dogs. In contrast, many allow dogs off leash in some parts or at some hours of the day.
5. Discover the Local Street Art
One of my favourite things to do in cities around the world is to explore the local street art scene. Whether it's the streets of Shoreditch in London, the neighbourhoods of Barcelona or the famous laneways of Melbourne, it's a fun way to spend an afternoon and offers up lots of great photo opportunities. Plus, it's completely dog-friendly!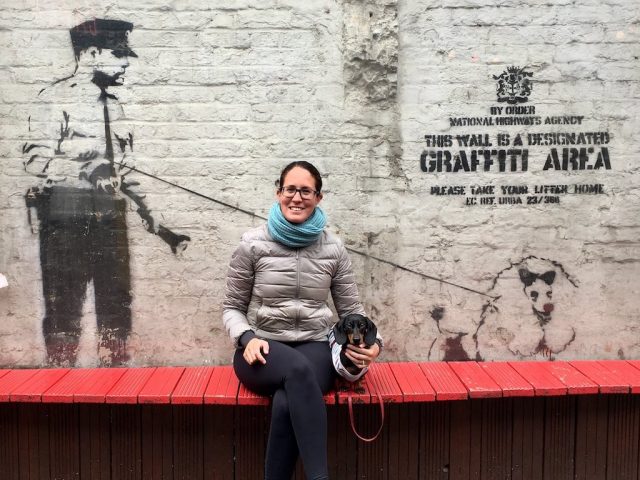 One extra advantage? These neighbourhoods are also often home to the the hippest cafes and bars in the city, hopefully also dog-friendly for when you stop off somewhere on your wanders.
6. Visit an Outdoor Market
While most parts of the world don't allow dogs inside boutiques and shopping malls, most of the time dogs are fine to visit outdoor markets. Even if you're not much of a shopper, markets are still great to visit to check out the local culture and find a cheap bite to eat.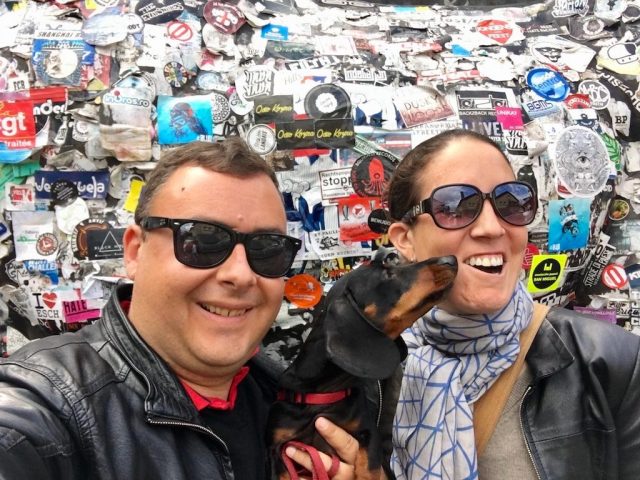 Whether you're visiting Camden Markets in London or Paddington Markets in Sydney, take along your dog, too.
Tip: Be prepared to carry your dog if it gets crowded, or else visit during a quieter part of the day. Plus double check for any no dog signs at the entry, as there are some markets that don't allow dogs, especially those selling fresh food.
7. Have a Drink at an Outdoor Terrace
While restaurants and cafes in many parts of the world don't allow dogs inside, usually there's no problem with a dog joining you outside on the terrace.
And when the weather is sunny and warm (or even when it's chilly in winter, but there's plenty of heaters), it's tempting to just while away the afternoon with a drink or two, and maybe a bit to eat, your dog at your feet.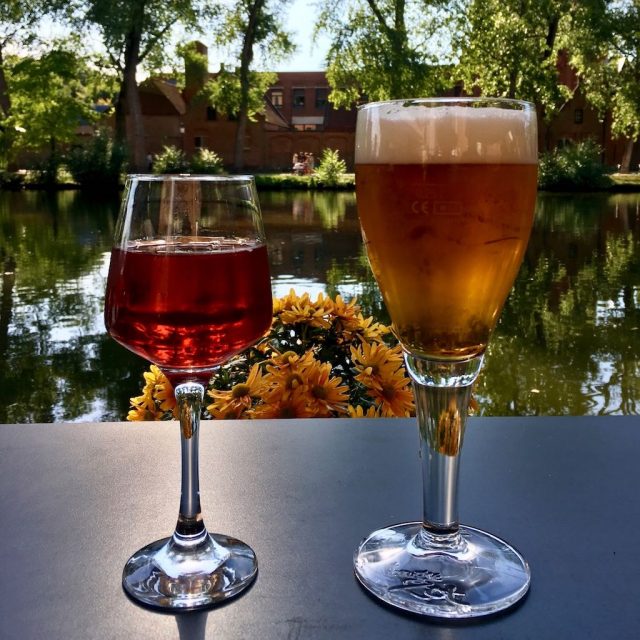 Tip: Bring along a treat or two for your dog to enjoy. Plus, if you don't know whether dog water bowls will be available, it's handy to have your own collapsible water bowl.
You May Also Like
Inspired? Pin this to your Pinterest board!