If you're travelling in Western Australia with your dog, and don't have your own caravan or campervan, unfortunately you'll have a hard time finding pet-friendly accommodation in parts of the state. Luckily, I've dug up some of the best pet-friendly cabins that you can choose from, including cabins along the southern coastline and up north in the Pilbara.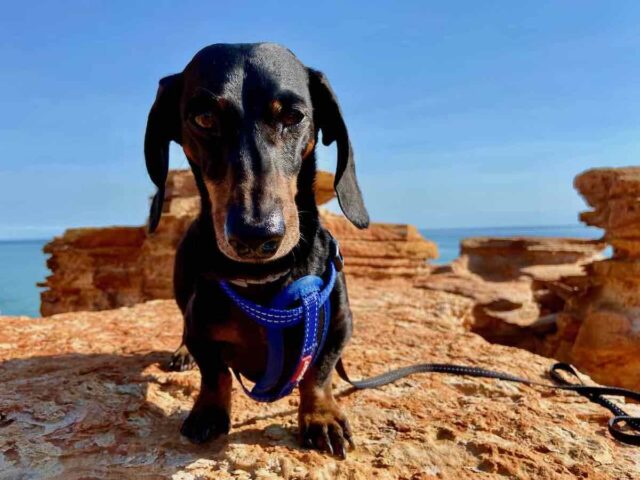 Note: This post contains affiliate links, which means I may receive commission if you make a purchase using the links. See my full disclaimer.
#1 Banksia Tourist Park, Perth
The Banksia Tourist Park is located in the eastern suburbs of Perth, not far from the airport and the popular Swan Valley area. As well as pet-friendly caravan and camping sites, it also has a variety of pet-friendly cabins.
The pet-friendly cabins range from budget to deluxe options. Choose from Budget Pet Friendly Cabins that sleep 3 or 4, Lux Pet Friendly Cabins that sleep 2 or 4, and Superior Pet Friendly Cabins that sleep 4 or 6. There are also some cheaper Non Ensuite Pet Friendly Cabins that sleep either 2 or 4.
Let the park know when you book that you're bringing a pet. Generally two small pets or one large dog is permitted – call up to check. The park has its own on-lead dog exercise area, plus is close to an off-leash dog park.
#2 Discovery Parks – Woodman Point, near Fremantle
Another caravan park with pet-friendly cabins in the Perth area, about a 15 minute drive south of Fremantle, is Discovery Parks – Woodman Point. This large caravan park is located Cockburn, close to the beach.
The park welcomes pets on sites, as well as in selected Standard 1 Bedroom Cabins. Look for the option labeled "Pet Friendly" if you're booking online. These cabins can accommodate a couple, with a Queen bed in a separate bedroom. Plus there's a special pet room with a bed, bowls, toys and treats.
Make sure you book in advance, with only a limited number of these special cabins available.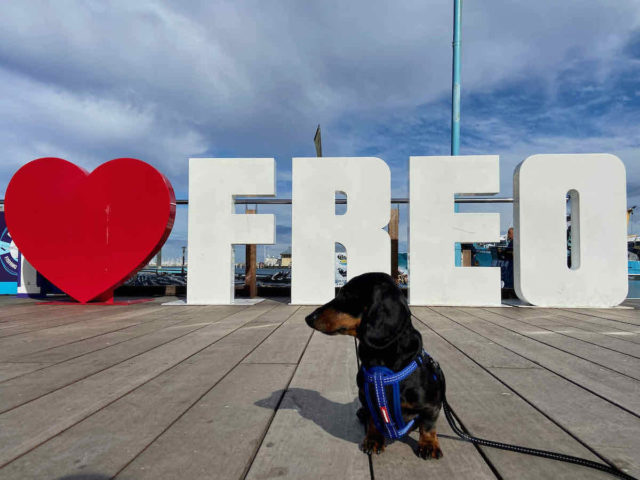 #3 BIG4 Breeze Holiday Parks – Busselton, Busselton
The bayside city of Busselton is just a 2 1/2 hour drive south of Perth, a great destination for a beach holiday with your pup. One of the most pet-friendly places to stay is the BIG4 Breeze Holiday Parks – Busselton, which welcomes pets in many of its cabins.
Pet-friendly cabin options range from One Bedroom Chalets up to their luxury Bungalows that include a king bed in the master bedroom and two bathrooms. On their website, look out for the paw symbol when selecting a cabin.
The park is located only a block back from the local off-leash dog beach in West Busselton. There's also a handy dog wash on site, perfect for after returning from the beach and before heading to your cabin.
Find out more about holidaying in Busselton with a dog
#4 Tasman Holiday Parks – Yallingup Caves, Yallingup
Heading further south into the Margaret River region, a terrific spot to stay with your dog in a cabin is Tasman Holiday Parks – Yallingup Caves. (Don't mix it up with the nearby Yallingup Beach park!)
This pet-friendly park allows pets year round, both on sites and in chalets. Each of the two-bedroom chalets can accommodate from 5 to 7, with a queen bed in one bedroom, a double bed with a single bunk in the second, and a pull-out sofa bed. Each chalet also features a bathroom, kitchen, heating and air-conditioning.
The park is opposite Caves House Hotel (which has a pub, cafe and bakery) and it's just a 10 minute walk to Yallingup Beach. The northern end of the beach is one of the off-leash dog beaches in Margaret River.
#5 BIG4 Denmark Ocean Beach Holiday Park, Denmark
One of my favourite towns along the southern coast of Western Australia is Denmark, a charming spot that has plenty of pet-friendly wineries and foodie outlets to visit, not to mention forests to explore and beaches to wander.
One of the best pet-friendly accommodation options is the BIG4 Denmark Ocean Beach Holiday Park. This park is also conveniently opposite the local dog-friendly beach. Pets are allowed year round on sites, plus in a range of chalets and cabins.
Choose from Superior Cabins that can accommodate 5 or 6, Superior Chalets that can accommodate 5 or 8 (the latter with 3-Bedrooms) and their 3-Bedroom Villas that can accommodate 7. Just look out for the paw symbol when booking on their website.
Note that pets do require pre-approval, with a maximum of two pets permitted. There is an additional flat fee of $80 for pets to stay in the cabins, chalets and villas.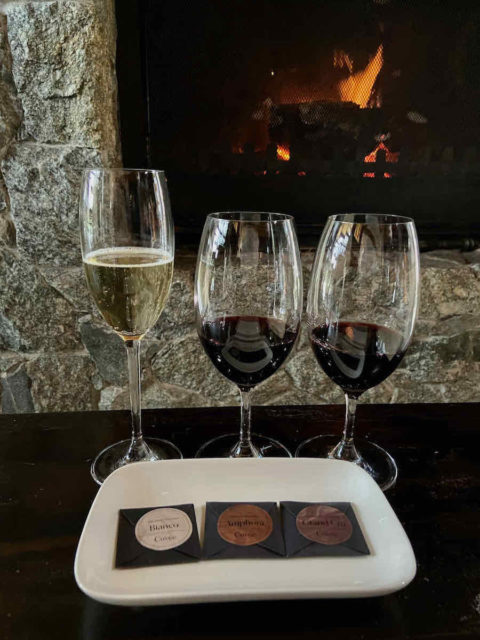 #6 Tasman Holiday Parks – Albany, Albany
A 45 minute drive west of Denmark is the city of Albany, situated on the shores of the King George Sound and home to plenty of historic attractions. One of the best dog-friendly places to stay is the Tasman Holiday Parks – Albany, previously known as the Albany Gardens Tourist Park.
We camped at this excellent park, which also welcomes pets to stay in their three pet-friendly chalets. Choose from the two one-bedroom standard cabins that sleep up to four, or the pet-friendly two-bedroom deluxe cabin that sleeps up to six.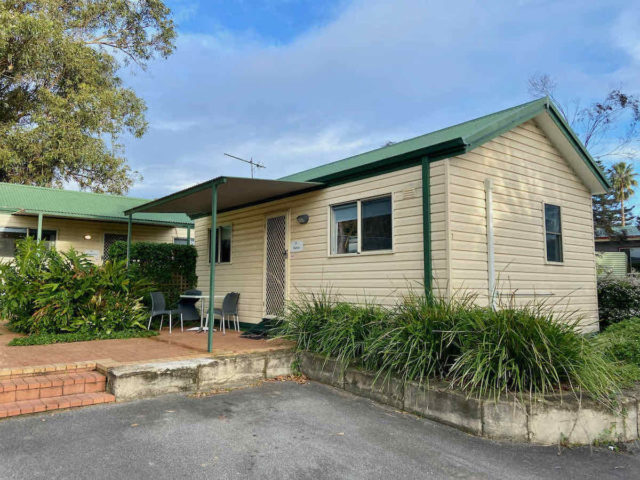 Note that an additional pet fee of $40 per pet per stay applies for the pet-friendly cabins. The park is also home to a swimming pool, basketball court and plenty more to entertain all the family.
Check out more of my tips for visiting Albany with a dog
#7 RAC Esperance Holiday Park, Esperance
Esperance is home to some stunning white sand beaches, nearly all that are dog-friendly. To enjoy a beach holiday with your pup, I recommend making a booking with the RAC Esperance Holiday Park.
This large, recently renovated park is located close to the beach on the north side of Esperance. It even has it's own dog wash onsite – just the thing for after a visit to the beach!
As well as being allowed on all campsites in the park, pet dogs are also allowed in the park's pet-friendly two bedroom cabins. Sleeping up to five humans, up to two pets are also allowed. Each cabin even has a small enclosed area adjacent, with its own kennel, although pets are also allowed inside, except on the furniture or beds.
Make sure to include your pets when you make a booking. Note that pets are not to be left unattended, including in the outdoor enclosed area.
#8 Wave Rock Caravan Park, Hyden
Wave Rock in southwestern WA is an stunning geological feature that is also surprisingly dog-friendly. The best place to stay when visiting this remote spot is the adjacent Wave Rock Caravan Park which is a 5 minute walk from the rock.
We stayed at the park in our campervan, with pets welcome on both powered and unpowered sites. Additionally, at least one of its cabins is pet-friendly. Each one-bedroom ensuite cabin can sleep up to four, with air-conditioning provided. Make sure you book well in advance if you want to stay with your dog!
Enquire about their full pet rules when making a booking. Note that the entry fee to Wave Rock is included when you stay at the caravan park.
Read more about visiting Wave Rock with a dog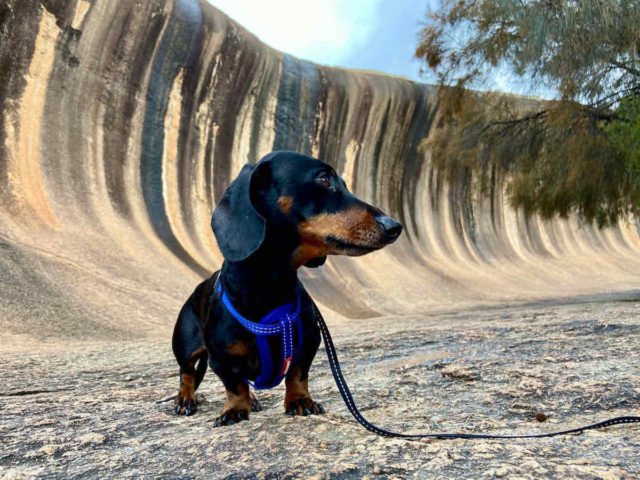 #9 Geraldton Caravan Park, Geraldton
Heading north from Perth, one of the last sizeable towns for awhile is the city of Geraldton. It's a relaxing spot to spend some time on the coast, with plenty of dog-friendly beaches and walks to choose from.
Geraldton is home to multiple dog-friendly caravan parks. While Geraldton Caravan Park, a 10 minute drive north of the city centre, is rather basic, it does offer the option of pet-friendly cabins.
Choose from multiple cabins, chalets and a cottage, that can accomodate between two and six people. The chalets and cottage have their own bathroom, while cabins make use of the shared facilities. While the cabins are not flash, they are quite affordable – starting at under $100 per night.
An additional fee of $10 per pet per night applies for pets. You need to supply their own bed, with pets not allowed on the beds and couches.
#10 Discovery Parks – Carnarvon, Carnarvon
The regional centre of Carnarvon, located in between the popular tourist spots of Monkey Mia and Exmouth, is home to multiple pet-friendly caravan parks. The most pet-friendly option though is Discovery Parks – Carnarvon, previously the Wintersun Caravan & Tourist Park.
As well as being allowed on sites, pets are also allowed in selected cabins at the park. Double check which ones are listed as "Dogs Okay" on the details page. When I last checked, only the Superior 6-Berth cabins didn't allow pets dogs, the other Superior, Standard and Budget cabins are pet-friendly.
Double check whether there are any additional fees for pets when making a booking. The park is home to its own fenced off-leash dog exericse area at the rear of the park.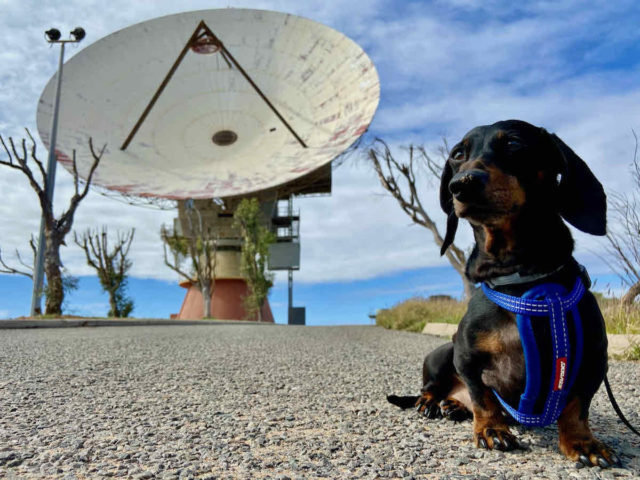 #11 Discovery Parks – Pilbara Karratha, Karratha
While Karratha may not be a popular tourist destination in Western Australia, together with the nearby town of Dampier we found the area quite dog-friendly and a good alternative to visiting Karijini National Park, where dogs are not allowed.
Karratha is home to two Discovery Parks, one of which is open year round – the Discovery Parks – Pilbara Karratha. Pets are permitted in two of the cabin options at the park – selected Superior Cabins (that can sleep up to four) and Studio Cabins (that sleep two) are pet-friendly. When booking online, look for "Pet Friendly" in the names of the cabins.
I recommend calling up before making a booking, to check the full rules for pets and whether any additional fees apply.
Check out more tips for visiting Karratha and Dampier with a dog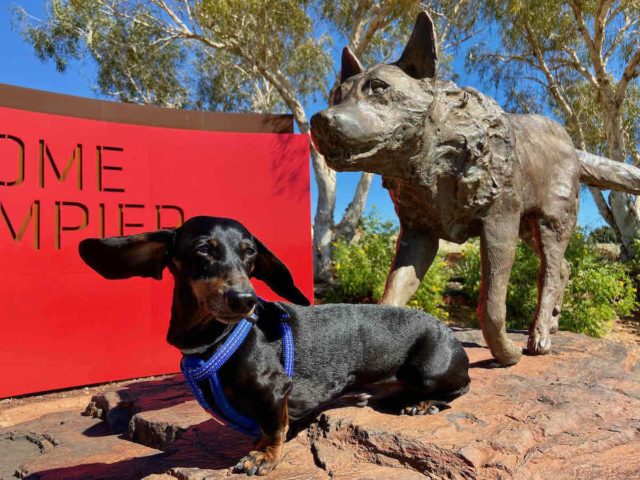 #12 The Cove Holiday Village, Point Samson
About a 40 minute drive east of Karratha is the smaller beach community of Point Samson. The town is home to a number of caravan parks, including The Cove Holiday Village.
Call up the park to request approval for your pet to stay with you in one of their chalets, which range in size from one- to three-bedroom. Also enquire about the maximum number of pets permitted. Note that pets are not allowed without prior permission.
While dogs are not allowed on the nearby main beach or Honeymoon Cove, they are allowed off-leash on the beach north of Meares Drive (see the map). I also recommend visiting the nearby ghost town of Cossack.
You May Also Like
About the Author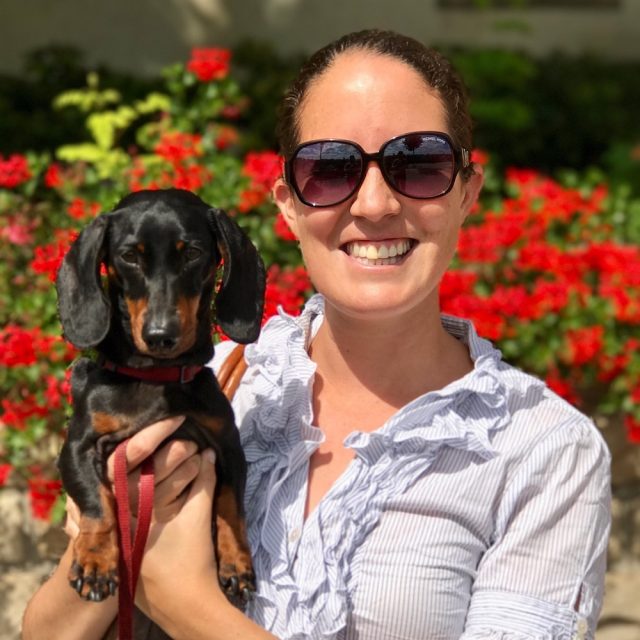 Shandos Cleaver is the founder of Travelnuity: Dog-Friendly Travel. She has travelled extensively with her Miniature Dachshund, Schnitzel, including to 33 countries across Europe, every state and territory of Australia except Tasmania, and 10 of the United States. She's passionate about providing inspiration and information to others wanting to travel with their dogs, whether close to home or internationally.