It's becoming increasingly popular for people to travel with their dogs, so what about cruises? Are there any pet-friendly cruises? And I'm not talking mere day cruises here, but multi-night cruises, ideally with the option for some sightseeing.
Unfortunately, if you're picturing taking a typical Mediterranean or Caribbean multi-night cruise along with your dog anytime soon, you're out of luck. I've checked the rules for countless cruises, and unless you have an assistance dog, animals are strictly forbidden.
But there are a select number of cruises (or at least multi-night ferries) that allow dogs on board, whether in pet-friendly cabins or onboard kennels. Check out these pet-friendly cruise options…
Note: This post contains affiliate links, which means I may receive commission if you make a purchase using the links. See my full disclaimer.
1. A Trans-Atlantic Crossing with Your Dog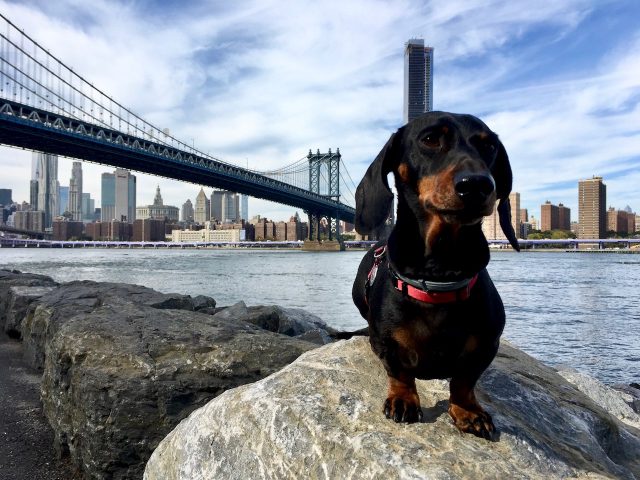 One of the most well-known cruises that welcomes pet dogs on board is the Queen Mary on its Trans-Atlantic crossing between New York and Southhampton in England. This crossing is also useful for people heading to Europe or the USA with their pup, but who don't want to fly them in the hold (if they are too large to fit in the cabin).
For that reason, the kennels are amongst the fastest option to sell out on the crossings, about a year in advance. (Although a wait list does operate and sometimes last minute spaces become available.)
Onboard the Queen Mary 2 are 24 kennels, accomodating both dogs and cats. Small kennels are $800 USD for the seven-night crossing, while large kennels are $1000 USD. Cats need to reserve two kennels, one for general use and one for their litter box.
Note that pets need to remain in the kennel area; they are not permitted into public areas or your cabin. The kennel area includes an outdoor area on board the deck, a small enclosed playroom for stormy Atlantic crosses and an owner's lounge.
Access is provided to the kennels multiple times per day. Looking at reports from people who have travelled with dogs on the ship, they tend to spend a large part of each day sitting on the chairs on this deck. There is also a full-time kennel master, who will walk your dog when you can't, naturally!
For more information on the Queen Mary 2, check out Man in Seat 61. Alternatively, read the review on The Road Unleashed.
If taking the crossing to the UK, remember to prepare your dog for their entry into the UK. There is an extension to the validity of EU health certificates for pets travelling by boat, but check with Cunard about the policy for worming treatments.
2. A Rhine River Cruise with Your Dog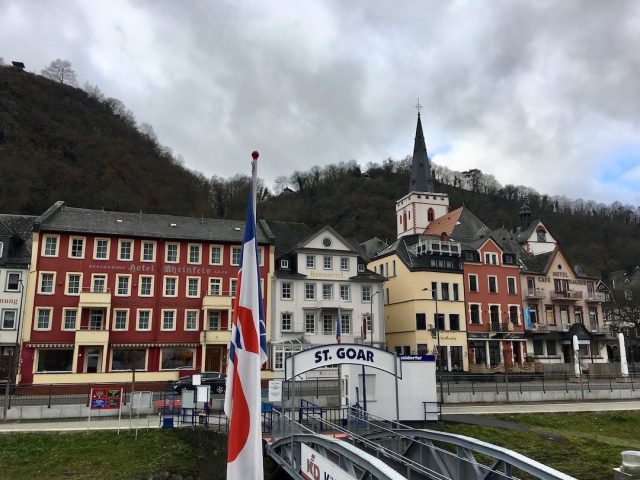 In Europe itself, one of the most popular cruising options is to take a river cruise. These cruises are available on many rivers, but a Rhine river cruise is the most iconic.
Given how dog-friendly most of the countries are that these river cruises pass through, and that a river cruise doesn't have the same logistical issues when it comes to "doggie business" as a cruise on the open ocean, it's a surprise that dogs aren't welcome on more of these cruises. I have only come across one option so far.
These dog-friendly European river cruises are run by 1AVista Reisen, a German company based in Cologne. They operate multiple cruises per year for dogs and their owners aboard the MS Poseidon, in both Germany and the Netherlands. From 2020, they will also offer cruises on the Danube. The cruises are majority German-language, but the crew can provide assistance in English.
Dogs on these cruises aren't relegated to kennels, but are permitted to stay with you in your cabin, plus join you in the dining room. Just like the fares for humans are all-inclusive, dogs also have access to unlimited dog treats, plus dog beds and bowls are provided.
On the dog-friendly cruises, a section of the sun deck is converted to a "poop" deck. It's covered in grass and plants so that dogs can relieve themself any time of day.
For more information, check out the 1AVista Reisen website (Germany only). Or read this review from Louie Vuitton the Frenchie (complete with photos).
3. A Mini-Cruise on the Baltic with Your Dog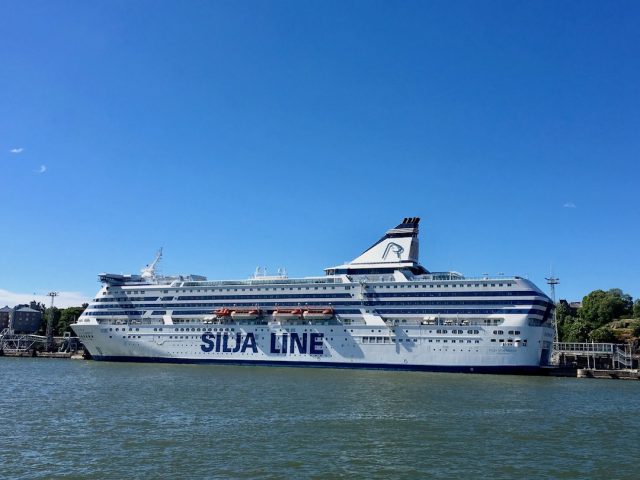 Another pet-friendly cruise option in Europe is to take advantage of some of the pet-friendly ferry crossings, particularly ones that allow foot passengers also to take pets. Then turn the ferry trip into a mini-cruise by taking two crossings back-to-back! Many ferry companies specifically sell this as an option.
This is what I discovered when I was taking a ferry crossing on the Baltic from Stockholm to Helsinki, with Tallink Silja Line. We were just taking the ship one-way, but on board we discovered that many of the passengers were doing a two-night cruise, with a full day to explore Helsinki and two fun-filled nights on board the ship.
Tallink Silja Line offers multiple Baltic mini-cruise options. Ships sail daily from Stockholm to Helsinki, Tallinn and Riga, with the option to do a mini-cruise in either direction. To book, head to their website and click on the Roundtrip Cruise option. Often the round-trip options are cheaper than one-way prices!
Multiple dog-friendly cabins are available on each ship, in addition to kennels on some routes. I recommend getting in early and booking a dog-friendly cabin. We travelled in a B-class cabin but I recommend splurging for an A-class cabin with windows, as you'll probably spend longer than usual in your cabin while travelling with a dog. The fee for a dog in your cabin is €32 round-trip.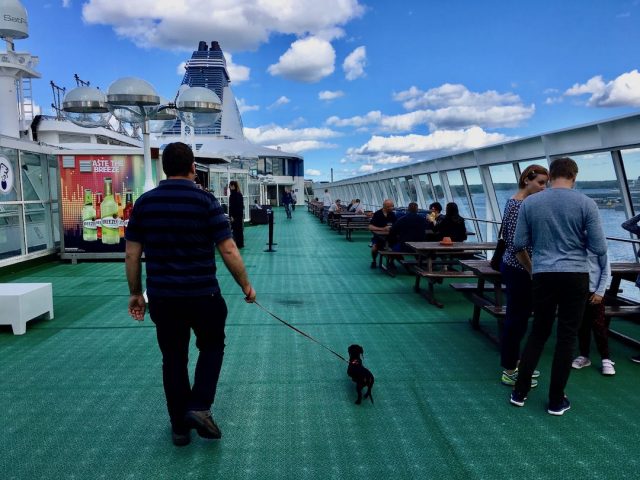 Onboard, there is a designated dog exercise area on the upper deck, with a gravel filled sandpit for dogs to do their business. If the weather is fine, it's great to chill out on the upper deck and enjoy a drink from the bar with your pup by your side.
Pet dogs aren't allowed inside the other bars and restaurants, indoors on the ship. However, we entered through the main promenade area with our dog, and had no issues walking him back through the area while we explored.
Find out more about this pet-friendly cruise, including the facilities for humans on board the ships and sightseeing recommendations, in my review.
4. A Short Cruise to the Netherlands with Your Dog
If you're located in the UK, there are also dog-friendly mini-cruise options closer to home. Fancy a day or two in the Netherlands? There's two ferry options available that can offer you a Dutch mini-cruise.
The more dog-friendly of the two options is the DFDS ferry from Newcastle to Amsterdam, thanks to their pet-friendly cabins. DFDS specifically markets a mini-cruise option, including a coach from the ferry terminal, with five hours spent in Amsterdam. If you'd prefer to spend longer, there's also the option to add a hotel booking for a night or two.
If booking a mini-cruise, you'll likely be travelling as a foot passenger, meaning that you'll need to call the call centre to book a pet-friendly cabin. Be sure to book well in advance, as there are limited numbers available.
Your dog will be restricted to your cabin, as well as the nearby dog toilet area (featuring fake grass, gravel beds and a post). Unfortunately, pet dogs are not allowed on the other outdoor decks or inside the public spaces, but it is fine to leave them unattended in your cabin, as long as you trust them.
There is a charge of £25 per pet in a cabin or £30 per pet in a kennel, for each journey. Dogs are also permitted on the coach into Amsterdam, as long as they don't sit on a seat.
Click here to find out more about the DFDS pet-friendly cabins or read this review by someone doing the mini-cruise with their dog.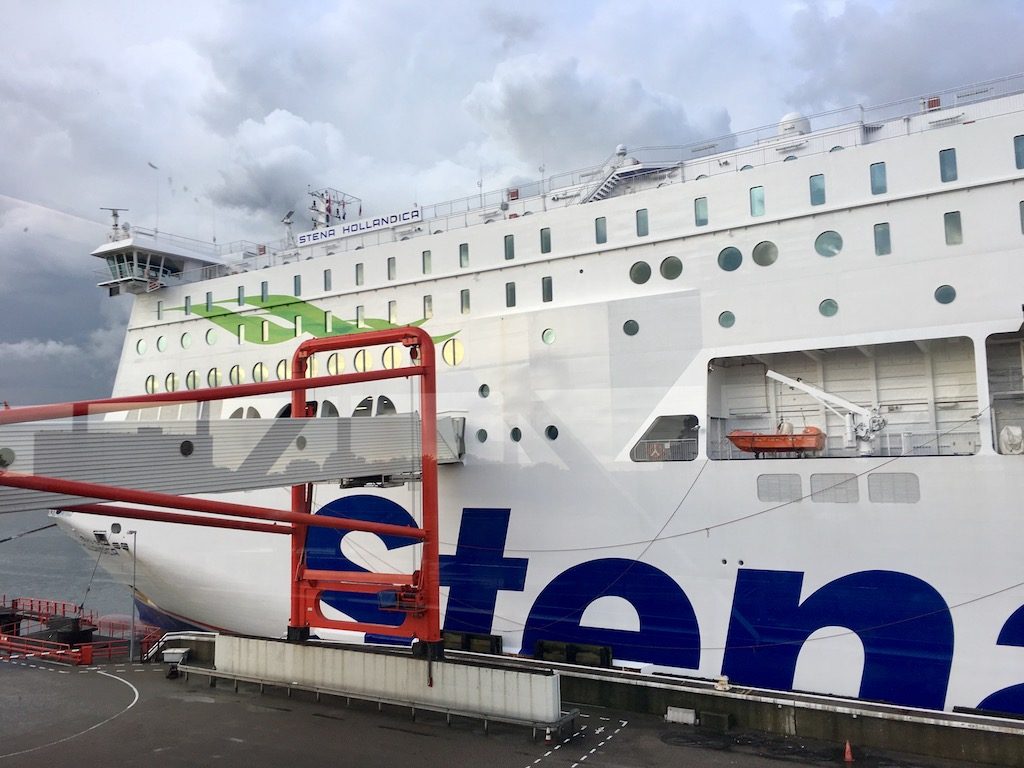 The other cruise option is the Stena Line ferry from Harwich to Hook of Holland. While they don't advertise a mini-cruise option on their website, it's still easy to book, including the addition of a hotel for a one or two-night stay in the Netherlands. There are both overnight and day crossings available, each taking about 8 hours.
Hook of Holland is located not far away from Rotterdam, plus the beaches near The Hague. It's also not far from Amsterdam on the quick and dog-friendly trains.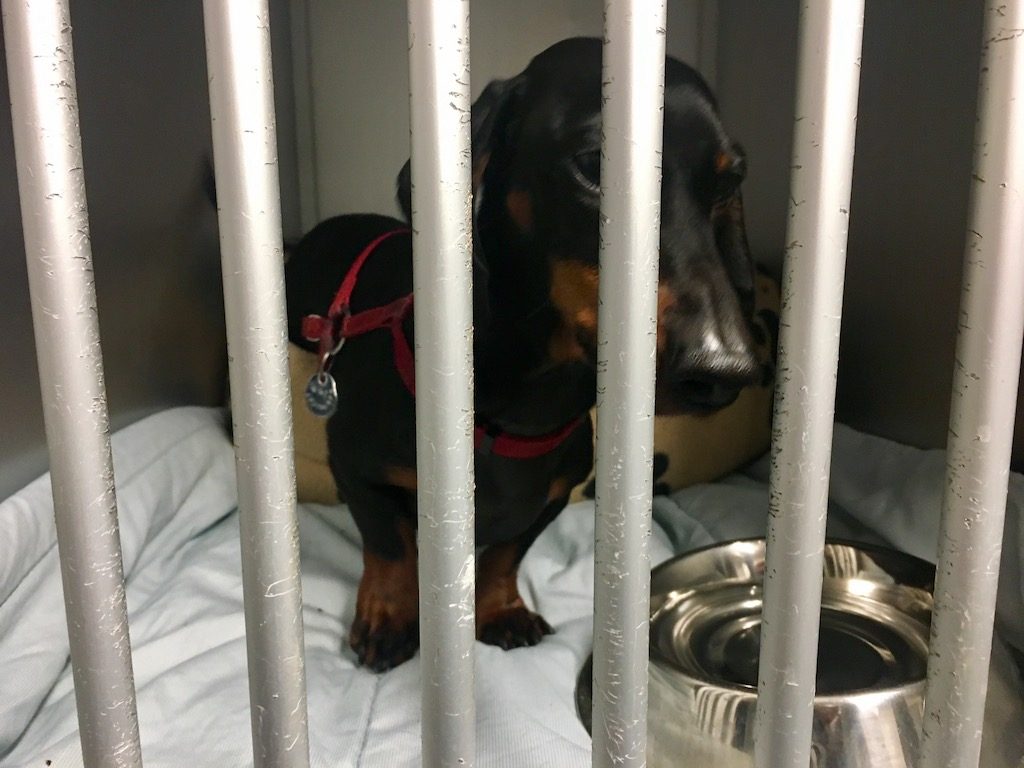 Onboard the Stena Line ferries, dogs are accommodated in kennel, plus there is an adjacent pet exercise deck. However, it's one of the more dog-friendly kennel options as you can freely visit your pet plus there's a CCTV display of the kennel area among the TV channels. The set charge for dogs using the kennels is £17.
Read my review of travelling between London and Amsterdam with my dog on this ferry, on the overnight sailing. It's easy to book online including your pet, click here to start a booking, then add your pet after selecting a cabin.
Considering your dog needs to stay in a kennel on the ship, if enjoying a dog-friendly cruise with the Stena Line ferry to Hook of Holland, I recommend staying at least one night in the Netherlands.
Inspired? Pin this to your Pinterest board!