It's a big task taking pets overseas from Australia. There's a wide range of things that you need to organise, from your pet's flights to vaccinations to the export permit. Plus preparing for your pet to return, if it's not a permanent move. I'll take you through everything you need to consider…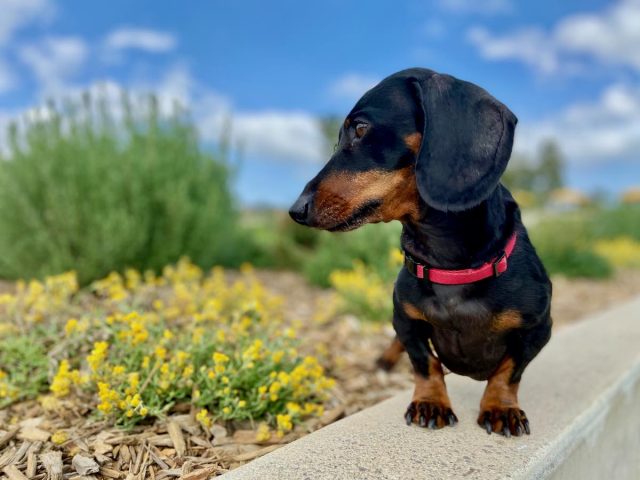 Should You Take Your Dog Overseas from Australia?
Firstly, you should consider whether you really should take your dog overseas from Australia. This is due to a combination of three factors: the need to fly your dog in cargo, the complicated process to bring your dog back to Australia, and the cost. International pet travel from Australia is complicated.
If you're just going overseas for a month or two on holiday, don't consider taking your dog, unless they're an assistance dog. (Or if you're flying in a private jet, with cost not an issue!) Consider instead leaving your dog behind with friends and family or a pet-sitter.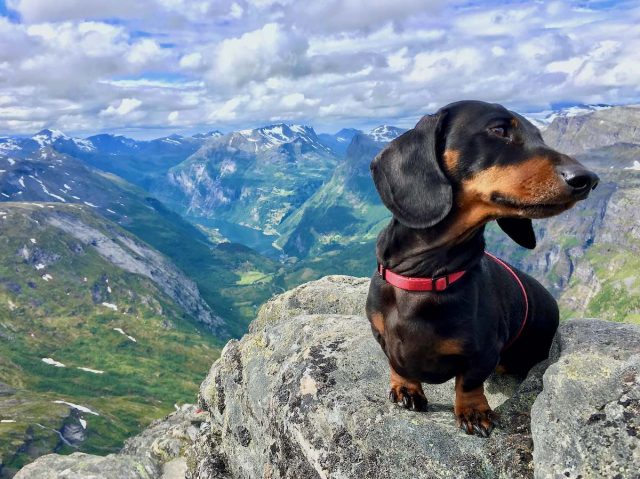 But if you're going overseas for a longer period, say six months or longer, it's more feasible, as long as you're fine with the cost. When we travelled around Europe and the USA with our dog, Schnitzel, we ended up being away for 20 months. Naturally, of course, if you're permanently heading overseas, you'll want to move overseas with your dog.
An extra consideration is that pets cannot be imported directly back into Australia from many countries. Pets can only be directly imported from the approved Group 1, 2 and 3 countries listed in this table. If you're heading to an unapproved country with your dog, your dog will need to travel back to Australia via an approved country.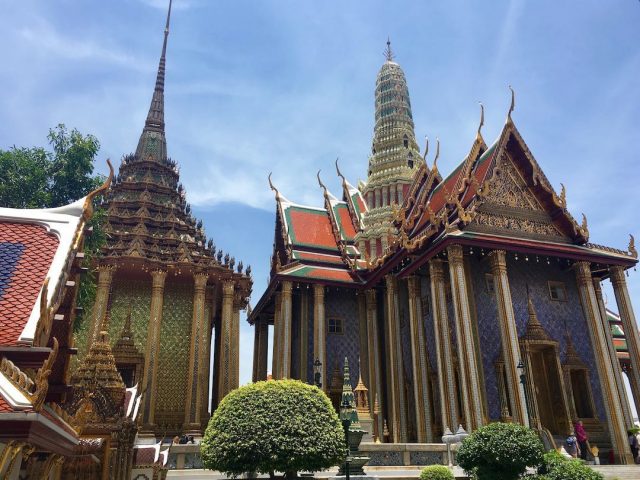 Cost of Taking Pets Overseas from Australia
It is far more expensive to fly your pet overseas from Australia than your own flight, even if you splurge for business class seats.
Make sure you budget for the following costs:
Vet visits, usually at least a rabies vaccination and an export health check
Government Health Certificate and Export permit
Approved travel crate
The actual flights, usually the most expensive component
Pet transport company charges, which may include some or all of the above costs, plus transportation and boarding
Custom charges at your destination
When I flew with my pet overseas in 2017, from Sydney to Madrid, the total cost of taking my pet overseas from Australia was over $3000, including the above fees.
Since then, prices have generally increased, especially since 2020 when many freight charges have increased. I recently requested a quote for my pet to fly with a pet transport company from Sydney to Vancouver, a shorter direct flight, and was quote around $3000, not including a rabies vaccination, crate or airport charges at the destination.
Booking Flights for Your Dog
As I mentioned above, when dogs leave Australia they need to fly as cargo in the hold of the plane. This is an Australian government regulation that applies to all animals except registered assistance animals. Many major airlines flying to and from Australia will fly animals as cargo, including both Qantas and Virgin Australia.
In order to fly your pet out of Australia, you will generally need to book through a pet transport company. On selected flights without a transit, Qantas previously accepted direct bookings for pet freight, such as when I flew my dog back from Los Angeles.
However, it has not been possible to book directly with Qantas since 2020, according to their website. As far as I'm aware, every other airline flying to and from Australia requires you to book through a pet transport company.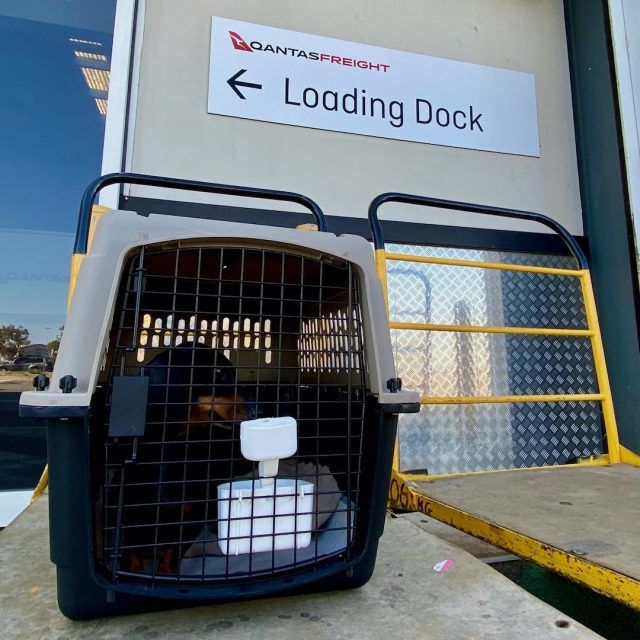 The advantage of being required to book with an animal transport company is that they're pros at flying pets, and can step you through all the requirements. They can also have a crate delivered to you for your pet to fly in. I used Jetpets when I first headed overseas.
When pets fly as cargo, they fly in the hold of the plane, which isn't quite as scary as it sounds. There's a special compartment for flying animals, that is temperature and pressure controlled, similar to the passenger cabin, with dimmed lights. However, some pets are at increased risk when flying, including brachycephalic breeds and older pets.
Don't Forget Crate Training
When your dog is flying in the hold, they will fly in a large, sturdy crate, which must meet the requirements set out by the International Air Transport Association (IATA). You can buy a flight crate off a pet transport company, some airlines or many larger pet stores. In the latter case, be careful to ensure it meets all the requirements, especially the minimum size requirements.
To reduce the stress of flying for your dog, it's best to crate train your dog well in advance. I luckily crate trained my dog as a puppy, so he quickly settled into his flight crate, but even older dogs can be trained. Ideally introduce your dog to their actual flight crate as soon as possible, but you can also start crate training in an alternative crate.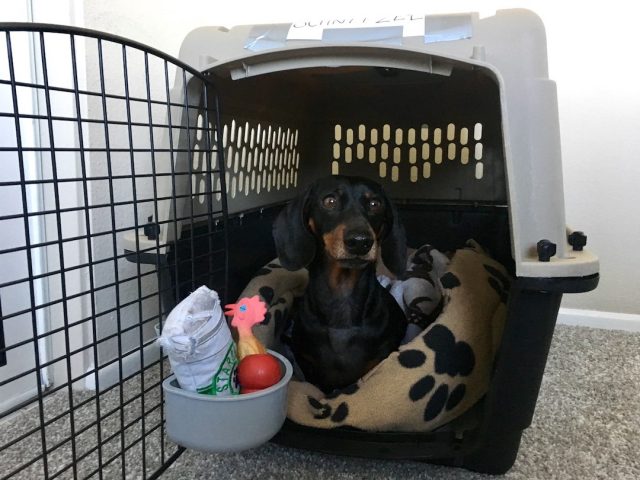 Firstly introduce your dog to their crate by allowing them to sniff it and perhaps go inside of it. Encourage them go go inside and make positive associations with it by feeding them inside the crate.
Ideally, when your dog comes to be transported in their crate, they willingly enter it and lie down inside, perhaps even sleeping inside it. This will greatly decrease their stress from the journey and experience. Although it always helps to add a favourite blanket or an old t-shirt with your smell on it, to help settle them down.
Preparations for Your Destination Country
Depending on the country your are travelling to with your pet, there are likely a range of requirements for your pet to enter the country. These rules and regulations are published on government websites, or if you use a pet transport company they will be aware of the requirements. The Australian government also maintains a Manual of Importing Country Requirements as a guide.
At a minimum, many countries require your dog to have been vaccinated against rabies. As an example, if you're travelling to the EU with your dog from Australia, as was the case when I headed overseas, your dog will need to be microchipped (if not already), vaccinated for rabies and you'll need to complete the EU pet health certificate.
If you're travelling to the United States with your dog from Australia, there is no longer any need to show a rabies vaccination certificate for your dog. But it's best to still vaccinate your dog against rabies, due to rabies being present in the country and individual state requirements.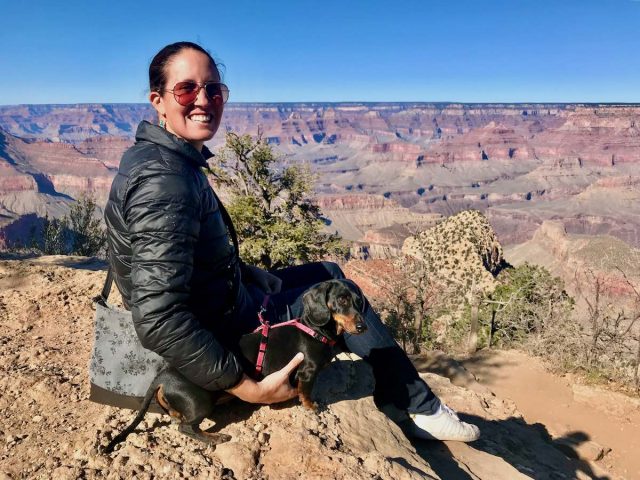 Some countries also have additional, more complex requirements. However, only a handful of countries other than Australia require quarantine for all arriving pets. Plus, often the requirements are less onerous for pets flying from Australia, due to our rabies-free status and lack of other diseases.
Visiting a Registered Veterinarian
All preparations for your pet to head overseas need to be done by a fully registered veterinarian. This includes both any rabies vaccinations and a final veterinarian inspection before your pet's export permit (see below) is issued.
Before starting preparations, find out if your vet is fully registered and if they are not, ask for their recommendation for another vet. The following information pack exists for vets.
As rabies vaccinations are not common in Australia, only given to animals heading overseas, plenty of notice is required before the vaccination appointment with your vet. Note that your veterinarian will issue you a rabies vaccination certificate afterwards. Always keep the original copy secure, just like your own passport. This certificate will later be endorsed as part of the export permit appointment.
Organising an Export Permit
Some countries have export requirements for pets leaving the country, and Australia is one of those countries. The government mandates a two-step export process for pet dogs and cats leaving the country. Firstly, you need to complete a Notice of Intention to Export. Secondly, you need to schedule an appointment where an export permit and health certificate is issued, shortly before departure.
If you are exporting your pet with a pet transport company, it is likely that they will organise these steps for you. When I exported my dog, I wasn't even aware of this process, though I knew my dog had to be picked up to see a vet and complete his paperwork the day before his flight.
For detailed information on this process, see my post on exporting a dog from Australia.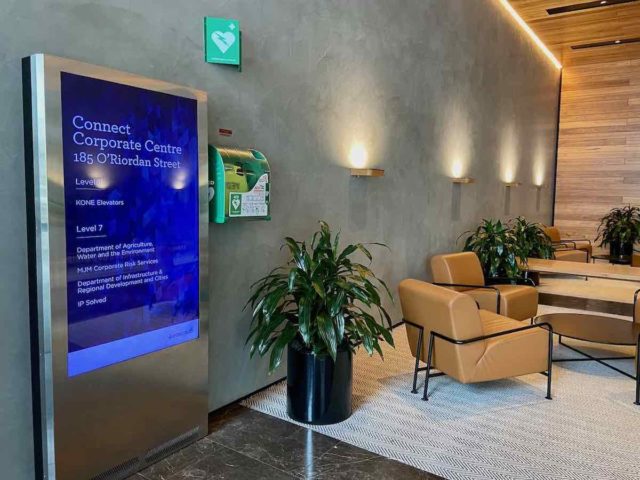 Prepare for Your Return to Australia
If you're not moving overseas with a pet permanently from Australia, keep in mind what is required for your pet to return to Australia. The steps to import a dog to Australia, even one originally from Australia, are quite complicated and quarantine is required for all pets, except those flying from New Zealand.
As I mentioned above, it's even more complicated to transport a pet back to Australia from unapproved countries, requiring a stay in an intermediate country.
While it's expensive to fly a pet overseas from Australia, it's even more expensive to bring your pet back to Australia. In addition to the cost of the flight, there's also quarantine fees, import permit fees and multiple expensive vet visits. Make sure you can handle these costs before firstly taking your pet overseas from Australia.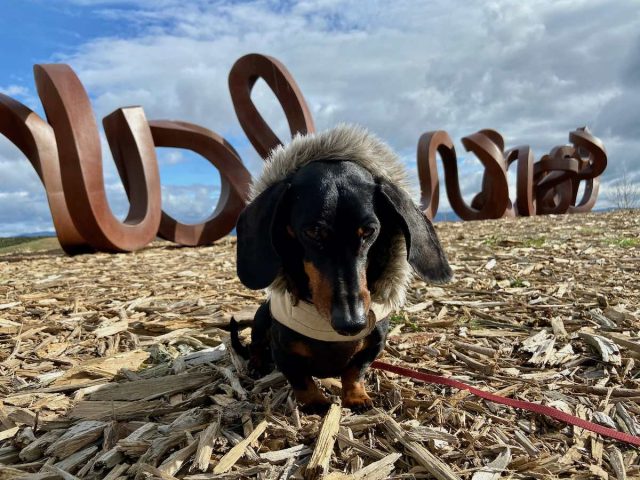 To make things easier for when your return to Australia with your pet, I recommend you have a rabies titre test done before you leave, about a month after your dog's rabies vaccination. This test is required for dogs travelling to Australia from most countries, except a short list of rabies-free countries.
If you have this test done overseas, a waiting period of 180 days applies before your pet can fly back to Australia. However, if your dog has the test done in Australia before leaving, no waiting period applies. The test is only valid for the purpose of importing a dog to Australia for 24 months. But even if you plan to be away for longer, it's good to be prepared in case circumstances change and you want to come back quickly.
You May Also Like
Inspired? Pin this to your Pinterest board!