If you're wanting to go camping with dogs in Victoria, there's plenty of dog-friendly campgrounds to choose from, including many low cost or free options. Whether you're after somewhere to camp for the weekend by the beach or in the bush, or places to stay on a longer road trip, take your pick from these excellent dog-friendly campsites in Victoria.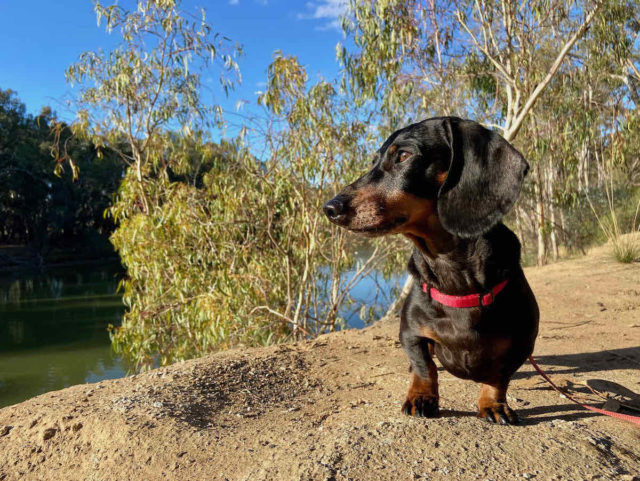 #1 Johanna Beach Campground, Great Otway National Park
While dogs are not allowed in almost all national parks in Australia, one of the few places in a national park that dogs are allowed is Johanna Beach in the Great Otway National Park, located along the Great Ocean Road.
As well as being a popular surf beach, Johanna Beach is also home to the Johanna Beach Campground, with 25 unpowered sites. There are no showers provided and only non-flushing toilets, plus you'll need to bring your own drinking water. Dogs are required to stay on leash both in the campground and on the beach.
The campground is just west of Cape Otway, not far from the world-famous Twelve Apostles. It's a three hour drive from Melbourne along the direct inland route, or allow four hours if you follow the Great Ocean Road.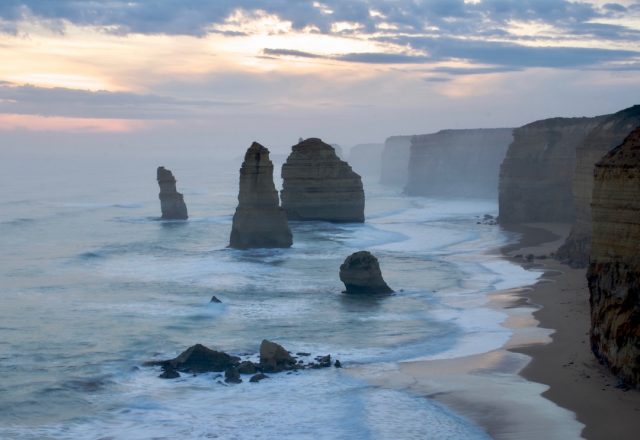 Advanced bookings are available, and are essential during the busy summer months, particularly during the Christmas holidays and on weekends. Campsite fees vary depending on the date, but are generally around $15 per night, at least outside peak periods.
#2 Banksia Bluff Campground, Cape Conran
Cape Conran Coastal Park is located in East Gippsland, just over 5 hours drive east of Melbourne and about 90 minutes from the NSW border. Dogs are allowed in this park, including to camp in the Banksia Bluff Campground, next to East Cape Beach.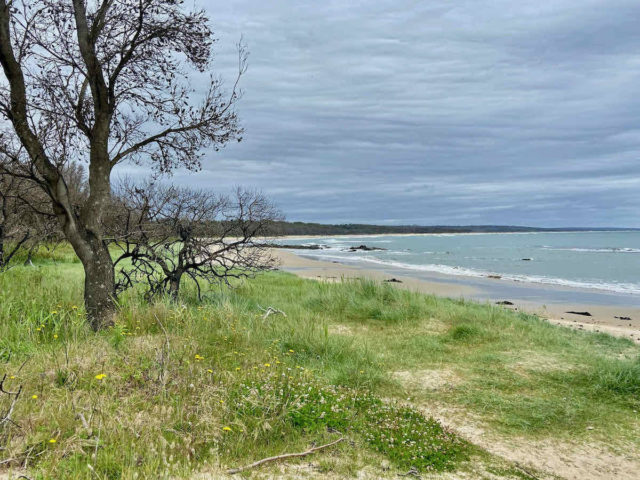 The entire park was badly affected by the 2020 bushfires. However, the campground has now fully reopened, and many of the previous facilities rebuilt, although some work is still ongoing during 2023.
Facilities are basic at this campground, with only flushing toilets, cold-water showers and unpotable bore water available. It's essential to bring virtually all your supplies, as the closest town, Marlo, is a 17km drive away, while the closest supermarket in Orbost is 34km away. The onsite campground office however has ice, gas and firewood for sale.
Just over half of the campsites allowed leashed dogs. At the moment advance bookings are required, so make sure you refer to the map before booking, to ensure that you have selected a dog-friendly site. Over the Christmas holidays a ballot system is used to allocate sites. Site fees vary depending on date, but are generally around $20 per night, at least outside of peak periods.
The adjacent East Cape Beach is dog-friendly, although dogs need to be kept on a leash. There's a number of dog-friendly bush walks available in the area, although some still may be closed following the bush fires. It's also recommended to check your dog daily for ticks in the area.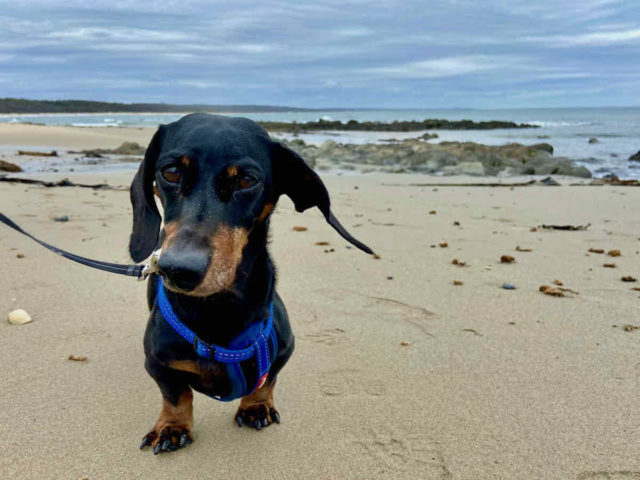 #3 Wills Bend Camping Area, Murray River Reserve
A terrific way to spend the night near Echuca is camping on the banks of the Murray River. While there's multiple dog-friendly accommodation options in town, there's also places nearby that you can bush camp with your dog, including the dog-friendly campsites at Wills Bend, Betts Beach and Christies Beach.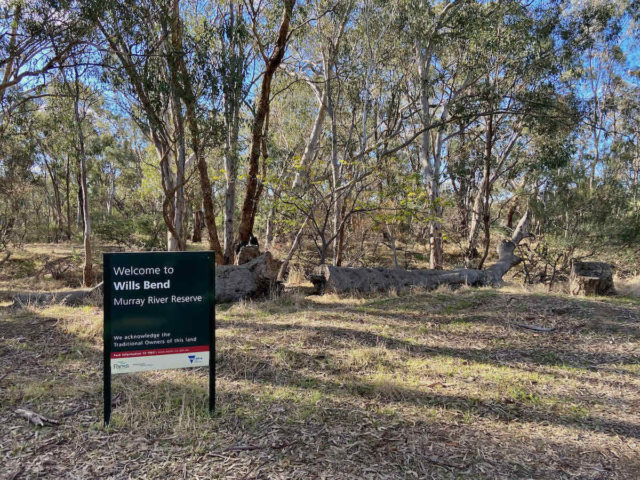 We spent a night camping at Wills Bend Camping Area, located in the Murray River Reserve, about 17km west of Echuca. It's a wonderful peaceful spot (especially midweek) with beautiful sunsets and sunrises. Dogs are allowed but need to be kept on a leash.
There's not many facilities on hand, only pit toilets. Take your pick of the unformed campsites, some right next to the Murray River. Note that the final 5km unsealed stretch of the access road (via O'Dwyer Road) was rather rough during our visit.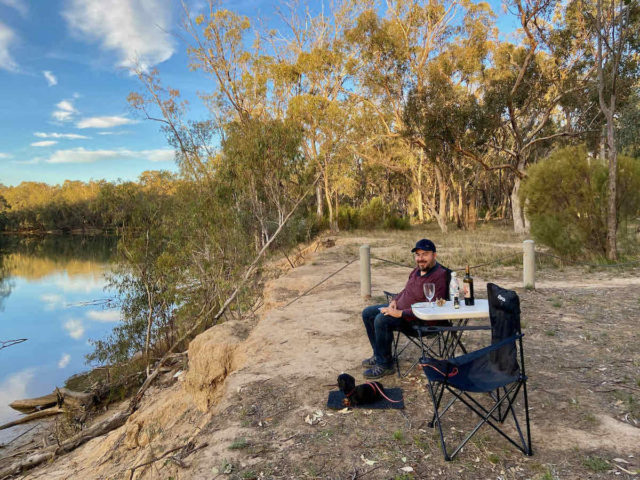 Alternatively, head to Betts Beach or Christies Beach, both located about 8km east of Echuca and accessed by Simmie Road, which is also unsealed.
#4 Mt Franklin Reserve, Hepburn Regional Park
Daylesford offers plenty of luxury accommodation options, including numerous dog-friendly cottages, but if you're happy to camp nearby with only basic facilities, head to Mt Franklin Reserve, also known as Lalgambuk Camping Area.
Located just over a 10 minute drive north of Daylesford, within the Hepburn Regional Park, this reserve and campground is located in an extinct volcano crater. It's also the site of a popular short 2km walk along the crater rim.
Surrounded by trees that turn brilliant colours in Autumn, this shady, free campsite offers clean toilets and fireplaces. You'll need to bring your own water and firewood, and take note of restrictions for fires. Dogs are welcome to join you, as long as they stay on a leash.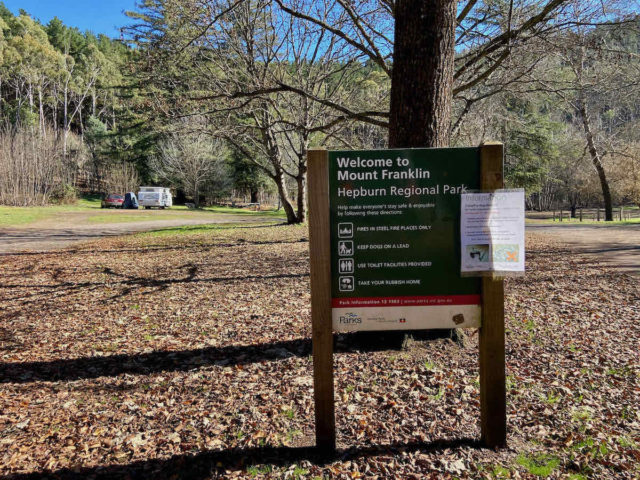 #5 North Gardens Camping Area, Walhalla
The historic village of Walhalla in a delightfully dog-friendly spot to visit, just over a two hour drive east of Melbourne, near Mt Baw Baw.
During my visit to Walhalla in late 2021, the North Gardens Camping Area was closed, following extensive storms during the year, but fortunately the popular dog-friendly campground was reopened in 2022 following renovations.
This free camping ground at the northern end of town supplies only basic facilities, but is a great option for camping in a campervan, caravan or tent. There are toilets onsite, but no showers or power. There's also some gas operated barbecues under shelter and picnic tables.
As the campground doesn't take bookings, be prepared to arrive early during peak periods, especially the summer school holidays and Easter long weekend.
#6 Maude Recreation Reserve, near Geelong
The city of Geelong suffers from a lack of dog-friendly caravan parks, especially now that the town is one terminus of the Spirit of Tasmania ferry crossing. However, when spending a few days exploring the city and its surrounds, we came across a great dog-friendly campsite.
If you drive 25 minutes north of Geelong, you'll reach the Maude Recreation Reserve and Bunjil Lookout. Perched upon high ground with beautiful views to the west, this delightful spot features clean toilets, BBQ facilities, a communal fire pit and even a playground.
Note that it's only permitted to camp at the spot for 48 hours. Donations are appreciated and highly recommended, so that this facility stays available.
#7 Cann River Rainforest Campground, East Gippsland
Previously when driving along the Princes Highway through East Gippland and across the border to NSW, I have camped multiple times at Genoa, close to the turn-off to Mallacoota. However, on my most recent drive through the area, I came across an even better rated free camping option – the Cann River Rainforest Campground.
Formerly a proper caravan park, these days its free to camp here, until further notice. (Make sure you support the shops in town!) Note that it's only permitted to camp for up to 48 hours and there's no longer any hot water or power – only cold water and unpowered sites are available. Pets are welcome to join you.
The camping ground is located in between the highway and the banks of the Cann River, surrounded by rainforest. I've read that there's a walking track at the rear of the park, along with a resident Bell Bird colony.
#8 Tyrendarra Fitzroy River Reserve, near Portland
Just outside of the small town of Tyrendarra in western Victoria, about a 30 minute drive west of Portland, is a great low-cost camping reserve next to the beach, a great spot for camping with dogs in Victoria.
I haven't camped at this location for many years, but it was a wonderful spot to camp in a tent on the grassy lawns for the night, surrounded by coastal scrub. There are long-drop toilets nearby and it's just a short walk to the beach, a popular spot for fishing.
These days a friendly caretaker comes around to collect camping fees, which can be paid in cash or on card. The fees are currently $10 per night or $50 per week, but I believe this doesn't apply over the winter, only between December and April.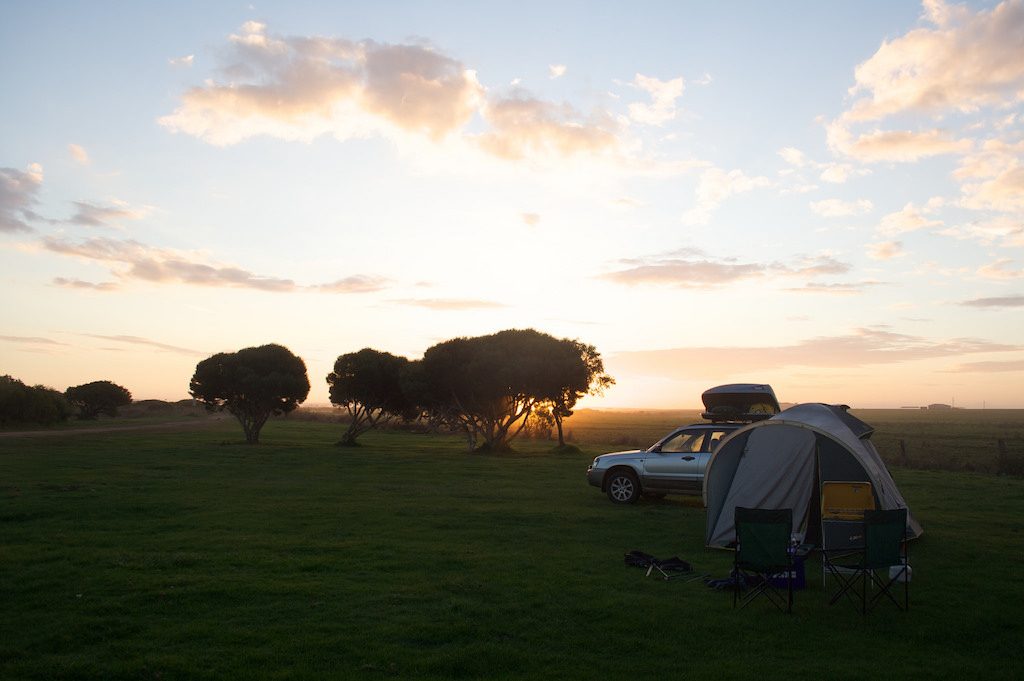 You May Also Like