There's plenty of dog-friendly caravan parks dotted all around Victoria, but pet-friendly cabins can be a bit harder to track down. To save you checking the websites of individual caravan parks, I've put together this selection of some of the best pet-friendly cabins in Victoria, ranging from the city to the countryside and the coast. Take your pick for your next holiday with your dog…
#1 Best Friend Retreat, Tarra Valley
One of the most dog-friendly places to stay in Victoria is Best Friend Retreat. Located in the Tarra Valley in southern Victoria, it's surrounded by rainforest but only a 2 1/2 hour drive southeast of Melbourne, perfect for a relaxing long weekend.
Each of the seven cabins in the park are dog-friendly and are securely fenced. They range in style from budget to luxury options, generally sleeping up to five or six guests. Each feature an ensuite bathroom and full cooking facilities. Naturally dogs are expected to sleep inside!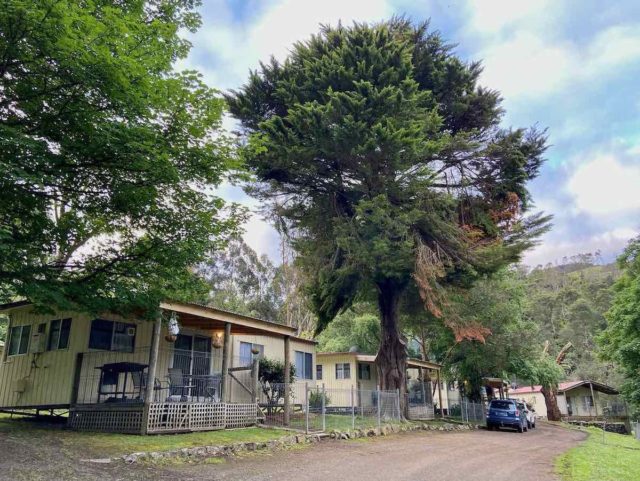 Also at the park are six fenced off-leash areas for dogs, meaning there's always somewhere your dog can run around off-leash. One of the areas even has agility equipment, while another has a giant ball for dogs. Plus there's a hydro-bath hut to freshen up at the end of busy, muddy days.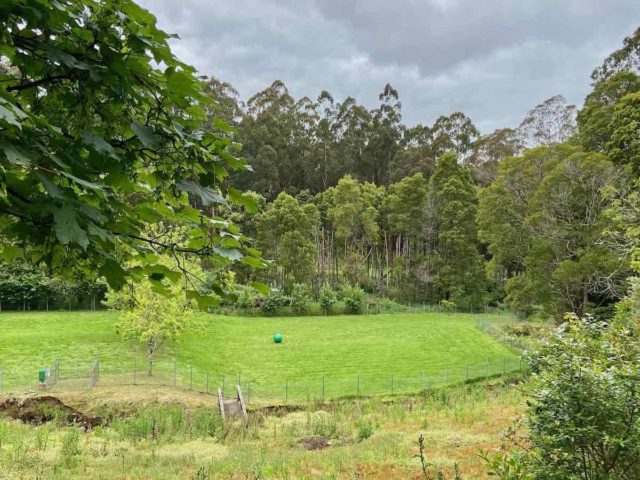 #2 Prime Pet-Friendly Tourist Park, Lakes Entrance
Heading further east, another delightfully pet-friendly caravan park in Victoria is the Prime Pet-Friendly Tourist Park. This park is located in Lakes Entrance, just a short walk from the waterfront. The park recently became the first child-free caravan park in Victoria – instead it's targeted at those travelling with pets.
At Prime, all of their cabins, cottages and vans are 100% dog-friendly. In fact, they are only available for pet owners! Out of consideration for dog owners with allergies, one of the cabins is restricted to hypoallergenic dogs only.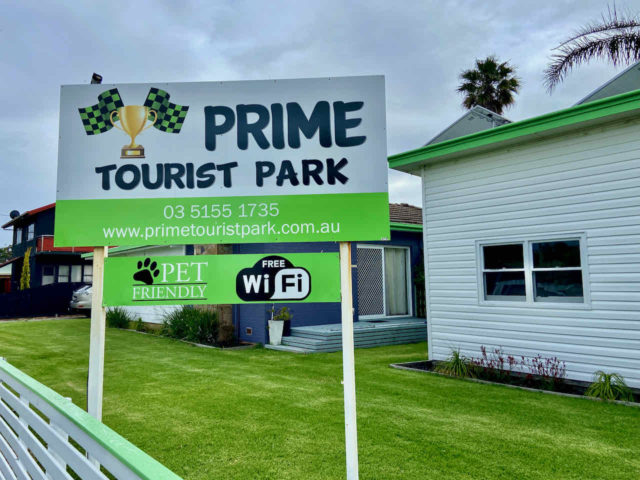 Also on site you'll find a dog wash, an off-leash dog run, a washing machine for pet bedding and even Dog Day Care Kennels. Keep an eye out for new developments, including new glamping tents plus accommodation packages with training sessions included.
Find out more tips for visiting Lakes Entrance with your dog
#3 Crystal Brook Tourist Park, Doncaster East
You don't need to leave Melbourne behind to stay in a pet-friendly cabin in Victoria. Crystal Brook Tourist Park is located in Doncaster East, on the northeastern edge of Melbourne.
Pets are allowed inside selected cabins at the park, as well as on sites. Choose between a Deluxe Family Villa or a Superior Hillside Villa, both sleeping up to six guests, or a Standard Cabin that can accommodate four.
Each of the cabins are self-contained and have their own bathroom. An additional pet fee of $25 per stay applies. There's even an off-leash dog exercise area with an agility course on the edge of the park.
#4 Gum Tree Caravan Park, Port Fairy
When I last drove along the Great Ocean Road with my dog, I was surprised to find a lack of caravan parks with pet-friendly cabins. Instead, it's better to head further west to Warrnambool, Port Fairy or Portland to stay with your pet in a cabin.
A terrific pet-friendly caravan park in Port Fairy is the Gum Tree Caravan Park, located just outside of town. We stayed in a wonderful Studio Cabin at the park, which was lovely and modern, with a great kitchen and ensuite bathroom.
Villa Cabins, Superior Ensuite Cabins, Standard Ensuite Cabins and Budget Ensuite Cabins are also pet-friendly, with pets just not allowed in Deluxe Ensuite Cabins and One-Bedroom Holiday Units. Pets are welcome 365 days per year and there's an off-leash area and playground for pups. Call up directly to make a booking.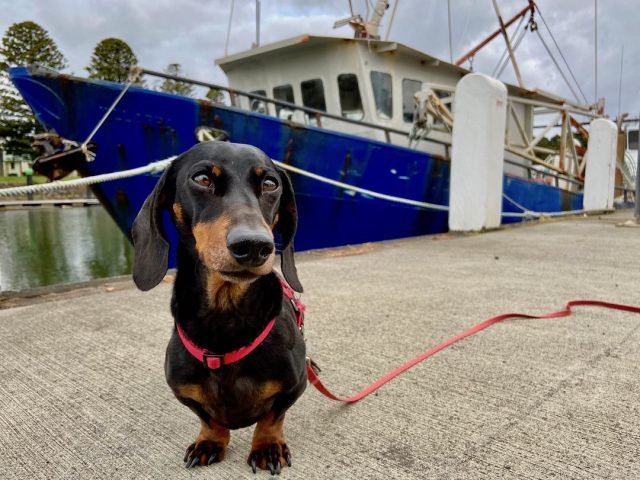 #5 Beechworth Holiday Park, Beechworth
The historic town of Beechworth is a wonderfully dog-friendly destination to visit, about a 3 hour drive northeast of Melbourne. When I recently visited we stayed at the Beechworth Holiday Park, a peaceful park surrounded by bush just a short distance outside of town.
Dogs are allowed on sites at the park outside of the Easter long weekend (with prior approval), but there's also a pet-friendly cabin at the park. The one-bedroom cabin sleeps up to two and has its own kitchen and ensuite. An additional fee of $15 per dog per night applies.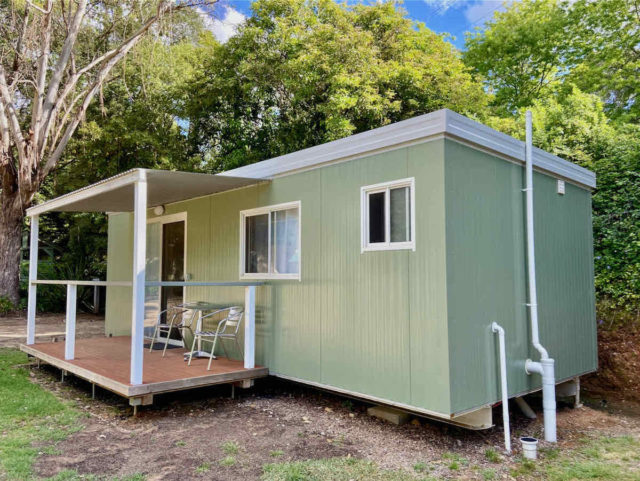 The park also has a K9000 dog wash, and is half-way along the dog-friendly walking track to Lake Kerferd, a fun track to walk with your dog.
Read more about visiting dog-friendly Beechworth
#6 Beechworth Lake Sambell Caravan Park, Beechworth
As I mentioned, Beechworth is wonderfully dog-friendly, with pet-friendly cabins also available at the other caravan park in town, the Beechworth Lake Sambell Caravan Park.
This large caravan park on the edge of town next to Lake Sambell allows pets on powered and unpowered sites year round, plus has seven pet-friendly cabins. Choose between a Studio Cabin that sleeps six or Budget Cabins that sleep four.
Up to two dogs are permitted per cabin, with an additional cleaning fee of $10 per dog per stay. Each of the verandahs are fully enclosed with an entry gate and pets are allowed inside, but not on the beds. Just bring your dog's own bedding and bowls.
#7 Woolshed Cabins, Beechworth
Another tempting pet-friendly accommodation option in Beechworth are the Woolshed Cabins, with dogs allowed to stay in all but one of the two-bedroom cabins. Located a little further out of town, there's 12 acres to explore onsite, including a seasonal dam, with dogs permitted off-leash away from the cabins.
There's a limit of one dog per cabin, with dogs permitted to sleep inside overnight, but restricted to the enclosed verandah during the day. No additional fee applies.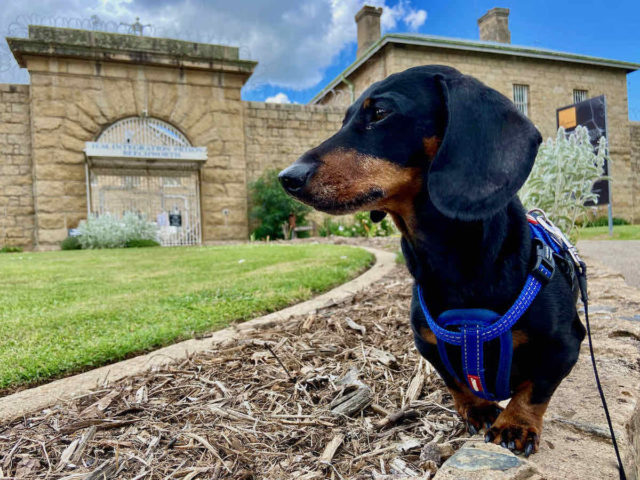 #8 Golden Beach Cabins, Golden Beach
Another pet-friendly cabin option in Victoria that isn't located in a caravan park are the Golden Beach Cabins. These cabins are situated in Golden Beach in Central Gippsland, about 3 hours east of Melbourne, directly opposite 90 Mile Beach.
Two fully self-contained cabins are available, both accommodating up to five guests. Well-behaved dogs are permitted to join you, although they should be kept off furniture. You'll need to supply your own dog bedding, and there's a small additional cleaning fee if dog hair is left on the furniture or you don't pick up after them. Note that the cabins are unfenced.
The cabins are not far away from multiple off-leash dog beaches – either head west in between Campsites 1 and 6 along Golden Beach or east to Paradise Beach.
#9 Discovery Parks – Mount Buffalo, Porepunkah
If you're dreaming of an alpine rather than beach getaway with your dog, consider the delightfully dog-friendly town of Bright. There's plenty of things to do with your dog, plus plenty of dog-friendly accommodation options.
One of the caravan parks near Bright that permits dogs in cabins is the Discovery Parks – Mount Buffalo, formerly the Porepunkah Bridge Holiday Park. Pet dogs are allowed to join you in selected Standard Two-Bedroom Cabins, with both four-person and five-person cabins available. Look for the pet-friendly options when booking online.
The park is situated on the banks of the Ovens River, perfect for a refreshing paddle. Note that the nearby Mount Buffalo National Park does not permit dogs to enter.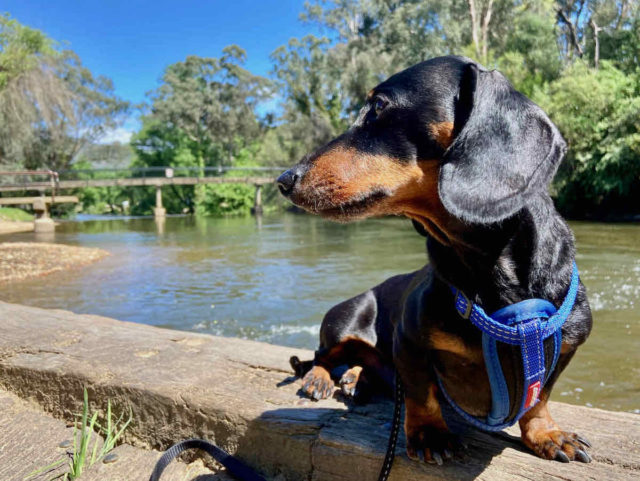 #10 BIG4 Borderland Wodonga Holiday Park, Wodonga
Whether taking a road trip north or staying for awhile along the Murray River, a terrific pet-friendly caravan park in Wodonga is the BIG4 Borderland Wodonga Holiday Park.
Recently, all their standard cabins have become dog-friendly cabins. Look for the dog-friendly cabin option with a paw print when booking online, although call before you arrive to add your dog to your booking. These studio-style cabins sleep up to four, with a kitchen and ensuite. Dogs are allowed inside, with a cleaning fee of $20 per stay.
If you'd prefer to stay in one of the other cabins, the park has also purchased two portable dog kennels that can be placed outside any cabin, although pets of course are not allowed inside. Also onsite is a dog run at the rear of the park – perfect for burning off energy after the drive!
#11 Rich River Caravan Park, Echuca
Another pet-friendly caravan park in Victoria located along the Murray River is the Rich River Tourist Park in Echuca. Pets are welcome year round at the park, both on sites and in the Standard and Deluxe Cabins, plus there's a dog wash and off-leash area onsite.
Standard Cabins sleep either two or three guests, while Deluxe Cabins sleep up to four or six guests. Both include linen, and are fully self-contained with their own bathroom. An additional fee applies for pets. Note that pets are not permitted in the Deluxe Villas.
Find out what to do in Echuca with a dog
#12 Daylesford Holiday Park, Daylesford
Another caravan park in Victoria that permits pets year round is the Daylesford Holiday Park, located not far from Lake Daylesford and just a 90 minute drive from the centre of Melbourne. Pets are permitted both on caravan and camping sites, plus inside their new pet-friendly cabin.
The Bark Royal is a studio cabin with ensuite that can sleep up to two, plus up to two small to medium sized dogs are allowed inside. There's also a fenced area outside for your pups, including a doggie door suitable for small dogs. Online bookings are available on the website.
Read more about visiting Daylesford with a dog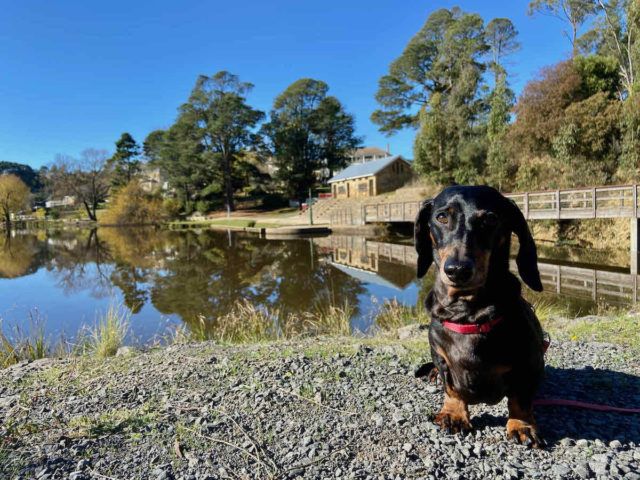 #13 BIG4 Ballarat Windmill Holiday Park, Ballarat
The BIG4 Ballarat Windmill Caravan Park is a popular destination for dog owners, thanks to its fully fenced caravan and camping sites in their special dog-friendly zone. The park is also home to a pet-friendly billabong area at the rear of the park, where both humans and dogs can have a splash in a natural setting.
However, if you don't have your own caravan or tent, the park also offers Dogwood, a two-bedroom dog-friendly cabin. The cabin sleeps up to five and dogs are allowed inside, although not on the furniture. Dog bowls and toys are provided, plus it features an enclosed verandah and has its own dog run.
#14 BIG4 Tasman Holiday Parks – Bendigo, White Hills
The BIG4 Tasman Holiday Parks – Bendigo is close to the centre of Bendigo and allows pets on both powered sites and in its dog-friendly cabins, except for during peak periods. Check directly with the park for the latest blackout dates.
Two cabins at the park have been designed as dog-friendly, the two-bedroom Pooch Pad and the three-bedroom Dog House. Both cabins include an enclosed private yard where your dog can enjoyed being off-leash, plus you'll be provided with a dog wash voucher for a nearby pet store.
#15 BIG4 Bendigo Marong Holiday Park, Marong
The award-winning BIG4 Bendigo Marong Holiday Park is situated a short 15 minute drive west of Bendigo. Along with pet-friendly powered sites and a new K9000 dog wash, they also have two dog-friendly cabins. Just make sure you register your dog in advance.
Choose between the Dog-friendly Deluxe and Budget Cabin. The Deluxe Cabin sleeps up to four, with two bedrooms, plus a fenced and gated deck, perfect for your pup. The Budget Cabin is an older-style cabin with a double bed in the open-plan room and a separate bedroom with four bunk beds.
Read more about visiting Bendigo with a dog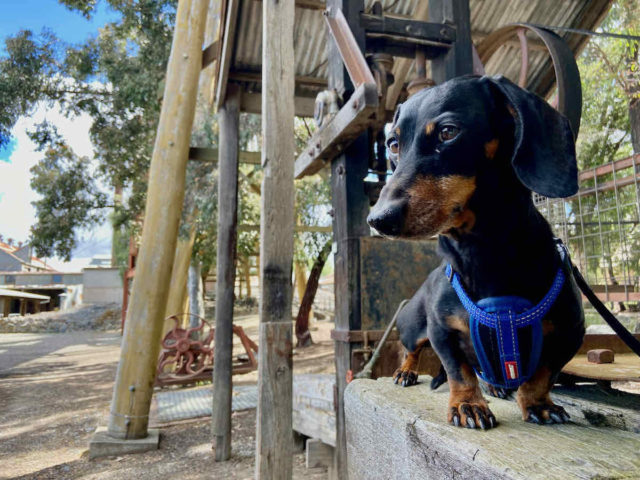 You May Also Like