Curiously, Victoria isn't home to as many fenced dog parks as the rest of eastern Australia, especially Queensland. However, there are some terrific examples around. I've rounded up some of the best dog parks I've encountered while travelling around the state, plus ones I've been recommended by fellow travellers.
Have a recommendation for great fenced dog parks in Victoria that you think should be added this list? Leave a comment below!
Fenced Dog Parks in Melbourne
If you search for dog parks in Melbourne, there's a fair number dotted across the city, so one is never too far away. These are some of the best dog parks to choose from, plus some that are convenient if you're visiting Melbourne with your dog.
#1 Kings Way Fenced Dog Park, Southbank
I'll be upfront and clear that this dog park isn't the best example in Melbourne, but it is one of the only fenced off-leash areas close to the centre of Melbourne. The Kings Way Fenced Dog Park is located in Southbank, just a few blocks south of Crown Melbourne.
This is an urban-style fenced dog park, with gravel rather than grass. There's some interesting features for dogs to explore including tunnels, rocks and logs, plus seating, an undercover area, water, bags and bins. Just skip it after rain – the photos show the drainage needs work!
#2 Clayton Reserve Fenced Dog Park, North Melbourne
If you're happy to head a little further out of the city, another fenced dog park close to the centre of Melbourne is at Clayton Reserve, on the western edge of North Melbourne.
This spacious grassy park is a favourite amongst dog owners living close to the Melbourne CBD. It's fully fenced with four gates, plus lights, benches, bins and bags. It's even easy to park along Boundary Road on the edge of the park. Just be careful of mud after rainy days in the winter and spring!
#3 PA Burns Reserve Dog Park, Altona
Altona Dog Beach is one of the best dog beaches close to the centre of Melbourne. But if you'd prefer to skip the sand for the day, the adjacent PA Burns Reserve is also home to a fenced dog park.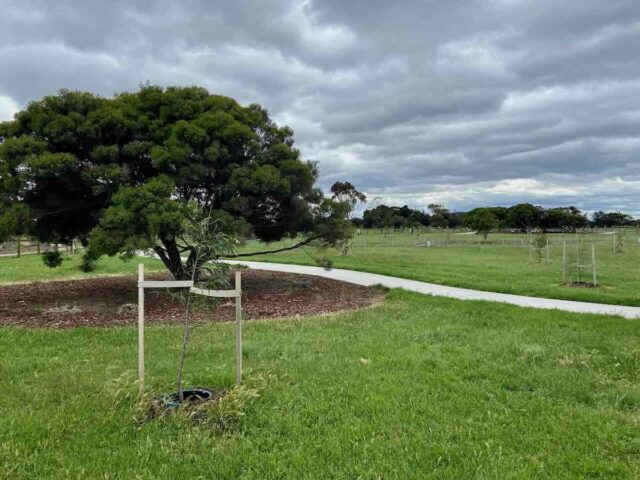 This off-leash dog park is large, grassy and fully fenced, including double gates. At the moment there is limited shade, but additional trees have been planted. There's a large asphalted carpark shared with the beach, plus on muddy days you can make use of the dog wash taps installed next to it.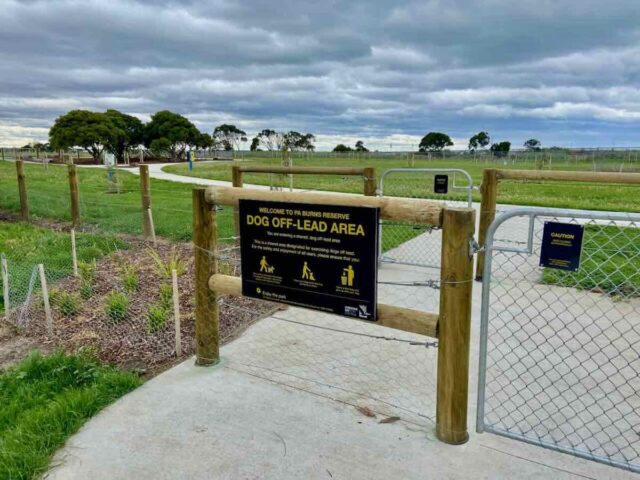 #4 Sandown Street Dog Beach, Brighton
Okay, now this isn't exactly a park, but the Sandown Street Dog Beach in Brighton allows dogs off-leash all day long and it is fully fenced! So if it's sand and water you're after, rather than grass and trees, head to this fenced dog beach.
The water is generally shallow, making it a great paddling spot even for small dogs. Often a long sand bar is uncovered, stretching out to the marina at Middle Brighton Pier.
Just be warned that parking can often be difficult. The beach is best accessed from the end of Sandown Street, but there's no designated carpark. Paid parking applies to most of the local streets, unless you visit before 8am or after 8pm.
#5 Aranga Reserve Dog Park, Donvale
For another fenced dog park on the edge of Melbourne, head to Aranga Reserve, just off the M3 motorway in Donvale. Try to park next to the entrance on Eastway Avenue, otherwise continue on to Darvall Street.
A large and grassy fenced dog park with two entrances, this fenced dog park stands out for its agility equipment. There are two obstacle courses for dogs to tackle, one that is quite complex and long, as well as a simpler one. There's also a smaller fenced area for dogs who enjoy their own company, plus seating, a water tap with a dog bowl, and bins.
Fenced Dog Parks in Coastal Victoria
If you're heading to the seaside with your dog in Victoria, while many beaches restrict dogs from being off-leash during the summer months, these fenced dog parks all allow dogs off-leash all day long, year round.
#1 Briars Community Forest Fenced Dog Park, Mt Martha
The Mornington Peninsula is a popular destination close to Melbourne, especially for weekends away. It's also home to one of the best fenced dog parks that I've encountered anywhere in Australia.
The Briars Community Forest is much more than just a regular dog park. This bushland reserve on the edge of Mount Martha is huge! There are multiple walking tracks that you can follow with your dog, often just keeping your own company, even a creek swimming spot. And it's fully fenced.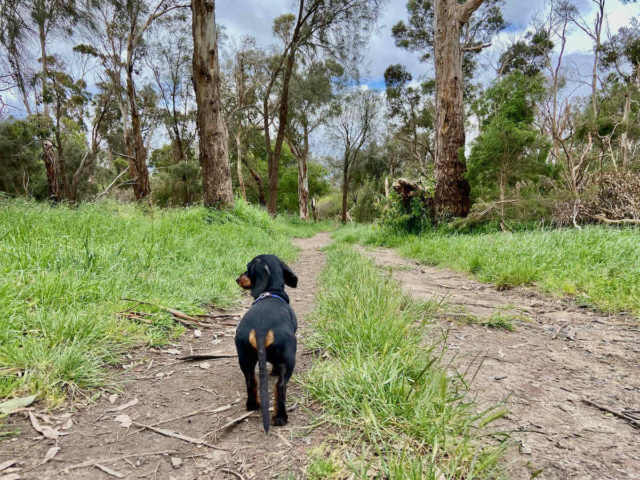 The best spot to park is on the Nepean Highway opposite Balcombe Grammar School, where there's a rough car park, rubbish bin and a double-gated entrance. Search for the "Community Forest Fenced Dog Park" pin on Google Maps.
There's also plenty more regular fenced dog parks on the Mornington Peninsula. For a listing listing and handy map off all off-leash reserves regulated by the Mornington Peninsula Shire, download this brochure.
#2 Brackenbush Unleashed, near Lakes Entrance
Another excellent dog park along the Victorian coastline is Brackenbush Unleashed, just outside the popular holiday spot of Lakes Entrance. This fenced dog park on private property is a "Pick My Project" funded community facility.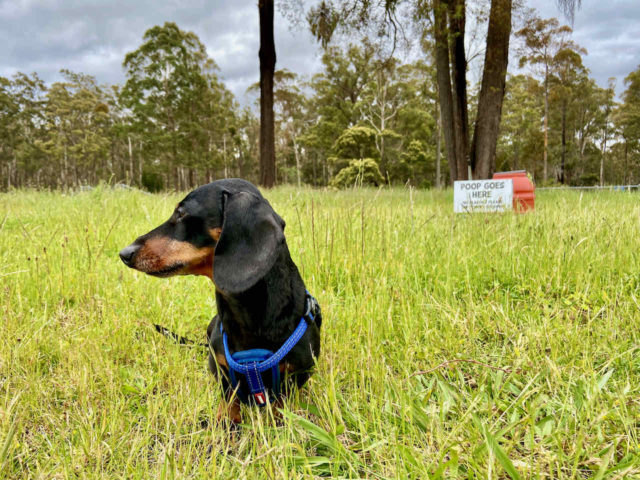 The park is about a 10 minute drive out of town. Turn off Colquhoun Road at the airport and follow the clear signs, or just follow the directions on Google Maps to the "Brackenbush Unleashed Dog Park". There's a short section of unsealed road but most is sealed.
At the park there are three gigantic fenced off-leash areas, with an area for timid dogs as well as one for nature walks. It's also next to a state forest, where you can also exercise your dog on a leashed walk.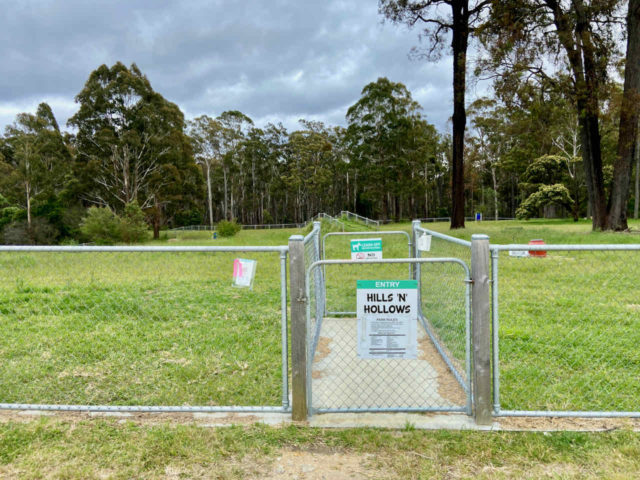 #3 Palmers Road Fenced Dog Park, Lakes Entrance
Lakes Entrance is also home to another fenced dog park, this time a council run park. The Palmers Road Fenced Dog Park is close to the centre of town, next to the Lakes Entrance Aquadome and its carpark.
This large fenced area is double gated and large enough for dogs to have their own space. There's a variety of agility equipment and fun obstacles for dogs to explore, plus a handy water fountain.
#4 Stead Park Dog Park, near Geelong
If you're heading west of Melbourne along the coast, a handy fenced dog park in Geelong is located at Stead Park, in the northern suburb of Corio. It's also a convenient option if you're taking the Spirit of Tasmania across Bass Strait.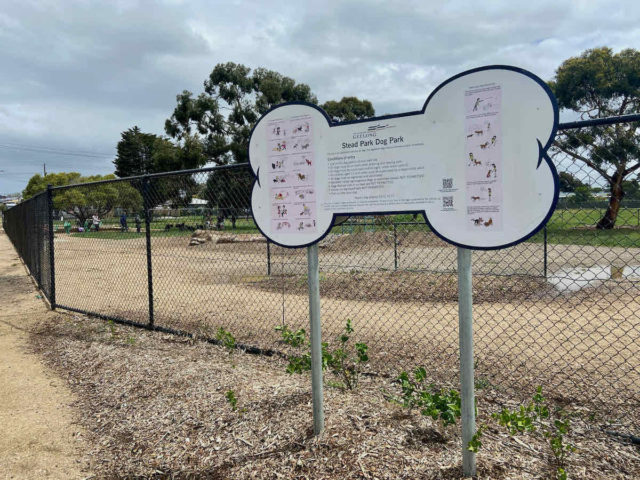 This large reserve has many facilities, including the fenced dog park that was recently upgraded in 2021. There's two separate areas with high, secure fencing, along with water fountains, seating, shade and even some agility equipment.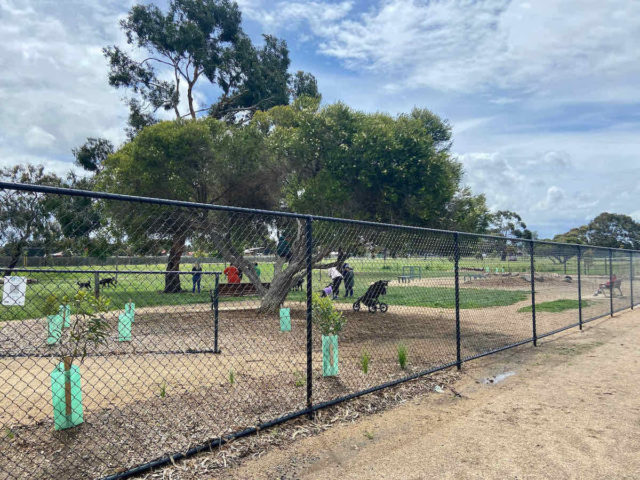 #5 Portland Fenced Dog Park, Portland
Further west along the Victorian coastline is the dog-friendly town of Portland. It's a handy spot to stay if you're driving to South Australia along the coastal route, or just visit the fenced dog park if you're driving through.
Head to Henty Park, just off Bentinck Street and behind the 48-hour RV stop (which is also dog-friendly). There are two separately fenced dog parks, one for small dogs under 10kg and the other for larger dogs over 10kg. Both areas feature some agility equipment, bench seating with shade sails, a drinking fountain and bins.
Fenced Dog Parks in Country Victoria
If you're visiting country Victoria with your dog, stop by one of these fenced dog parks to let your dog enjoy some off-leash fun.
#1 Harcourt Dog Park, near Bendigo
Bendigo is home to a number of off-leash dog exercise areas, including three fenced off-leash dog parks within the city and surrounding towns. During our visit to Bendigo with our dog, we visited the Harcourt Dog Park in the suburb of Strathdale.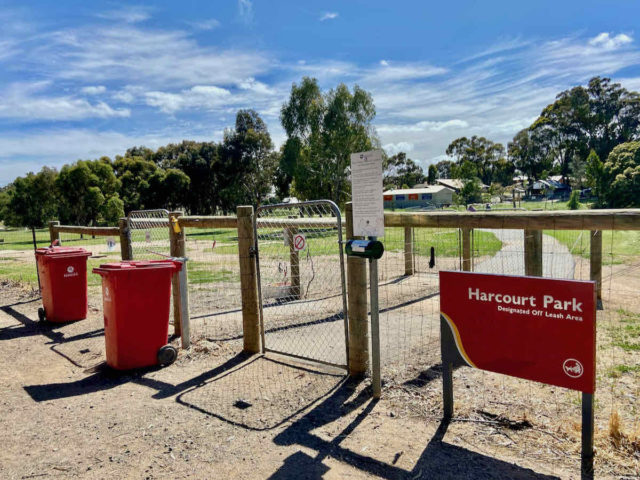 This fenced dog park is located alongside Crook Street in Strathdale, on the eastern side of Bendigo. There's a huge expanse of grass with plenty of room for dogs to run and play. Plus there's a convenient paved footpath running through the park, along with plenty of shady mature trees.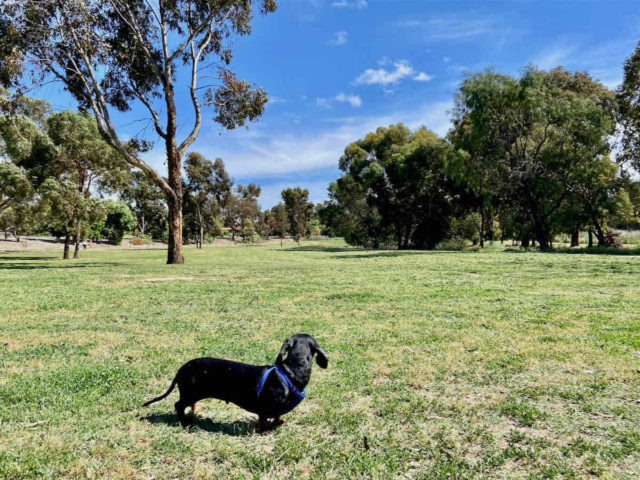 The Harcourt Dog Park even has its own toy box, although we didn't locate the promised separate section for small dogs. Bendigo also has fenced dog parks at Allingham Reserve Dog Park in Kangaroo Flat and Truscott Reserve Dog Park in California Gully.
#2 Heathcote Dog Park, Heathcote
Close to Bendigo, the nearby town of Heathcote also has its own dog park. The Heathcote Dog Park is located on Herriot Street, near where the O'Keefe Rail Trail crosses it.
The park is well-maintained, with a separate area for small dogs. The main fenced area has a walking path through the middle of it, along with a small tunnel, seating and a water fountain with a bowl for dogs. At the moment there is not much shade, although there are trees planted. Plus be aware it can be a bit wet underpaw.
#3 Mitchell Avenue Reserve Dog Park, Wangaratta
Heading further north, the city of Wangaratta is home to a great dog park in the Mitchell Avenue Reserve. Located towards the southern end of the large reserve, search for "Off Leash Dog Park" on Google Maps to locate it.
The dog park is large in size and securely fenced with high fences. There's plenty of shade along one side, along with seats and bins.
#4 Belvoir Park Dog Park, Wodonga
If you're driving along the Hume with your dog, one of the most convenient spots to stop and enjoy some off-leash time is the Belvoir Dog Park in Wodonga.
Located literally next to the highway, this excellent fenced dog park has great facilities, including an agility course, water fountains and plenty of shade. Close to one of the carparks, there's also toilets for humans nearby. You also have the option of taking your dog for an on-leash walk around the lake.
#5 Princess Park Fenced Dog Park, Shepparton
Shepparton is home to two fenced dog parks, one centrally located at Ducat Reserve and the other at Princess Park, on the western edge of town surrounded by bushland. Of the two, the Princess Park Fenced Dog Park is the better option with more facilities.
There are separate areas for small and large dogs, surrounded by a high 1.8m fence. The park also features agility equipment, shady seating, lighting, a water fountain and bins.
#6 Mildura Fenced Dog Park, Mildura
The city of Mildura in northern Victoria is home to an excellent fenced dog park, the Mildura Fenced Dog Park. The dog park is located in Rio Vista Park, right next to the Murray River and the border with NSW.
A large, spacious area with plenty of parking nearby, there are two separate areas for small and large dogs. The park also features shaded picnic tables, a sandpit and a water fountain for dogs. Just be aware there is limited shade during the middle of the day and signs warn to keep an eye out for snakes.
You May Also Like