Dreaming of a beach holiday along the North Coast of NSW with your pooch? Then take your pick from these dog-friendly Airbnbs, stretching from just north of Sydney up to Byron Bay. Each of these beautiful beachside holiday rentals welcomes dogs to join you. Just make sure you check the rules, as they do vary, and notify the host in advance!
Dutchies, Nelson Bay
Dutchies is located in the Port Stephens region, in Nelson Bay. This spacious, well-appointed house sleeps up to six guests, with three bedrooms and two bathrooms. There's a proper kitchen, aircon and even a rumpus room downstairs.
Dogs are welcome as long as you enquire in advance, although you need to bring your dog's bed. There's a fenced garden area suitable for small to medium dogs and it's virtually across the road from Bagnalls Beach, the best off-leash dog beach in the Port Stephens area.
Frangipangi Cottage, North Haven
This original fisherman's cottage is located just metres from the off-leash dog beach at North Haven, close to Laurieton, about a 30 minute drive south of Port Macquarie. It's been beautifully kitted out, including modern touches such as aircon in the living room and free wi-fi. Two bedrooms and two bathrooms sleep up to six guests.
This property is pet-friendly with pre-approval only. Note that dogs are only permitted inside during the evening, during the day the owners request they stay outside on the verandah. Dogs should also stay off the lounge and beds. The backyard is fully fenced.
White Beach Cottage, Lake Cathie
Also on the southern side of Port Macquarie, this cottage at Lake Cathie enjoys 160 degree ocean and headland views, located just one block back from the beach. Sleeping up to four guests, it's been recently renovated with a nod to the Hampton's and plenty of modern inclusions.
Also pet-friendly by request, the owners ask that you specify the breed of your dog, to help with planning cleaning and statistics. Dogs bowls are provided, but bring your own dog bed, with dogs to be kept off the furniture and beds.
Nobby's Beach Cottage, Port Macquarie
This small cottage is tucked away just above the entrance to Nobby's Beach, one of the best off-leash dog beaches in the Port Macquarie region. At this pet-friendly property dogs are allowed inside, as long as they are house-trained and kept off the bed and lounge, bowls are provided and there's an enclosed yard, although the fence isn't the highest.
Tucked away behind the host's home, the cosy cottage offers a relaxed vibe, but all the necessary modern inclusions. It sleeps up to four, with a queen bedroom and sofa bed in the lounge room. Up to two small dogs are permitted, or a single medium size dog (such as Golden Retriever), not two medium or large dogs.
Salt by the Sea #5, Port Macquarie
This stunning one-bedroom apartment is also located near Nobby's Beach, just a few blocks back in a small apartment complex of six. It's been beautifully decorated with a bohemian meets industrial style, including easy to clean concrete floors.
Pets are welcome to stay with you, although there is a limit of a single pet and it's not suitable for larger pets. If this apartment isn't available, also check out the other five apartments in the block, a mix of one-bedrooms and two-bedrooms also hosted by the same Airbnb host.
Billy's Beach House, Nambucca Heads
This newly built guest home is perfect for a relaxing beach getaway, either for a couple or family with young children. There's two bedrooms, the second has a double bed with a single bunk. Plus it's just a short walk from the beach in the chilled coastal town of Nambucca Heads.
Pets are allowed as this property, but I recommend contacting the owners in advance to obtain permission and double-check any rules. Dogs are allowed off-leash on the nearby beach from the Swimming Creek beach access northwards.
Diggers Beach Villa, Coffs Harbour
This beautiful near-new villa on the northern side of Coffs Harbour is located within walking distance of both the Big Banana and Diggers Beach. Sleeping up to four guests, there's two double-sized bedrooms, both with king beds. Note that there is only a kitchenette, rather than a full-sized kitchen, although it does have a pair of hotplates and microwave, as well as a bar fridge
Pets are allowed at the property, although house-trained indoor dogs only, as there is no yard. Make sure you double check with the owners in advance, including any restrictions or rules. While the nearby Diggers Beach doesn't allow dogs, there's plenty of other dog-friendly beaches around Coffs Harbour.
Moonee Beach House, Coffs Harbour
This beautiful beach house is situated a few suburbs north of Coffs Harbour in Moonee Beach. Sleeping up to four guests, there's two bedrooms (one with a king size bed, the other with two singles), air-conditioning and a BBQ on the outside deck.
Pets are welcome at the property. Please advise the host at the time of booking and include your dog in the guest details. There is an additional charge of $10 per dog per night, which is automatically added onto the booking. The property is close to Moonee Beach that permits on-leash dogs all day long.
Milly's Beach Cottage, Byron Bay
This cottage is close to the heart of Byron Bay, just a stroll away from Clarkes Beach. Surrounded by lush tropical vegetation, the cottage has one bedroom with a king-size bed, as well as a pull-out sofa-bed. While the patio area jut outside is your own, note that there is another larger house on the property, with a shared deck area in between.
Dogs are welcome at the cottage, with many recent guests bringing their pups. Generally only two dogs up to 20kg each are permitted – double check in advance. The shared yard is fully enclosed. For a great dog-friendly beach, it's a short drive south to the off-leash section of Tallow Beach or across to Belongil Beach.
You May Also Like
About the Author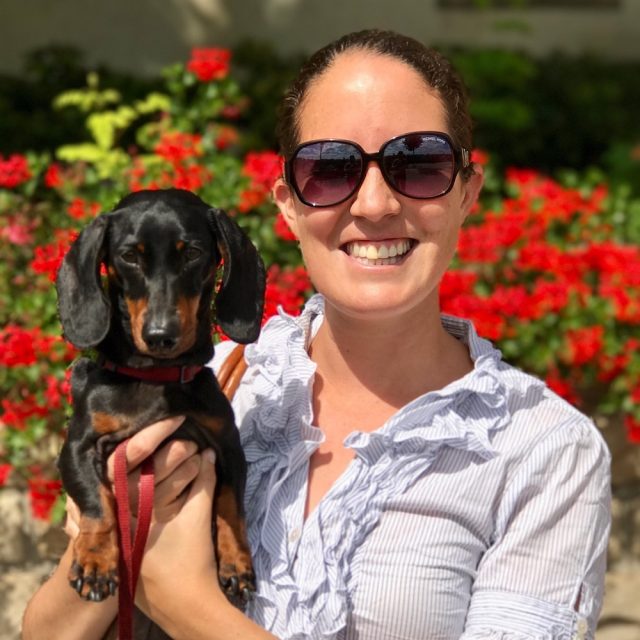 Shandos Cleaver is the founder of Travelnuity: Dog-Friendly Travel. She has travelled extensively with her Miniature Dachshund, Schnitzel, including to 33 countries across Europe, every state and territory of Australia except Tasmania, and 10 of the United States. She's passionate about providing inspiration and information to others wanting to travel with their dogs, whether close to home or internationally.
Inspired? Pin this to your Pinterest board!