Dreaming of a beach holiday on the South Coast of NSW along with your dog? Check out this list of pet-friendly Airbnb options that are all close to the beach, starting from Wollongong and Gerringong, down to the Far South Coast. Just double check the full rules and with the host before making a booking!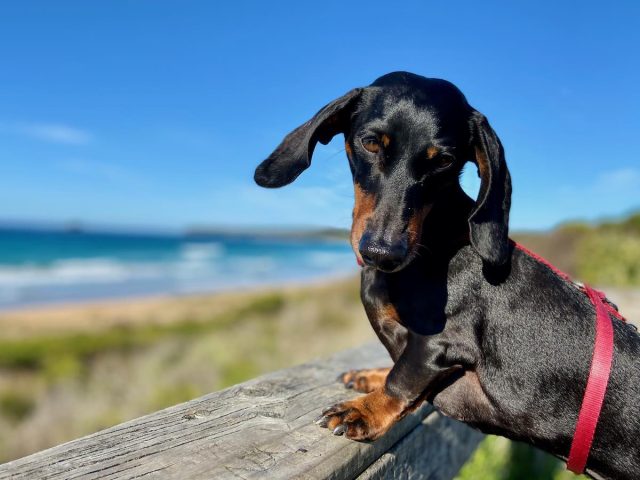 Beachhouse Sharkies, Coledale
This stylish beachside house in Coledale, one of the northern suburbs of Wollongong, is just over an hour from the centre of Sydney and perfect for a quick beach summer getaway (or a winter retreat, thanks to the gas fireplace). Sleeping up to six, there's three bedrooms, a chic hotel-style bathroom and a deck at the front with ocean views.
Your dog will love the fully enclosed grassed backyard, complete with doggie door. Plus directly across the road is the convenience of the 24-hour off-leash Sharkies Beach. It's also just a short stroll up the road to a cluster of cafes serving great coffee.
The Werri Shack, Gerringong
Head just south of Kiama to Gerringong and dog-friendly Werri Beach, home to the Werri Shack. This funky cottage is located just a few blocks back from the beach. With three bedrooms, it sleeps up to eight guests, perfect for large families. There's plenty of outdoor decks for relaxed meals and a downstairs games room.
Pets are permitted to stay with you, just advise at the time of booking. The backyard is fully enclosed and it's a short walk to the off-leash section of Werri Beach or the off-leash park on the headland. For a fun day out with your dog, walk along the Kiama Coastal Walk starting at the northern end of Werri Beach.
Hayes Beach House, Callala Beach
The Jervis Bay area has plenty of gorgeous beaches, including many off-leash options. This award-winning classic holiday cottage is just situated a few blocks back from Callala Beach, which permits off-leash dogs in the morning and evening.
There's three bedrooms and two bathrooms, sleeping up to eight guests. The back deck is perfect for BBQing, plus there's a family-sized hammock and outdoor fire pit. Your dog will love the large fenced grass lawn. The owners just request that you keep dogs off furniture and beds.
The Jetty House, Myola
The Jetty House is perfect for large family groups, sleeping up to ten guests. Fronting onto Currambene Creek near Jervis Bay, you have your own private jetty to moor a boat, plus there's a large games area in the garage with table tennis and a pool table, great for entertainment on wet days.
This house is best for larger dogs used to sleeping outside. While dogs are not allowed inside, there is a fully enclosed yard plus an undercover deck for your pets to sleep at night. It's just a short walk to the pet-friendly section of Callala Beach, plus the nearby seasonal ferry across to Huskisson is pet-friendly.
Lolita's, Sanctuary Point
Sanctuary Point is located just south of Jervis Bay, on the shores of St Georges Basin. There's plenty of on-leash walks possible along the shores of the basin, as well as an off-leash park nearby. Or it's just a short drive to the beautiful off-leash beach (mornings and evenings) in Vincentia and the on-leash Hyam's Beach.
This old-fashioned but recently renovated cottage is a truly dog-friendly stay. There's special touches such as dog bowls and toys, a fenced backyard (although not entirely dog-proof for mini and large dogs), and even a dog-friendly balcony, thanks to the "puppy" gate. Plenty of recent dog owners have given it 5-star reviews!
Sage Coastal Cottage, Narrawallee
Narrawallee is located just north of Ulladulla, adjacent to its more famous neighbour, Mollymook. A quiet beachside suburb, most of the main beach permits dogs off-leash all day long, starting just near this cottage.
This cottage is perfect for couples or young families, with two bedrooms sleeping up to four. There's a large fenced backyard with an entertaining area and fire pit, with plenty of toys left on the balcony for kids or dogs. Dogs are allowed both inside and outside, with just the request that muddy paws and kept off the furniture and linen, otherwise an additional cleaning fee will be charged.
Burrill Lake View Holiday Cottage, Burrill Lake
This cute cottage is located at Burrill Lake, just south of Ulladulla. While a classic holiday home, it's been recently renovated, with a new kitchen and bathroom, Plus there's plenty of mod-cons, including a Nespresso Essenza Coffee Maker, dishwasher and Netflix. It's just a short stroll to the boat ramp plus a great fish 'n' chips shop.
Small pets are welcome at the property, with many recent guests with pups leaving glowing reviews. There's a large fully-enclosed backyard, plus it's not far from on-leash dog beaches, or just a bit further from the off-leash dog beaches around Ulladulla.
Kiah Cottage, Termeil
Termeil is located not far south from Ulladulla, near the turn-off to Bawley Point. This means this cottage offers the best of both worlds: a large 25 acre property to roam, plus the nearby off-leash Cormorant Beach at Bawley Point, just a short drive away.
This rustic cottage has two bedrooms and two bathrooms, accommodating up to five guests. Up to two pets are permitted, for an additional charge of $30 per pet per stay. Included on the property is an outdoor dining area, fire pit and outdoor shower. For the winter months, there's a wood heater inside.
The Dans, Long Beach
This spacious, luxurious beachside house, hosted by the Dans, is located in Long Beach, on the northern side of Batemans Bay. It's just metres from the off-leash dog beach, one of many in the Batemans Bay region, plus there's two SUPs for your convenience.
With three bedrooms and two full bathrooms, there's plenty of room for up to seven guests. There's a contemporary gallery style kitchen, including dishwasher and coffee machine, plus multiple dining spaces, indoors and out. Pets are welcome to join you, but you're requested to use the provided blankets for your pup on the sofa and keep them off the beds.
Bushy Retreat, Mossy Point
Mossy Point is located a 15-minute drive south of Batemans Bay, near the mouth of the Tomaga River. Nestled in among the trees, this three bedroom cottage truly is a bush retreat, albeit with wi-fi. Note that you need to bring your own linen and towels.
Pets are welcome to join you. The yard is fully enclosed, plus there's a dog-gate on the laundry. It's just a short walk to the off-leash reserve next to the boat ramp, plus a short drive to the off-leash dogs beaches at Tomakin and Broulee.
Buena Vista 62, North Narooma
On the northern side of Narooma, with views looking across to Narooma Bar and Australia Rock, this pet-friendly holiday home is located not far from the off-leash Narooma Bar Beach and dog-friendly Mill Bay Boardwalk.
Retro in style, this home can sleep up to eight guests, with two bedrooms with queen beds and another with two sets of bunks. The kitchen is well-equipped and there's even a fireplace for the winter months.
Pets are welcome to stay, with the owner requesting that you vacuum before leaving. While the front deck is unfenced, the back deck has a gate for pets and children.
Heaven No. 1, Pambula Beach
This two-bedroom beach cottage at Pambula Beach is perfect for enjoying the beach lifestyle (and the local oysters), with four decks surrounding it, a BBQ and French doors leading outside. Inside has been recently renovated, including a new bathroom, aircon and wi-fi.
A truly pet-friendly property, with plenty of extras including pet bowls, plus a dog-proof six-foot high fence. It's just a short distance to three beaches, including the Lions Park Beach which is off-leash all day long.
You May Also Like
Inspired? Pin this to your Pinterest board!