The NSW South Coast extends for over 400km, from south of Wollongong through to the town of Eden, just before the Victorian border. The region is home to countless beautiful beaches, many of them dog-friendly. Plus there's a wide variety of pet-friendly holiday accommodation. Read on to find out plenty of ideas for visiting the South Coast of NSW with your dog.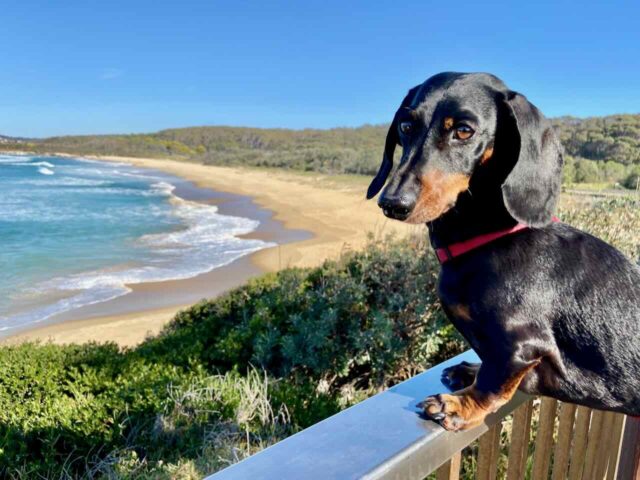 Dog-Friendly Guides to the NSW South Coast
I've put together a long list of detailed guides to the many towns and regions on the NSW South Coast. For lots of holiday tips, from what to do to where to stay and dine, check out my dog-friendly South Coast guides:
However, to find out some of the best ideas along the entire South Coast, including the best dog-friendly beaches, sightseeing ideas and where to stay, read on…
Best Dog-Friendly Beaches on the South Coast
One of the top reasons for heading to the South Coast of NSW with your dog is to enjoy the many dog-friendly beaches that the region offers. Compared to cities like Sydney, there are far more beaches that allow dogs on them, especially off-leash dog beaches.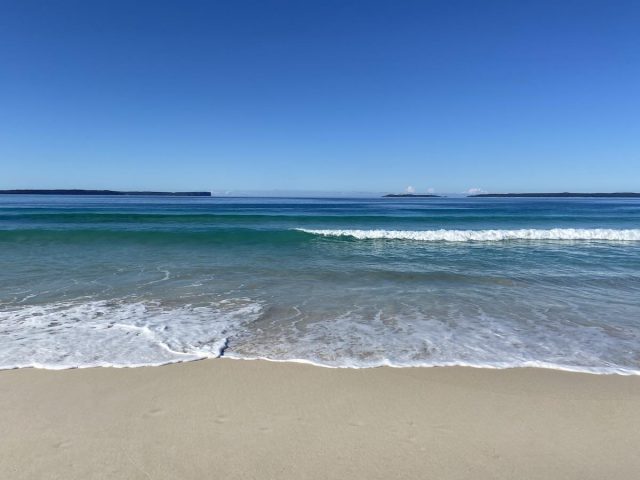 These are my pick of the best dog-friendly beaches on the South Coast of NSW, from Kiama in the north to Eden in the south:
Werri Beach, Gerringong: My pick of the three off-leash dog beaches in the Kiama region is Werri Beach at Gerringong, which is probably a touch calmer than the other two. Dogs are allowed off-leash along the centre of the beach from sunrise to sunset, with plenty of parking nearby.
Nelsons Beach, Vincentia: While Hyams Beach on Jervis Bay gets all the fuss for its white sand, the sand at nearby Nelsons Beach is almost as white, and there's a lot more parking. Plus while dogs need to stay on-leash at Hyams Beach, at Nelsons Beach dogs are allowed off-leash in the morning and evening.
Washerwomans Beach, Bendalong: Heading further down the coast, Bendalong is a small village on the northern side of Lake Conjola. Dogs are allowed off-leash all day long at the calm and sheltered Washerwomans Beach. I've even spotted kangaroo prints on the sand here in the morning!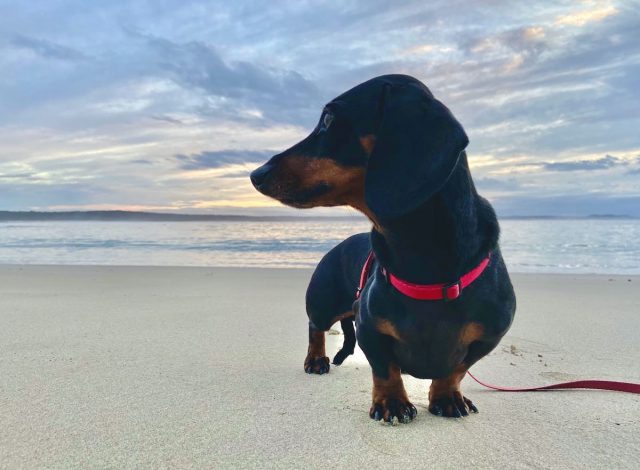 Durras Main Beach, Batemans Bay: The Batemans Bay area is blessed with a huge number of dog-friendly beaches, with even more off-leash options over the winter months. One of the best off-leash surf beaches is Durras Main Beach, about 20 minutes drive north. Enjoy a long walk on the off-leash section, which extends from near the caravan park to the headland.
Wimbie Beach, Batemans Bay: While the surf at Durras Main Beach can be rough, I love the calm waters at Wimbie Beach, 9km south of Batemans Bay. This spot is perfect for even the smallest dogs to enjoy a paddle. The beach is also well away from the road, with dogs also allowed off-leash in the adjacent reserve.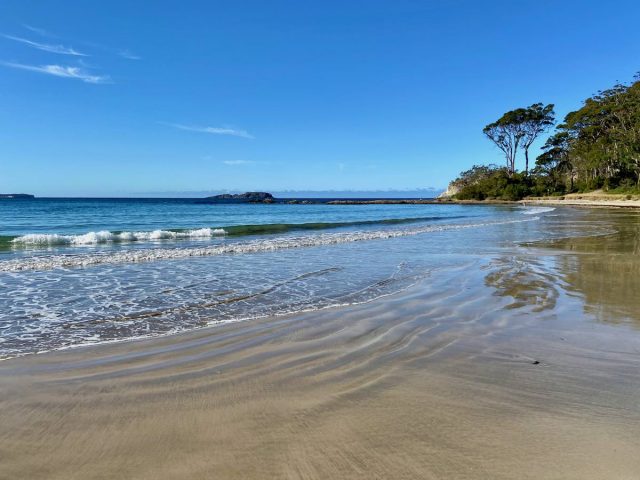 Lions Park Beach, Pambula Beach: The beachside hamlet of Pambula Beach is blessed with multiple beautiful beaches, with the most dog-friendly option Lions Park Beach. Dogs are allowed off-leash on the northern end of the beach, which is surrounded by cliffs. There's a small carpark adjacent to the beach, along with a picnic area.
Aslings Beach, Eden: While visiting Aslings Beach, keep an eye out for dolphins off-shore. Dogs are allowed off-leash along a nearly 1km long stretch of this beach, starting north of the skate park, plus on the footpath in between the adjacent caravan park and the sand.
However, there's dozens more dog-friendly beaches along the South Coast. For the full details on all beaches that allow dogs, plus relevant rules, check out the individual council websites:
Off-Leash Dog Parks on the South Coast
There aren't that many off-leash dog parks on the South Coast, with most of the off-leash exercise areas being beaches, particularly once you head south of Kiama.
Kiama is the one area where there are more off-leash dog parks than off-leash dog beaches. My pick of the off-leash dog parks in Kiama is Bombo Beach Headland. While unfenced, it's a large area located on an isolated headland, and even has agility equipment.
There are also off-leash dog exercise areas around Kiama at Minnamurra Headland, Kaleula Reserve in Kiama, Marsden Headland in Kiama, Gerringong Headland and Black Head in Gerroa.
Heading further south, check out these options:
Camp Quality Park in Berry has two 24-hour off-leash dog exercise areas
Nowra has a dog agility park on the corner of West Street and North Street
Nowra Showground is also off-leash except during major events and along Ben's Walk
Clifton Park in Sanctuary Point has a fenced off-leash area at the rear of the park
Milton Showground Precinct has a 24-hour off-leash fenced agility area
Mollymook Oval Reserve (also known as Bill Andriske Oval) has an off-leash dog exercise area during the mornings and evenings
Surf Beach Reserve near Batemans Bay allows off-leash dogs except during events
Tomago River Reserve at Mossy Point is off-leash from the boat ramp to Connells Close
Ryans Creek Reserve in Moruya, east of Riverside Park, allows off-leash dogs
NATA Oval in the centre of Narooma is mostly enclosed and allows dogs off-leash all day long, except during events
Headland Reserve in Bermagui is off-leash in between the Pacific Drive and Point Dickinson
The Old Bega Racecourse is off-leash, plus the section running next to the river, except during events
Part of Short Point Recreation Reserve near Merimbula is off-leash
Dog-Friendly Sightseeing on the NSW South Coast
In addition to the many off-leash dog beaches, check out some of the fun dog-friendly things that you can do on the South Coast of NSW…
#1 Check out the Kiama Blowhole
Kiama is famous for its blowhole. And luckily it's possible to visit this natural phenomenon with your dog, with on-leash dogs permitted in the reserve at Blowhole Point, including next to the blowhole.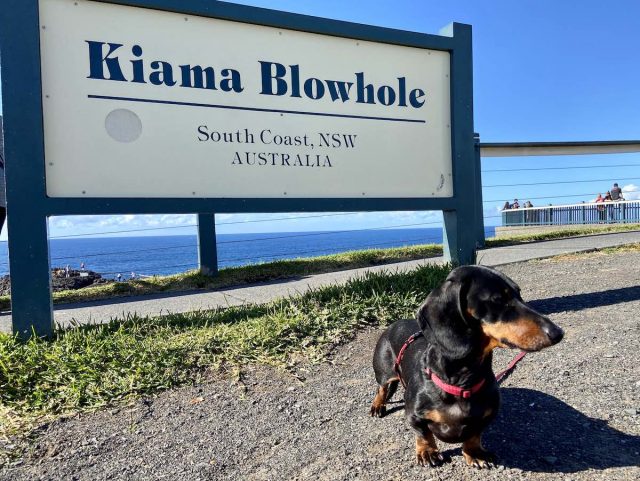 This attraction is best visited when the seas are a bit higher, with larger waves, to experience the boom and spray flying up high. Just be warned that neither dogs or humans should venture beyond the fences and signs, as the conditions on the surrounding rock platforms can be dangerous.
#2 Walk Along the Kiama Coast Walk
Another spectacular but more recent attraction in the Kiama area is the Kiama Coast Walk. This 20km long walk extends from Minnamurra in the north to Werri Beach at Gerringong in the south. Along the way, it passes not just the Kiama Blowhole, but also some spectacular coastal cliffs and windswept beaches.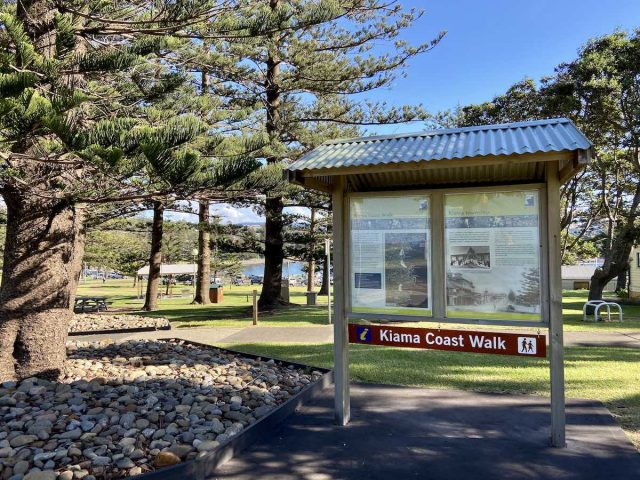 Dogs are welcome to join you along the entire length of the walk, as long as they stay on a leash. While some beaches along the route prohibit dogs (walk behind the beaches, rather than on the sand), there's also some off-leash dog beaches along the route. Check the local signs.
If walking with a dog, it's best to just walk one section of the walk. An easy option is the path through the centre of Kiama, that passes by the harbour and the famous Blowhole. Alternatively, head to Werri Beach and start the walk from the southern end, with beautiful views of the sea on one side and green paddocks on the other.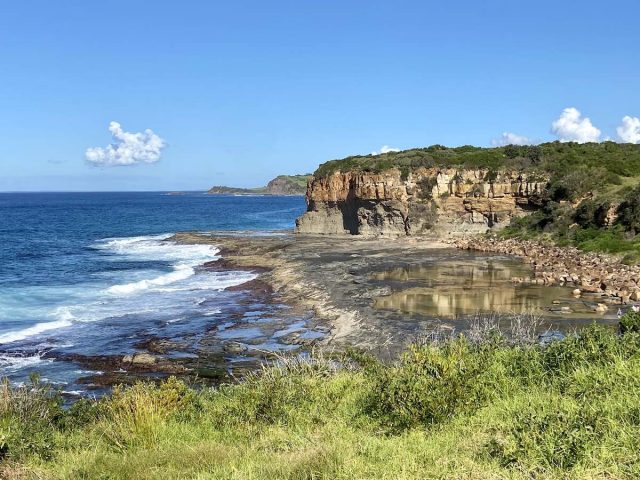 Another fabulous dog-friendly coastal walk on the NSW South Coast is the Dalmeny to Narooma Coastal Walk. This shared pathway runs for 9km from Dalmeny Campground south to Bluewater Drive in the heart of Narooma, with the entire length either paved or a boardwalk.
#3 Explore the Main Street of Berry
Berry is a charming country town not far south of Kiama. It's always been a great spot for a stroll, but has been greatly enhanced by the bypass in recent years, and is worth detouring when driving south.
Go for a stroll along the main street, Queen Street, which is lined with boutiques and cafes. Enjoy some window shopping, or some shops may allow dogs inside, particularly if your pup is small enough to be carried. Homewares are a particular strong point, but also check out the Berry Tea Shop and Berry Chocolatier.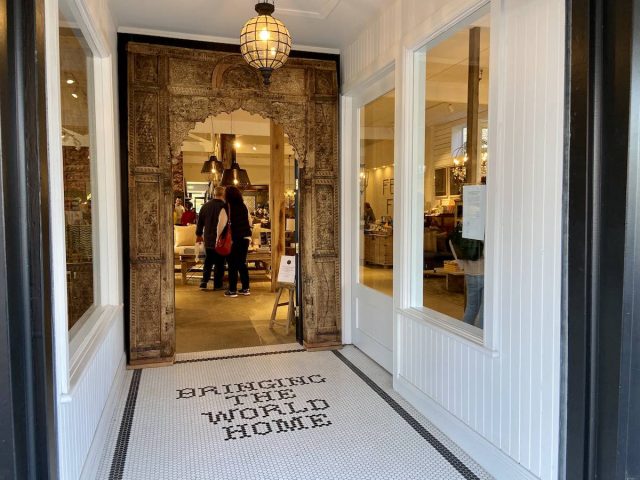 Many of the buildings in Berry date to the late 19th-century, including the two-story Wilson's General Store Building and the ES & AC Bank Building, now the Berry Museum. If you're interested in learning more, follow an historic walk around the town. The shorter version along Queen Street takes only half an hour, although there is also a longer 2 hour trail.
While passing through Berry, don't also miss stopping at the Berry Donut Van. A fixture in Berry for over 50 years, order the cinnamon donuts by the half dozen or singly. They're served up fresh and piping hot. Just be prepared for a wait on busy days!
#4 Taste South Coast Wines
The South Coast is home to its own winery region. Officially known as the Shoalhaven Wine Region, the region stretches south from Kiama south, and is home to a handful of wineries and vineyards.
There's a number of cellar doors open to the public, many of them dog-friendly. The majority of cellar doors are located in the area around Berry. One of the most popular to visit is Cambewarra Estate. The cellar door and restaurant is open Fridays, Saturdays and Sundays and even offers VIP high teas in their famous pink tea cup in the vineyard.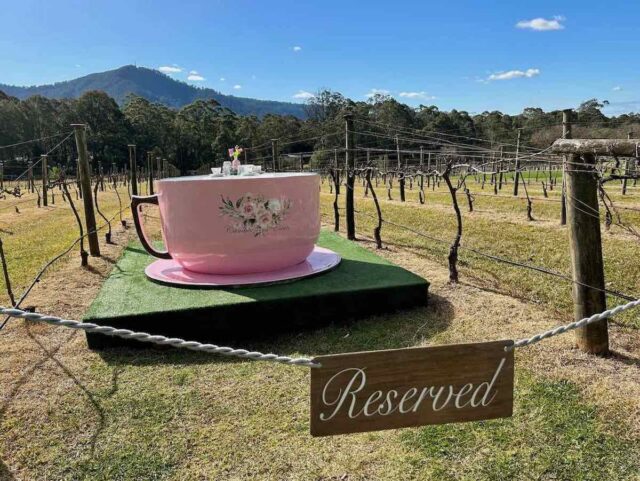 Heading further south, Cupitt's Estate is a popular dog-friendly spot to visit just behind Ulladulla. Although dogs are not permitted inside the cellar door, well-behaved dogs on a leash are welcome to join you at Dusty's Garden Bar, overlooking their plantings of Sauvignon Blanc.
Take a seat in the Garden section, then order from their casual dining menu, available daily at lunchtime plus in the evenings from Tuesday to Saturday. To sample their wine and beer, don't miss adding on a wine or beer flight.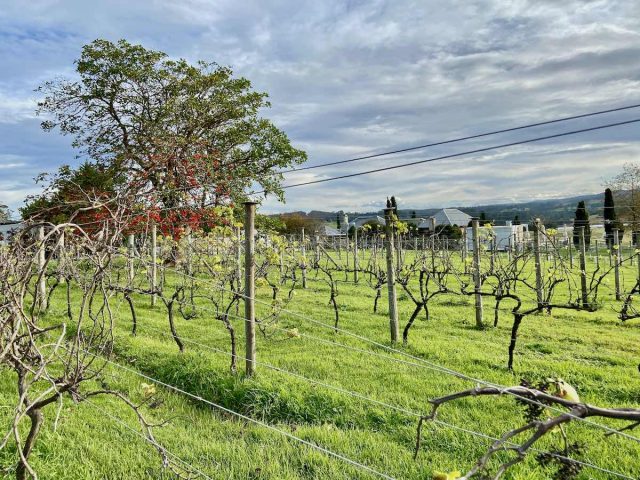 Just south of Narooma is the Tilba Valley Winery & Ale House. This small estate of 10 acres has been producing wine for over 40 years, a mix of red and white varietals. Drop in to taste some wine, enjoy a Ploughman's Platter for lunch, or enjoy the live music on weekends, relaxing with your dog on the lawn.
#5 Or Enjoy a Local Beer
In recent years, a growing number of breweries have sprung up along the dog-friendly South Coast. They're a great spot to visit if you enjoy trying new beers, plus many also feature on-site restaurants or food trucks. Best of all, they generally tend to be dog-friendly!
In Jervis Bay, there's two breweries to choose from, both in the industrial area at Huskisson. Jervis Bay Brewing Co opened in late 2019 and have a great dog-friendly beer garden. They're generally open from Wednesday to Sunday, with food trucks on selected days.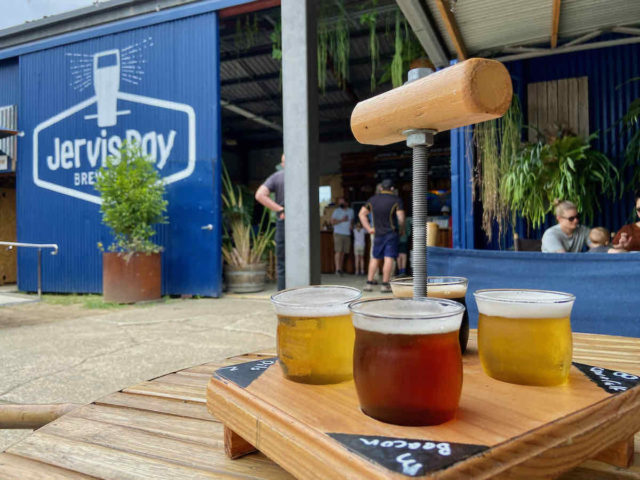 Just a few blocks away is the more recently opened Flamin' Galah Brewing Co, that also has a dog-friendly beer garden and permanent food truck. Dogs are allowed both outside and inside until 8pm (when family-friendly hours end).
Cupitt's Estate in Ulladulla operate a brewery on site, in addition to producing wine. Order a beer flight in the Garden Beer, the ideal accompaniment to a pizza, or pick up a take-away pack to enjoy later like we did.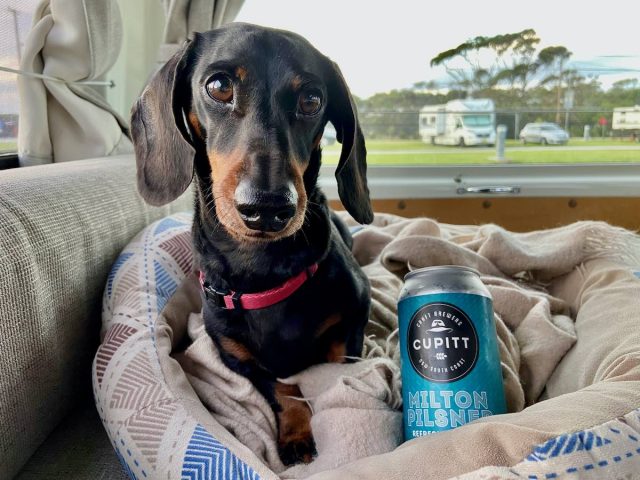 On the southern side of Batemans Bay, drop into the recently opened Broulee Brewhouse, just metres from North Broulee Beach. As well as their own locally brewed beers, they have a kitchen serving up tasty bites from burgers to Mexican. Open for lunch and dinner from Wednesday to Sunday, they have plenty of pet-friendly outdoor tables.
Another newly opened brewery is Quantum Brewery in Moruya. Part of the Moruya Artisan Factory, along with GraniteTown CafeBar, dogs are welcome in the lovely garden, where you can enjoy a beer paddle, perhaps alongside a cheese platter or pizza.
Tilba Valley Winery & Ale House started brewing beer as well as making wine in 2019. With a wide variety of beers, plus the recent addition of ciders, drop into the vineyard for lunch from Wednesday to Sunday, or just to enjoy a beer with your dog by your side on the lawn.
Camel Rock Brewery is located at Wallaga Lake, near the famous Camel Rock formation that is their name-sake. Their beers are best enjoyed at the on-site bar and restaurant, which has a huge dog-friendly outdoor area (except for a small dog-free section). The menu is laidback Americana, with plenty of burgers and wings.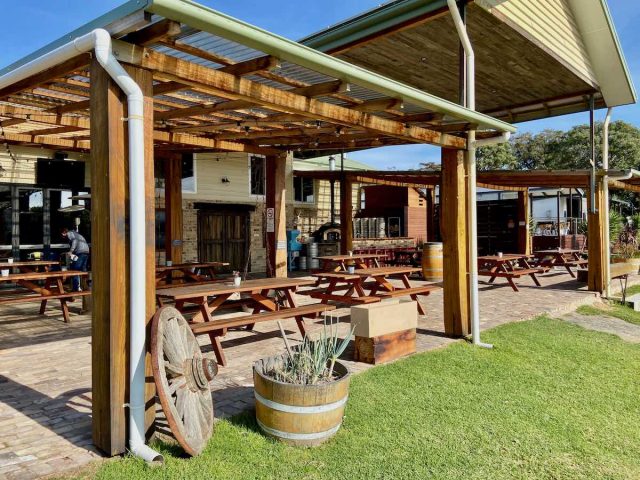 Finally, just south of Pambula is the Oaklands complex, which is home to Longstocking Brewery. Enjoy a small or large size tasting paddle from their rotating selection of beers and ciders, all brewed on site, with takeaway bottles available. There's also a oyster bar and wood-fired pizzas available, with dogs welcome to join you.
#6 Check out Australia Rock
While road tripping along the South Coast with my dog, one of my favourite spots to visit has been Narooma, a rather under-the-radar seaside town.
One of the most intriguing sights in Narooma is the so-called Australia Rock. This "window" through the rocks is located near the souther break-wall and looks just like a map of Australia. It's a must-visit photograph spot.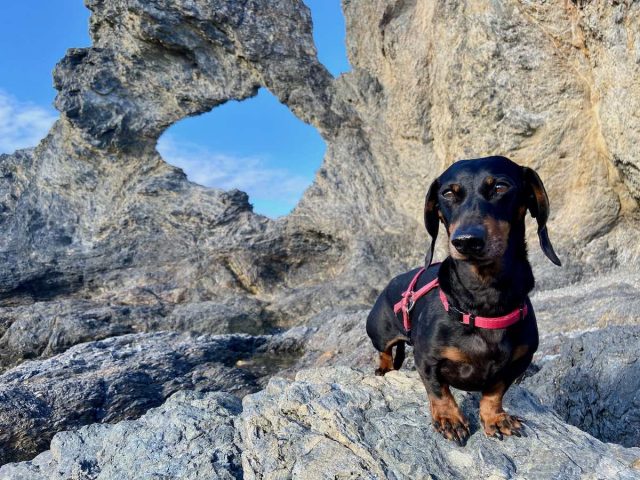 While in Narooma, also head to Apex Park, near the northern break-wall. The New Boat Ramp is a popular hang-out for the local pelicans and cormorants, who particularly like to visit when fish are being cleaned at the fish cleaning station. Also keep an eye out for the seal who is a regular visitor and the gigantic sting rays cruising close to shore.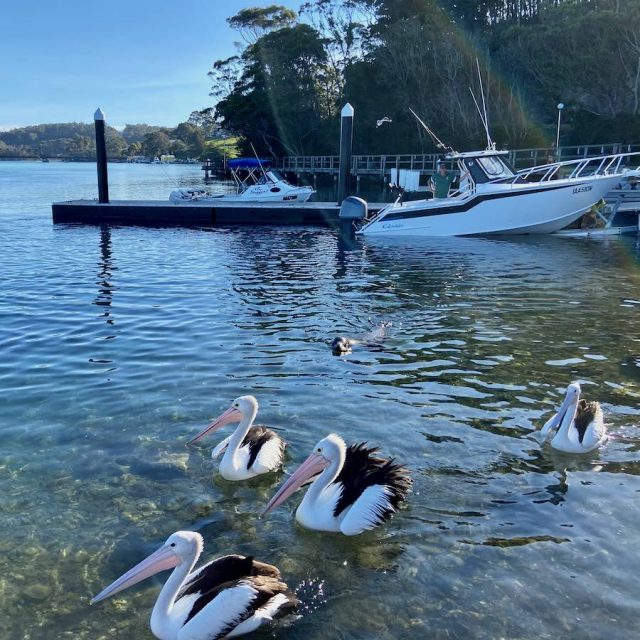 Next to Apex Park is the start of the Mill Bay Boardwalk, which continues for 350m along the northern side of the Wagonga Inlet to Riverview Road. It's a terrific yet easy walk, especially if you regularly stop along the way to look for stingrays and fish. Dogs on a leash are welcome.
Alternatively, Bar Beach on the other side of Apex Park is an off-leash dog beach, with dogs allowed off-leash all day long starting 100m north of the break-wall (from the walkway).
#7 Visit Historic Central Tilba
One of the cutest spots on the South Coast is the historic village of Central Tilba, just south of Narooma. The Tilba district briefly boomed during the late 1800s and early 1900s when gold was discovered, but then became a backwater. Many of its historic buildings are still standing, with the district classified by the National Trust in 1974.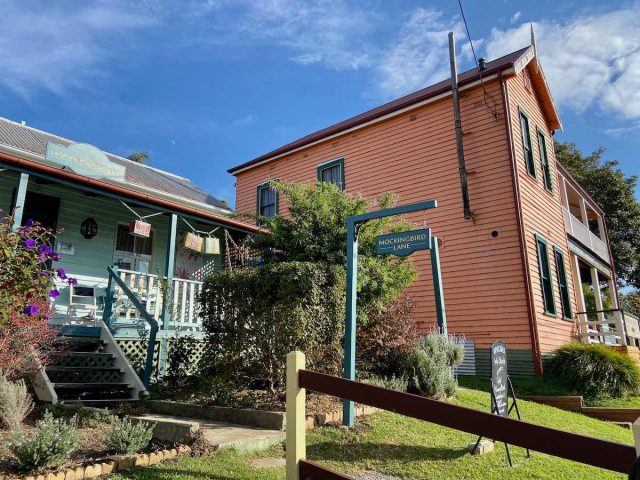 Take a stroll along the main street, lined with a variety of shops and cafes (although you'll need to leave your dog outside most shops). As well as the well-known ABC Cheese Factory, there's shops selling leathercrafts, wood turning, gifts and even local chocolates.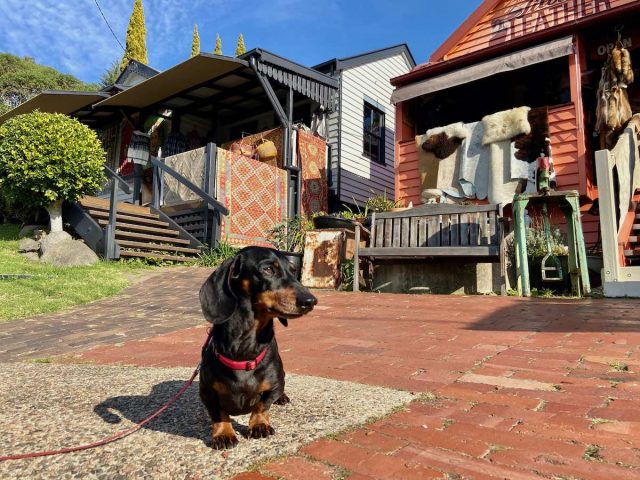 #8 Stroll on the Merimbula Boardwalk
One of the best dog-friendly short walks on the South Coast of NSW is the Merimbula Boardwalk. This popular boardwalk is located on the northern edge of Merimbula Lake, just west of the bridge and not far from the town centre.
To walk along the boardwalk, either park immediately west of the bridge or drive to the far end of the boardwalk and park in the carpark on Lakewood Drive, marked on Google Maps as the "Merimbula Boardwalk Parking". The boardwalk is about 2km in beach direction, including a few short sections of footpath in between boardwalk sections.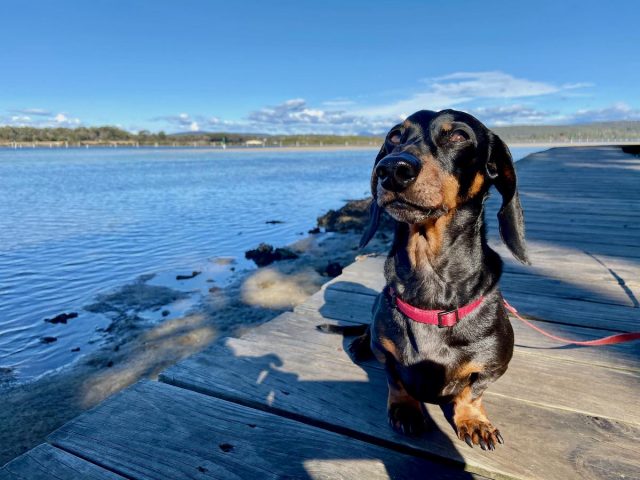 Make sure you keep your dog on a leash on the boardwalk, and make way for those walking the other way on narrower sections. Along the way you'll pass some of the local oyster farms, plus signs about the local marine life and vegetation. Allow about 1-2 hours to complete the walk at a stroll.
The Merimbula Boardwalk isn't the only dog-friendly boardwalk on South Coast. Further south at Eden, check out the Lake Curalo Trail, which includes a 1.6km long boardwalk. The boardwalk and the rest of the trail loops around Lake Curalo, behind the off-leash Aslings Beach. It's a 6km return walk (as you can't quite complete the entire loop).
Alternatively, check out the Mangrove Boardwalk in Huskisson, near the Jervis Bay Maritime Museum. The boardwalk explores the wetlands at Currambene Creek and takes about 30 minutes to explore.
#9 Watch for Whales
Twice a year, whales can be spotted from the cliffs along the South Coast, firstly making their way north during the winter months and later returning home to the waters off Antarctica during the spring. While there aren't any dog-friendly whale watching cruises that I know of, there are plenty of clifftop lookouts you can visit with your dog.
Around Kiama, head to the Gerringong Whale Watching Platform. Located at Gerringong Headland, the surrounding area is an off-leash dog park, so your dog is welcome to join you. Also keep an eye out while walking the Kiama Coast Walk, especially along the cliff-top sections.
At Ulladulla, head to the Ulladulla Lighthouse, south of the harbour at Warden Head. There's easy parking right next to the lighthouse, with a number of walking trails criss-crossing the headland, with on-leash dogs permitted.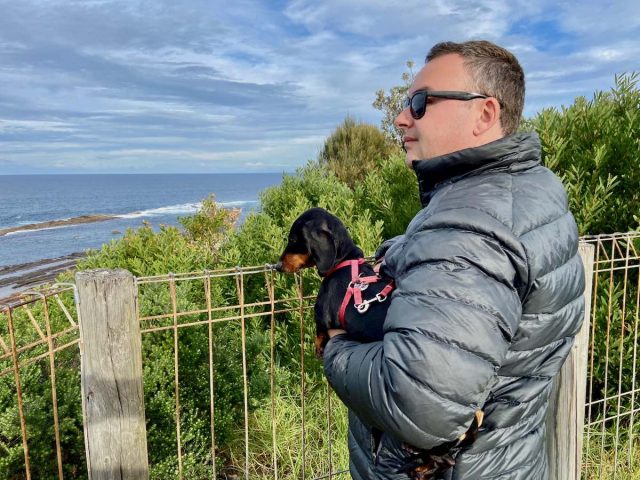 Further south, some of the best dog-friendly lookouts for spotting whales are Tathra Headland, along the headland walk, Short Point in Merimbula, and Eden Lookout.
Eden is also home to the Eden Killer Whale Museum, which explores the tragic history of whaling in the town, including the story of Old Tom, a Killer Whale who assisted the whalers and whose skeleton is on display. While dogs are naturally not allowed in the museum, it's worthwhile checking out the tile murals outside of the museum, the "Cavalcade of Twofold Bay History".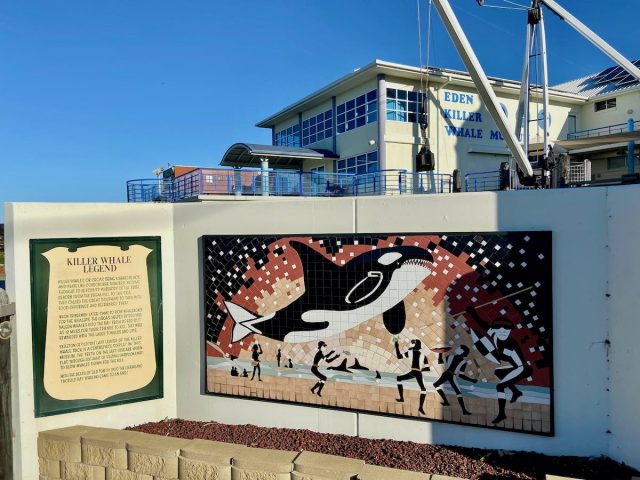 Pet-Friendly Accommodation on the NSW South Coast
The NSW South Coast is a popular holiday destination so there's a wide variety of accommodation on offer, from caravan parks to holiday homes to hotels. Check out these suggestions for pet-friendly accommodation options…
Best Dog-Friendly Hotels on the NSW South Coast
There's a handful of pet-friendly hotels along the NSW South Coast, where your pet will be welcome to stay with you, whether for a luxe weekend or a longer stay by the beach.
One of the most luxurious pet-friendly accommodation options is Bannisters Mollymook, with two pet-friendly classic rooms available at Bannisters Pavilion. Pets up to 25kg are welcome – speak directly to the property to find out their fully pet policy. It's just a short stroll from the hotel to the on-leash section of Mollymook Beach.
Further south, check out Abode Malua Bay near Batemans Bay. This hotel is located right next to Malua Bay Beach, where dogs are allowed off-leash during selected hours, plus over the winter. All of the stylish modern rooms are self-contained, with up to two pets permitted per room, for an additional charge of $50 per pet, per night.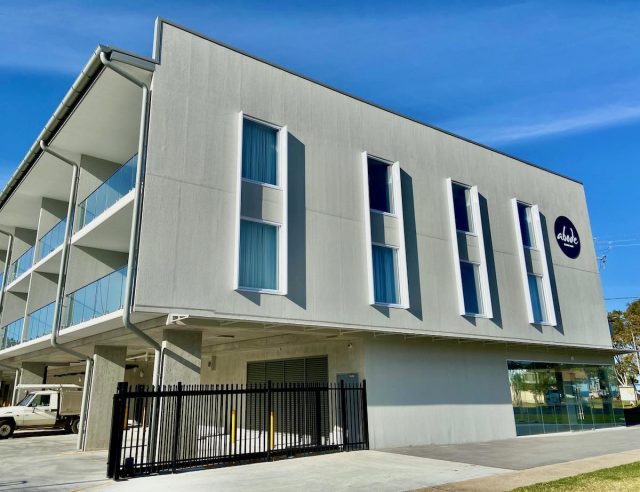 Also in Batemans Bay, the recently opened retro-style motel The Isla has one pet-friendly room available, a King Courtyard room. You will need to book directly, with a $100 cleaning fee applying per dog per stay, and only smaller, short-hair dogs allowed.
In Bermagui, a pet-friendly motel is the Harbourview House. Located directly opposite the harbour, all rooms have a kitchenette and either a private courtyard or balcony. Make sure you notify the motel in advance that you will be bringing a dog so a pet-friendly room can be allocated, with a one-off $50 cleaning fee charged.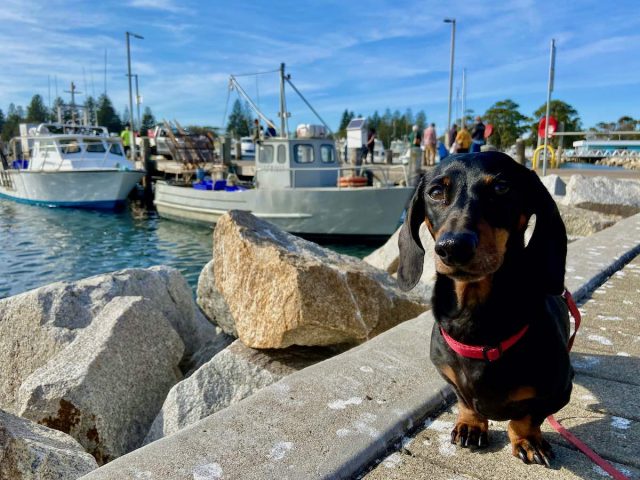 While not quite a hotel, all of the one- and two-bedroom holiday units at the Top of the Lake Holiday Units in Merimbula are pet-friendly. Dogs of any size are welcome, including inside, for no additional charge. Each of the units has an enclosed balcony and courtyard, plus there's a grassy lawn to share.
Best Pet-Friendly Caravan Parks on the NSW South Coast
There are countless caravan parks on the NSW South Coast, many of them located in prime positions next to beaches and lakes. However, many of them have blackout periods over the summer months. Consider one of these pet-friendly caravan parks that welcome pets year round.
At Jervis Bay, one of the few holiday parks with no seasonal restrictions is the Jervis Bay Holiday Park, just outside Huskisson. (Although do note the prices get quite dear during peak periods!) The park is located right on Currambene Creek, with its own private boat ramp. Well-behaved pets are allowed on powered and camp sites, plus in selected pet-friendly villas.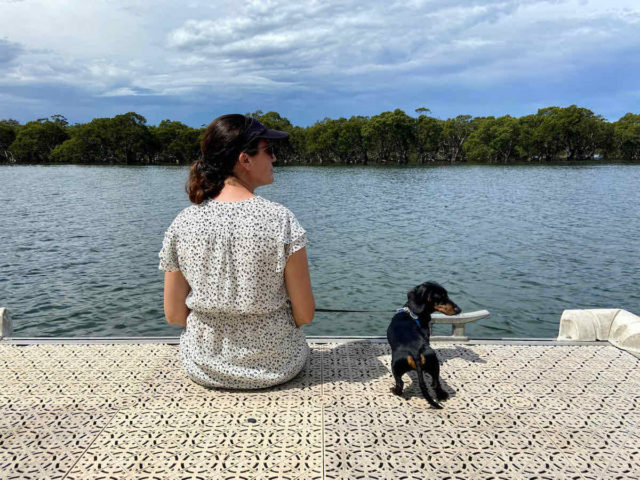 For dog-friendly cabins on the South Coast, one terrific option is South Coast Retreat, located just to the north at Greenwell Point. While not a caravan park, pets are welcome in the standard and deluxe cabins, as well as their African-style glamping tents. There's a limit of two dogs per cabin or glamping tent, with no summer block-out dates.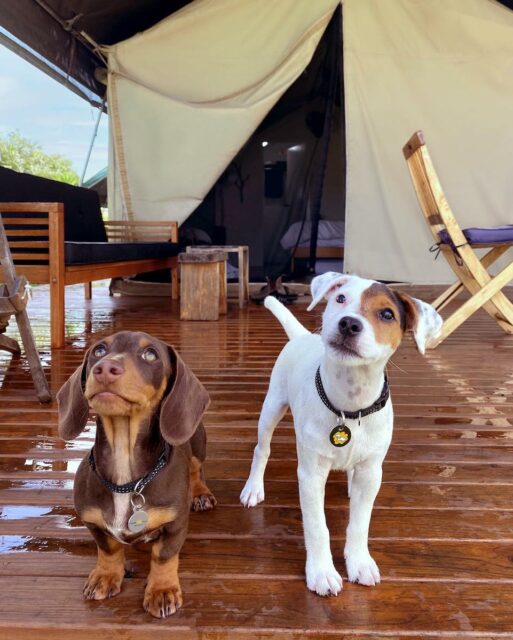 Around Ulladulla, the majority of caravan parks have seasonal restrictions, whether over the summer school holiday or Easter long weekend. For two year-round dog-friendly options, head south of Ulladulla to Tasman Holiday Parks – Kioloa Beach or Ingenia Holidays Merry Beach. Both parks allow pets on sites, plus in selected pet-friendly cabins.
At Batemans Bay, one of the best caravan parks that allows dogs year round is the BIG4 Batemans Bay Beach Resort, conveniently next to the off-leash Corrigans Beach. The park allows dogs on both sites and in selected two-bedroom cabins, although the number of pet-friendly sites and cabins is limited over the peak Christmas and Easter periods. Direct bookings are required, plus a pet deposit for cabin stays.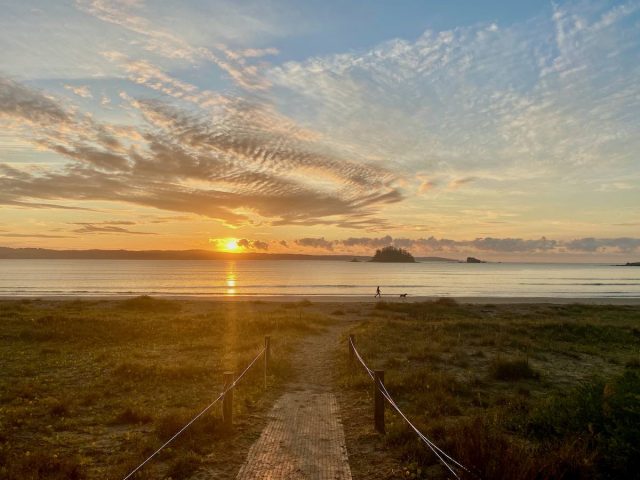 Not far south of Batemans Bay, the pet-friendly Barlings Beach Holiday Park allows pets year round, plus has an off-leash dog run on site, a pet washing machine and is next to a beach that allows off-leash dogs during the morning and evening.
Pets are allowed on camping and caravan sites, plus in Islander Cabins, Beach Comber Cabins and Tomakin House. According to their pet policy, there is a limit of one pet per cabin with an additional charge of $50 per stay, plus a $100 pet bond. Advance bookings via phone are required.
Near Narooma, there are two affordable campgrounds that allow dogs year round, although there are no cabins, dog-friendly or otherwise. Dalmeny Campground is 10 minutes north of Narooma and offers both powered and unpowered sites, along with proper toilets and hot showers.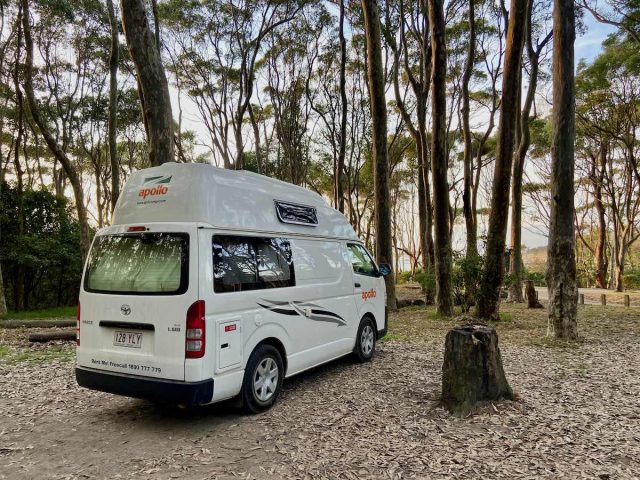 We stayed the night at Mystery Bay Campground, about 10 minutes south of Narooma. This campground is more basic, with only unpowered sites, pit toilets and cold showers. However, it is near the beautiful Mystery Bay Beach, a timeshare beach. Previously not taking bookings, it's now possible to book online.
Further south in Tathra, the pet-friendly Tathra Beachside caravan park has excellent facilities and is conveniently next to an off-leash dog beach. While there is a blackout date for pets on campsites between 26th December and 10th January, pets are welcome year-round in their special pet-friendly cottages and villas.
The Pet-Friendly Cottages are two-bedroom, sleeping up to five, and feature a fenced yard and deck with kennel. The Pet-Friendly Villas are slightly larger, sleeping up to six with two pairs of bunks, and have enclosed verandahs. Both allow pets inside, although not on the carpeted areas or on the beds.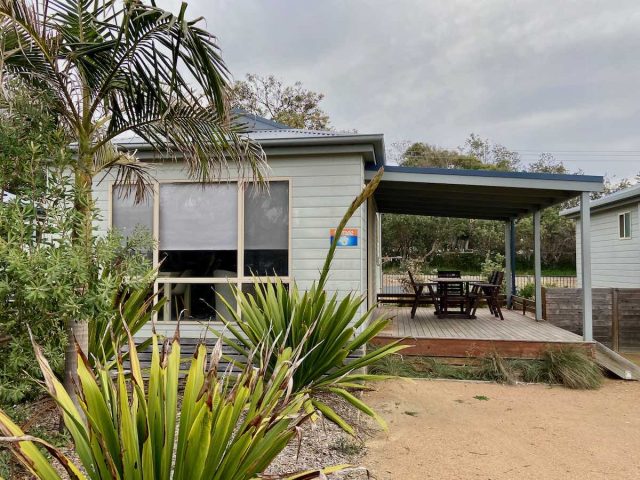 Close to Merimbula, pets are welcome year round on powered and unpowered sites at the Merimbula Lake Holiday Park. Note that the park doesn't have any cabins, and there is a limit of one pet per site.
Pet-Friendly Holiday Rentals on the NSW South Coast
For some ideas on pet-friendly holiday rentals, check out my post on dog-friendly Airbnbs on the South Coast.