The more you look for pet-friendly accommodation options in Victoria, the more enticing choices are revealed. Whether it's a relaxing country break, a cabin by the beach, or a fun weekend in the city that you're after, check out this range of dog-friendly places to stay in Victoria, including some great luxury dog-friendly accommodation.
Note: This post contains affiliate links, which means I may receive commission if you make a purchase using the links. See my full disclaimer.
Dog-Friendly Luxury Stays
There's no need to stick to budget accommodation when enjoying a trip away with your pup. Check out these luxury pet-friendly accommodation options throughout Victoria.
The Langham Melbourne
For the ultimate luxury hotel stay with your dog in Victoria, make a booking with The Langham Melbourne for a Pampered Pets Staycation.
When you step inside the lobby at Southbank you'll be greeted with a grand marble staircase and one of the largest chandeliers in the Southern Hemisphere, while in your room your pet will be provided with their own Langham-branded pet bed and bowls, plus a Welcome amenity.
There is a limit of one pet per room, plus a weight limit of 20kg for dogs. Note that this is only available in Executive Terraces (dogs only) and Deluxe River Corner King rooms. A pet fee of $150 is included in the Pampered Pets Staycation package.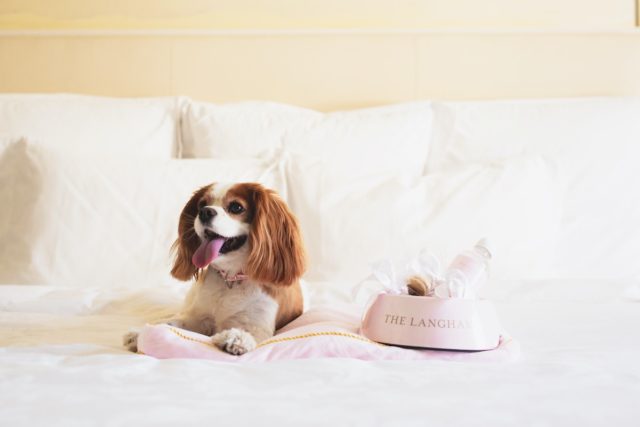 Leddicott Cottage, Dandenong Ranges
Another dog-friendly luxury cottage to stay in close to Melbourne is Leddicott Cottage. Located in Olinda in the beautiful Dandenong Ranges, it's only an hour's drive east of the centre of Melbourne.
With a wood-fired pot belly stove and clawfoot bath, it's the perfect spot for snuggling in winter. Perhaps take a stroll through historic gardens that surround the property, otherwise it's just a five minute walk to nearby restaurants, pubs and shops, with plenty of dog-friendly tips provided.
All dogs who stay are warmly catered for, with their own blankets, towels and of course plenty of treats. For a special occasion, put in an order for a peanut butter, bacon and maple syrup pupcake.
Must Love Dogs B&B, Rutherglen
The name of the Must Love Dogs B&B gives away that this B&B is truly pet-friendly and very welcoming to dogs! Located in Rutherglan, it's about 3 hours drive north-east of Melbourne, not far from the border-town of Albury-Wodonga.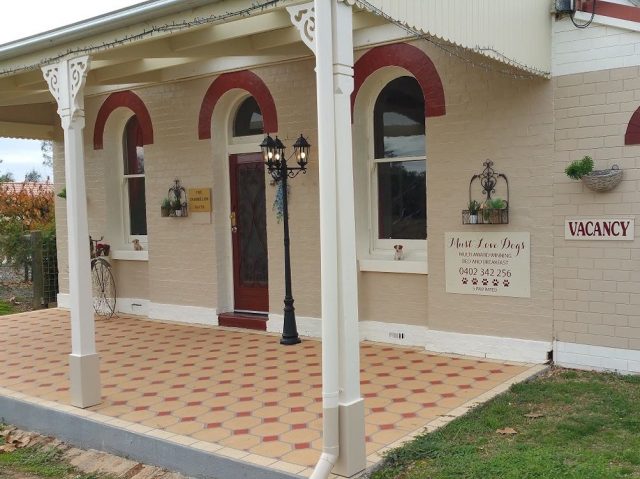 Built in 1849, the historic cottage contains two guest suites and a self-contained cottage, all of which permit dogs inside. Naturally there's a log fire for the cold winter nights, plus a solar-heated pool and spa for warmer days. And of course there's a beautifully manicured, fully-fenced garden for your dog to enjoy.
Given that the Rutherglen district is famous for wine, in particular fortified wines, the B&B can organise a wine tour for you and your dog, who will be permitted inside the tasting rooms. Another fun option is the Devonshire Tea, served by the log fire in wintertime, with the option of free pet sitting also provided.
Clement House, Benalla
Anther gorgeous spot to stay in countryside Victoria is Clement House in Benalla. A 2 1/2 hour drive north of Melbourne along the Hume Highway, its close enough for a luxury weekend away.
Clement House is a luxury B&B located in a Victorian-era family house, with multiple accommodation options to choose from, all beautifully appointed. The Deluxe Queen Suite at the front of the house features its own fireplace, plus access to the securely fenced front garden, while the Deluxe Queen Studio has a kitchenette.
Both apartments have their own private entrances. A continental breakfast is provided daily, plus the option of a late check-out if no new guests are arriving. No additional charges apply for pets.
Dog-Friendly Country Stays
Wanting to enjoy a relaxing stay in the country with your pup, with plenty of green space to explore and run? Choose between these dog-friendly options.
Best Friend Holiday Retreat, Tarra Valley
Whenever the topic of dog-friendly accommodation in Victoria is raised, I always hear so many recommendations for Best Friend Holiday Retreat. Located in the Tarra Valley, about 2 1/2 hours southeast of Melbourne, this park nestled in the rainforest has been specially designed for people travelling with their pet dogs.
Some of the special features include individually fenced caravan and camping sites, six securely fenced areas for dogs to exercise off-leash, a hydro-bath hut and a dog-friendly playground, plus a giant ball run. Dog-friendly cabins with fenced yards are also available. All dogs are expected to sleep inside at night!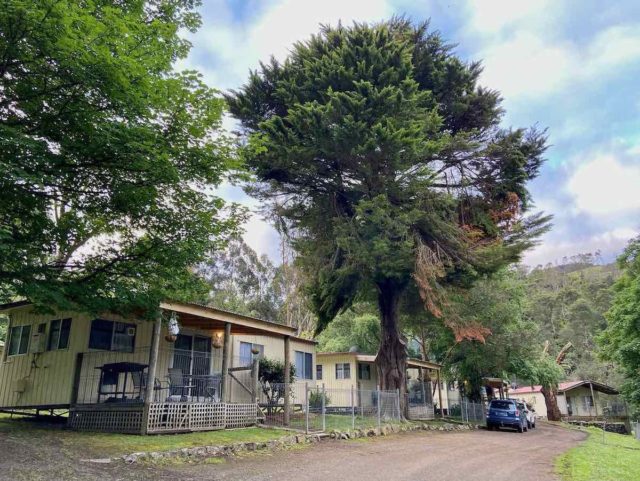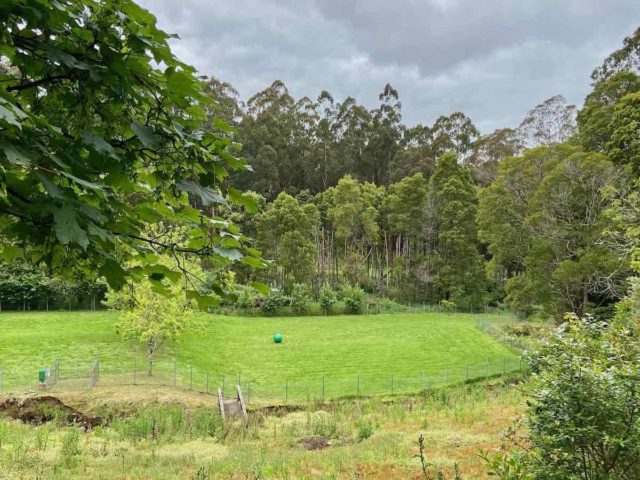 If you do need to head out without your dog, you can make use of the luxury dog kennels during the day. Although there's also plenty of fun to enjoy on-site, including the adjacent waterfall and rock pool, perfect for doggie swims, or borrow a game of Dog Monopoly.
Hollow Log Estate, Daylesford
Just a five-minute drive out of Daylesford, Hollow Log Estate is a delightfully dog-friendly place to stay. Onsite is a secure 1/2 acre dog exercise area, plus there's walking tracks leading into the nearby dog-friendly Wombat State Forest.
Choose between the Stoney or the Cottage. The Stoney is a studio-style cottage ideal for a couple, plus up to one dog or two small dogs. The Cottage is more spacious, with room for up to four human guests. It also has a handy enclosed balcony. Both feature an indoor fireplace and are fully self-contained. A complimentary breakfast pack, plus wine and chocolate are provided.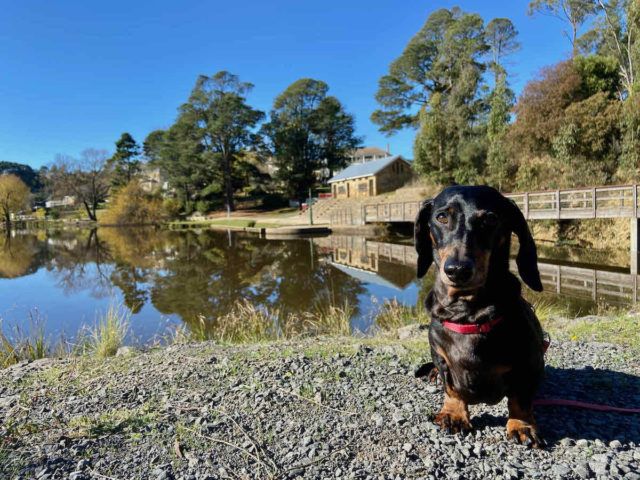 Wiggley Bottom Farm, Healesville
During my visit to the Yarra Valley, rather than head back to Melbourne at the end of the day, we extended our stay at Wiggley Bottom Farm, a dog-friendly luxury farm stay near Healesville.
At Wiggley Bottom Farm choose between the Apartment in the main farm building or the Cottage, both suitable for up to two adults and two children. We were delighted with our selection of the Cottage, which was very peaceful and offered beautiful vistas of the surrounding countryside.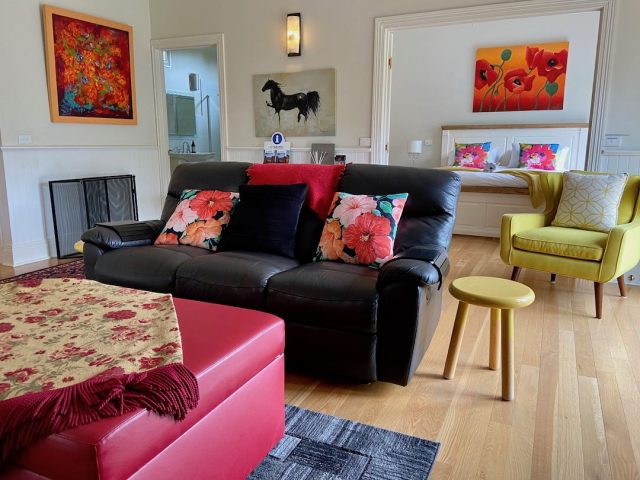 No matter which option you choose, there are fenced outdoor spaces for your dog to enjoy, including a fully-fenced outdoor kennel next to the Cottage for dogs who prefer to sleep outside. There's a doggie care kit and treats provided. Up to two dogs are permitted to stay with you, for an additional charge of $50 per dog.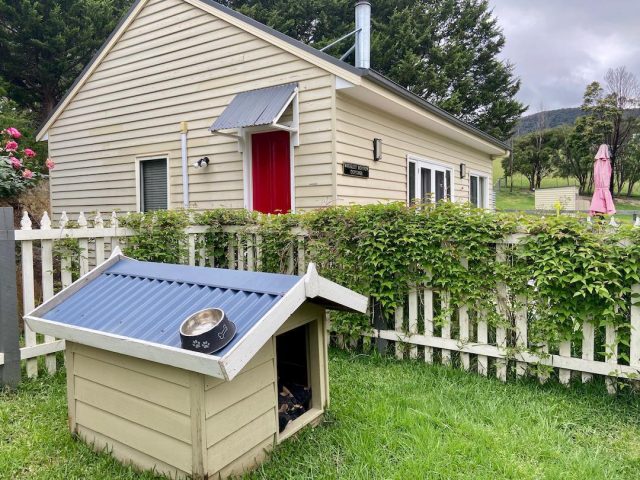 Countrywide Cottages, Otway Ranges
The pet-friendly Countrywide Cottages are a wonderful base for visiting the Otway Ranges or exploring the Great Ocean Road with your dog. A 25-minute drive north of Lorne, there are four cottages available.
Choose from the two-bedroom Ferny Reach or Igloo Cottages, or the three-bedroom Villa or Canopy, with the latter accommodating up to nine guests. All cottages are self-contained and have their own fenced yard. Two night or longer minimum stays generally apply.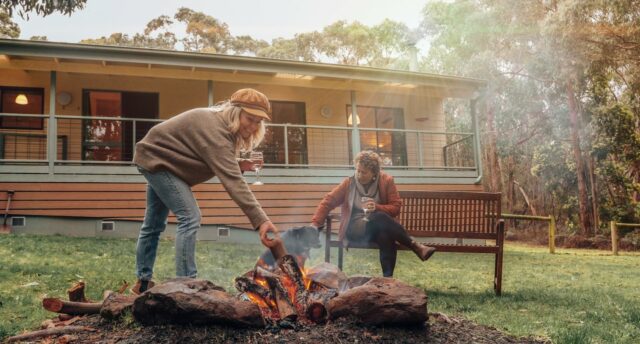 Dogs are warmly welcome, with a cosy bed, blanket, dog bowls and home-made treats provided. Allow them to sleep on the furniture inside thanks to the furniture covers, or let them romp in the fenced dam outside. There's also plenty of dog-friendly bush walks on your doorstep, with the Otway Forest Park next door.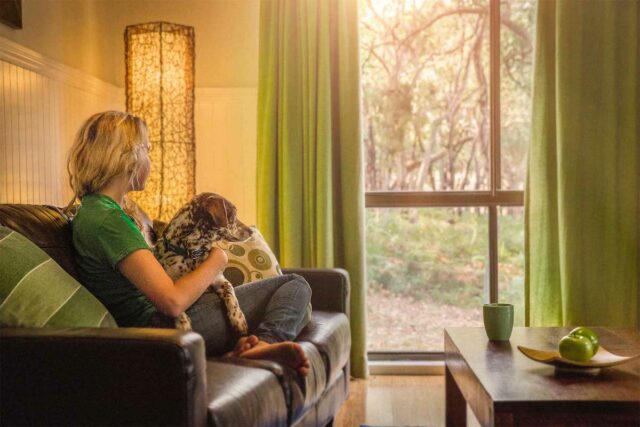 A Tiny House, Various Locations
Curious about the tiny house phenomenon? Then wonder no more and stay in one for the weekend of longer, along with your pup. In2thewild have multiple tiny houses available to book throughout Australia, including four pet-friendly tiny homes in Victoria.
Choose between Tiny Phoebe in the Goulburn River Valley, Tiny Polly or Tiny Harper close to the Macedon Ranges or Tiny Jemina in the Goldfields region. Note that all are entirely off-grid, with solar power only and eco-friendly composting toilets.
Both dogs and cats are permitted, with pets of up to 20kg permitted inside, but only downstairs. A limit of two pets applies. Bring your own pet bed and bowls, with pets permitted on inside furniture only if a blanket is used.
Dog-Friendly Beachside Stays
Escape to the coastline of Victoria, whether the Great Ocean Road or Gippsland, for a fun time with your pup. Make a booking for one of these dog-friendly stays by the beach.
Gum Tree Caravan Park, Port Fairy
For the best range of dog-friendly accommodation along the Great Ocean Road, head to the western end of the road. There's plenty of dog-friendly cabins available, including many affordable options, once you get to the Warrnambool, Port Fairy and Portland. On our drive along the Great Ocean Road we stayed at in a cabin at the Gum Tree Caravan Park in Port Fairy.
We were very impressed with our stay in a studio cabin, which was lovely and modern, including an ensuite bathroom and a great kitchen with everything we could need. Naturally our dog was welcome to stay inside with us, for just an extra $10 per night (as of 2019), and the owner of the park was very friendly.
The nearby town of Port Fairy is a beautiful spot. I recommend getting a listing of the many historic buildings and going on a self-guided tour, or going for a stroll along the waterfront with your pup.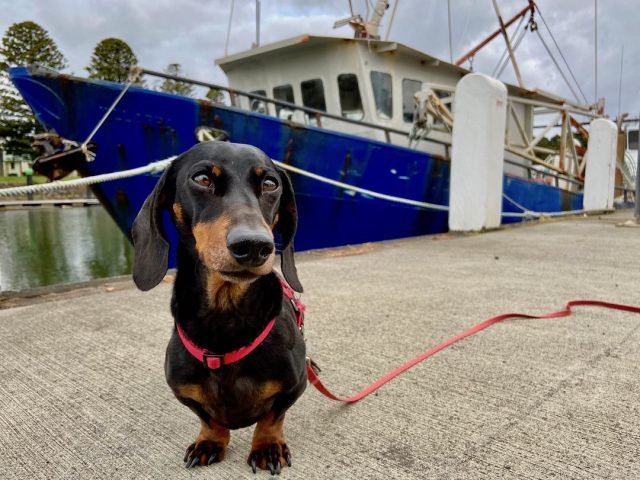 Golden Beach Cabins, Central Gippsland
For a more remote beach holiday, head nearly 3 hours east of Melbourne to Golden Beach Cabins at Golden Beach in Central Gippsland. These dog-friendly cabins are situated opposite the impressively long 90-Mile Beach!
There are two cabins available, both of which accommodate up to 5 guests, and are fully self-contained. Well-behaved dogs are permitted to join you, although they should be kept off furniture. You'll need to supply your own dog bedding, and there's a small additional cleaning fee if dog hair is left on the furniture or you don't pick up after them. Note there are no fences outside the cabins.
In return, you'll have the joy of the endless unspoilt coastline. For off-leash dog beaches, head west in between Campsites 1 and 6 along Golden Beach or east to Paradise Beach. Wildlife is abundant in the local area, plus fishing is also popular. If you're on a road trip, single night bookings are available.
Dog-Friendly City Stays
There's no need to head far for weekend away with your pup. Melbourne is home to plenty of pet-friendly hotels, perfect for a staycation in the city with your pup.
Best Western Melbourne City
If you're wanting to enjoy a lively time in Melbourne with your dog, check into the Best Western Melbourne City, the first pet-friendly hotel in Melbourne City.
We stayed at the Best Western while in Melbourne and found the hotel to be very conveniently located (in between Flinders Street and Southern Cross Stations), plus we loved our pet-friendly courtyard room, complete with an outdoor green space in the city. The room had been recently redecorated, with modern lines and colourful accents, and included all the modcons.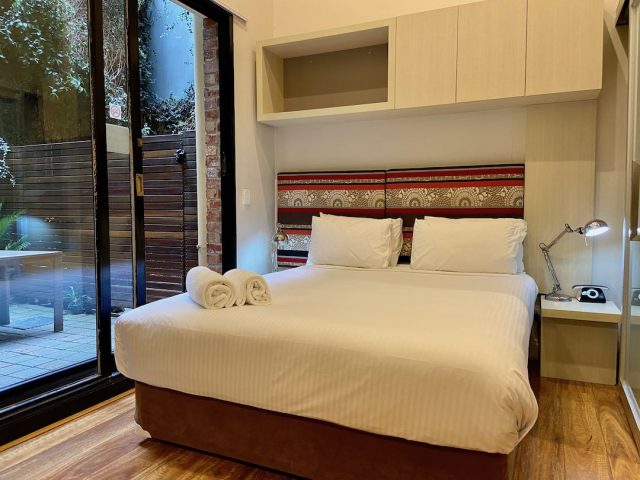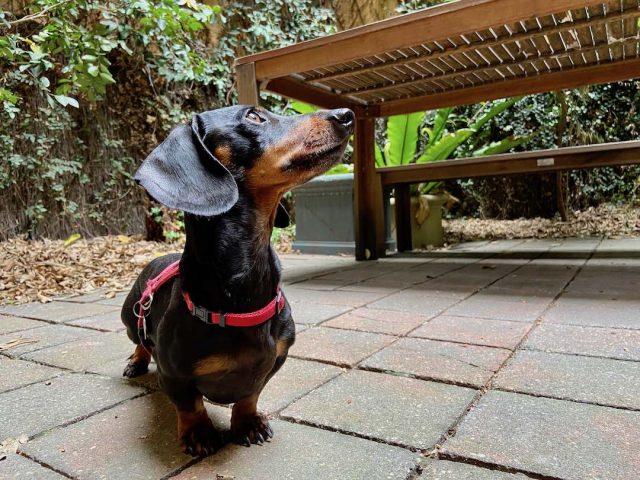 The hotel is just a short walk from Southbank, with plenty of outdoor dining options, or head the other direction for laneways full of street art. Dogs are permitted to be left briefly in your room with the sign on the door, such as while you breakfast or just grab a coffee. There is an additional charge of $30 per pet per night.
For more details, plus dog-friendly tips for Melbourne, check out my dog-friendly Melbourne guide
Laneways by Ovolo, Melbourne
A more recently available option for pets to stay at in the Melbourne CBD is Laneways by Ovolo, located in the east end of the CBD near Victoria's Parliament House. The Ovolo brand announced a few years ago that their entire hotel chain in Australia was becoming pet-friendly.
Select a dog-friendly room along with a V.I.Pooch package. Your dog will receive a plush dog bed, eating and drinking mat, food and water bowls, and a signed "doggy bag", containing toys, snacks and clean-up bags. Up to two dogs are permitted per room, with an additional charge of $100 per night for a second dog.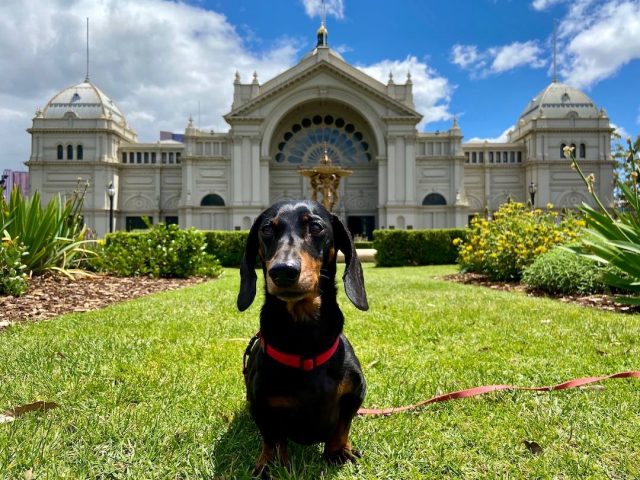 Element Melbourne Richmond
Head 6km east of the CBD for another pet-friendly choice in Melbourne. Element Melbourne Richmond is the Australian debut of the Element by Westin brand, from Marriott International, an eco-friendly and pet-friendly hotel.
Some of the eco-friendly features of the hotel include oversized windows that provide an abundance of natural light, energy-saving LED lighting and water-saving taps and fixtures. There's a 24-hour fitness centre and bicycles to rent, plus the hotel is close to the off-lead Fairview Park.
There are multiple pet-friendly rooms, with up to two dogs with a combined weight of 20kg welcome, for an additional charge of $30 per night, up to $90 per stay. If you book a Pawesome Pooch Staycation, your pup will also be supplied with a bed and bowls, a treat on arrival and mini-bar options.
You May Also Like
About the Author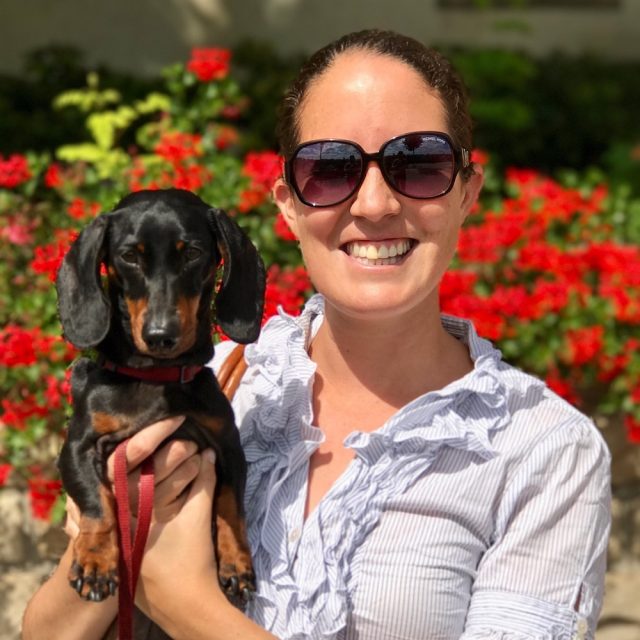 Shandos Cleaver is the founder of Travelnuity: Dog-Friendly Travel. She has travelled extensively with her Miniature Dachshund, Schnitzel, including to 33 countries across Europe, every state and territory of Australia except Tasmania, and 10 of the United States. She's passionate about providing inspiration and information to others wanting to travel with their dogs, whether close to home or internationally.
Inspired? Pin this to your Pinterest board!