The more you look for pet-friendly accommodation options in Victoria, the more enticing choices are revealed. Whether it's a relaxing country break or a fun weekend in the city that you're after, check out this range of dog-friendly places to stay.
Dog-Friendly Country Stays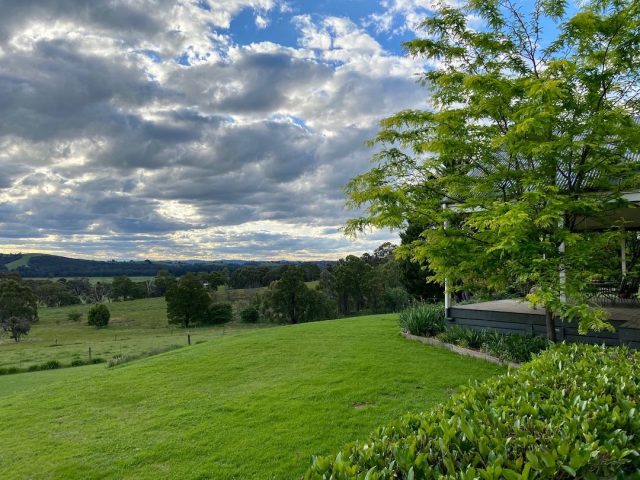 Best Friend Holiday Retreat, Tarra Valley
Whenever the topic of dog-friendly accommodation in Victoria is raised, I always hear so many recommendations for Best Friend Holiday Retreat. Located in the Tarra Valley, it's about 2 1/2 hours southeast of Melbourne, not far from Wilsons Promontory.
This tourist park nestled in the rainforest has been specially designed for people travelling with their pet dogs. Some of the special features include individually fenced caravan and camping sites, six securely fenced areas for dogs to exercise off-leash, a hydro-bath hut and a dog-friendly playground, including a giant dog ball run. Dog-friendly cabins with fenced yards are also available. All dogs are expected to sleep inside at night!
If you do need to head out without your dog, you can make use of the luxury dog kennels during the day. Although there's also plenty of fun to enjoy on-site, including the adjacent waterfall and rock pool, perfect for doggie swims, or borrow a game of Dog Monopoly. I would love to stay here one day!
Wiggley Bottom Farm, Healesville
During my visit to the Yarra Valley, rather than head back to Melbourne at the end of the day, we extended our stay at Wiggley Bottom Farm, a dog-friendly luxury farm stay near Healesville.
Wiggley Bottom Farm has multiple accommodation options for different sized groups. Both the Apartment in the main farm building and the Cottage are designed for couples, while the House can sleep two couples, or rent out the entire property for a larger group. We were delighted with our selection of the Cottage, which was very peaceful and offered beautiful vistas of the surrounding countryside.
No matter which option you choose, there are fenced outdoor spaces for your dog to enjoy, including a fully-fenced outdoor kennel next to the Cottage for dogs who prefer to sleep outside. There's a doggie care kit and treats provided, plus the first dog in each party stays for free. Our only regret was not staying longer!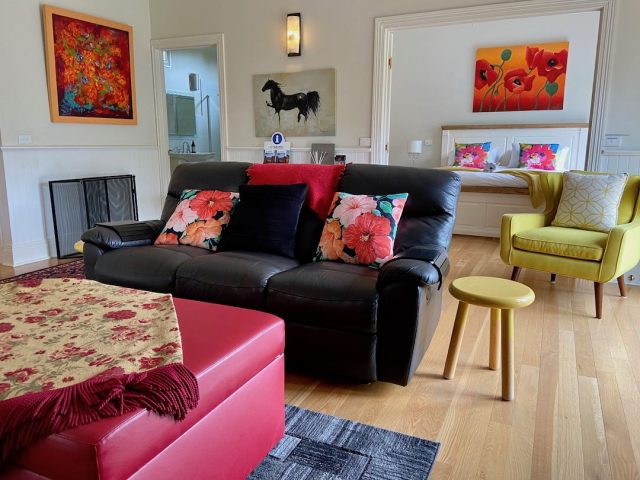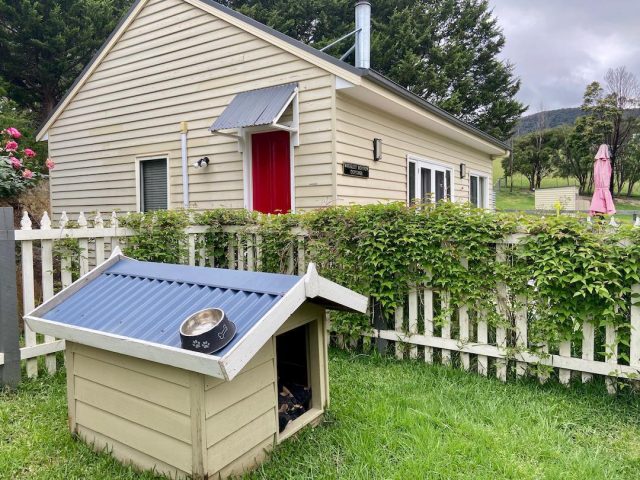 Must Love Dogs B&B, Rutherglen
The name of the Must Love Dogs B&B gives away that this B&B is truly pet-friendly and very welcoming to dogs! Located in Rutherglan, it's about 3 hours drive north-east of Melbourne, not far from the border-town of Albury-Wodonga.
Built in 1840, the historic cottage contains three guest suites, all of which permit dogs inside. Naturally there's a log fire for the cold winter nights, plus a solar-heated pool and spa for warmer days. And of course there's a beautifully manicured, fully-fenced garden for your dog to enjoy.
Given that the Rutherglen district is famous for wine, in particular fortified wines, the B&B can organise a wine tour for you and your dog, who will be permitted inside the tasting rooms. Another fun option is the Devonshire Tea, served by the log fire in wintertime, with the option of free pet sitting also provided.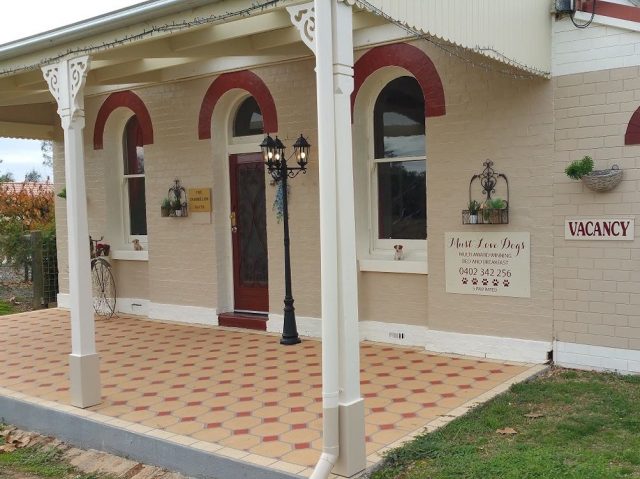 Gum Tree Caravan Park, Port Fairy
While we were disappointed to find a scarcity of dog-friendly cabins available along the Great Ocean Road, there's plenty of options once you get to the western end of the road, around Warrnambool, Port Fairy and Portland. One such option is Gum Tree Caravan Park in Port Fairy.
We were very impressed with our stay in a studio cabin, which was lovely and modern, including an ensuite bathroom and a great kitchen with everything we could need. Naturally our dog was welcome to stay inside with us, for just an extra $10 per night, and the owner of the park was very friendly.
The nearby town of Port Fairy is a beautiful spot. I recommend getting a listing of the many historic buildings and going on a self-guided tour, or going for a stroll along the waterfront with your pup.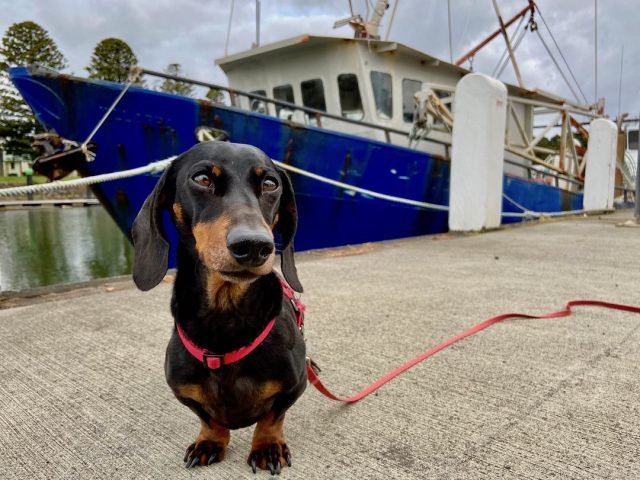 Bells By the Beach, Ocean Grove
If you're looking for somewhere to stay closer to the eastern end of the Great Ocean Road, look no further than Bells By the Beach in Ocean Grove, on the Bellarine Peninsula, only 1 1/4 hours from Melbourne. Best of all it's only 500m from an off-leash beach!
This holiday home has 3 bedrooms and can sleep up to 6, plus the option of up to 3 dogs or cats – that's a full house! Pets are permitted to stay and sleep inside, with bedding and bowls provided, as well as a treat on arrival. There's also secure fencing outside, along with a warm outdoor shower – perfect for post-beach outings, along with the supplied towels. Advance notification of pets is required, but pets stay for free.
Golden Beach Cabins, Central Gippsland
For a more remote beach holiday, head nearly 3 hours east of Melbourne to Golden Beach Cabins at Golden Beach in Central Gippsland. These cabins are situated opposite the impressively long 90-Mile Beach!
There are two cabins available, both of which accommodate up to 5 guests, and are fully self-contained. Well-behaved dogs are permitted to join you, although they should be kept off furniture. You'll need to supply your own dog bedding, and there's a small additional cleaning fee if dog hair is left on the furniture or you don't pick up after them. Note there are no fences outside the cabins.
In return, you'll have the joy of the endless unspoilt coastline. For off-leash dog beaches, head west in between Campsites 1 and 6 along Golden Beach or east to Paradise Beach. Wildlife is abundant in the local area, plus fishing is also popular. If you're on a road trip, single night bookings are available.
Make sure you tick off these dog-friendly things to do in country Victoria!
Dog-Friendly City Hotels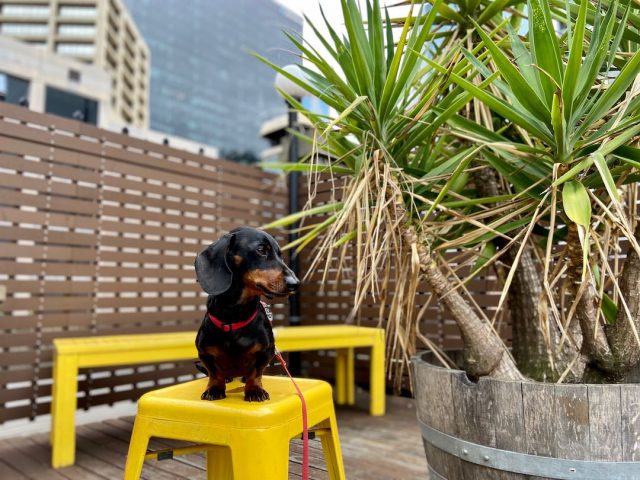 Best Western Melbourne City
If you're wanting to enjoy a lively time in Melbourne with your dog, check into the Best Western Melbourne City, the first pet-friendly hotel in Melbourne City.
We stayed at the Best Western while in Melbourne and found the hotel to be very conveniently located (in between Flinders Street and Southern Cross Stations), plus we loved our pet-friendly courtyard room, complete with an outdoor green space in the city. The room had been recently redecorated, with modern lines and colourful accents, and included all the modcons.
The hotel is just a short walk from Southbank, with plenty of outdoor dining options, or head the other direction for laneways full of street art. Dogs are permitted to be left briefly in your room with the sign on the door, such as while you breakfast or just grab a coffee. There is an additional charge of $30 per pet per night.
For more details, plus dog-friendly tips for Melbourne, check out my dog-friendly Melbourne guide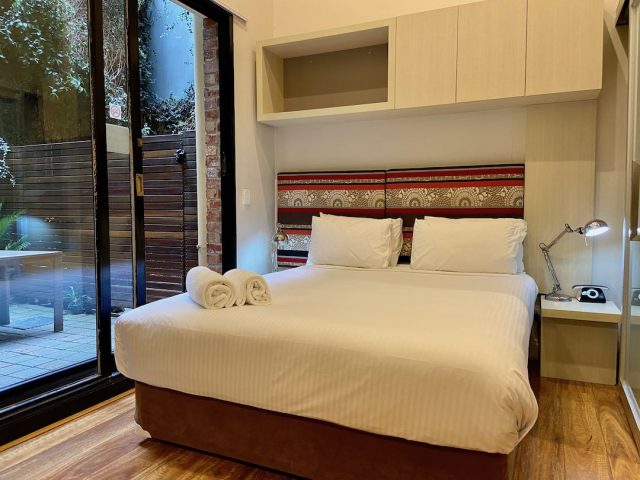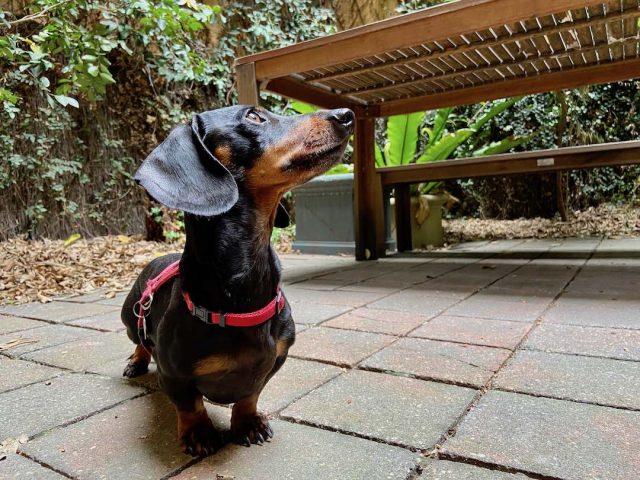 Ovolo Laneways, Melbourne
A more recently available option for pets to stay at in the Melbourne CBD is Ovolo Laneways, located in the east end of the CBD near Victoria's Parliament House. The Ovolo brand recently announcing that all their hotels across Australia were becoming pet-friendly.
Select a dog-friendly room along with a V.I.Pooch package. For an additional $80 per night, your dog will receive a plush dog bed, eating and drinking mat, food and water bowls, and a signed "doggy bag", containing toys, snacks and clean-up bags. Up to two dogs are permitted per room.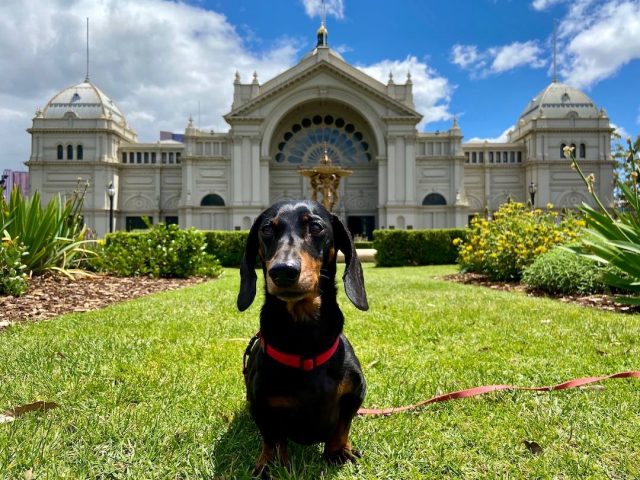 Element Melbourne Richmond
Head 6km east of the CBD for another recently opened pet-friendly choice. Element Melbourne Richmond sees the debut of the Element by Westin brand, from Marriott International, an eco-friendly and pet-friendly hotel.
Some of the eco-friendly features of the hotel include oversized windows that provide an abundance of natural light, energy-saving LED lighting and water-saving taps and fixtures. There's a 24-hour fitness centre, including yoga classes, a Bikes-to-Borrow program, and a multi-functional dining space that transforms throughout the day.
There are five pet-friendly rooms, which come with a dog bed (on request), water and food bowls, and toys. Your dog will be delighted to sample the pooch-friendly mini-bar, or head to the nearby off-lead Fairview Park. There's an additional charge of $80 per stay.
Lake Wendoree Holiday Apartments, Ballarat
The third largest city in Victoria, Ballarat has a rich history dating back to the Victorian Gold Rush, which has left the city a legacy of rich architecture. At just 90 minutes drive from Melbourne, it's great for a short getaway.
Lake Wendoree Holiday Apartments offers multiple apartments in the suburb surrounding the lake of the same name, with the ground-floor apartments on Webster Street all dog-friendly. If you're interested in staying with your dog, it's necessary to book in advance, and in return you'll receive a Doggykit. The 4-star apartments have been luxuriously furnished and all include a full kitchen.
Inspired? Pin this to your Pinterest board!