Whether you're visiting Los Angeles with your pet on vacation or are after somewhere special for a staycation, there's some excellent dog-friendly and cat-friendly hotels to choose from in the City of Angels. Offering plenty of perks for both your pet and yourself, consider booking a stay at one of these top pet-friendly hotels in Los Angeles.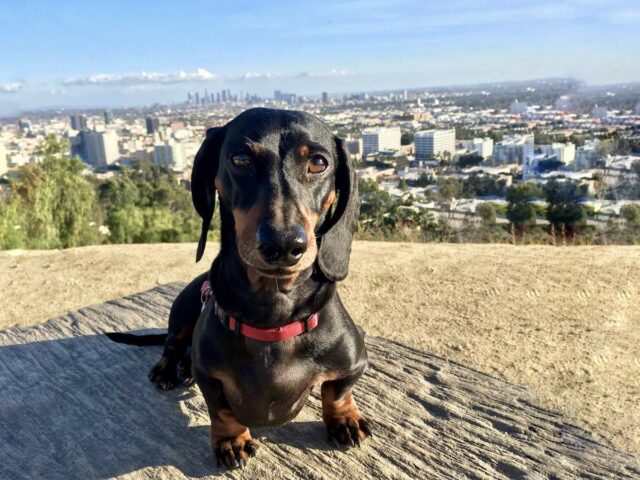 Note: This post contains affiliate links, which means I may receive commission if you make a purchase using the links. See my full disclaimer.
#1 MAMA Shelter LA
The MAMA Shelter brand originated in France, bringing a touch of sexy quirkiness to hotels, a place to live life to the full. Not surprisingly, their first US outpost is in Los Angeles, where its five floors of Hollywood-themed rooms are just a few blocks away from the Walk of Fame.
Book a Petcation directly with the hotel, with up to one pet up to 100 pounds welcome per room, in any category. Your pet will be provided with bowls, a blanket and pet treats to enjoy during your stay, plus access to the 360 degree views from the rooftop. Just send an email to [email protected] with the subject line "Petcation".
#2 Loews Hollywood Hotel
Just a few blocks away in Hollywood is the Loews Hollywood Hotel. With some of the best views of any hotel in Los Angeles, rooms are luxuriously kitted out with Eames chairs and Julien Farel Anti-Aging Haircare and Body Products. Amenities include a heated rooftop pool and multiple restaurants and bars.
Loews was the first national hotel chain in the US to launch a pet program, Loews Loves Pets. Your pet will be treated like a VIP (Very Important Pet), with a welcome letter, their own gourmet room service menu and pet amenities ranging from beds to litter boxes and special treats.
Up to two dogs or cats up to 75 pounds in weight are welcome to join you, for an additional pet fee of $100 per stay. There are also green spaces onsite at Loews Hollywood for walkies.
#3 Loews Santa Monica Beach Hotel
If you'd prefer a beach stay with your pet, check out the second Loews Hotel in Los Angeles, Loews Santa Monica Beach Hotel. Just steps from the Santa Monica Pier, enjoy walks along the coast with your pet morning and evening. Other perks include an award-winning pool with sunset views and multiple fire pits for a southern California touch.
To enjoy the Loews Loves Pets program, just mention you are bringing a pet when you make a booking. You'll be provided with a Locals' Pet Guide, plus a pet bed, bowls and tag to take home with you. Note that there is a limit of two pets per room, plus an additional one-off fee of $200 per stay.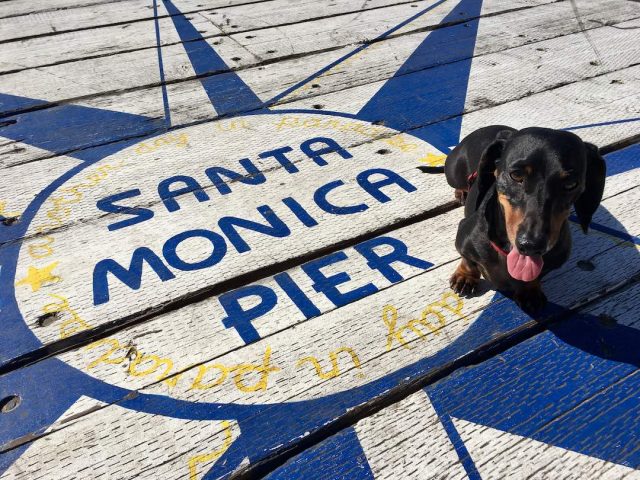 #4 Kimpton La Peer Hotel
Kimpton is renown as one of the most pet-friendly hotel chains in the USA. Thanks to their policy of allowing any number of pets, of any breed or size, for no additional charge or deposit, your pet is guaranteed a warm welcome.
There are multiple Kimpton Hotels located in Los Angeles, but for something special consider the Kimpton La Peer Hotel. Located in the Design District in West Hollywood, the luxury guest rooms and suites are spacious and chic. Perhaps consider a premium room with a soaking tub or furnished terrace?
Book a pet getaway, with a pet bed loaner included in your room, along with food and water bowls and a concierge list of recommendations. Pets are also welcome at the nightly wine reception.
#5 The Peninsula Beverly Hills
The Peninsula Beverly Hills is renown as one of the most luxurious hotels in Southern California, and your pet doesn't have to miss out. Marble bathrooms and sitting areas are de rigueur in all room types, plus there's a wide variety of suites, including some with garden patios, fireplaces and private hot tubs, turning your stay into an experience.
Dogs and cats of any size are welcome to join you, up to two pets per room. An additional pet fee of $150 applies per pet per stay, and naturally pet beds, bowls and treats are supplied. The Pampered Puppy section of the In-room Dining menu features Filet Mignon to Blue Atlantic Ocean Salmon.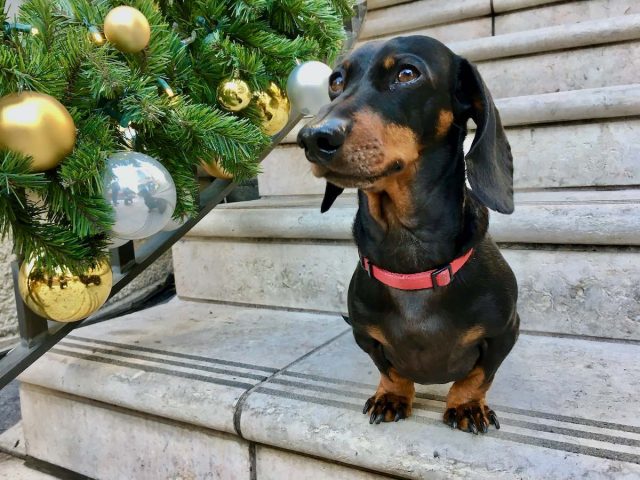 #6 The Beverly Hills Hotel
Another five-star option in Beverly Hills to spoil your pup for the night is the Beverly Hills Hotel on Sunset Boulevard, also known as the "Pink Palace". Long renown as a favourite haunt of movie stars, thanks to its glamor, privacy and superior service, your dog will also be welcomed by their Canine Connoisseurs program.
Up to two small dogs are welcome to stay with you in any room type, including their fabulous bungalows. Upon arrival your pup will be treated with a personalised bone-shaped dog cookie, before being led to your room with custom-made dog beds and bowls. Pet sitters and dog walking can be arranged on request.
#7 Sunset Tower Hotel
Further down Sunset Boulevard in West Hollywood is the Sunset Tower Hotel. This landmark hotel was first established in 1929 and is considered the Grand Dame of Hollywood hotels, with its art deco tower recently refreshed in 2018.
Sunset Tower claims to be very pet-friendly, welcoming pets up to 40lbs, including both cats and dogs. Pets are provided with their own mini Sunset Tower beds, bowls and treats, and the off-leash William S. Hart Park is conveniently right next door. A $100 non-refundable pet fee is charged per stay.
You May Also Like