If you're looking for some pet-friendly accommodation in South Australia, there's some great options to consider, whether you're looking to camp or wanting something a bit more comfortable. Consider these dog-friendly options…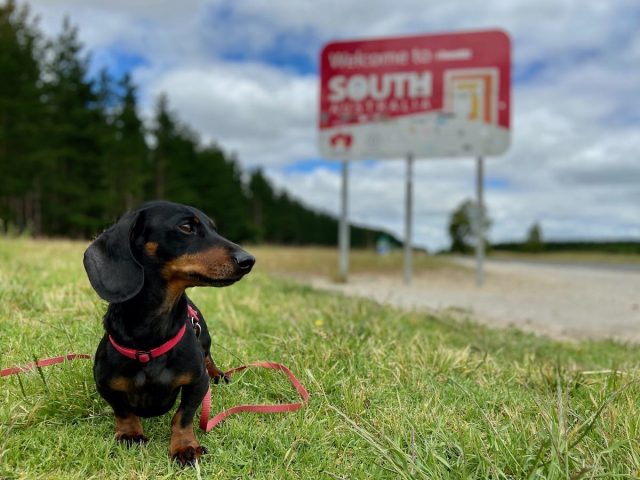 Pet-Friendly Accomodation in Eastern SA
Head east in South Australia to the Riverlands region or down to the southeastern coastline, known as the Limestone Coast, for these pet-friendly places to stay.
Glamping at Coonawarra
One of great finds I made when looking for pet-friendly accommodation in South Australia for my 2019 trip was Coonawarra Bush Holiday Park. This rustic park in the Coonawarra wine region offers up nine bell tents for an affordable dog-friendly glamping experience.
There's no need to bring your own tent or even linen when camping out in the bell tents, right next to the vineyards. Handily we were also supplied with an electric blanket and hot water bottle for the chilly nights during much of the year, plus our own kettle and esky. The site also has a large camp kitchen and shared bathroom facilities.
Your pet dog is allowed to join you inside your bell tent, as long as they have their own bed or box. Other options at the park also include ensuite cabins, powered sites and unpowered sites, with dogs also allowed for free in all options. It's quite a popular spot with caravanners, and expect to see other dogs during your stay.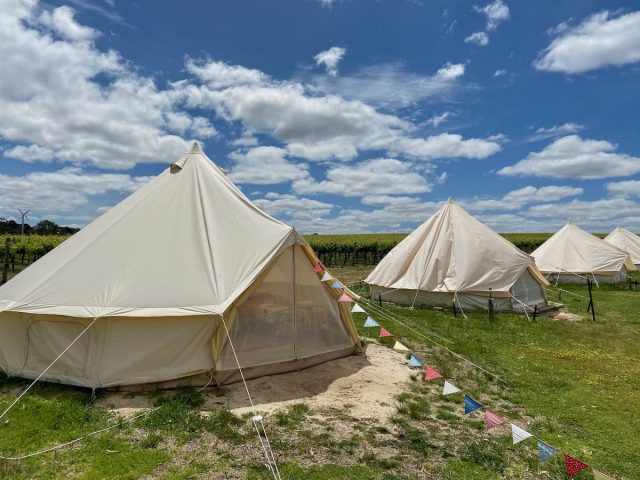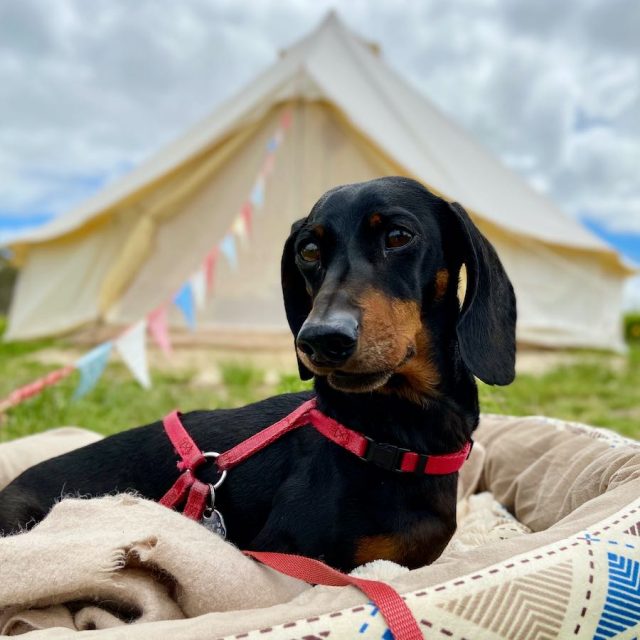 Dog-Friendly Cabins by the Murray
A wonderfully pet-friendly caravan park to stay at in Renmark is the Riverbend Caravan Park. Pets are welcome at the park all year round, including holidays. All of the caravan and camp sites are pet-friendly, plus they also have two pet-friendly cabins, each with a secure fenced outdoor area.
Renmark is a great spot to hire a dog-friendly houseboat for a cruise along the Murray. Alternatively, dogs are also permitted on leash in the Paringa Paddock and Lyrup Flats sections of the Murray River National Park. For more dog-friendly tips around Renmark, check out this great pamphlet put together by the local tourism centre.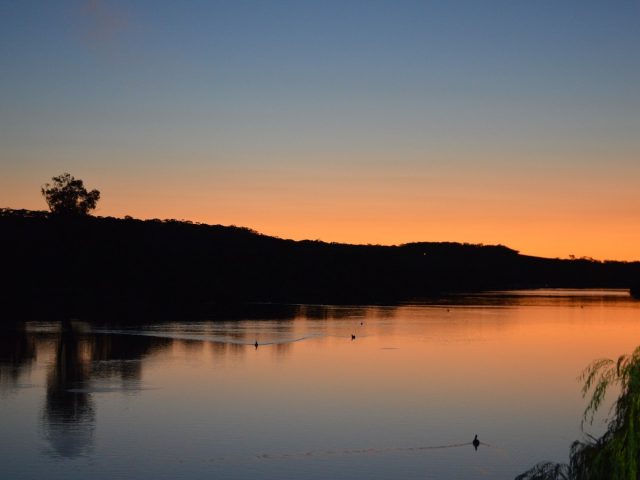 Stay in Beachside Robe
If you'd prefer your water with a salty tang, head to Robe and the award-winning Lakeside Tourist Park. Located next to a lake but also close to plenty of beaches, the park welcomes pets except over Christmas (approximately 24th December to 8th January) and the Easter long weekend.
Book directly to be allocated a pet-friendly cabin, or stay on one of the powered or unpowered sites. Pets must be advised at the time of booking.
Pet-Friendly Accommodation Close to Adelaide
These getaways are all nice and close to Adelaide, perfect for a short but relaxing trip away.
A Pet-Friendly Airbnb in Carrickalinga
Head an hour south of Adelaide to Carrickalinga on the Fleurieu Peninsula, for a relaxed getaway close to one of the best beaches in South Australia. An affordable pet-friendly place to stay is the Carrickalinga Getaway townhouse.
This cute and quirky townhouse has two bedrooms and can sleep up to four people. It's just a two minute walk to the beach, which is mainly off-leash. Boogie boards and a beach umbrella are provided! Dogs are allowed inside and you can even ask about dog-sitting.
Camping in the Barossa Valley
The Barossa Valley is just over an hour north of Adelaide, perfect for a relaxed weekend of wine tasting. If you bring along your pup, stay in Tanunda at Discovery Parks – Barossa Valley.
Choose between camping on the powered and unpowered sites or one of the pet-friendly cabins. Pets are permitted in selected Standard and Economy cabins, as clearly indicated on their website.
Head to Kangaroo Island
One of the few parts of South Australia I have yet to visit is Kangaroo Island, but I hope to make it there one day, along with my pup. Note that prior to visiting Kangaroo Island, you need to notify the local council you are bringing along a dog. Dogs are permitted for free on the Sealink ferry, but must remain in your vehicle or on the top deck of the vessel. For more details, see the FAQ.
Once you arrive on Kangaroo Island, a great place to stay is the Kingscote Tourist Park. Their cabins are dog-friendly, with dogs permitted inside. Only one dog is permitted per cabin, but there are no size restrictions. Check out their combined ferry and accommodation packages.
Pet-Friendly Accommodation in Outback SA
Head to the outback regions of South Australia, whether the Eyre Peninsula or the Flinders Ranges, for an adventure with your pup.
Adventure Camping on the Beach
If you're setting off to drive across the Nullarbor, or have just completed the long drive from Western Australia, make sure you spend some R&R time on the beautiful Eyre Peninsula. Perlubie Beach is a great stay not far down the peninsula, only 90km south of Ceduna. The beach here is stunning, with calm, shallow waters and brilliant white sand.
The real attraction here is the ability to camp right on the beach front, including right next to a beach shelter. It's best suited for more adventurous campers who are self-sufficient and have a 4WD for beach driving. There are flushing toilets provided, but limited or no drinking water. In return the fee per night is just a $10 donation.
A Beachfront Cottage in Ceduna
If you'd prefer to stay somewhere closer to Ceduna or with more facilities, instead head to Ceduna Shelly Beach Caravan Park. The park is a few kilometres south of the Eyre Highway, situated on 55 acres of natural coastal reserve with plenty of beach frontage
There's multiple dog-friendly cottages available, that sleep up to four guests. Each of the cottages has an enclosed courtyard area and house-trained pets are allowed inside. Alternatively, pets are also welcome on site bookings. Double check about the bond and make sure to keep your pet on a leash.
A Farm Stay on the Eyre Peninsula
Further south down the Eyre Peninsula, about two hours south of Ceduna, you'll arrive at Coodlie Park Farm Retreat. This 3000-acre property offers the chance to camp with your dog on an outback farm.
While the property also offers self-contained cottages and dorm-style rooms, the pet-friendly option is the campsite and swag huts. These are located about 2km from the main buildings, meaning that there's plenty of peace and quiet.
Dogs are not required to stay on a leash, as long as they are stay close to you and under your effective control. Perhaps take a long walk to the nearby private beach. For more information, check out this post.
A Station Stay in the Flinders Ranges
For another outback stay with your pup, instead head inland to Skytrek Willow Springs Station, about 5 hours north of Adelaide, close to the magnificent Flinders Ranges national park. It's a great spot for hiking and 4WDing. There's multiple walks available on the property or walk part of the Heysen Trail from Parachilna Gorge.
Choose between camping with your pet or staying in the pet-friendly Jillaroo's Hut. This ensuite cabin sleeps up to four people. Pets are allowed inside for a surcharge of $10 per night, plus there's also a fenced yard.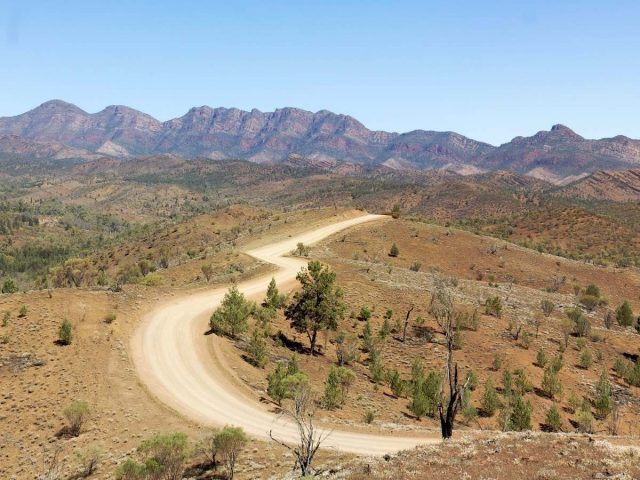 Pet-Friendly Accommodation in Adelaide
Staying in Adelaide? Choose between a B&B designed for dogs or a luxury hotel stay.
Check out more of my tips for a dog-friendly visit to Adelaide
A B&B Designed for Dogs
Marley & Me BnB in Adelaide takes dog-friendliness to the next level. This BnB, named after the very sweet book and movie "Marley & Me", has been set up for people travelling with dogs in mind.
It's hard to miss the dog-related artwork on the walls, but there's also handy facilities such as dog beds, a couch topper and a specially designed master bed that's low to the ground. Step inside the pantry in the kitchen and you'll find dogs bowls, leashes and harnesses. Not to mention your dog will love their treats and the gourmet dog food in the freezer to sample.
Outside you'll find a full-fenced backyard, along with outdoor kennels for dogs that prefer to sleep outside. Not to mention that the property is also very comfortable for humans, including those travelling with children. If you require dog-sitting during your stay or other services, just discuss in advance with the dog-loving owners, Missy and Anton.
Luxury in the Heart of Adelaide
If it's not camping that you're after but instead a luxury hotel stay, there's a dog-friendly option for that too in South Australia. Just head to the Hilton Adelaide, right on Victoria Square in the heart of Adelaide. There's a marble lined lobby, rooms decorated with understated elegance and the option to order room service.
The hotel offers a small number of pet-friendly rooms, with advance bookings a must. Note that only one pet is permitted per room, with a maximum weight of 34kg and an additional charge, currently $90 per night, and a deposit required. Pets cannot also be left unattended at any time, but of course a pet sitter can be organised.
Check out more luxury dog-friendly hotels around Australia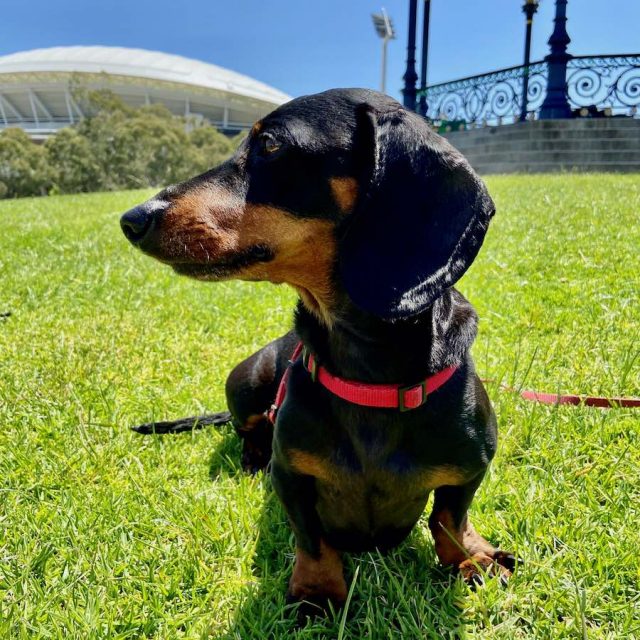 Inspired? Pin this to your Pinterest board!