Australia is world famous for its beautiful beaches, with many of its beaches regularly appearing in lists of the top beaches of the world. But, is it possible to visit any of these beaches with your dog?
Find out more about the rules for visiting the beach with your dog in Australia, plus some of the best dog-friendly beaches around the country.
Are Dogs Allowed on Beaches in Australia?
The rules for whether dogs are allowed on the beach vary across Australia. There is no blanket rule for whether dogs are allowed on a beach that applies right across Australia.
The regulations for whether dogs are allowed on a specific beach are set by the local council. There are some local councils that prohibit dogs from all of their beaches (such as Randwick council in Sydney). However, most councils split their beaches into four categories:
Off-leash dog beaches: Dogs are allowed off-leash on these beaches, although they still need to be under your control. Some beaches allow dogs off-leash all day long, while others only allow dogs on the beach during selected hours.
On-leash dog beaches: Some other beaches allow dogs on them, but they need to remain on a leash. Additionally, if there is a patrolled section of the beach (flags for swimmings to swim between), dogs aren't allowed near the flags. If I can't see any signs, I usually assume the beach is an on-leash beach.
Time-restricted dog beaches: While some beaches allow dogs on them all day long, whether on- or off-leash, there are others where dogs are only allowed on the beach during restricted hours, often early and late in the day. The hours often differ between the summer and winter months. Check the signs for when are dogs allowed on the beach.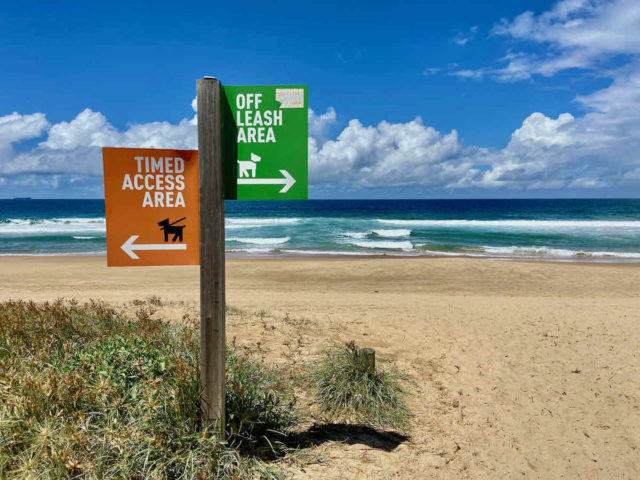 Dog prohibited beaches: Finally, there are some beaches where dogs are strictly not allowed on them, especially during the summer months, with fines applying. These are generally the most popular swimming beaches, especially in cities. Other beaches where dogs are likely to be prohibited include:
Beaches in national parks where dogs are prohibited
Beaches that are home to nesting birds or turtles, that are vulnerable to dogs
Fragile areas, such as around rock platforms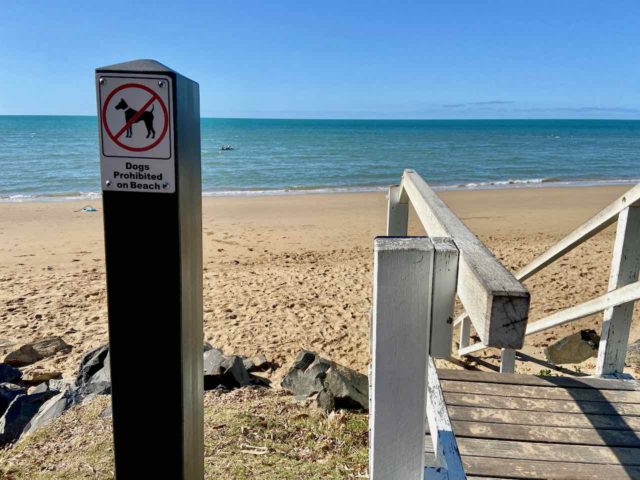 If a beach prohibits dogs, respect the rules and find another dog-friendly beach to visit. And make sure you also take responsibility for your dog and clean up after them.
Guides to Dog-Friendly Beaches in Australia
There are a huge number of dog-friendly beaches all across Australia. I'm not sure if it's possible to count them, but there are surely hundreds. To find out more about the best dog-friendly beaches in Australia, check out my state guides:
Plus, I've compiled a list of all off-leash dog beaches in these cities and regions:
7 Amazing Dog-Friendly Beaches in Australia
Check out these particularly amazing beaches located all around Australia that welcome dogs on the sand. Note that rules do vary at these beaches, with some requiring dogs to remain on-leash while others are off-leash, so double check the signs are each beach.
1. Hyams Beach, Jervis Bay, NSW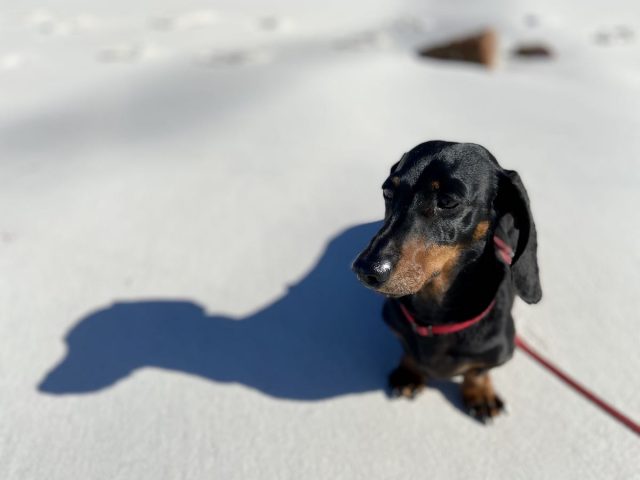 Hyams Beach is regularly touted as having the whitest sand in Australia. While this is up for debate, there's no denying that it's a gorgeous beach. Located within Jervis Bay, about 2 1/2 hours drive south of Sydney, it has calm and clear waters and is frequently visited by dolphins.
Dogs are only allowed on-leash at Hyams Beach. Also, it does get busy, so ideally visit during the week or outside of school holidays to best have a chance of parking and plenty of space on the sand.
If you're looking for a nearby off-leash beach, Nelsons Beach in Vincentia and Huskisson Beach are off-leash during the morning and evening, and are almost as white.
2. Cable Beach, Broome, WA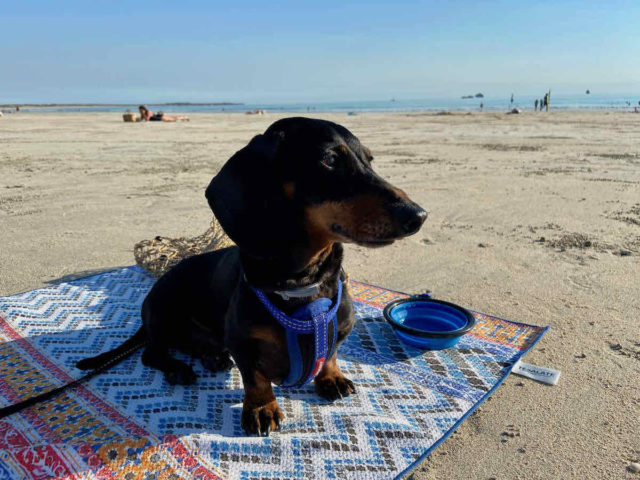 Head to northern Western Australia and you can't miss visiting Broome and its world famous Cable Beach. This huge stretch of sand has it all: from a patrolled section for swimming to camel rides on the beach to access for 4WD vehicles and even a nudist section.
There are different rules for different sections of he beach. Dogs are only allowed on-leash in the busiest stretch of the beach, from about 150m south of the Surf Club until 700m north of the rocks.
However, along other stretches, dogs are allowed off-leash and are free to enjoy a swim in the water!
3. Four Mile Beach, Port Douglas, QLD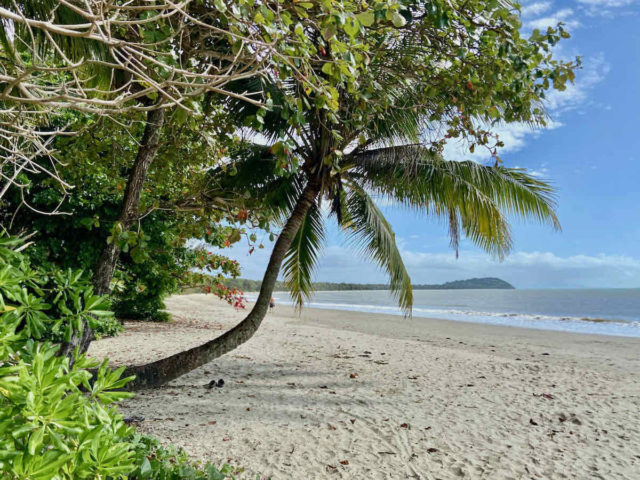 If you're heading to Cairns in the tropical north of Queensland, make sure you head further north for access to beautiful, sandy beaches, whether the northern beaches of Cairns including Palm Cove, or further north to the popular resort of Port Douglas.
Port Douglas is home to the long golden expanse of Four Mile Beach. Dogs are allowed on-leash along much of the beach, except the eastern end close to the surf club. However, head to the far end of the beach, south of Four Mile Beach Park, where dogs are allowed off-leash.
Just a reminder – it is the tropics, so crocodiles and stingers are a risk. Keep an eye out for any closure signs and perhaps just let your dog play on the sand, not in the water.
4. Blue Haven, Esperance WA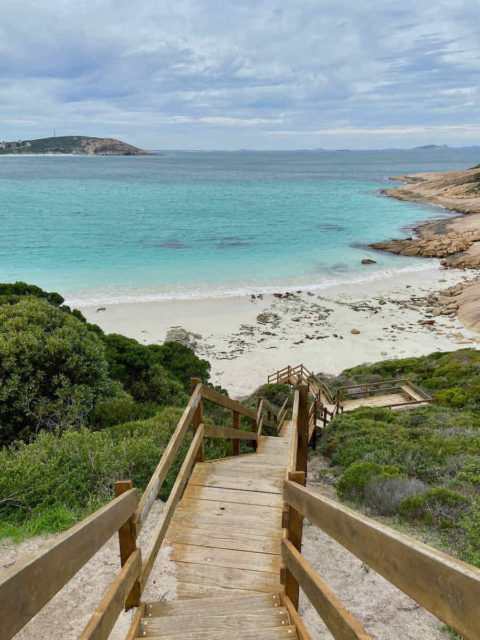 While the most famous beach around Esperance is Lucky Bay, which is unfortunately inaccessible to dogs as it's located in a national park, there's no shortage of other beautiful white sandy beaches in the region that are dog-friendly.
Head out on the Great Ocean Drive on the western side of town and you'll be rewarded with countless beaches, many that allow dogs off-leash. Just check the signs at each individual beach – for instance, West Beach only allows off-leash dogs are certain hours.
The only stretch of sand along the drive that dogs are prohibited from is the main stretch of Twilight Beach, close to its Surf Club. I recommend heading instead to the gorgeous Blue Haven Beach, although it's hard to choose just one.
5. The Spit Dog Beach, Gold Coast, QLD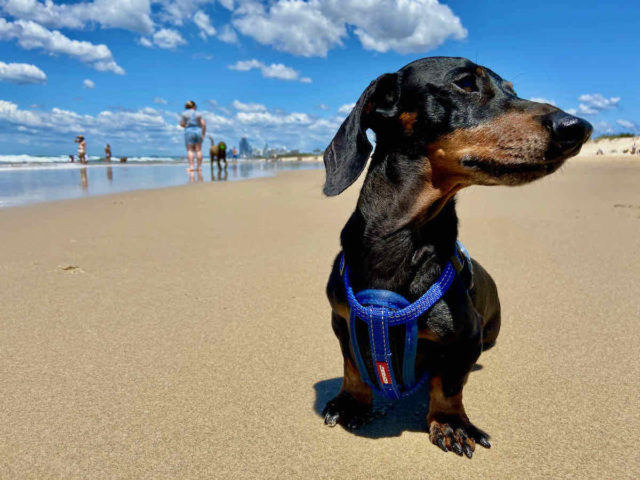 The Gold Cost is home to some beautiful beaches, although many sections of the sand prohibit dogs or only allow them on-leash. To enjoy some of the beautiful golden sand with your off-leash dog head to the Spit Dog Beach.
Located on the northern end of the Gold Coast in Southport, the off-leash beach is on the eastern side of the Spit, extending from the access point opposite Muriel Henchman Park to the seaway rock groyne to the north.
This beach is very popular with local dog owners, especially on weekends, and has plenty of facilities for your pup, from a dog wash down area near the carpark to dog ice-creams at the local kiosk.
6. Belongil Beach, Byron Bay, NSW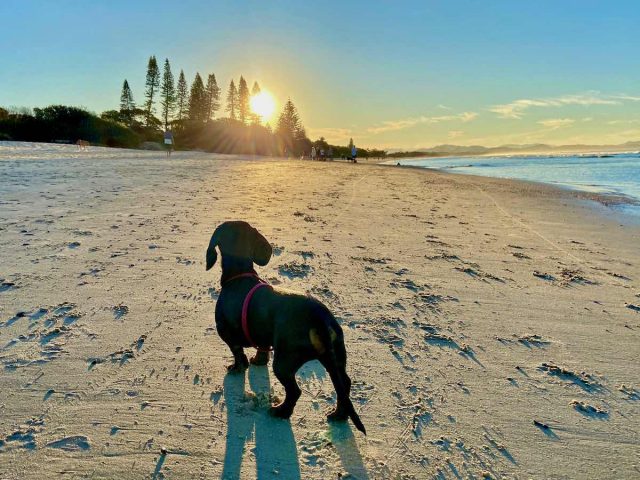 I couldn't talk about the best beaches of Australia without mentioning Byron Bay. If you're heading to Byron for a seaside vacation, head to Belongil Beach with your pup. One of two off-leash two beaches close to Byron Bay (the other is Tallow Beach to the south), the beach has relatively calm waters and a relaxed vibe.
The off-leash section is between Manfred Street in Belongil and a point just west of the Main Beach car park. I recommend combining a walk on the beach with a visit to Treehouse on Belongil, a fabulous restaurant and bar with a large outdoor dining area.
7. Glenelg Beach, Adelaide, SA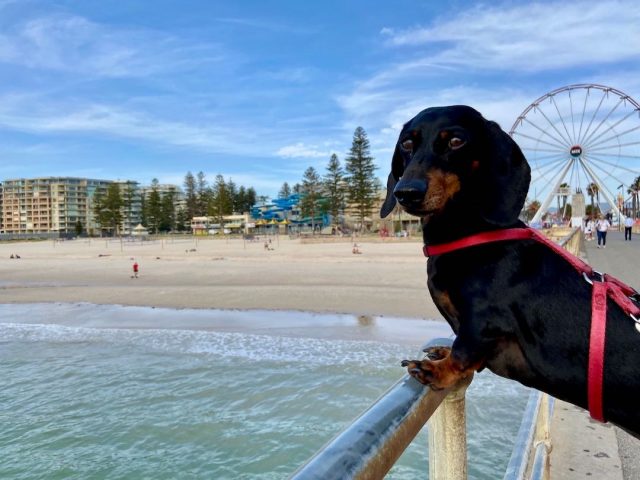 The beaches of South Australia including those in Adelaide are more dog-friendly than most in Australia. Except for a handful of exceptions, dogs are allowed on all beaches.
One of the most famous beaches in Adelaide is Glenelg Beach. A popular spot for hitting the sand, enjoying the many beachside restaurants and walking along the pier, dogs are also welcome here.
Just remember that dogs need to be kept on a leash during the day in summer, in between the hours of 10am and 8pm while daylight savings is in operation. During the morning and late evening, plus all day in the winter months, dogs are allowed off-leash on the beach.
Looking for the ideal beach towel to take to the beach with your dog? Check out the fabulous towels from Tesalate. As well as being compact and highly absorbent, they stand sand-free, even when your dog is covered in sand!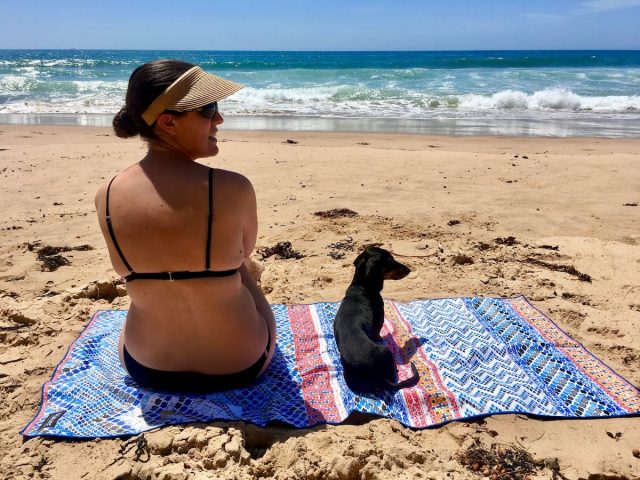 Keeping Your Dog Safe at the Beach in Australia
There are a number of dangers you should be aware of before taking your dog to the beach, especially in Australia.
Top of the danger list in the north of Australia are crocodiles. If you're visiting a beach in crocodile country, look for signs warning of recent sightings. Keep your dog away from the water, particularly around creek mouths, unless the beach is known to be safe. If you can't trust your dog to obey your commands, keep them on-leash.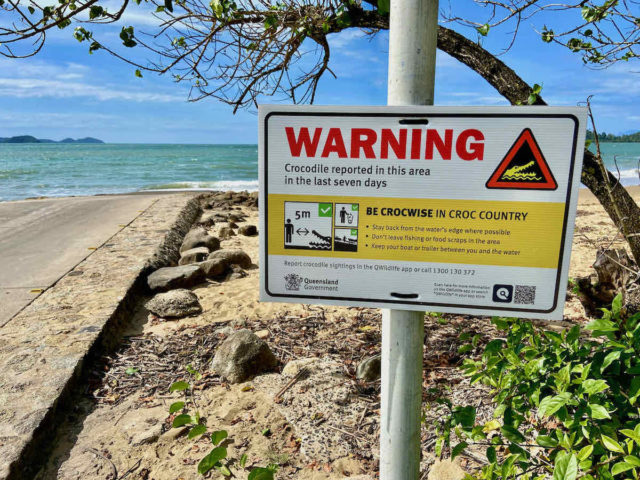 There are also other marine dangers on beaches. Marine stingers are found in the north of the country, with their range mainly overlapping with crocodiles. Dogs are also as risk of being stung. Further south, dangers include blue bottles and sea hares.
Don't also neglect the danger of hot sand during hot days. If you're not walking barefoot yourself on the beach, check the temperature before allowing your dog on the sand. Booties can be useful, or else visit the beach during the early morning or evening with your pup.
Finally, drowning is also a risk for dogs. If you wouldn't swim in the water, don't let your dog more than paddle on the edge. If they still want to enter the water, keep them on-leash for their own safety.