Australia is world famous for its beautiful beaches, with many of its beaches regularly appearing in lists of the top beaches of the world. But, is it possible to enjoy these top beaches with your dog? While many beaches in Australia don't allow dogs (including most city beaches, plus all in national park boundaries), there are many other gorgeous beaches that allow dogs to visit.
Rules do vary at these beaches, from requiring your dog to remain on leash to having off-leash hours to being off-leash around the clock – double check for each individual beach. But consider visiting one of these amazing dog-friendly beaches in Australia…
1. Hyams Beach, Jervis Bay, NSW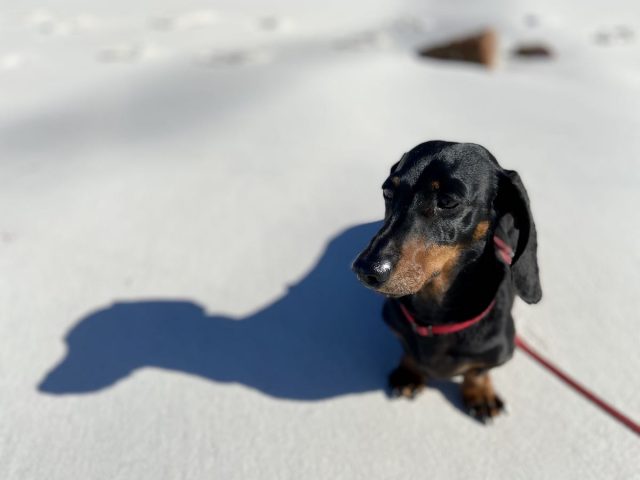 Hyams Beach is regularly touted as having the whitest sand in Australia. While this is up for debate, there's no denying that it's a gorgeous beach. Located within Jervis Bay, about 2 1/2 hours drive south of Sydney, it has calm and clear waters and is frequently visited by dolphins.
Dogs are only allowed on-leash at Hyams Beach. Also, it does get busy, so ideally visit during the week or outside of school holidays to best have a chance of parking and plenty of space on the sand. If you're looking for a nearby off-leash beach, Nelsons Beach in Vincentia and Huskisson Beach are off-leash during the morning and evening, and are almost as white.
For more tips on dog-friendly beaches around Jervis Bay, check out my guide
2. Cable Beach, Broome, WA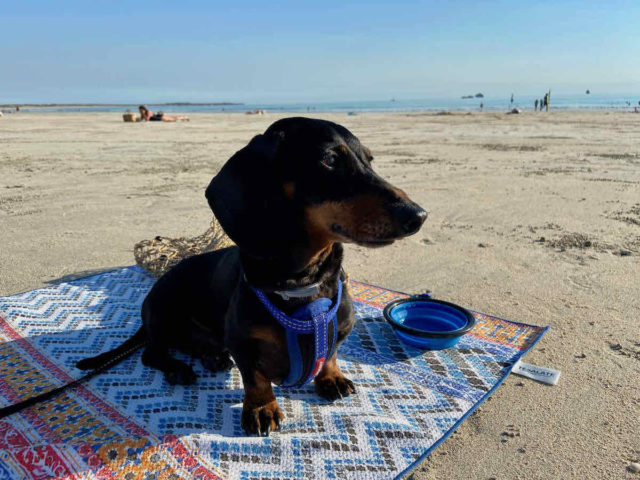 Head to northern Western Australia and you can't miss visiting Broome and its world famous Cable Beach. This huge stretch of sand has it all: from a patrolled section for swimming to camel rides on the beach to access for 4WD vehicles and even a nudist section.
There are different rules for different sections of he beach. Dogs are only allowed on-leash in the busiest stretch of the beach, from about 150m south of the Surf Club until 700m north of the rocks. However, along other stretches, dogs are allowed off-leash and are free to enjoy a swim in the water!
For more tips on dog-friendly things to do, check out my dog-friendly Broome guide
3. Four Mile Beach, Port Douglas, QLD
If you're heading to Cairns in the tropical north of Queensland, make sure you head further north for access to beautiful, sandy beaches. (Unfortunately, it's only mud flats within Cairns itself.)
One of the most popular resort spots is Port Douglas, which is home to the long golden expanse of Four Mile Beach. Dogs are allowed along the entire stretch of the beach, as long as they're on a leash. But head to the southern stretch, south of the Four Mile Park in Barrier Street, for a 400m section where dogs are allowed off leash.
However, it is the tropics, with crocodiles and stingers a risk, so keep an eye out for any closure signs.
4. Blue Haven, Esperance WA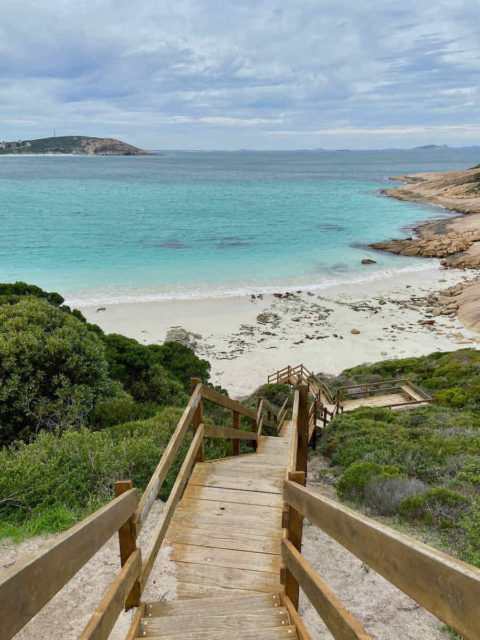 While the most famous beach around Esperance is Lucky Bay, which is unfortunately inaccessible to dogs as it's located in a national park, there's no shortage of other beautiful white sandy beaches in the region that are dog-friendly.
Head out on the Great Ocean Drive on the western side of town and you'll be rewarded with countless beaches, many that allow dogs off-leash. Just check the signs at each individual beach – for instance, West Beach only allows off-leash dogs are certain hours.
The only stretch of sand along the drive that dogs are prohibited from is the main stretch of Twilight Beach, close to its Surf Club. I recommend heading instead to the gorgeous Blue Haven Beach, although it's hard to choose just one.
Find out more about the dog-friendly beaches on Esperance
5. St Kilda, Melbourne, VIC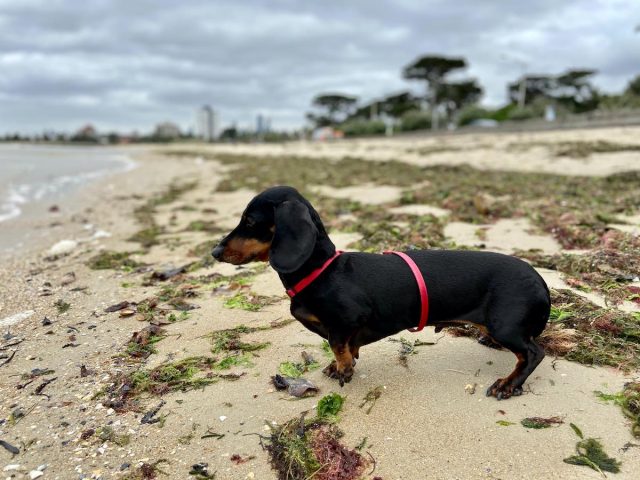 While Melbourne isn't located on the coastline like most other Australian cities, it is still home to some beaches located along the shores of Port Phillip Bay. One of the most popular beaches is St Kilda Beach, just a short tram ride away from the city centre. Home to a bustling cafe scene, a popular weekend market and the Luna Park amusement park, it also welcomes dogs onto the beach.
At St Kilda Beach, dogs are allowed off-leash along Pier Road to the drainage channel at its north-western end, plus between Brooks Jetty and the northern end of the car park towards St Kilda Marina. Dogs are also allowed on West Beach at St Kilda West, but not in the sensitive dune area. Dogs are also allowed on the main stretch of St Kilda Beach during winter time, but not allowed at all between the summer months of November to March.
Find more dog-friendly beaches in Melbourne in my dog-friendly Melbourne guide
6. Rose Bay, Sydney, NSW
While the most famous beaches in Sydney unfortunately don't allow dogs, the closest stretch of sand to the city that allows dogs is in the posh suburb of Rose Bay. Located next to Dumaresq Reserve, dogs are allowed off-leash on this stretch of sand after 4:30pm (perfect for summer evenings) or before 8:30am. It's located on the calm waters of Sydney Harbour, so is great for smaller dogs who may be scared of the waves on other Sydney beaches.
Check out more recommendations for dog-friendly beaches in and near Sydney.
7. Currumbin Creek, Gold Coast, QLD
The Gold Coast is synonymous with beach culture in Australia. And one of the best stretches of coastline along the Coast to visit with your dog is Currumbin Creek. Located in the suburb of Palm Beach, the off-leash dog exercise area extends south from lifeguard tower 13 to the Currumbin Creek entrance, as indicated by the signs. And dogs are allowed off-leash around-the-clock! There's plenty of surf for more adventurous dogs, but also the calmer surrounds of the lagoon. Perhaps share a SUP session with your pup?
8. Stumers Creek, Sunshine Coast, QLD
If you head north of Brisbane to the equally gorgeous Sunshine Coast, there's also plenty of beaches to visit with your pup. One of the best to visit with your dog is Stumers Creek, at Coolum, as nominated in my round-up of favourite dog-friendly destinations. The section of beach where dogs are allowed off-leash is one kilometre either side of the creek itself. Facilities include a car park, amenities block and even a dog washing area.
9. Leighton Dog Beach, Perth, WA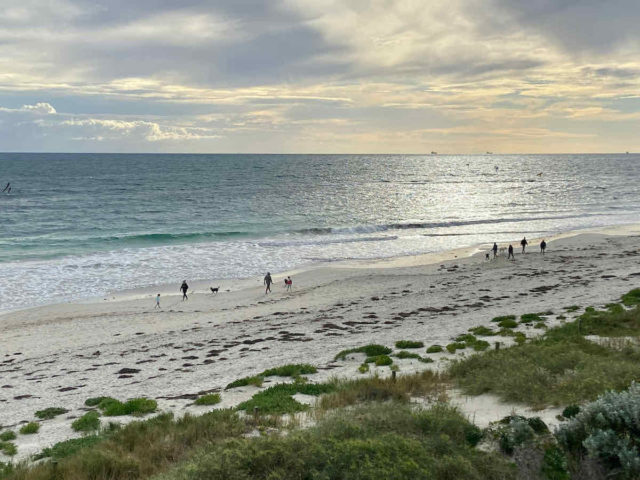 The beaches of Perth are renowned for their beautiful views of the sun setting into the India Ocean. The beach and adjacent park at Cottesloe is also home to Sculpture by the Sea, in March each year. So it's only fair that your dog is able to join in the fun.
There's multiple beaches that allow dogs, but the best is probably the white sands of Mosman Beach, known locally as Leighton Dog Beach. The stretch of beach where dogs are allowed stretches south from South Cottesloe to the railway overpass, as indicated by the signs.
10. Henley Beach, Adelaide, SA
The beaches of South Australia including Adelaide are more dog-friendly than most in Australia. Except for a handful of exceptions, dogs are allowed on all beaches, although most beaches require dogs to be on leash between 10am and 8pm during the summer (while daylight savings is in operation).
The seaside suburb of Henley Beach is immediately west of the Adelaide CBD, a laidback area with plenty of dining options, especially seafood restaurants and humble fish'n'-chip shops. Enjoy the long stretch of beach here with your dog, but just remember to keep them on a leash during the day in summer.
Check out more of my tips for dog-friendly adventures in Adelaide
11. Belongil Beach, Byron Bay, NSW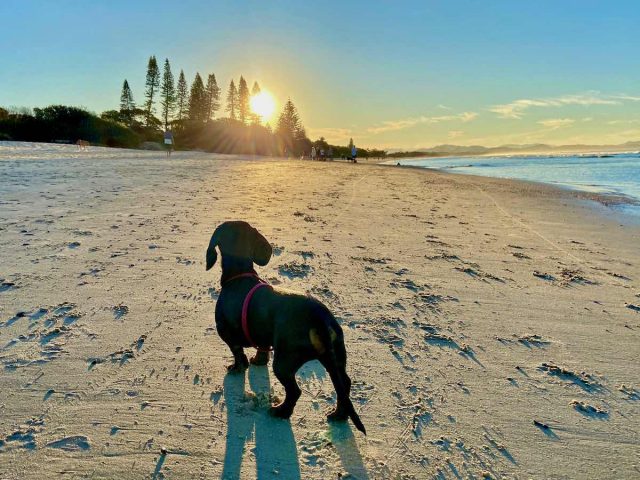 I couldn't talk about the amazing beaches of Australia without mentioning Byron Bay. If you're heading to Byron for a seaside vacation, head to Belongil Beach with your pup. One of two off-leash two beaches close to Byron Bay (the other is Tallow Beach to the south), the beach has relatively calm waters and a relaxed vibe.
The off-leash section is between Manfred Street in Belongil and a point just west of the Main Beach car park. I recommend combining a walk on the beach with a visit to Treehouse on Belongil, a fabulous restaurant and bar with a large outdoor dining area.
Check out more of my tips for a dog-friendly getaway to Byron Bay
Looking for the ideal beach towel to take to the beach with your dog? Check out the fabulous towels from Tesalate. As well as being compact and highly absorbent, they stand sand-free, even when your dog is covered in sand!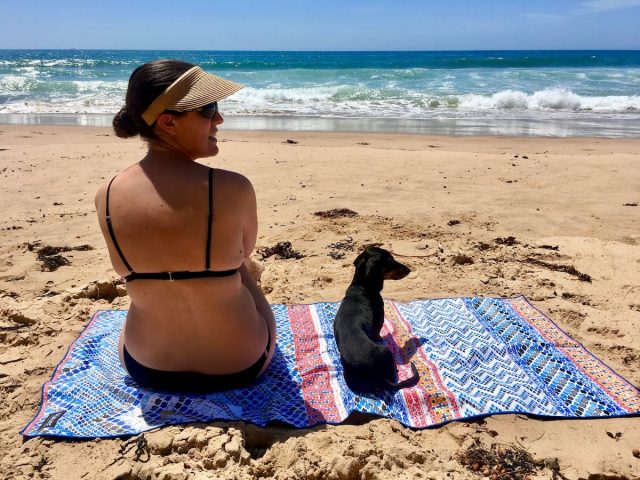 Inspired? Pin this to your Pinterest board!