The most direct route from Brisbane to Cairns and Far North Queensland is along the Bruce Highway, which roughly follows the coastline. However, at around 1700km, it's a very long drive, especially consider that much of it is still a single lane in each direction. Find out where to stop and pet-friendly accommodation when driving along the Bruce Highway with a dog.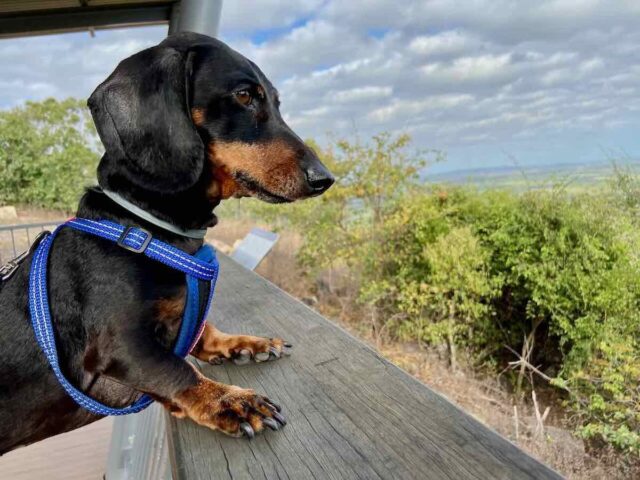 Note: This post contains affiliate links, which means I may receive commission if you make a purchase using the links. See my full disclaimer.
Brisbane to Childers (313km)
After driving north through the suburbs of Brisbane and past the Sunshine Coast, after 313km (roughly four hours in good traffic) you'll eventually reach the historic town of Childers, also the turning off point for the small city of Bundaberg off the highway.
Where to Stop
If you're wanting to stop for a morning coffee, pull up at Eumundi Coffee Roasters, under two hours north of the centre of Brisbane and just a short detour off the motorway. Their coffee is regularly praised, although it can be a wait when they get busy.
Alternatively, detour further off the highway to Alfresco's Garden Cafe, also in Eumundi. Open daily from 6am, enjoy breakfast (if you hit the road early), lunch or just a coffee at this highly-rated dog-friendly cafe.
Just over 90 minutes further north is the historic town of Maryborough. If you're wanting to stretch your legs, stop outside The Story Bank, the museum devoted to Mary Poppins and her creator, P.L. Travers, who was born in the town. While dogs are not allowed inside, there's a great statue of Marry Poppins outside, along with Poppins-themed pedestrian light signals, colourful murals and bronze pavers along "Cherry Tree Lane".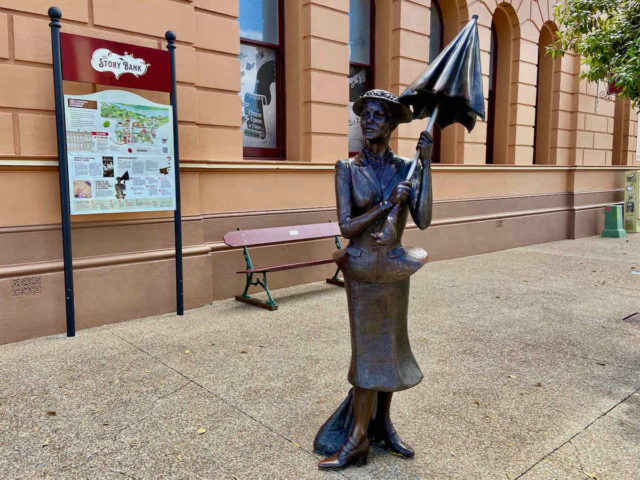 Maryborough is also home to multiple off-leash dog parks. The massive Rambo Dog Park is located on Neptune Street, opposite Boys Avenue. There's separately fenced areas for small and big dogs. Dogs are also allowed off-leash in the signposted area at the intersection of Cheapside and Arbury Streets. North of Maryborough is the turn-off to Hervey Bay.
About 45 minutes north you'll arrive in Childers, home to many beautiful, old masonry buildings dating back to the 18902. It's possible to pick up a Historical Childers Street Walk brochure from the information centre at the Palace Building to find out more about them. Don't miss the display in the window of the Old Pharmacy Museum.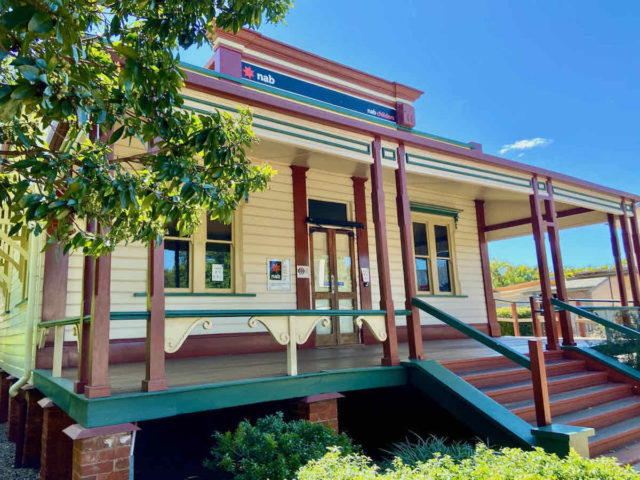 A great dog-friendly place to enjoy a meal with your pup by your side is the historic Grand Hotel. As well as a convenient dog water bowl out the front, they have a cute sign welcoming pups to join you in the beer garden out the back.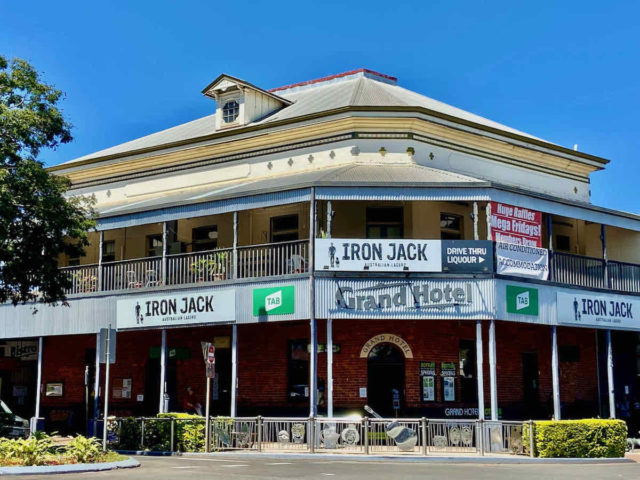 Pet-Friendly Accommodation
In Maryborough, a dog-friendly option is the Wallace Motel & Caravan Park. As well as being allowed on sites, pets are also allowed in selected cabins and units for the small additional fee of $5 per pet. There's also an off-leash exercise area. Make sure you book in advance and let them know you're bringing a pet.
If you're in a self-contained RV or caravan, you can camp for the night for free in Childers on Crescent Street, just one block back from the highway in the centre of town. There's also toilets and BBQ facilities across the road in Millennium Park, and a 20 hour time limit applies.
Childers to Rockhampton (323km)
North of Childers, the coastline lies well off the highway, including the popular coastal spots of Agnes Waters and Tannum Sands, plus the port city of Gladstone. About a 630km drive north of Brisbane you'll reach Rockhampton. Located inland on the banks of the Fitzroy River, its one of the largest cities in Central Queensland.
Note that north of Gladstone, both saltwater crocodiles and marine stingers during the warmer months are a risk.
Where to Stop
It's about a 10 minute detour off the highway to Tannum Sands, a little over 2 hours north of Childers. While dogs are prohibited from the main beach area and adjacent reserve at Tannum Sands, they are allowed off-leash on the beach from the Oaks Rd access point north, including Canoe Point.
In Rockhampton, almost a four hour drive north of Childers, I recommend going for a wander along the Riverbank Precinct alongside Quay Street. The precinct has been recently revitalised and Quay Street is home to some magnificent old buildings, including the beautiful Customs House and the Criterion Hotel.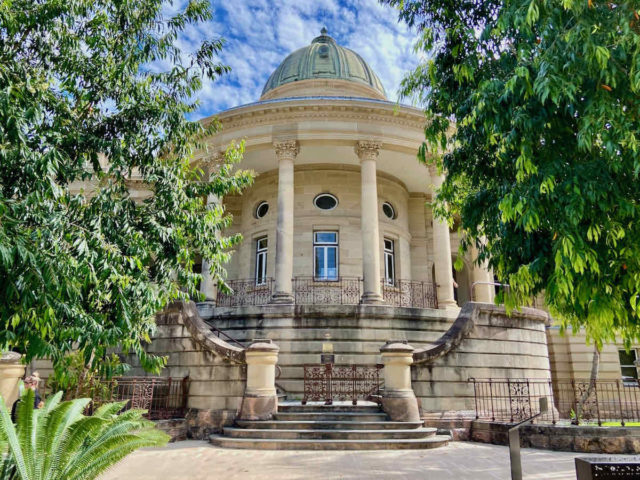 Dogs are allowed at the verandah tables at the Riverston Tea Rooms on Quay Street, open from Tuesday to Sunday. Or take a seat at an outdoor table at the Criterion Hotel, open for lunch, dinner and sometimes even breakfast.
Another dog-friendly spot to go for stroll in Rockhampton are the Kershaw Gardens in North Rockhampton. Don't miss the Waterfall area in the northern section of the gardens, near the High Street Car Park. There's also a small fenced dog park at the Charles Street Car Park, plus an off-leash dog exercise area near the Dowling Street Car Park.
Find out more about visiting Rockhampton with a dog and nearby Yeppoon
Pet-Friendly Accommodation
A great dog-friendly caravan park to spend the night just off the Bruce Highway is the Mt Larcom Tourist Park, about an hour south of Rockhampton. We camped for the night in their large unpowered campsite area, but up to two pets are also allowed in cabins, as long as they are declared at the time of booking.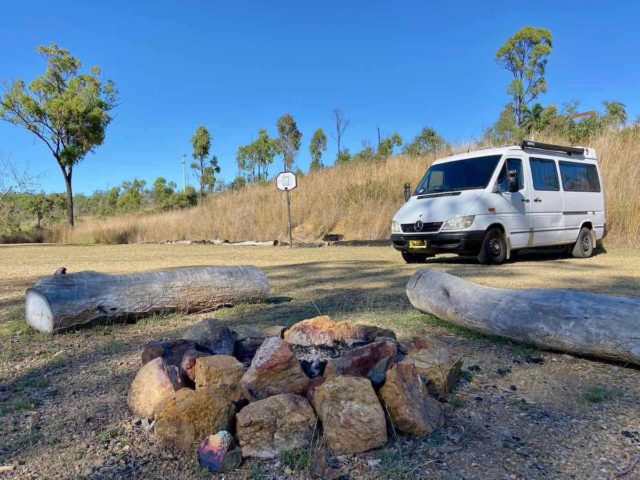 The park is home to two designated off-leash areas in the park, both unfenced. Details are provided in the "Pets in our Park" brochure that you'll receive at check-in, along with local recommendations of where to dine with your pup. Don't miss heading up to the "Big Picture Frame" at sunrise.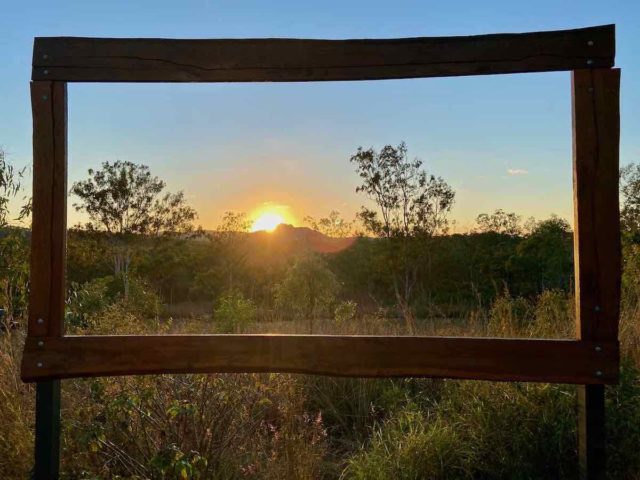 In Rockhampton, there are a number of motels that have pet-friendly rooms. In the centre of the city, check out the Archer Park Motel, which has pet-friendly Queen rooms. Both are located on the ground floor, with no carpet.
Alternatively, check out the True Blue Motor Inn on the northern edge of Rockhampton. This motor inn has two pet-friendly Standard Twin Rooms, each with a double bed and single bed. Both rooms also have a fenced and grassy private area right outside their door.
If you're travelling in a fully self-contained vehicle, head to the northern end of Kershaw Gardens. You can stay parked for up to 48 hours, one of the many great free campsites in Queensland.
Rockhampton to Mackay (336km)
The stretch of the Bruce Highway north of Rockhampton is notorious as a long empty stretch, although if you're travelled on outback highways elsewhere in Queensland and the rest of the country it should quickly pass by, in under four hours if you don't stop.
Where to Stop
Unfortunately, I don't have many recommendations of where to stop along this stretch, until your arrive at the town of Sarina, about 30 minutes south of Mackay. There is an off-leash dog park at the Apex Park on Sichter Street.
Mackay itself is home to three off-leash dog parks. Close to the city centre, detour to Queens Park, a beautiful old park a few blocks to the east. There's two large fenced areas, for small and large dogs, along with plenty of shade, water fountains and picnic benches. The closest parking is along East Gordon Street near Chain Street.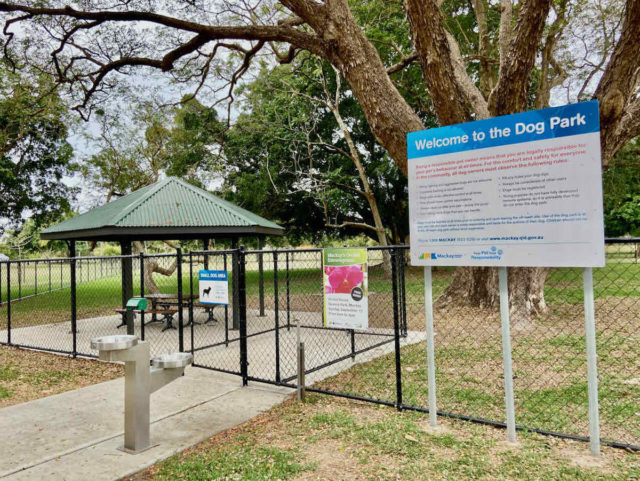 Alternatively, north of the river it's a short detour to Gooseponds Dog Park, also known as Police Dog Tunza Dog Park, just behind the North Mackay State Primary School. This off-leash dog park is also fenced, although the fence is rather short. There's a variety of agility equipment and picnic tables inside, plus a large carpark.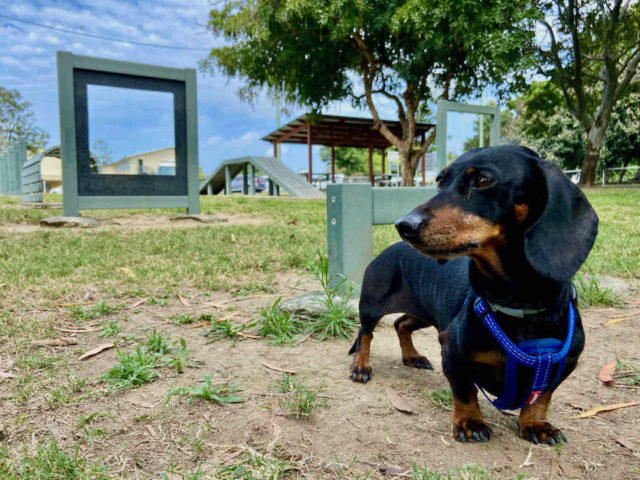 A great spot to head for an on-leash walk in Mackay are the Mackay Regional Botanical Gardens. Just off the highway on the southern side of the city, leashed dogs are welcome at the gardens, although not in the cafe area or in the shade garden.
On a short stroll through the garden, don't miss the wildlife viewing platform alongside the lagoons and the colourful Malta Garden.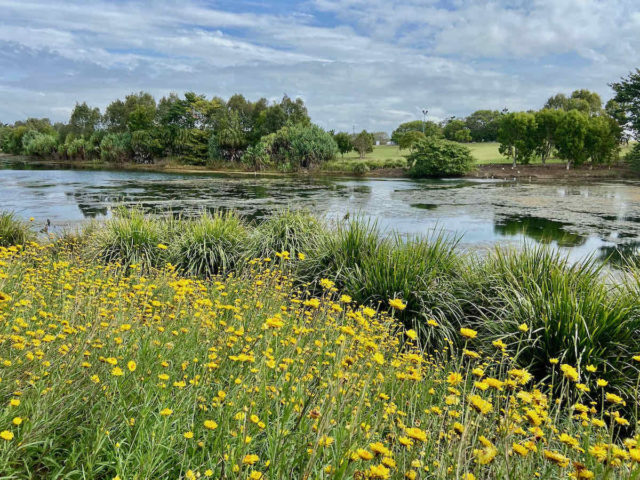 The Grazing Goat Cafe in the centre of Mackay is dog-friendly, with dogs welcome at its sidewalk tables and even bowls of water sometimes provided. The cafe is open daily every day for breakfast and lunch, although be warned it closes early on Sunday.
Find out more about visiting Mackay with a dog
Pet-Friendly Accommodation
During our visit to Mackay, we stayed at the Mycow Bakers Creek Caravan Park, on the southern side of the city. Dogs are welcome on sites at this park, which has its own fenced dog exercise area, as well as a great camp kitchen and riverside area.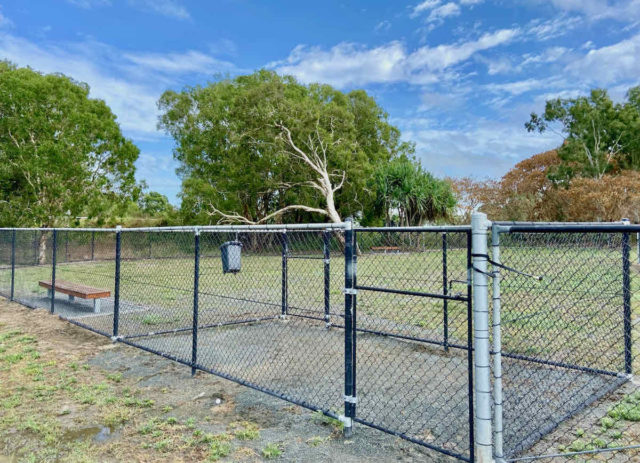 If you need to stay in a motel, enquire at the Alara Motor Inn in West Mackay. This four-star rated motel allows both small and medium sized dogs in its pet-friendly rooms, plus other pets are considered by prior arrangement.
Alternatively, make a booking at the Coral Cay Resort, just south of the Mackay CBD. Some of their queen rooms have been designated as dog-friendly – select a "Pet Friendly Queen Room" when booking. Note that a small surcharge applies per night.
Mackay to Townsville (386km)
North of Mackay, the highway passes through the towns of Prosperine, Bowen and Ayr, at times passing close to the coast. Once you reach Townsville, the largest city in northern Queensland, you can choose between visiting the city centre or bypassing it on the highway.
Where to Stop
Heading north from Mackay, after a 90 minute drive you'll reach Proserpine and the turn-off to Airlie Beach. If your dog needs to stretch their legs, pull up at Keith Johns Estate Park, on Renwick Road just west of Fuljames Street. Dogs are allowed off-leash in the southern part of the park away from the playground.
Alternatively, stop off at Whitsunday Gold Coffee for a cup of their coffee grown onsite. There are two outside areas that are pet-friendly, one under shelter, although you'll have to skip visiting their menagerie.
About 45 minutes north is the fruit growing town of Bowen, famous for its mangos. Don't miss stopping for a selfie at the Big Mango, located right next to the highway on the southern approach to town. I can also recommend their tubs of mango gelato!
Bowen is a more relaxed (and affordable) alternative to Airlie Beach, and home to some great dog-friendly beaches. Kings Beach is located between the town centre and Rose Bay, and was shallow and calm on the day we visited. Follow the signs to Flagstaff Hill and park in the carpark just past the hill, at the southern end of the beach.
Find out more about visiting the Whitsundays and Bowen with a dog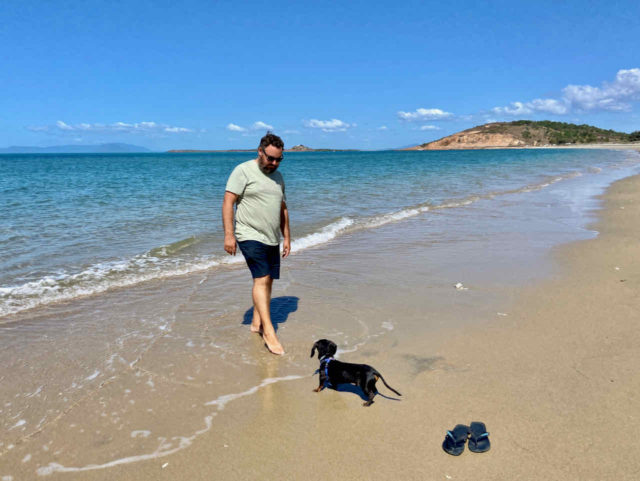 Over an hours drive north, a scenic spot to detour to is the Mt Inkerman Scenic Lookout. Just off the highway south of Home Hill, there are impressive views over the surrounding district, although be wary of the steep road up – skip this stop if you're driving a caravan. If you're needing to stretch your legs, there's a 30-45 minute nature trail, with bags provided at the start of it.
When driving through Ayr, don't miss stopping at the Ayr Dog Park. This fabulous dog park is located at the northern end of Plantation Park, near the Gudjuda Deck Cafe. It has a secure entrance and high fences, plenty of agility equipment, and a separate area for small dogs. You may even have it to yourself during the middle of the day!
From Ayr, it's just over an hour north to the major city of Townsville. Even if you bypass the city by staying on the A1, it's just a short detour off the highway to the Murray Paw Park. This off-leash dog park is located next to the Murray Sporting Complex. The dog park is fully fenced with plenty of facilities, including agility equipment. There's a second section for small dogs.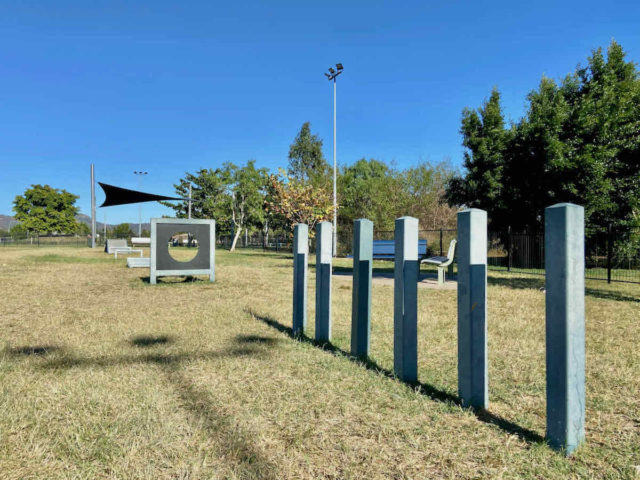 Another fun spot for an on-leash walk that's just off the highway is the Palmetum, one of the three botanic gardens in Townsville. This garden is home to a huge collection of palm trees and has a beautiful rainforest section. Our dog loved his walk through the rainforest area, stopping and sniffing constantly! The adjacent cafe, Absolute Cravings, is also dog-friendly and highly rated.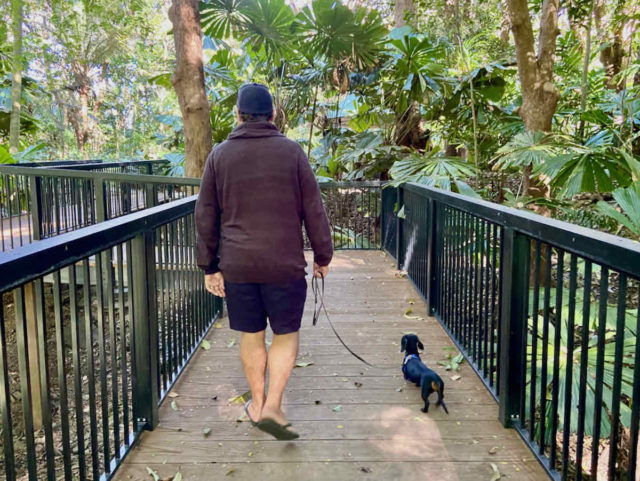 If you do head into the heart of Townsville, I recommend going for a stroll alongside the Strand, the main beach close to the city. While dogs are not allowed onto the actual beach, they're welcome to walk with your through the park that runs behind the beach, as long as they stay on leash. There's plenty of shady trees and picnic tables, plus dog-friendly cafes along its length.
Find out more about visiting Townsville with a dog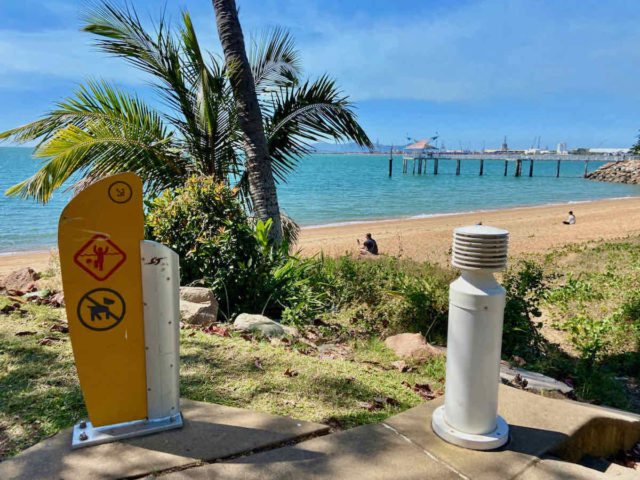 Pet-Friendly Accommodation
If you're travelling in your own campervan or caravan, there's some great free dog-friendly camping spots available around Townsville. For starters, consider pulling up at the Home Hill Comfort Stop. Free 48 hour parking is available in designated parking spots along Railway Avenue in the centre of town, with plenty of free facilities.
The Townsville council also offers a number of bookable free campsites next to many of the region's beaches, mainly just for RVs. I recommend Saunders Beach, about a 35 minute drive north of the city. Dogs are allowed at each of the campsites except Lake Paluma. Just make sure you making a booking (ideally a few days in advance).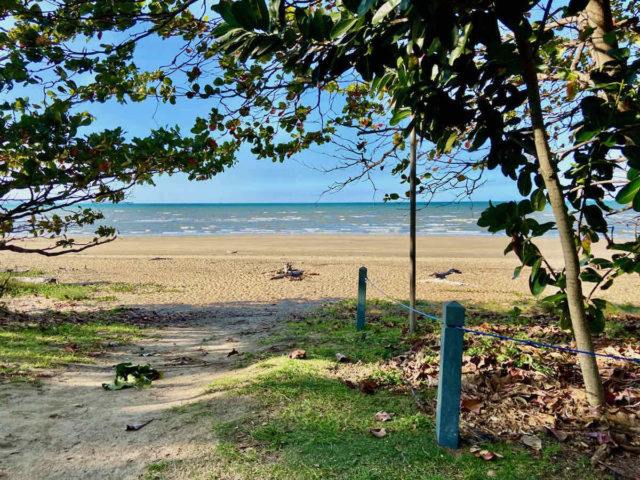 If you're after motel-style accommodation, there's a number of motels that have pet-friendly rooms in Townsville. One of the best options is the four-star City Oasis Inn, close to the city centre. Selected Standard Double Rooms on the ground floor are pet-friendly. Leashed dogs are also welcome to enjoy the inn's beautiful lawn and gardens, on the far side of the pool.
Another pet-friendly option in Townsville close to the Strand is the Shoredrive Motel. They offer pet-friendly budget rooms for a reasonable price.
Townsville to Cairns (347km)
It's about a 4 1/2 hour drive from Townsville north to Cairns, the gateway to Far North Queensland. I found this stretch of the drive one of the most interesting, with lots of towns to stop at along the way, plus turn-offs to some great beachside towns.
Where to Stop
About an hour north of Townsville, it's hard to resist driving past Frosty Mango in Coolbie, home to the Big Mango Man. As well as a great selfie spot, head inside the cafe for mango-flavoured everything, from ice creams to shakes to pancakes. Sit with your dog at the outside tables.
About 30 minutes up the road is the sugar town of Ingham. A pretty spot to stop are the Tyto Wetlands, just south of the town centre. There's an elevated boardwalk above the ponds, with signs about the local wildlife. Dogs are fine to join you, as long as they are leashed.
Another intriguing spot in Ingham are the Mercer Lane Mosaic Murals. Located in a laneway near the popular JK's Delicatessen, the fabulous mosaic murals explore the history of the town and the surrounding area, including the multiple waves of immigration.
Not far north of Ingham lies Hinchinbrook Island. This largely undeveloped island just off the coast is one of Australia's largest national park islands. While it's off-limits to dogs, the same as the many beautiful rainforest national parks along this stretch of the coast, it's possible to enjoy a wonderful view of the island from the Hinchinbrook Lookout, a dog-friendly lookout with information panels just off the highway.
A little further north is the small town of Cardwell, located on the shores of the Hinchinbrook Channel. It's easy to park up at the foreshore area and go for a walk with your pup, including out onto the Cardwell Jetty. Just keep your dog on a leash, plus be wary about crocodiles along this stretch of coastline.
Another sugar town along this stretch of coastline is Tully. Tully is also renown as holding some of the highest rainfall records in Australia. In honour of their record rainfall in 1950, the Golden Gumboot was erected on the edge of town, just a touch taller than that year's rainfall. It's a great spot for a selfie, plus there's a staircase that lets you ascend the inside. Turn-off at Tully to head to Mission Beach on the coast.
About 45 minutes north of Tully if you stay on the highway is Innisfail. This section of coastline is also regularly visited by tropical cyclones. After a devastating cyclone in 1918, this town was largely rebuilt in a local interpretation of Art Deco style, dubbed "Tropical Art Deco".
Take a stroll past the art deco buildings of Innisfail, largely concentrated around Rankin Street and Edith Street. For further information, either download the Tropical Art Deco app or view the digital map through the same link.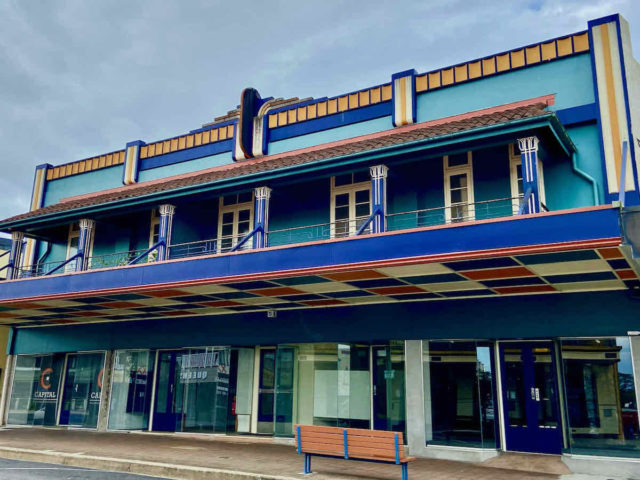 From Innisfail, it's just over an hour north to Cairns. While the coastline south of Cairns is not home to many off-leash dog parks, there's plenty of options in Cairns. (Hopefully this will change soon, with multiple off-leash dog parks being trialled in the Cassowary Coast council area, including at Cardwell, Tully and Innisfail.)
One of the best off-leash dog parks in Cairns is Goomboora Park, just off the Western Arterial Road in Brinsmead. About half of the wide expanse of grassy lawns have been designated as an off-leash area, with the rest of the park (except the playground) allowing on-leash dogs. There's also a dog swimming beach on the creek running through the forest.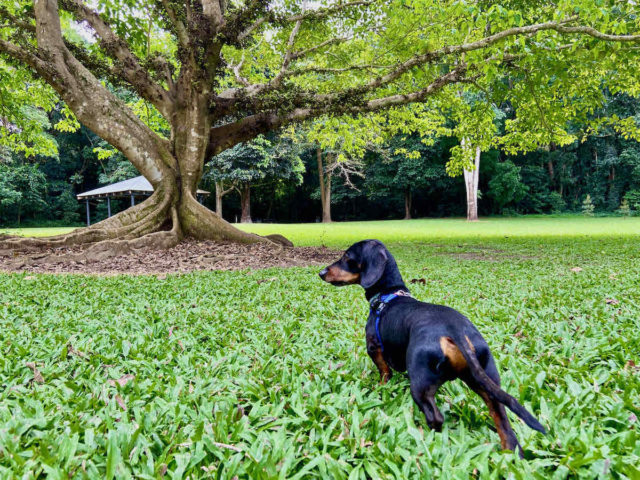 A great on-leash dog walk in the centre of Cairns is a stroll alongside the Esplanade. A combination of boardwalks and cycle paths run along the waterfront, passing through tropical parklands, with on-leash dogs welcome. Just note that the lagoon area is off-limits to dogs.
Find out more about visiting Cairns with a dog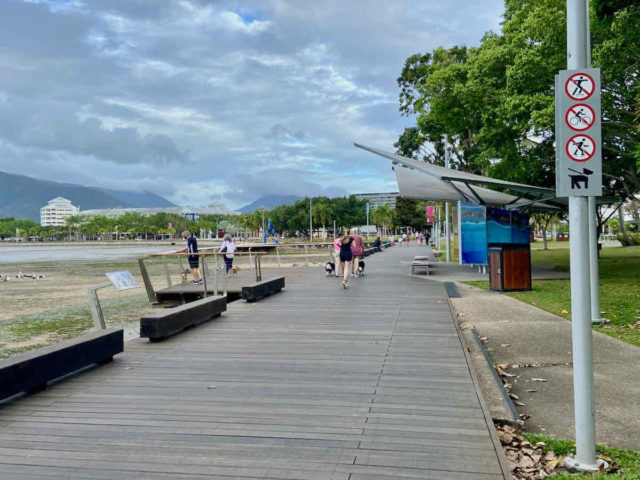 Pet-Friendly Accommodation
About a 50 minute drive north of Townsville is the Mystics Sands Golf & Country Club, near Balgal Beach. The club is also home to a popular and cheap RV campground. No advance bookings are possible, but try to arrive early to park close to the clubhouse and amenities. In the evening, enjoy a meal or at least a bar overlooking the dam next to the clubhouse, with your dog at your side.
About an hour south of Cairns is the small town of Babinda. A popular place for caravans and campervans to stop is the Babinda Rotary Park Rest Area. There's plenty of camping spots to choose from, plus toilets and hot showers for a fee. Make sure you leave a donation!
In Cairns, one of the best dog-friendly caravan parks is Tasman Holiday Parks – Cairns Cool Waters. Located close to magnificent Goomboora Park, this park has both pet-friendly sites and cabins, plus there's a Rainforest Creek Walk on site.
Alternatively, consider camping at the award-winning BIG4 Ingenia Holidays Cairns Coconut Resort. With just about everything you could imagine to entertain kids, this park also has a dog agility park for four-legged kids. Pets are allowed on powered and ensuite suites.
For a more luxurious stay, make a booking at the Crystalbrook Bailey Residences. Centrally located, these luxury holiday apartments welcome dogs in first floor rooms, each with their own courtyard or balcony. Enquire directly about booking a Residential Paws package.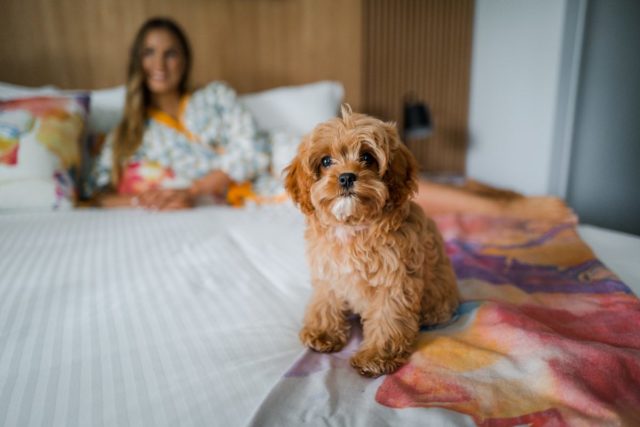 Dog-Friendly Guides Along the Way
I've put together dog-friendly guides to a number of destinations along the Bruce Highway, plus some popular destinations not far off the highway. Check out these guides from south to north, for more tips on what to do, off-leash dog parks and beaches, plus pet-friendly accommodation:
You May Also Like